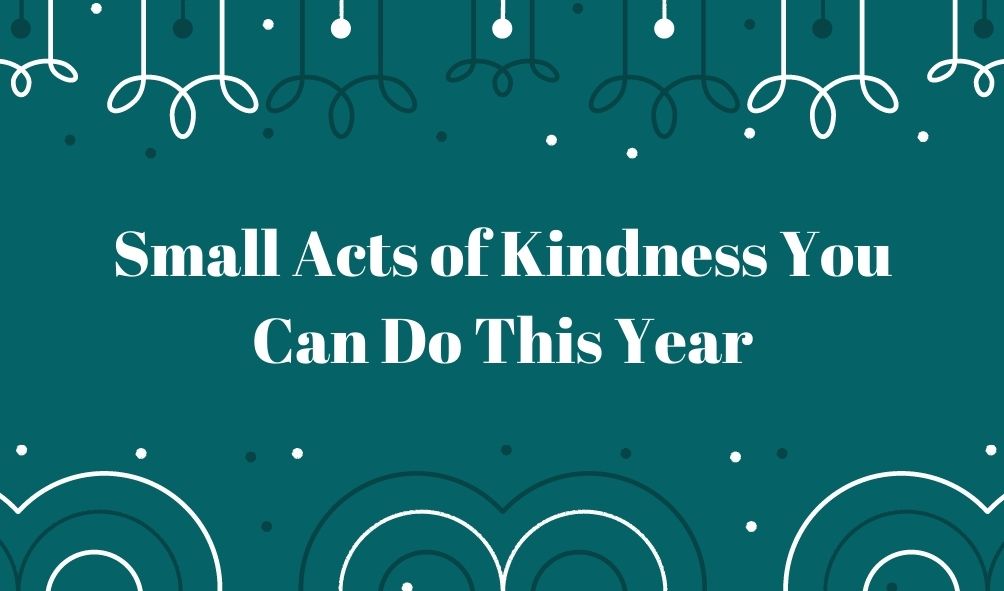 This year has been hard on everyone, and we could all use some more holiday cheer. I love seeing people help out others and performing random acts of kindness. No matter how small, anything you can do make someone's day and completely turn it around will be appreciated. I think it's so important to think of others during the holiday season, especially this year.
I don't really like to talk about things I do in real life, but I want to give you all a heartwarming example of how something I did, made someone else's day. I have two elderly neighbors that live alone. I wasn't sure if either of them would be spending their day with family or having a Thanksgiving meal, so I brought them each a plate of leftovers that evening with some pie.
The looks on their faces when they opened their doors made my year. They were so surprised and appreciative, and it was the sweetest thing. Both of them ended up bringing my Tupperware back with a note, the gentleman even went as far to go buy me a card. When I came home to those on my doorstep I actually cried.
I didn't do it for praise or anything like that. I did it because each of them remind me so much of my two grandparents who have passed away in the past two years. I know that if my grandparents lived alone and couldn't be with family on the holidays, I would want someone to do the same for them.
To keep in the holiday spirit, I want to challenge all of you to perform a small act of kindness this year. Below are some ideas that you can do to make someone's year a little big brighter!
+ Pay It Forward: This is one of the most common, but it's such a great way to brighten someone's day, and they might even keep it going. Next time you're in a drive through line, ask to pay for the person's order behind you.
+ Bake Cookies: If you're trying to get in the holiday season yourself and want to do some baking, buy some extra supplies and make a goodie bag for someone else. Pick up some mylar bags and ribbon, or aluminum pans, and make additional batches for your neighbors. Another great option is to make some and drop them off at local fire stations if they're accepting!
+ Make Holiday Cards: If you've got kids, or you're just feeling crafty, spend time making some holiday cards for your friends and neighbors.
+ Leave an Extra Tip: Whether you're eating at a restaurant or having a service done, these people were hit pretty heavy this year and could use some extra support. You could add a few extra bucks to the tip, or even pick up some $5 gift cards to places and leave those in addition to their regular tip.
+ Make a Donation: At our local grocery store, there's an option to buy a bag of canned goods for $5 and it gets donated to local families in need. You could also choose to donate clothes or other goods to local organizations or families in need this year.
+ Sponsor a Family or Child: One of my favorite things doing growing up was Operation Christmas Child. You would get one of the provided shoe boxes, build it, decorate it, and fill it with gifts from the list. This usually consisted of practical items like socks, toothbrush, toothpaste, deodorant, and more. If you want to give more locally, there's often toy drives or drop offs all around towns that you can leave unwrapped gifts.
While everyone is struggling more than usual this holiday season, there are some more than others. If you're able to help someone less fortunate than you this year, I can guarantee you it won't go unnoticed.