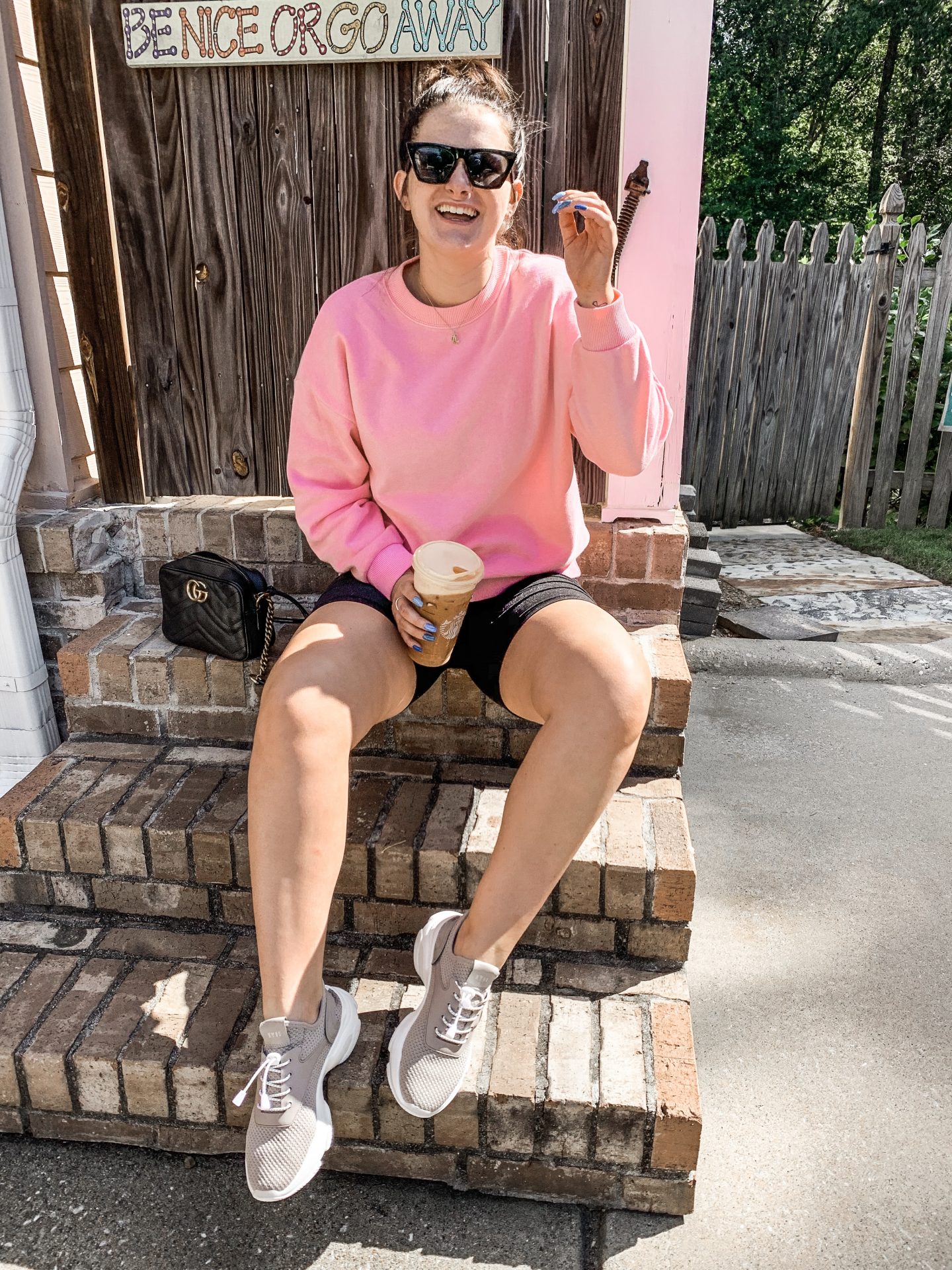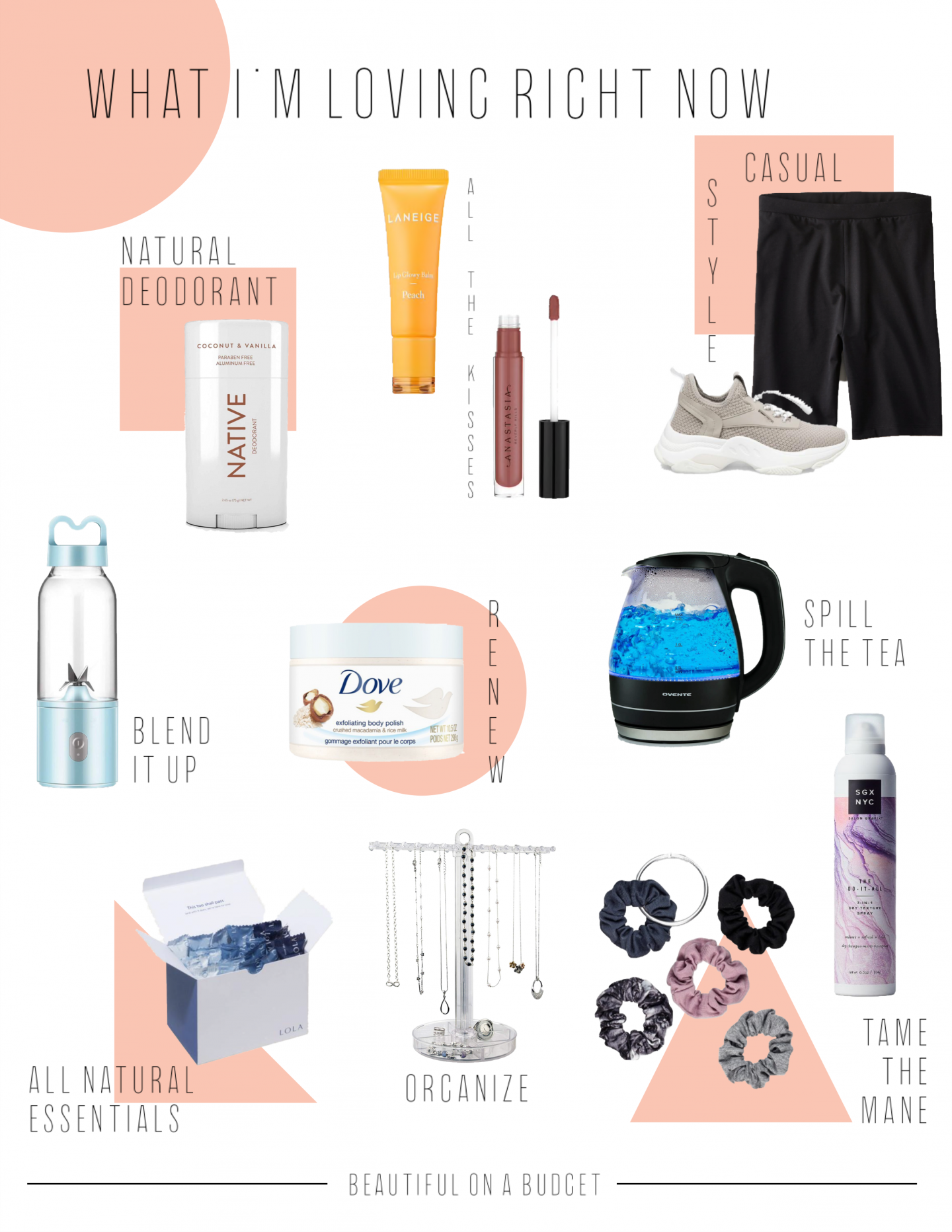 It's been a while since I've done a round up of things I'm loving right now! These items are some of the items that I've been using non-stop for a while now, and definitely can't live without moving forward. Usually when I make these roundups, it's really hard to narrow down the items. But this time, it was especially easy because that's how much I've been loving these products. Keep reading to see what I can't live without right now!
Native Deodorant
This has been an absolute game changer! I plan on doing a whole blog post on natural deodorant and my journey with it. Until then, if you're looking for a natural deodorant, Native Deodorant is a great one! Now that I've tried it, I won't be going back.
Lip Balm & Gloss
I've always got to have something on my lips! When I'm not wearing lipstick, or I want to put something under, I'm wearing the Laneige lip balm. However, when I want a little color, or I'm layering over a lipstick, I use my go-to lip gloss, Anastasia Beverly Hills. Neither of these are too sticky or taste bad, which is a huge turn off for me. These products are not super hydrating and smooth on my lips!
Go-To Casual Pieces
If you've been keeping up with my Instagram, then you know I've very much been on the biker short and sneaker train. I've been wearing these American Eagle biker shorts non-stop and they don't disappoint. They're so soft, great quality and style well so many ways. The shoes were an on-the-whim purchase that I'm so glad I made. I had been anti-dad shoes, but these seemed like a great medium. They're super comfortable and great to throw on at any moment!
Electric Tea Kettle
One of the household items I never knew I needed! I've been making hot lemon water and hot teas everyday now, and it's never been easier. While I know I could boil water on the stove, this electric tea kettle makes life so much easier without the worry of whether or not I remembered to turn the stove off!
Exfoliating Body Polish
I've gone through 4 tubs of the Dove body polish this year so far. So, I think it's safe to say that it's something I absolutely can not live without! I've only used the macadamia and rice milk scent, and it's absolutely amazing. Seriously, it smells so amazing that I want to eat it!
Portable Blender
The other product that I didn't know I needed! Ever since I got this portable blender I've been making a smoothie just about everyday. It's helped so much with my cravings, afternoon sickness due to forgetting to eat, and keeping me full in a healthy way.
Lola Tampons
I know this a little weird compared to the other items, but it's a must-share item! Y'all know I'm a lazy gal and love to have things delivered right to me when I can. I love the fact that when that time of the month comes around I don't have to worry about going to the store because everything I need is shipped right to me from Lola. Oh, and they're all-natural, and organic, which I didn't realize I needed to do for myself!
Jewelry Organizer
I have so many necklaces and I ofter forget a lot about the majority of them because they would be in a travel organizer or stacked behind other ones. Now that I've got my necklaces organized and on display, I find myself having more options and picking from a wider variety.
Hair Texturizing Spray & Satin Scrunchies
These two hair products have been absolute game changers for my hair routine! If you've been following me for a while, then you know I love a good texturizing spray. I was using a more expensive version, but this SGX Do-It-All Texture Spray is the perfect dupe. And last, but not least, I've switched over to using silk/satin scrunchies unless I'm working out. They don't damage my hair, keep my curls, and don't leave my hair with kinks or creases.
What's something you can't live without in your life right now?! Is it a song, a food, a product that I need to try? Let me know in the comments down below!