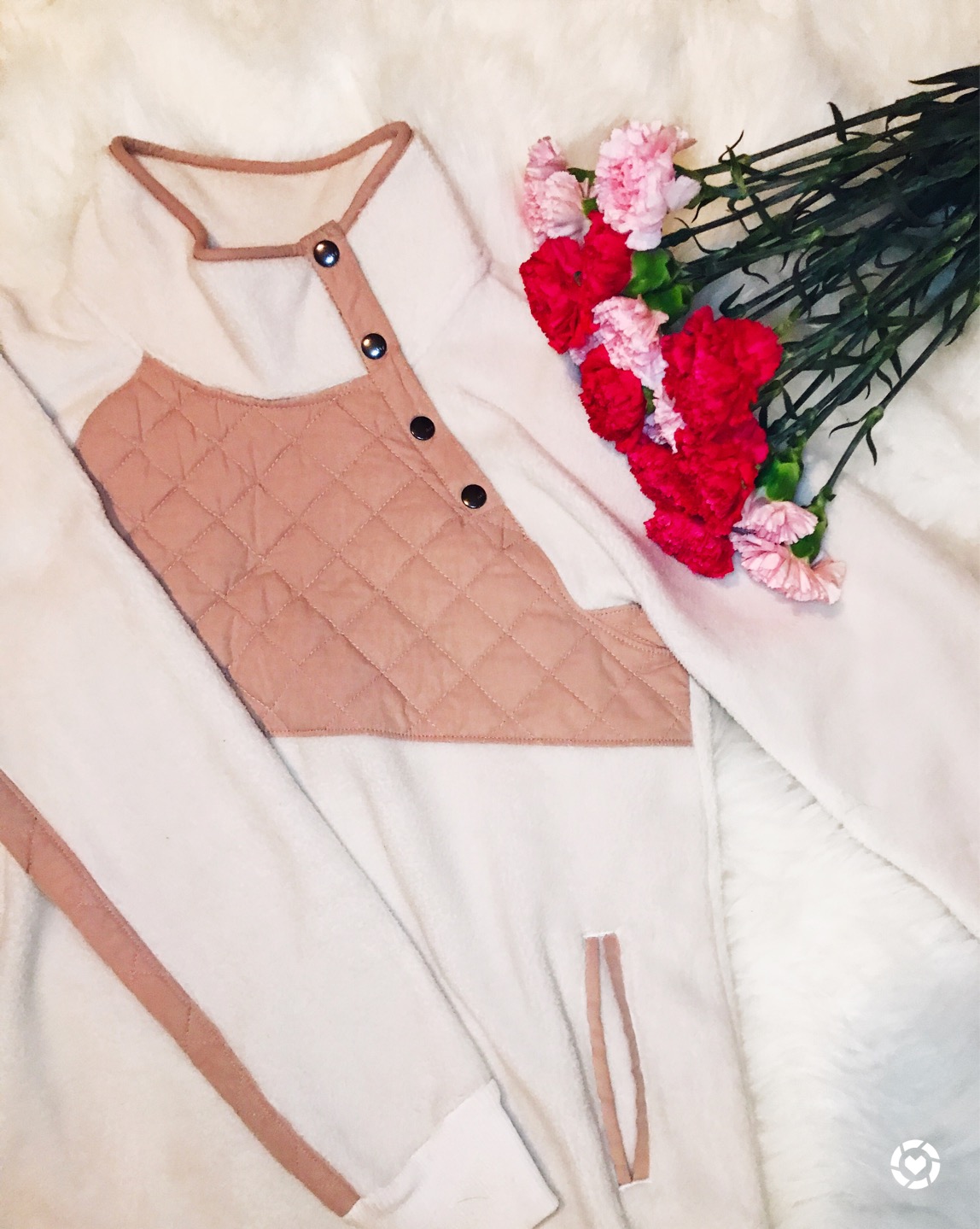 SHOP MY FAVORITES

The first month of 2018 has come and gone! It's crazy how fast it's flying by…I seriously need to start keeping an ongoing list throughout the month of my favorites, because when it comes time to write these, I feel like I have to do some hardcore thinking since the month has gone by so quick! This month I have quite a bit of favorites because I'm including some from December. This month I'm switching it up and not doing a graphic, but just including a shopping carousel instead (seen above), as well as some reasons why I love these products and how I use them in my everyday life!
STYLE
There were so many pieces that I consistently wore over the past month and a half! Many of which you probably recognize from my Instagram… But my favorites have to be the faux fur fringe jacket and my 'Gucci' belt, both of which I bought on Amazon! I originally bought my mauve pink faux fur fringe jacket from a boutique where it was priced over $70, and while I love it so much, the quality isn't the best. I ended up doing some searching and found the exact same jacket on Amazon for under $30! I was skeptical to order it at first because it was coming from another country, wasn't Prime eligible and was definitely questionable. I ordered one for my mom for Christmas and it came in a few weeks. Honestly, it's way better quality than the one purchased from the boutique! Then I came upon this belt and knew that I had to grab one for the price, and I bet that you had no idea it wasn't real when you saw it on my Instagram! I also managed to find a dupe for the Cartier LOVE ring on Amazon! Same with these studded buckle boots, I wanted the designer look on a budget, and I got just that. Other pieces you've probably seen me post a lot are my ripped black Abercrombie & Fitch jeans, Spanx leggings, BaubleBar necklace and QUAY sunglasses. I've said it over and over, and I'll say it again, A&F has the best jeans for a great price. Plus, they're always having sales and they have a great rewards program you can join! As far as Spanx leggings, it took a lot in me to pull the trigger on these but I'm so glad I did. I first got the moto faux leather leggings and I swear they changed my life, so I bought a second pair. The other items, the necklace and sunnies, were purchased because my fav YouTubers were always sporting them, so I felt that I needed to too lol! Now, let's move onto athleisure! Before Christmas I purchased the asymmetrical snap pullover from Abercrombie and it was such a good purchase. I am so obsessed with it that I've gone back for another color, good thing they just restocked! I love how soft and comfy it is and the unique detailing makes it stand out. I also grabbed this cropped hoodie from H&M for under $20 that is perfect for a casual athleisure outfit or the gym. And speaking of the gym… I got some new tennies that I am in love with! I saw these at DSW on sale for under $60 and I couldn't stop thinking about them, so I had to get them, plus I had some coupons! I've worn them to the gym for the past month and I'm obsessed. They're lightweight, stylish and so comfortable!
BEAUTY
I think my top beauty fav of the past two months is by far LipSense. I always told myself that I wouldn't give into the MLMs and things like this, but one of my friends sent it to me and now I'm hooked. I love it so much that I even signed up to sell it myself so I could share the love with my friends and get a great discount! Because LipSense really is like nothing else, you have to make sure that your lips are in good condition so that your product isn't compromised, so I started using the Neosporin Night Therapy. If you're interested in trying this product, please send me an email an we can place an order for you! I also found a new favorite foundation! The new NARS Radiant Longwear Foundation is literally amazing. I can't say enough good things about it! I first tried this foundation when I went to a NARS event where they taught me all about the new product and demonstrated it on my skin. They also recommended their Powermatte Lip Pigments to me and they are seriously amazing! When I'm not wearing my LipSense for a long-lasting look, I'm probably wearing this NARS liquid lip. The next few items I saw other bloggers or YouTubers raving about, so I had to grab them! The Philosophy Purity face wash, the Drybar Triple Sec spray, the Tarte Park Avenue Princess palette and the Essence Mascara. I use the Purity face wash every morning and the Drybar spray every time that I style my hair, truly two products I could not live without. I also love the Tarte palette because it's got my contour shade, my bronzer and some highlighting powder for under my eyes. And lastly for makeup, the best new mascara in my collection. This stuff is less than $5 and works like magic. The last two items are tools that have changed my beauty routine completely! First, the ice roller. I had seen people talk about this and use it, so I decided that it was worth the $11 on Amazon. Y'all, this device was sent from God! I prefer to use it every morning and night after I complete my skincare routine to help really activate the products and help my skin better absorb them. It's great if you have a headache or puffiness! It's worth the try, I promise! Last, but certainly not least, my curling wand. I had my eyes on this for as long as I could remember. I didn't really need it because I have ones that still work, but it was time to stop traveling with 3 different styling tools. I had heard nothing but good things about the T3 styling wand with 3 different attachments, so I saved up my Christmas money and treated myself. When I say that I will never use another curling wand ever again, I mean it. This is by far the best one, and if you purchase from Sephora, you get hella points!
What were some of your favorite items from January that I need to try??