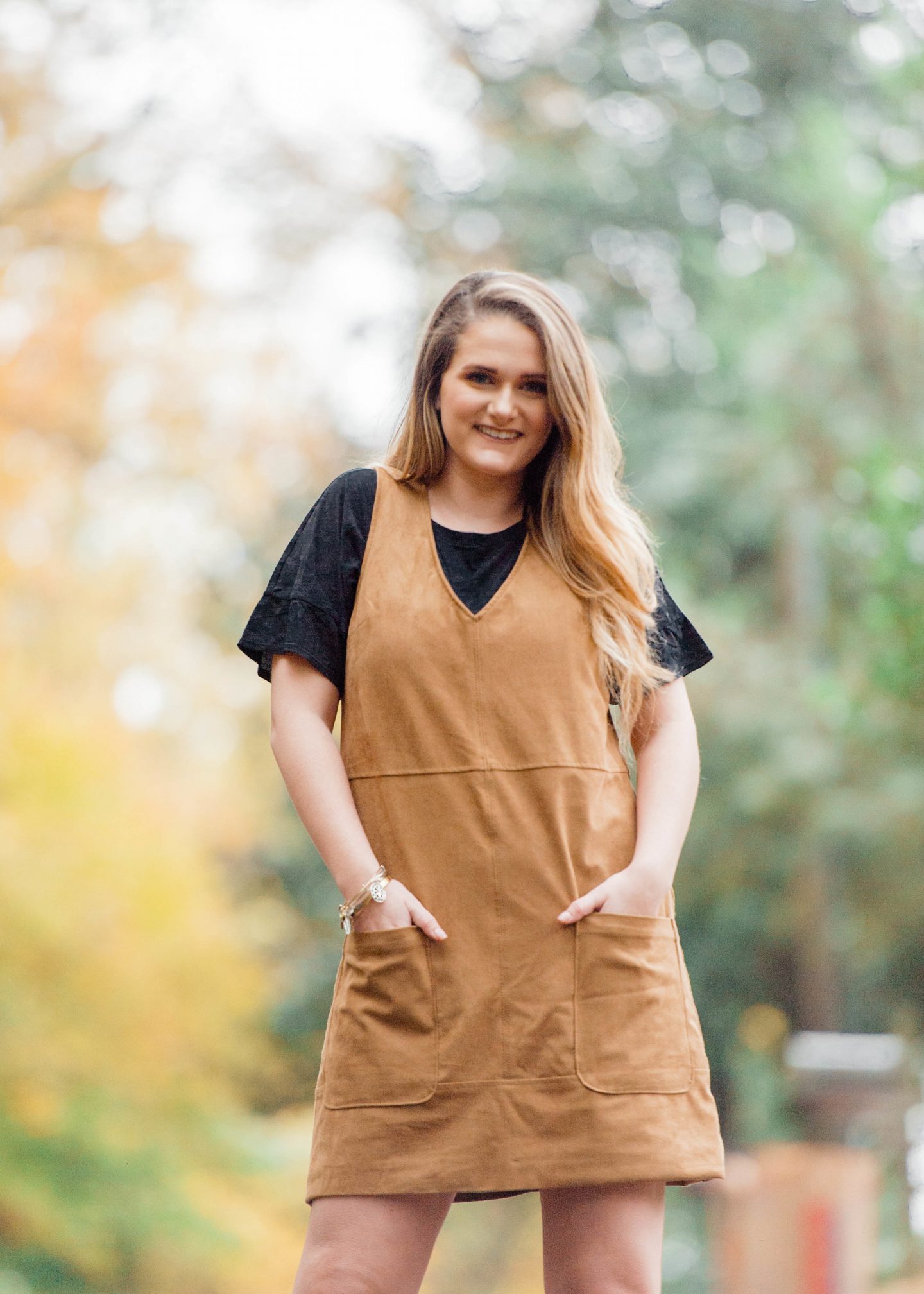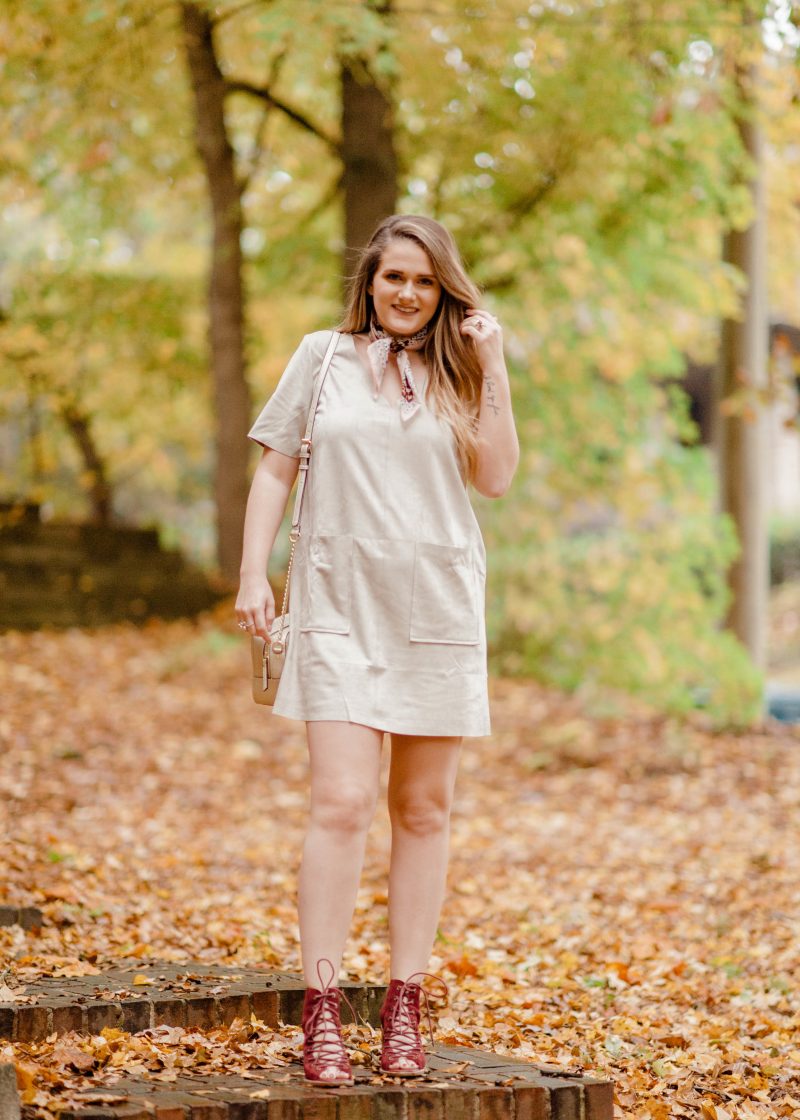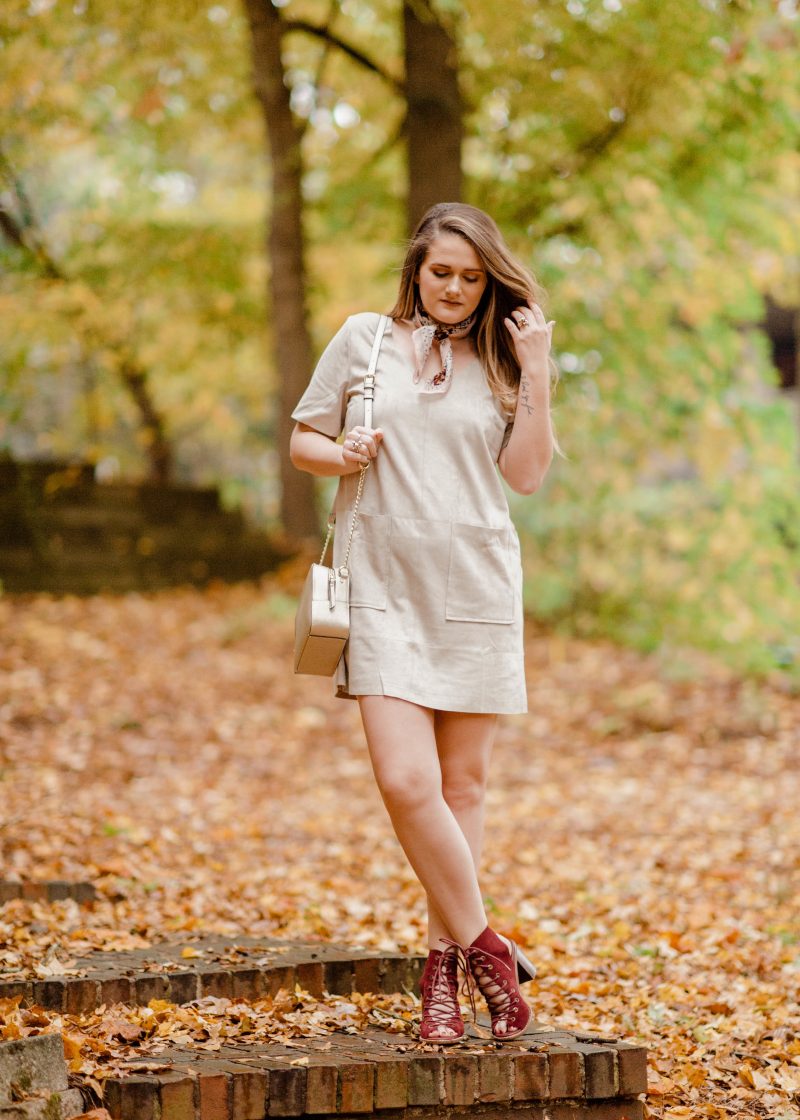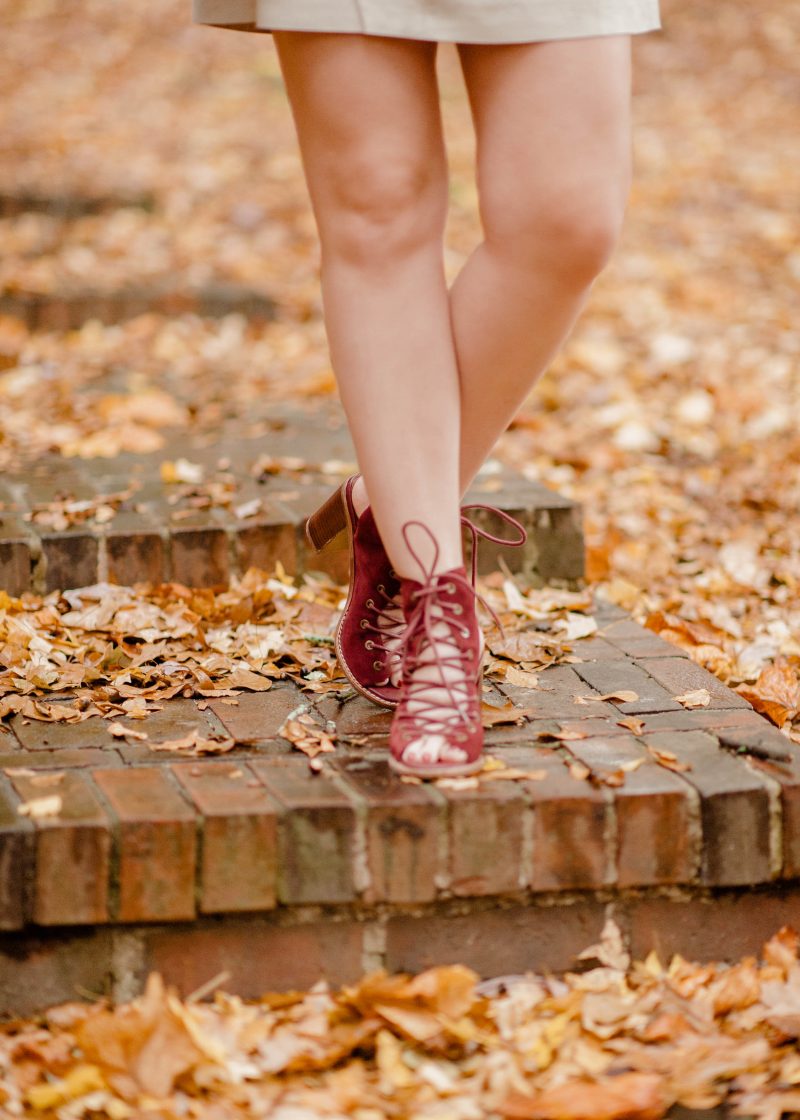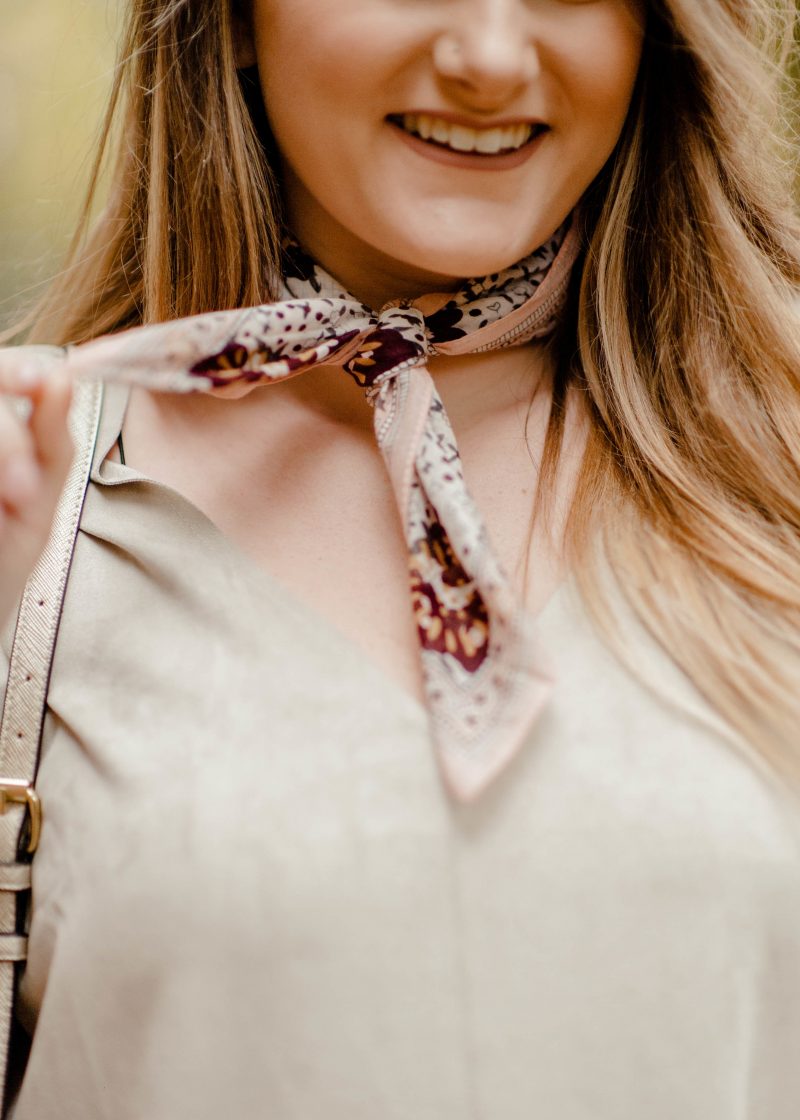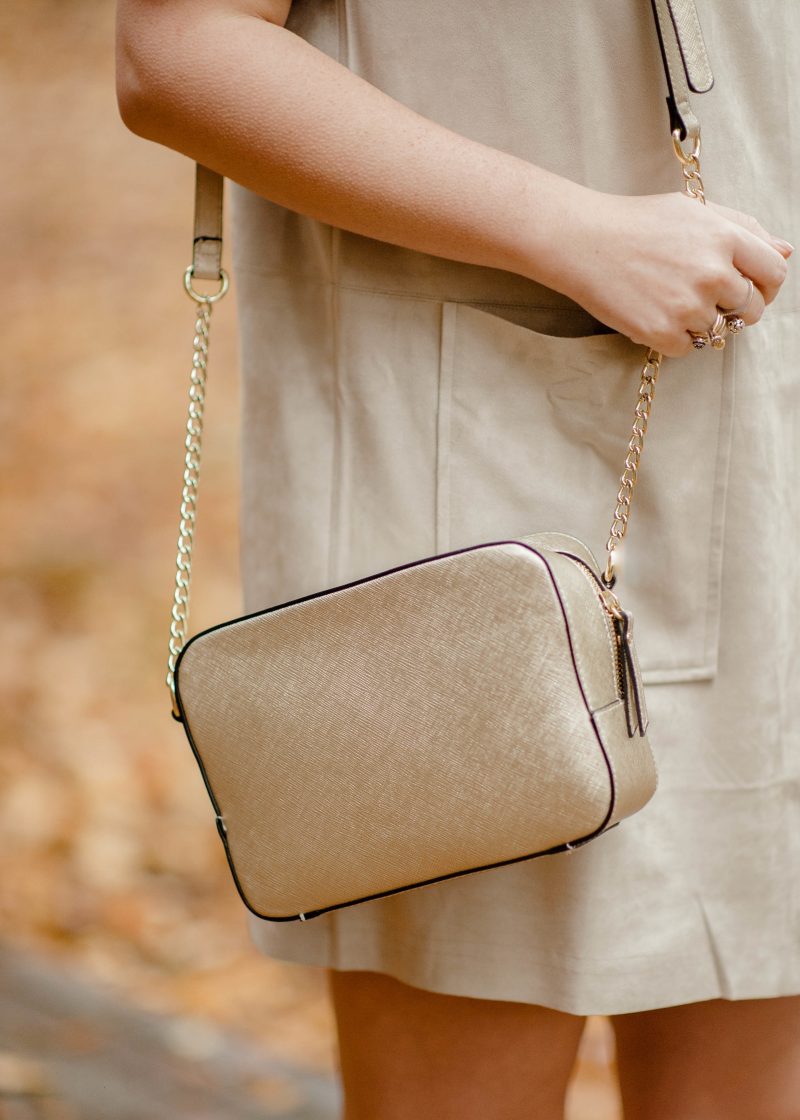 Photography by Minela Sejdin Photography
Suede Dress: Fabrik, $45 (I bought it on sale; the link takes you to the site of the dress)| Gold Crossbody Purse: Target, $28 | Floral Bandana: Madewell, $12.50 | Lace-up Block Heels: Jeffrey Campbell at Free People, $178 (bought on sale last season for $90; similar option here for $35)
Can you believe that it's almost Thanksgiving!? I feel like it was just New Year's Eve yesterday. This year has absolutely flown by, and I'm so glad it's my favorite time of the year again! I don't know about you, but I love looking stylish on Thanksgiving, no matter where I'm at or who I'm with. A few weeks ago I shared a fun dress from Zara that would be perfect for Thanksgiving (you can see that post here)! But, I decided to show you two more outfits that I have in my closet that will be perfect for next week, which you can also easily recreate with items of your own!
The first outfit that I'm featuring is a micro-suede dress with front pockets by Naked Zebra that I bought at Fabrik. I bought mine during a sale at Fabrik for under $50 (I think..). Unfortunately, I can't find it on their site, but you could check your local Fabrik. For the link above, it takes you directly to the brand's site, but the dress is a little more expensive. I'm also linking a few more options for both dresses featured here, here and here.
For this dress, since it has sleeves, instead of layering a shirt or sweater underneath, I decided to accessorize it! I added a fun bandana from Madewell, some statement shoes and a purse. I love the bandana trend and the ones at Madewell are such great quality for the price. For the shoes, any fun shoes can work! I wore my Jeffrey Campbell lace-up heels that I bought on sale at Free People last season. Lastly, I found this purse at Target that is perfect for a night out or the upcoming holidays. What I love most about this purse is that it looks just like the Micheal Kors bag that everyone has, that I have always wanted but never wanted to spend the money on. Plus, it holds everything that I could need for a night out or a dinner date!
Scroll down for the next outfit's details!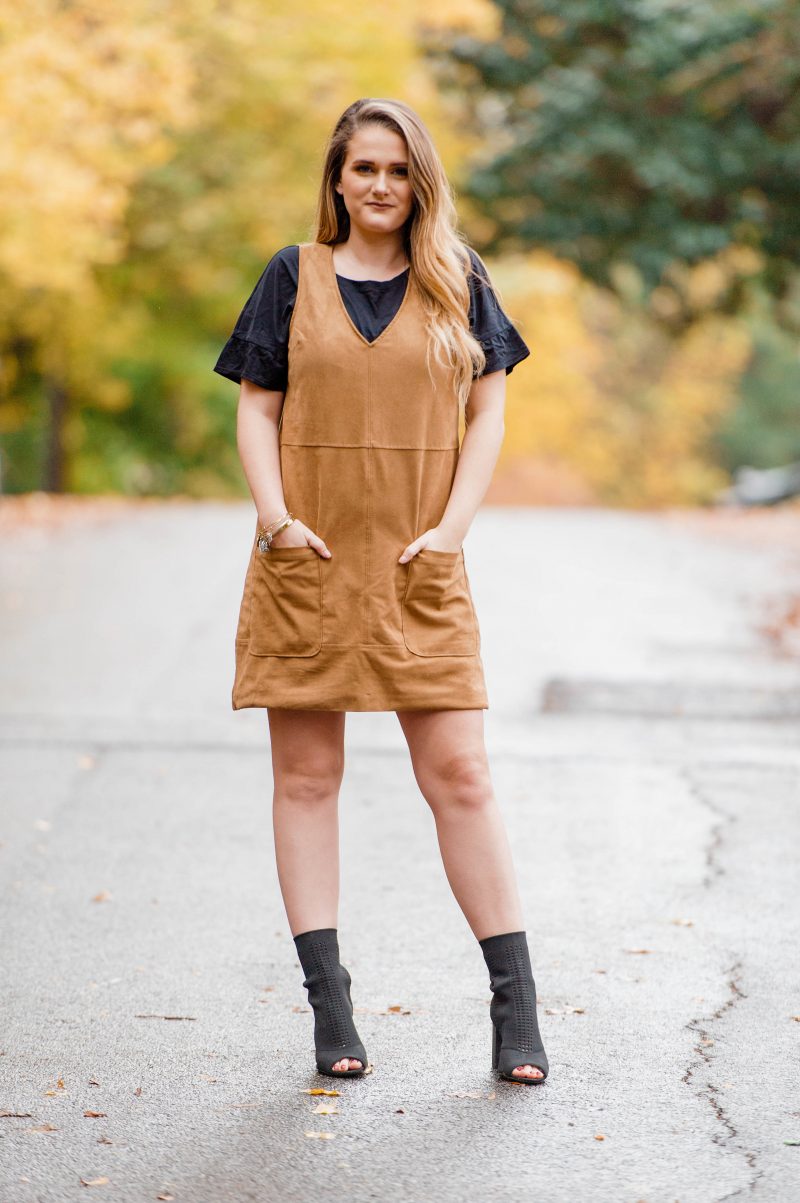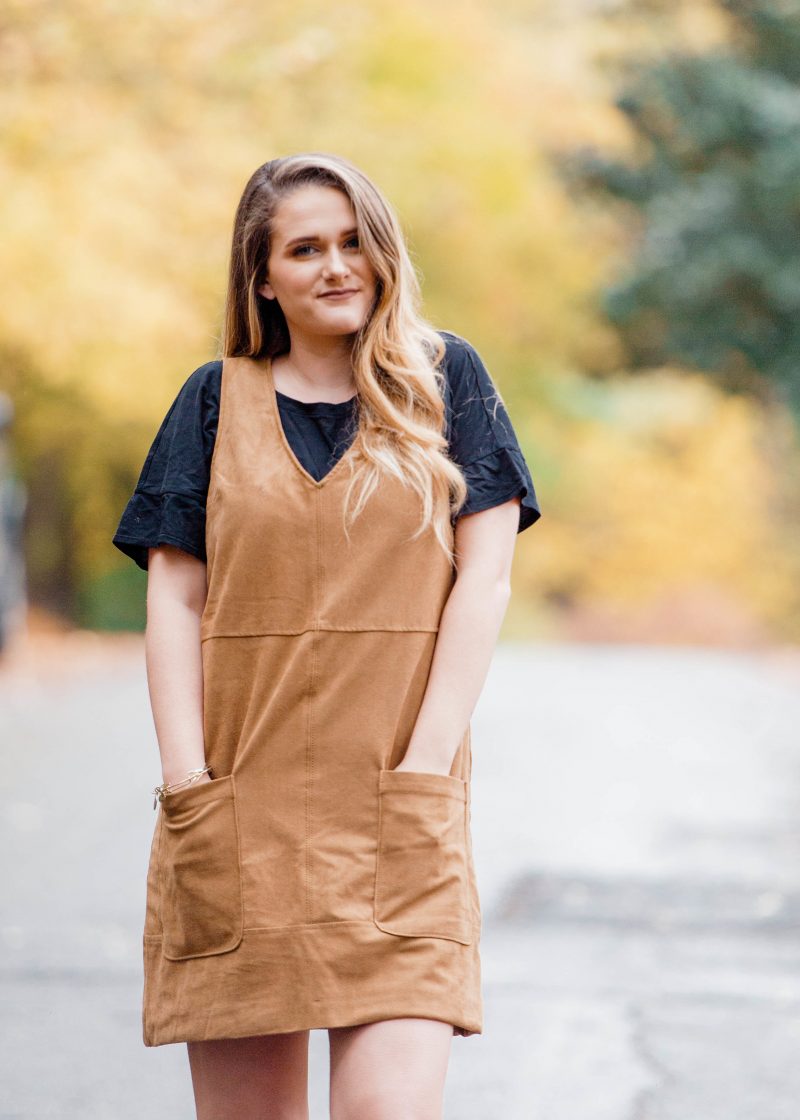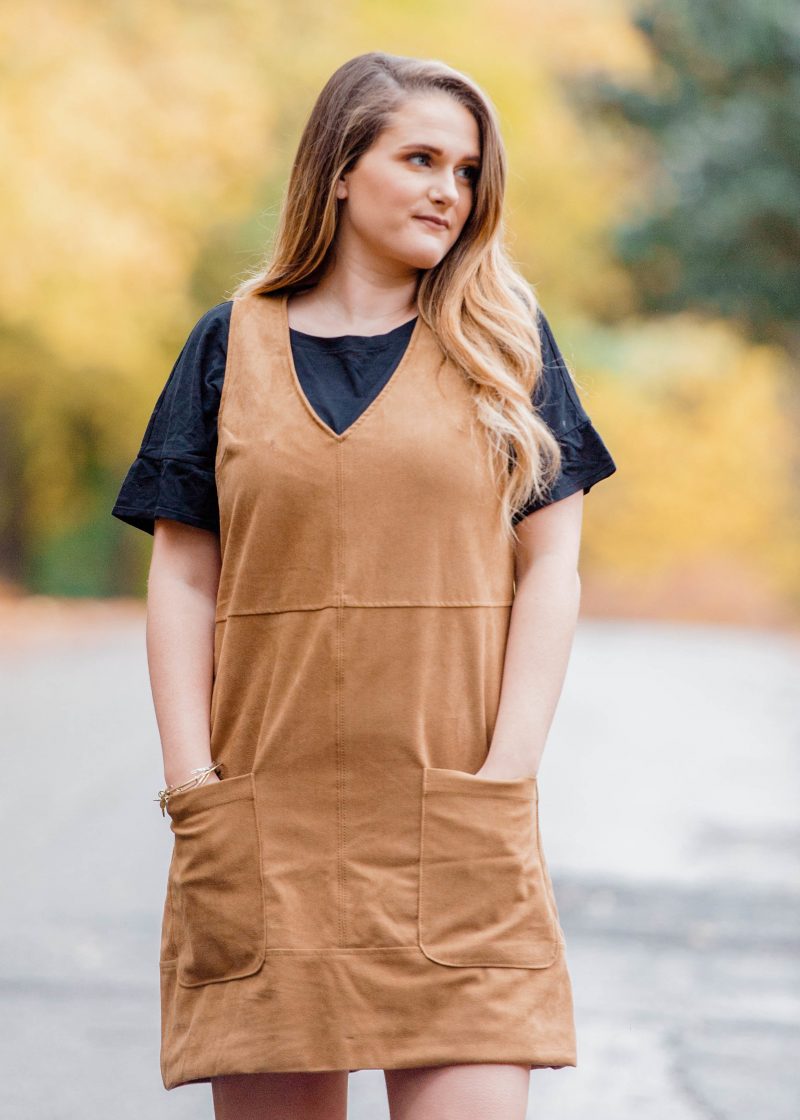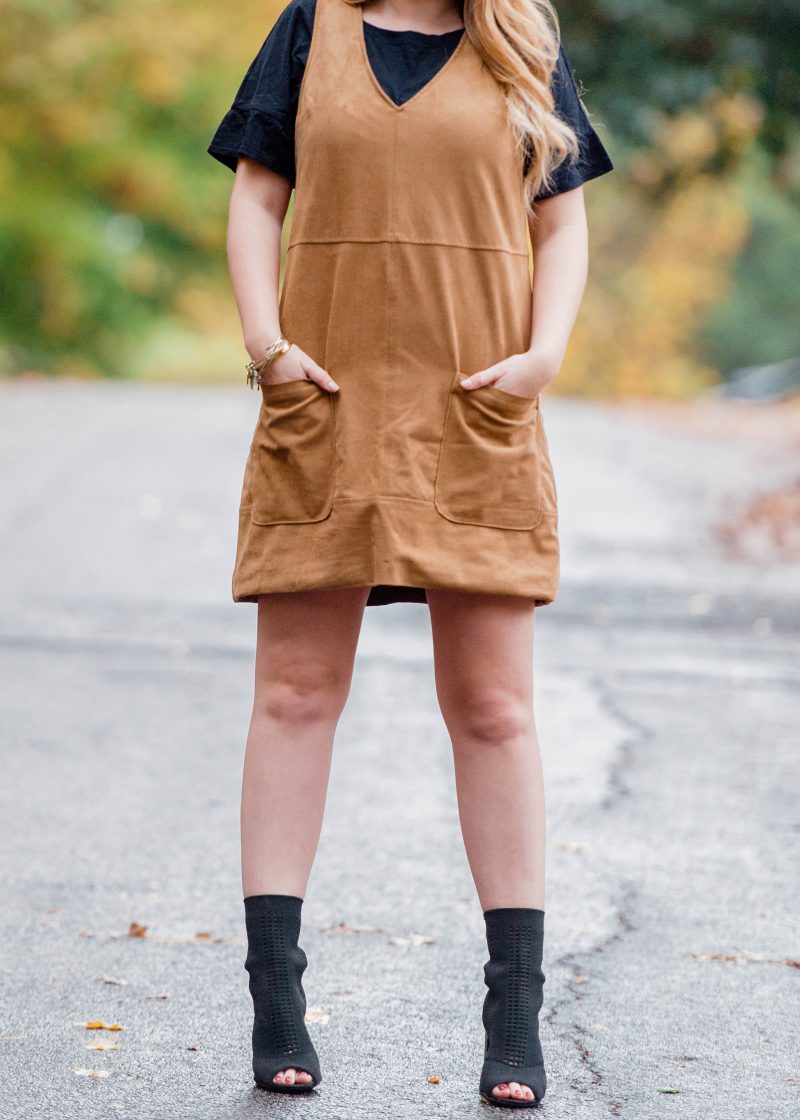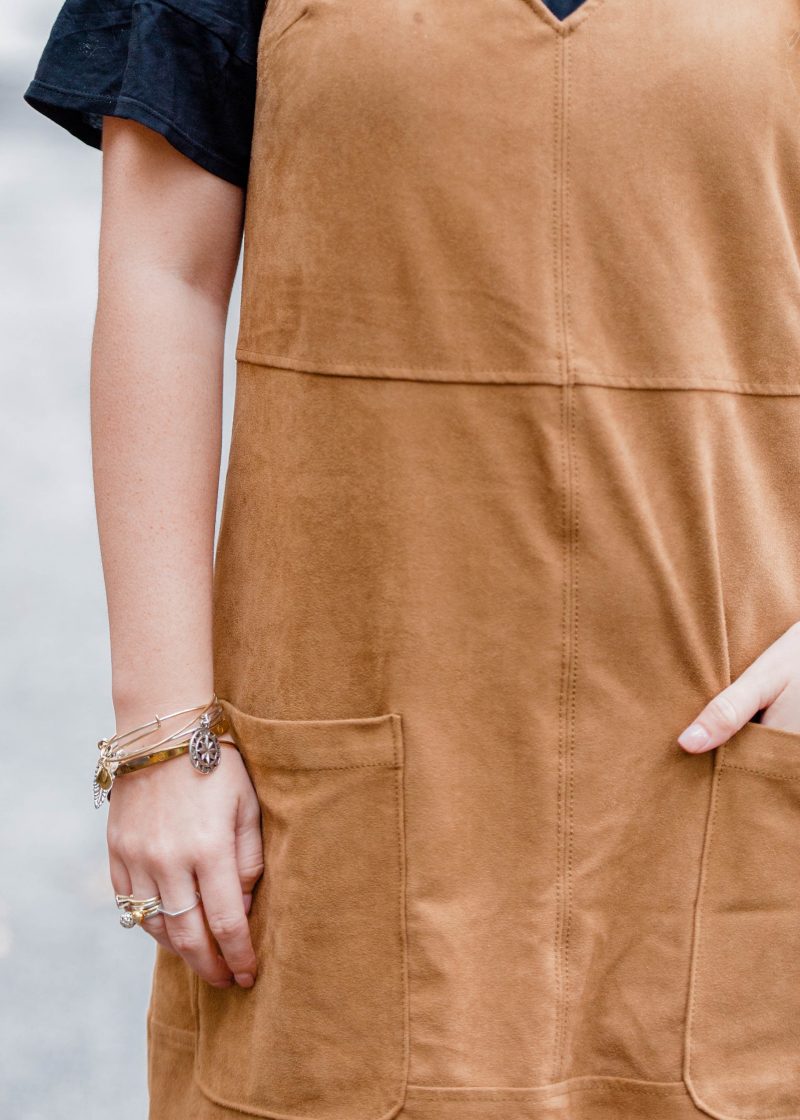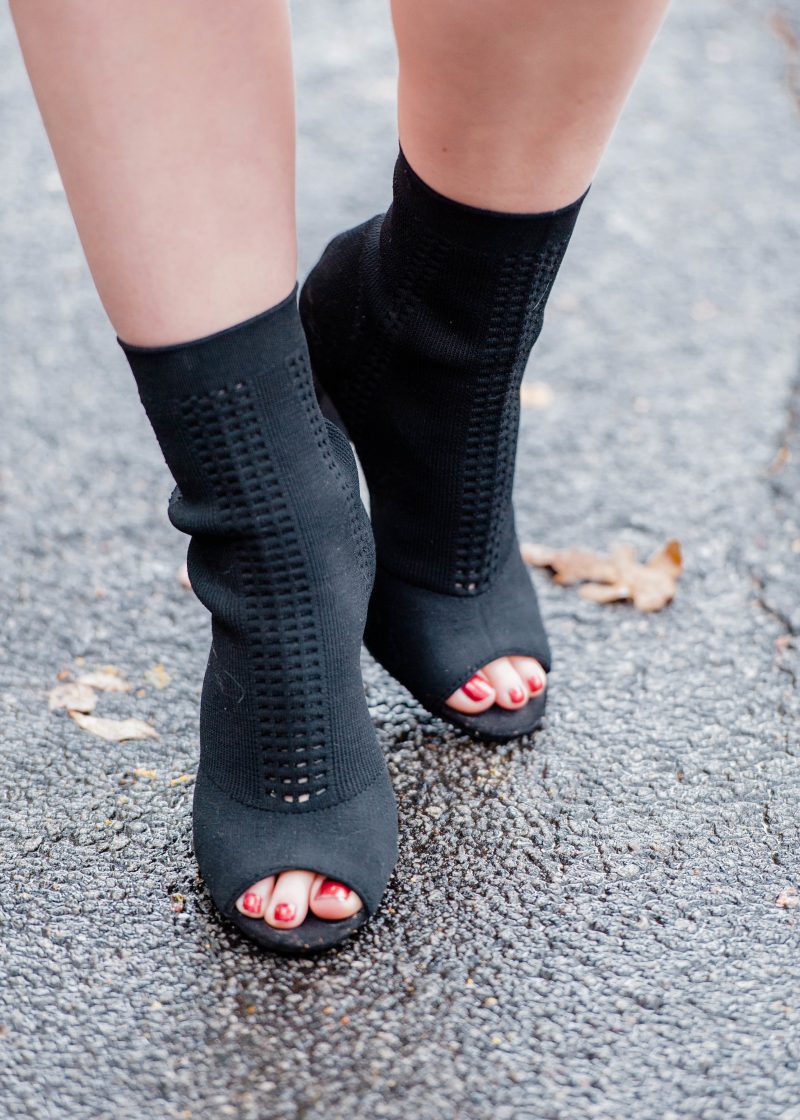 Suede Pocket Dress: Abercrombie & Fitch, $68 | Ruffle Boyfriend Tee: Abercrombie & Fitch, $28 on sale for $17 | Sock Booties: Target, $38
I am obsessed with this dress! I love how well made it is and the endless opportunities for styling. It's an online exclusive for A&F, but I promise it's worth the buy and worth the wait for it to ship to you. If you don't want the wait and are willing to spend a little more for another great item, you can purchase it from Free People, they also have a lot more color options. The A&F dress comes in 3 different colors, and petite, regular and tall. I personally for the medium petite and it's still a little big one me. You could definitely size down a size if you want it a little shorter for OTK boots or personal preference.
For this outfit, I just layered a basic tee with a subtle ruffle sleeve. If it's going to be colder where you are for Thanksgiving, you could go with a long sleeve tee or even a sweater underneath! This dress is a thick durable material, but there is room for a nice cozy sweater to fit under! Lastly, I finished off this outfit with these sock booties from Target. I'm so glad that I finally bought these because I had wanted them for so long and they are perfect for so many outfits. I ordered a 7 online, but I probably could have got away with sizing down a half size. When I was in the store I tried on a 6.5 and they fit perfectly!
For both of these outfits, you could add some tights underneath; accessorize with jewelry, bandanas or hats; or you could layer a cardigan over top! If you don't want to go out and buy these items, then all you have to do is grab one of your favorite fall dresses in your closet and add to it. Either layer items under/on top, accessorize it and make it your own! Wearing a dress on Thanksgiving is perfect because it's cute, comfortable and perfect for that post-Thanksgiving bloat!
I hope everyone has a great Thanksgiving!
With love and hopes of inspiration,
Carly