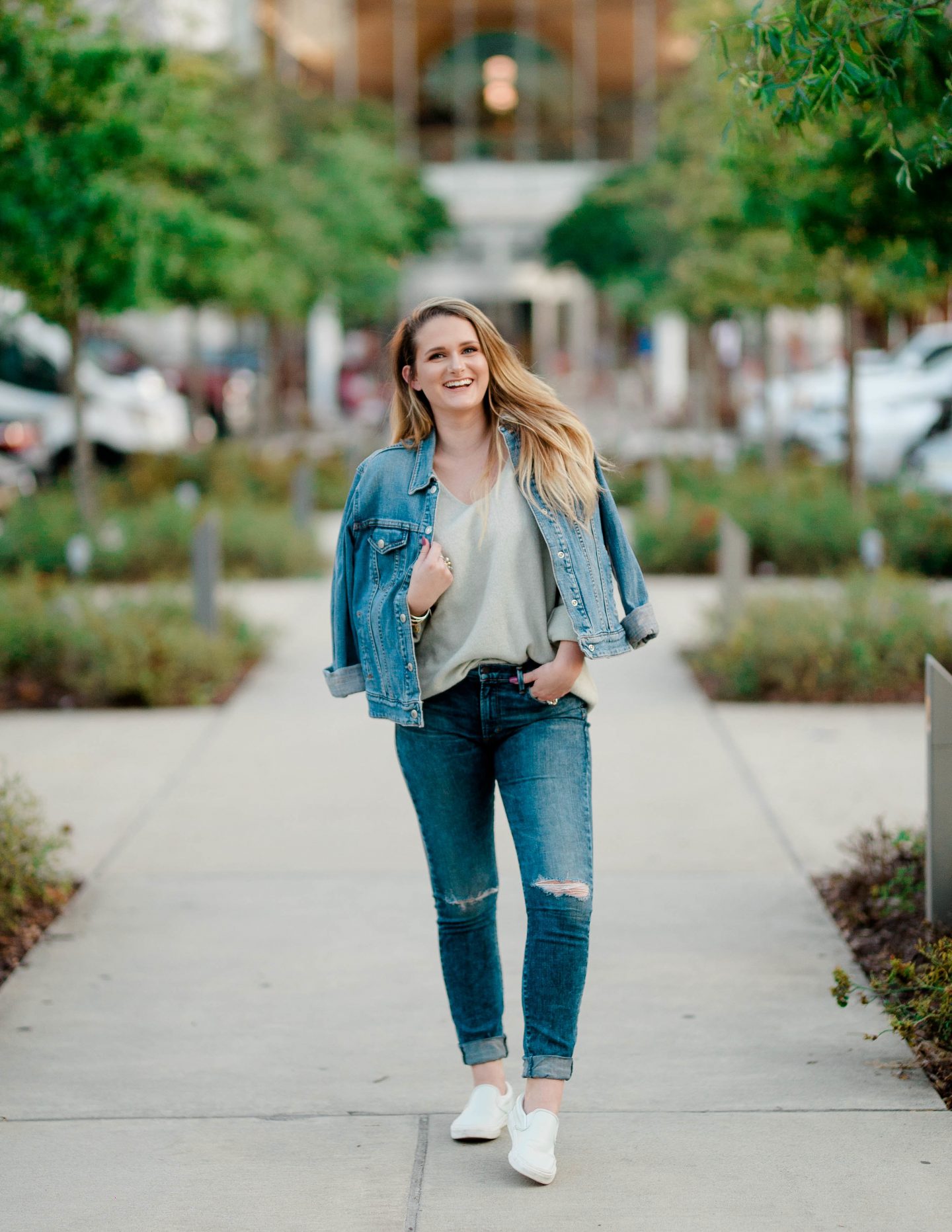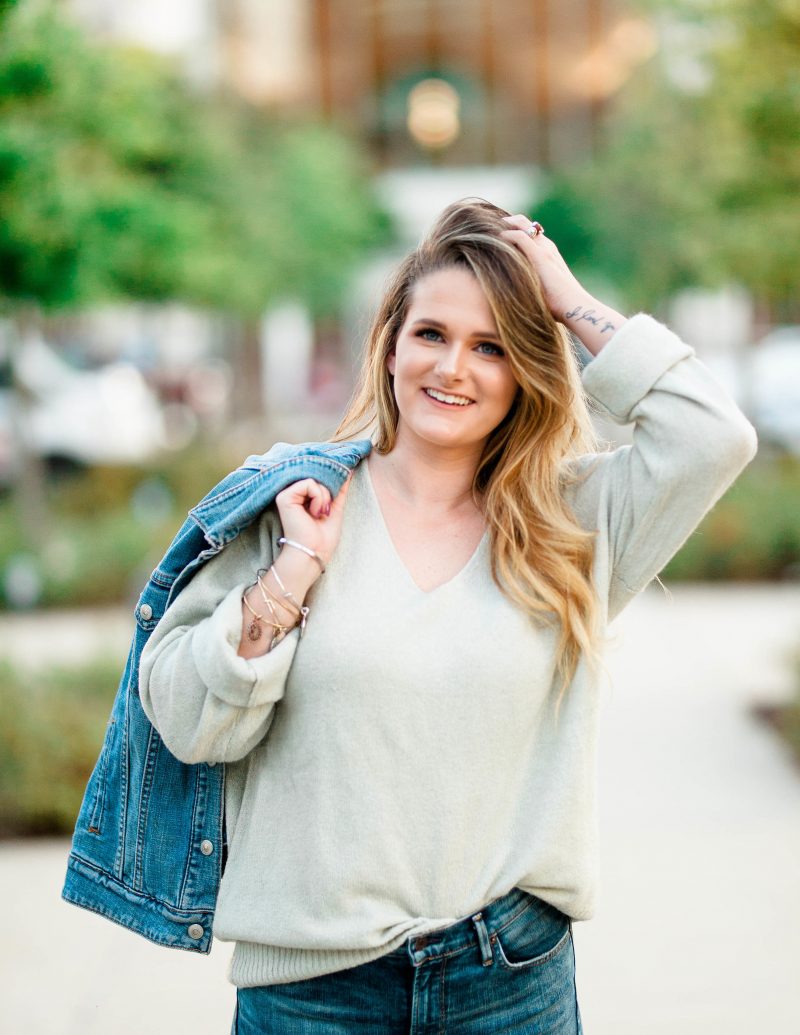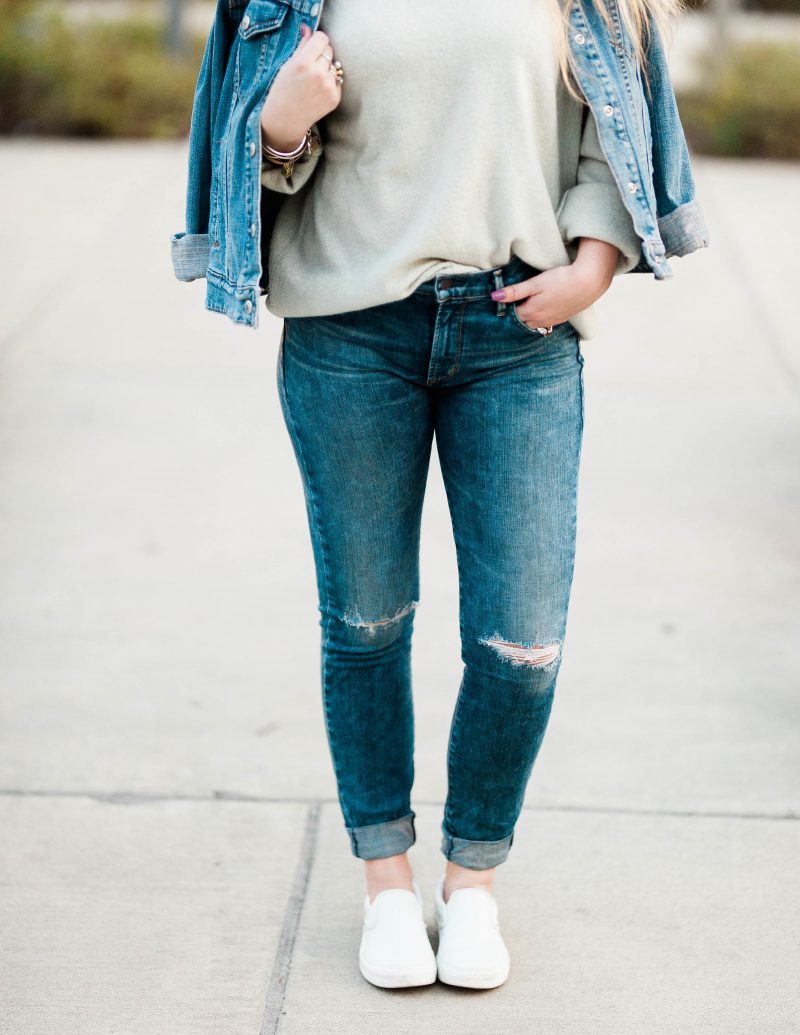 Hello, my loves! Warning, long post ahead (but worth it, trust me)! This week, I decided to mix it up and give y'all one long post instead of my usual (ok, sometimes usual) two posts. I'm featuring this outfit because it's seriously so comfortable, cute and I guarantee you have some version of it already (so no need to go buy anything new) in your wardrobe! When I travel, I love to look good and feel good. I keep it simple, but it's nice being comfortable but also feeling like I don't look so gross (you know what I'm talking about)!
For this outfit, I paired one of my new affordable sweaters from H&M with a great pair of jeans, a quality denim jacket from a thrift store and my vans. There are a few great things about this travel outfit: it's comfortable, all of these pieces can be worn with other items and lastly, you can hop right out of the car or plane and you're good to go! If I'm driving and have the ability to overpack (this def happens every beach trip), I always do just because, why not (lol, oops)?! But, if I'm hopping on a plane, I make sure to limit what I bring and plan my outfits ahead so that I pack efficiently. These jeans and shoes are great for everyday wear and walking around. The denim jacket will go with literally anything, from an athleisure outfit to a dress for dinner, it will keep you warm and stylish. Lastly, this sweater (or any simple sweater) is perfect to pack because you can layer it over other tops or dresses, pair with skirts or dress it up with a nice pair of pants and some heels. It's also not too heavy that you will get too hot if it warms up, but it's not too thin that you're freezing without layering. Oh, and it's super soft!
Denim Jacket: Levi's from Buffalo Exchange, $25 (thrift find) | Sweater: H&M, $20 (comes in other colors) | Jeans: AGOLDE from Alternative Apparel, $140 (purchased for $20 at a warehouse sale) | Seafoam Leather Slip-on Sneakers: Vans/Madewell, $65 (on sale for $35 at Madewell; white ones linked)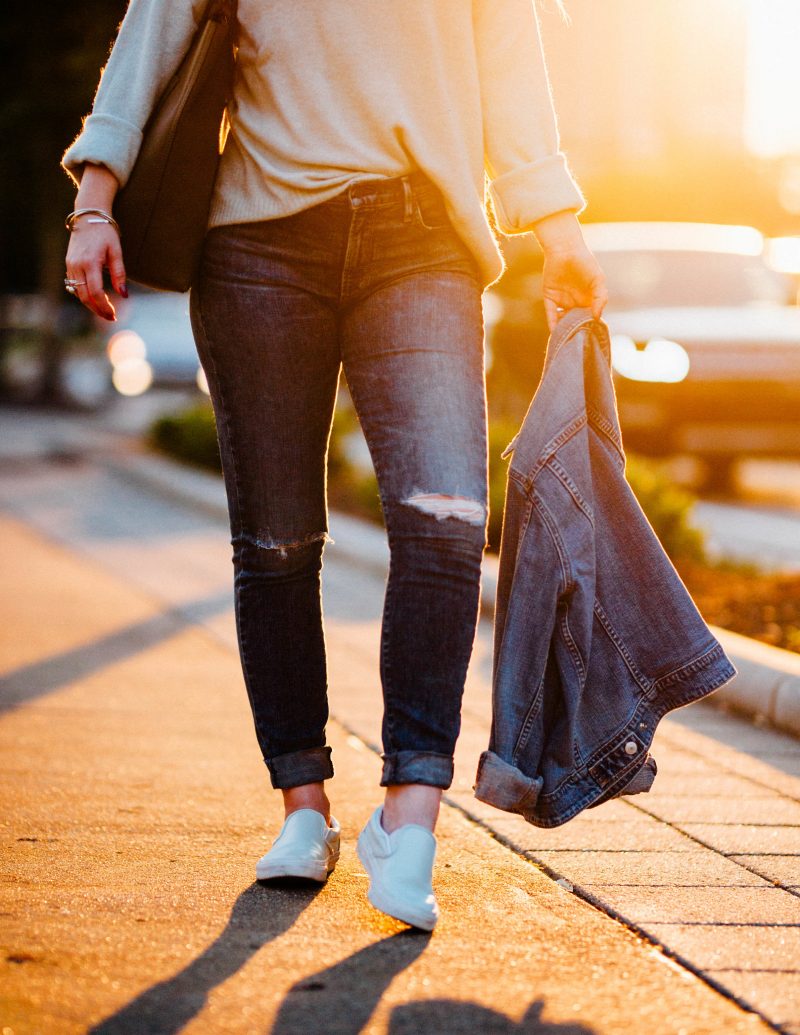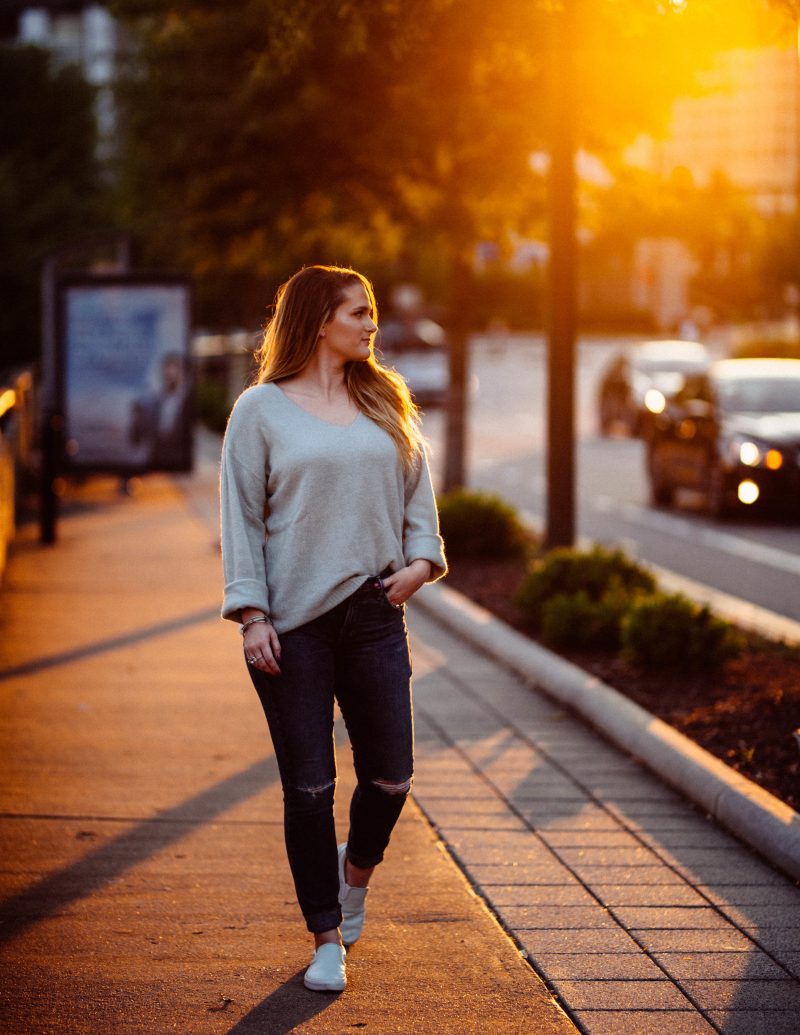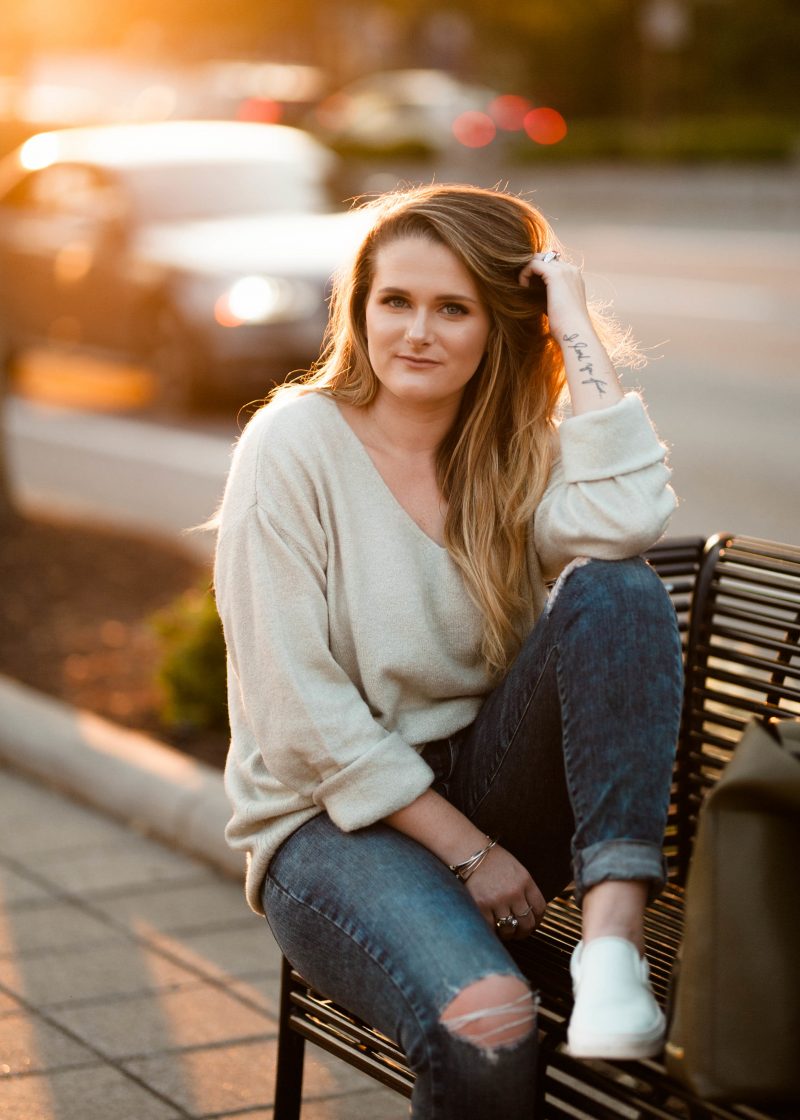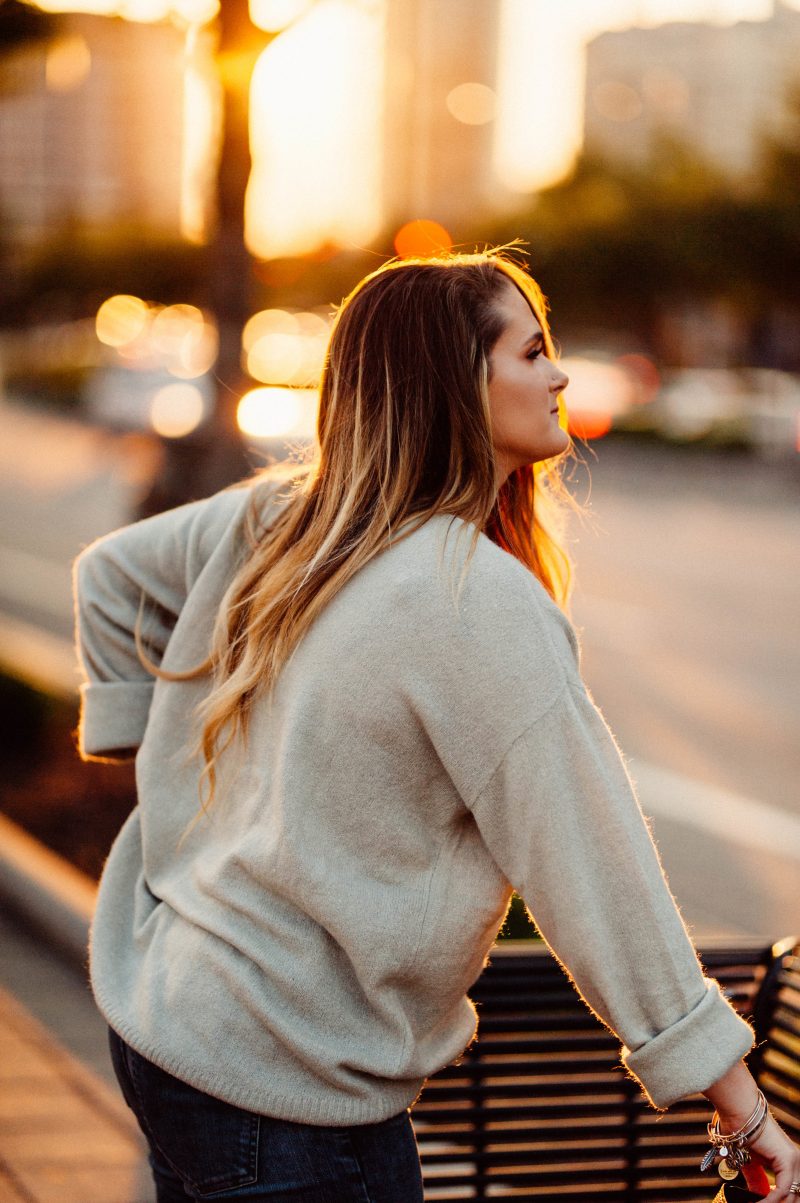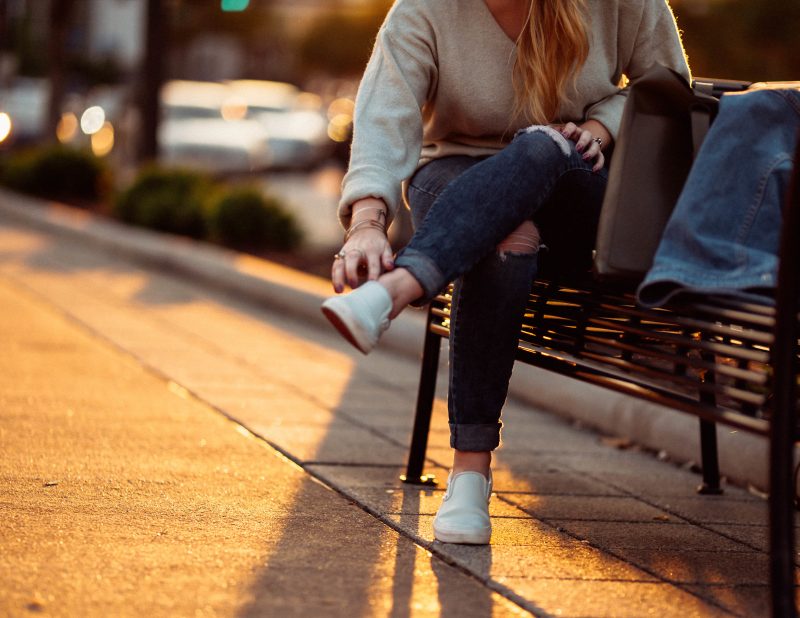 Photography by Minela Sejdin Photography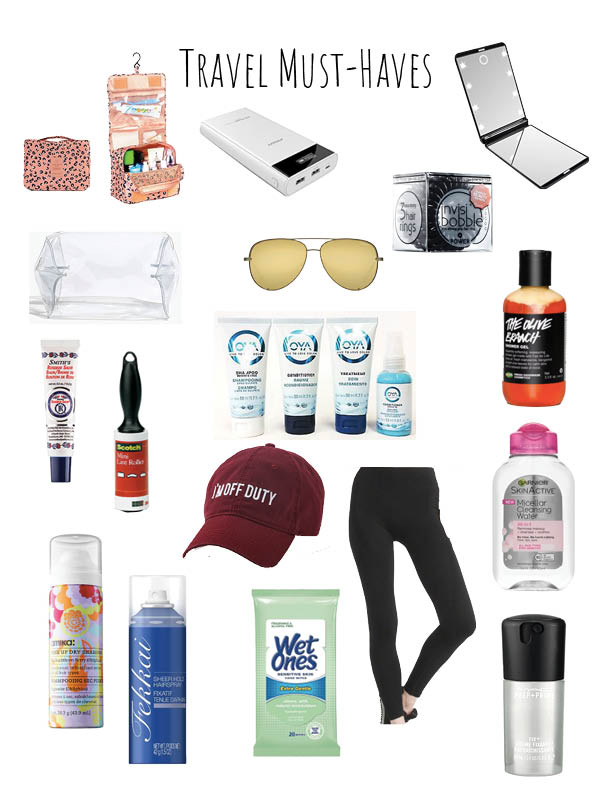 Toiletry Travel Case: $13 from Amazon | High Capacity Portable Charger: $30 from Amazon | Portable LED Makeup Mirror: $15 from Amazon | Large Crystalline Makeup Bag: $25 from Madewell | QUAY x Desi Perkins High Key Aviators: $65 from QUAY | Invisibobble Power Hair Rings: $9 for a 3 pack from Sephora | Smith's Rosebud Salve Lip Balm: $6 from Sephora | Mini Lint Roller: $10 for 6 from Amazon | OYA Travel Size Haircare: Message me if interested in ordering | LUSH Shower Gel: $10 from LUSH Cosmetics | MAC Prep + Prime Fix + Travel Size: $12 from MAC | Leggings: $48 but on sale for $20 from Abercrombie | Fun Baseball Hat: $16 but on sale for $12 from American Eagle | Amika Mini Dry Shampoo: $10 from Sephora | Garnier Skin Active Travel Size Micellar Water: $3.50 from Target | Fekkai Sheer Hold Travel Size Hairspray: $6.50 from Target | Wet Wipes: $1.50 from Target
When I travel, even if it's just for the weekend, I try to always be super prepared. I don't want to have to go out and buy something that I already have at home! Listed above are some of the things that I travel with on a regular basis, and can't live without in general.
I think one of the biggest hacks of travel is to find a good toiletry case for your needs. This one is great because it fits my face products that I use on a regular basis, it's very spacious and has compartments for other things like cotton rounds and floss picks. I love when travel toiletry cases have the perfect compartments to house all of the little things that come along with me. The one that I have linked is super affordable and comes in many patterns and colors. The next most important piece of travel gear for me is my makeup bag. On an everyday basis, I keep my makeup in storage drawers because I literally have so much. But, when I travel, I bring the necessities plus the few items I might need for the occasion. I've had a hard time finding a makeup bag that's the perfect size. I love that this one because it's clear, so I can see everything that I have with me (also great for TSA)! It fits my essentials plus some, and my makeup brushes! It's also super easy to clean, so any mess made in here isn't going to ruin your makeup bag or seep through to everything else. It's a little bit pricier, but it's durable and adorable!
These next few items are not only travel must-haves, but everyday essentials. First is this portable charger; it is literally amazing. I have to give my mom credit for this one because she recommended it after using it for four whole days to completely charge her phone multiple times without ever hooking anything up to the wall. I mean, that is impressive! It's a little heavy, but for the power you're getting (literally) it makes it totally worth it. Next, is this mini LED mirror. I saw Emily Gemma using this and instantly knew that it was the missing piece from my travel essentials. Every time I go somewhere and bring my makeup, I always struggle because I get ready with a ring light at home every day (high maintenance, I know). This is a great item to have on hand because it's small and lightweight, which makes it perfect for travel or just to keep in your purse every day. I also always have sunglasses and a hair tie with me at all times. My eyes are super sensitive to the sun, so I'm literally always needing to wear them. I recently caved and bought these QUAYxDESI PERKINS High Keys and I am obsessed. If you can't tell, I love the oversized sunnies and these are no exception. But the real deal here is the Invisibobbles: my newest obsession. They are perfect for my hair because it's so thick and course, which can be a nightmare for normal hair ties sometimes. They hold my hair well, don't hurt to take out, don't get tangled and make a really cute messy bun!
I won't spend too much time explaining the rest because they are very common items, but I am going to mention my fav hair products at the moment. Recently, I've been using and loving the OYA Beauty shampoo, conditioner, leave-in conditioner and treatment. It's seriously changed the way that I wear my hair. Normally, my hair would look best on the second day of styling, but with these products, it looks like that right away and helps my hair not go crazy in the Georgia humidity. I'm so glad that this brand has travel size options because now I don't have to worry about my upcoming trips and lugging the big bottles with me! If you're interested in trying these products for yourself, message me and I will put you in contact with a rep to purchase from since this is a brand normally sold in salons!
Whenever you're traveling you always want to keep a good lip balm on your hands to keep your lips moisturized and prevent them from cracking. I love this brand for so many reasons, but mainly because it gets the job done. Next, you're going to need a lint roller. If you're like me and have/love pets, then most likely your items have fur on them just from being in the same air as your pets. I don't know about you, but I get so annoyed seeing stray hairs on my clothes!
My other travel products that I can't live without are my dry shampoo, hairspray, a good body wash, makeup remover, wipes and setting spray to keep myself looking refreshed throughout the day! I could never travel without these items. These items are so important and also come in handy on many occasions. I also keep a mini hairspray in my car and at my desk, well, because you never know! Oh, and don't forget the mini setting spray that's always in my purse!
Last, but certainly not least, is a good ball cap and some quality leggings. The reason I included these items is because all of the uses you can get out of them. They're great for traveling in, wearing to bed or even for a casual, easy outfit when you're just not feeling like getting ready.
What are some of your travel must-haves, tips and tricks?
With love and hopes of inspiration,
Carly