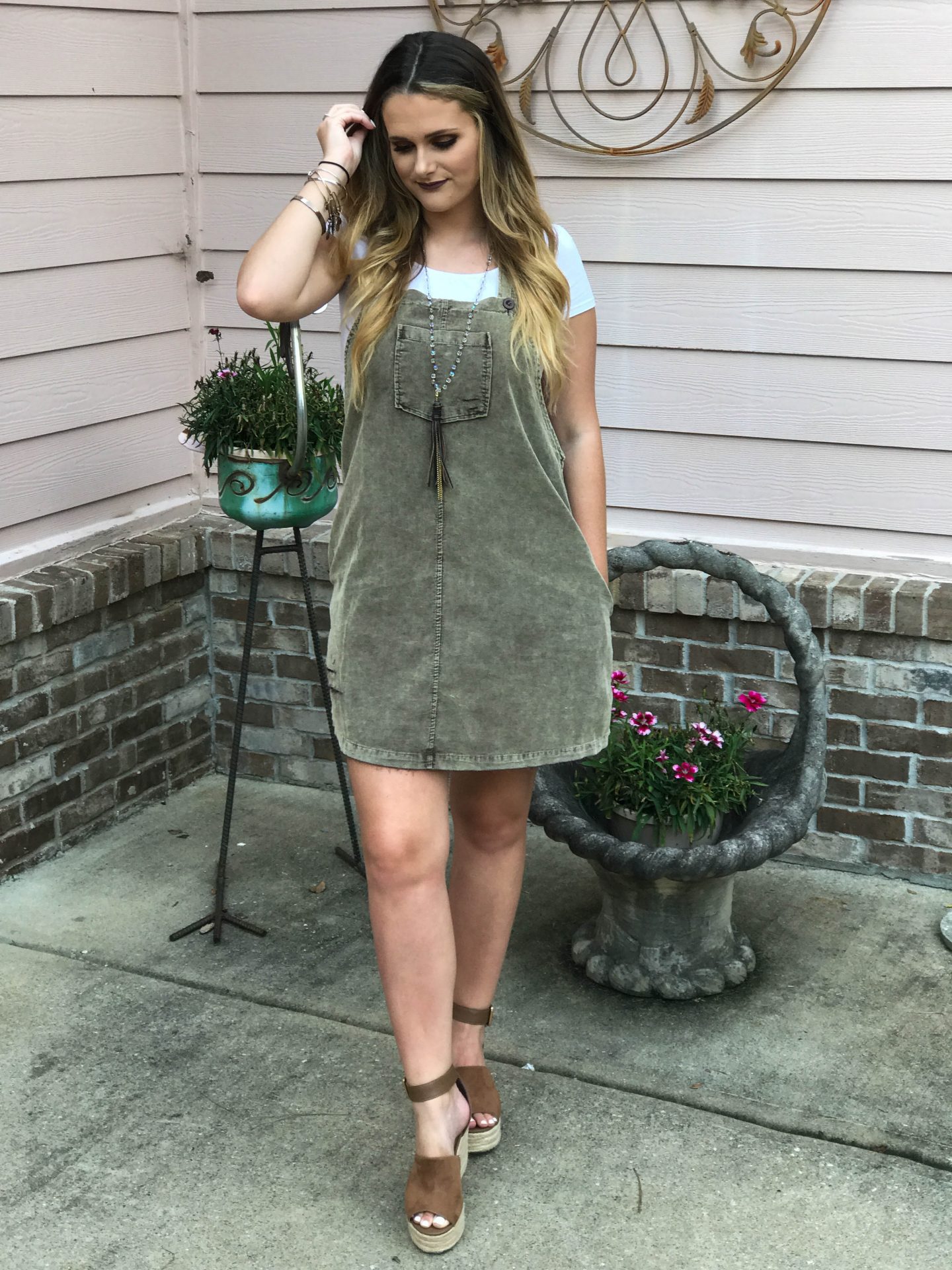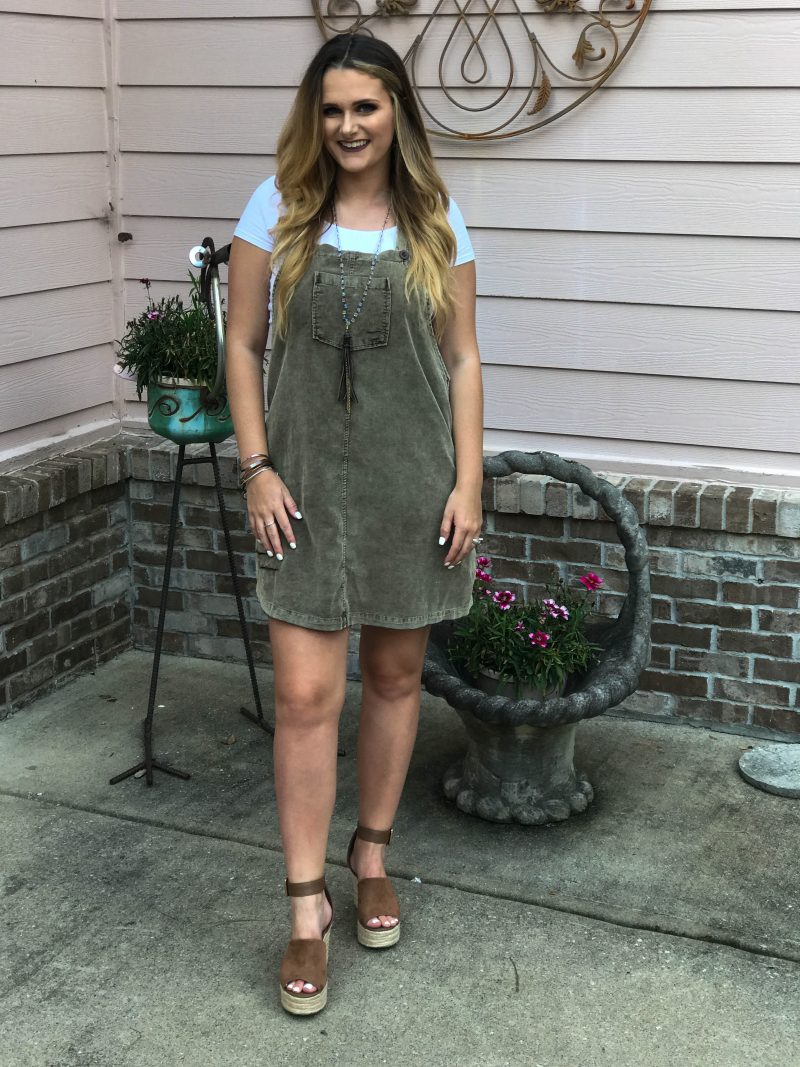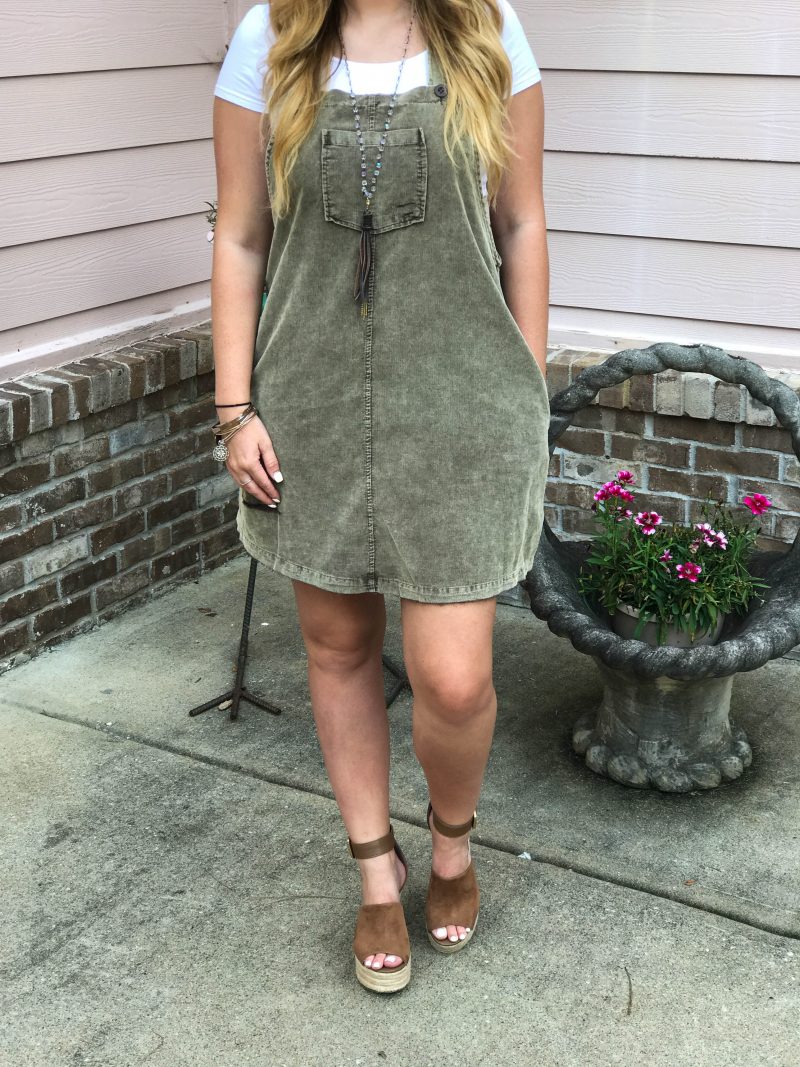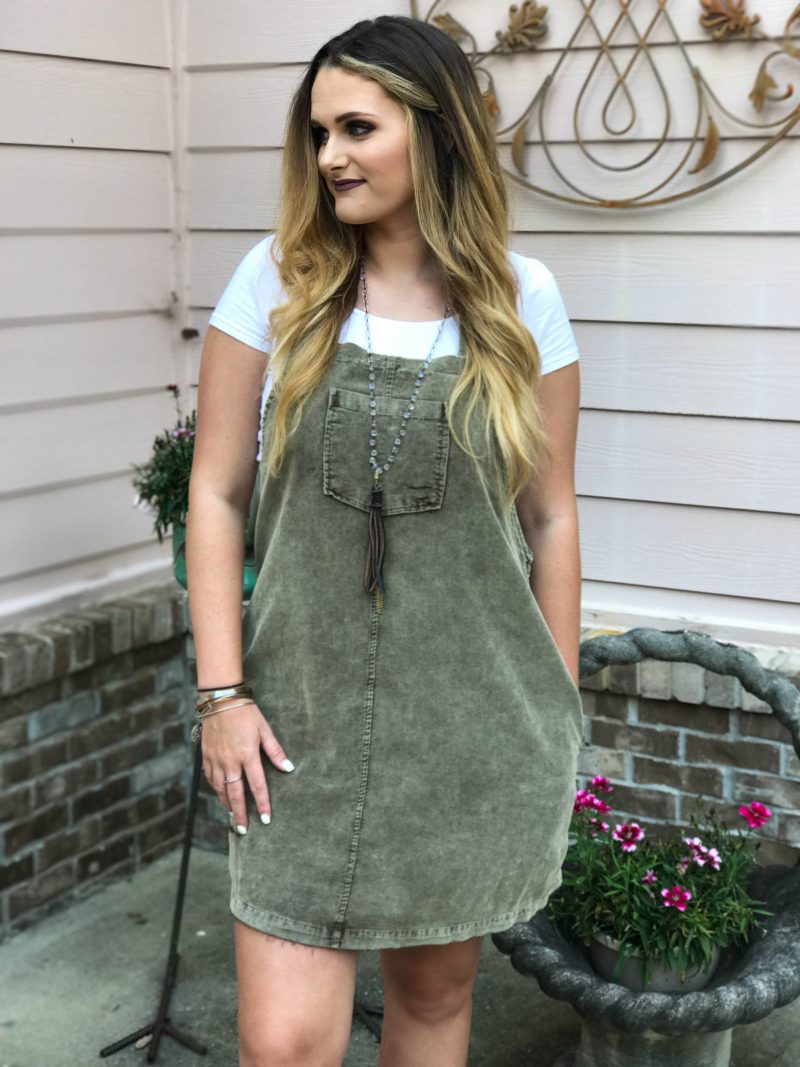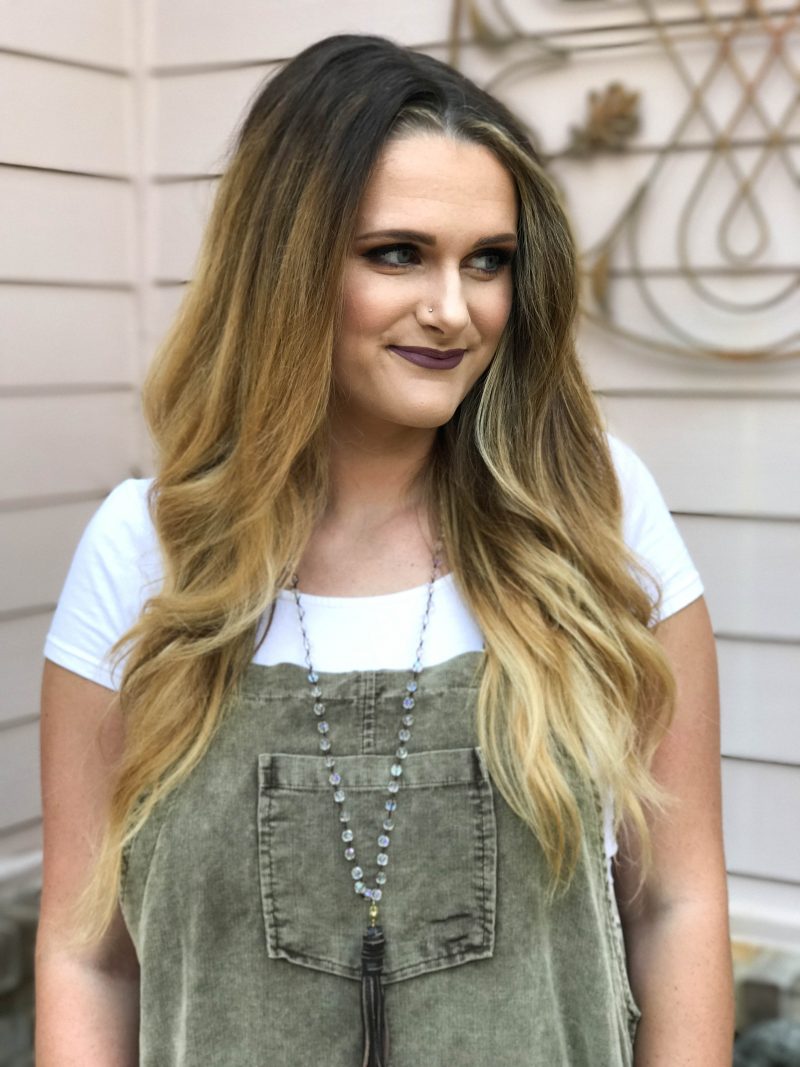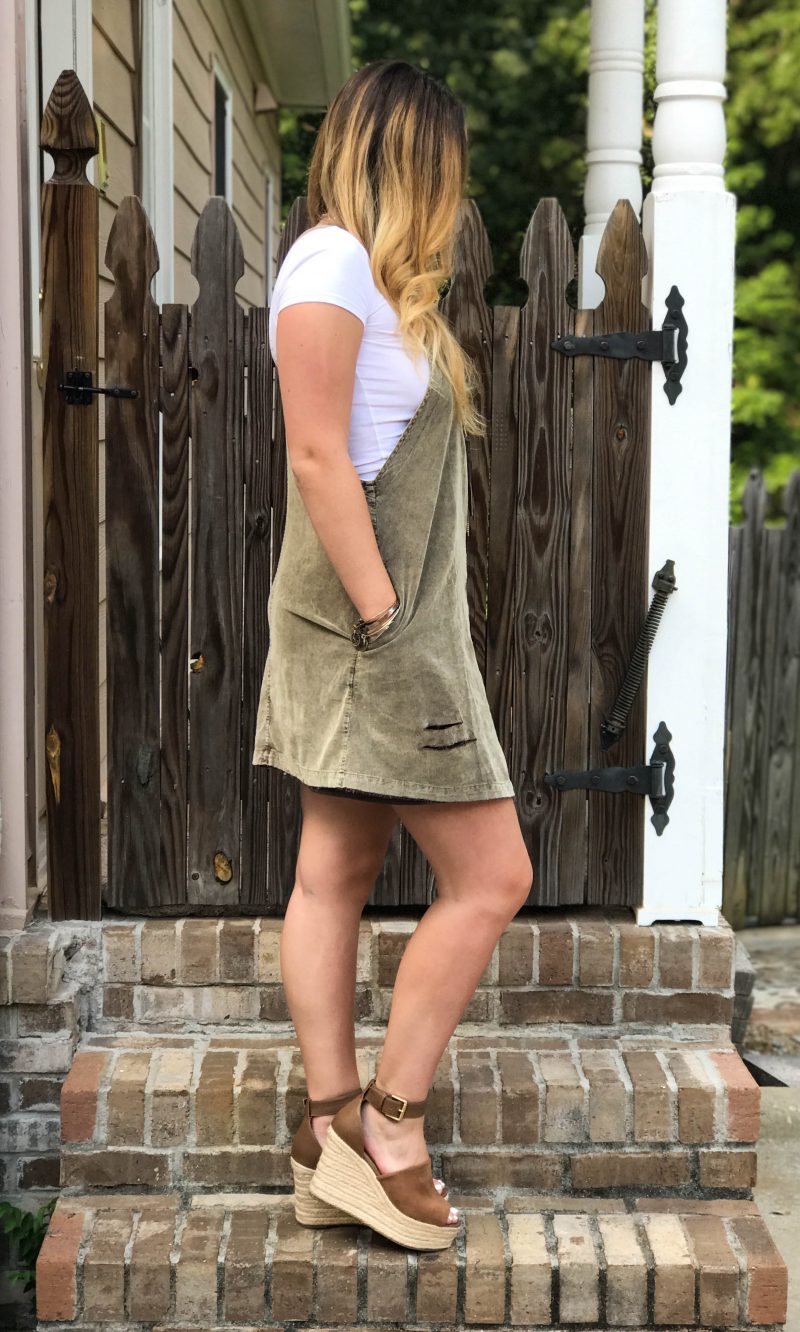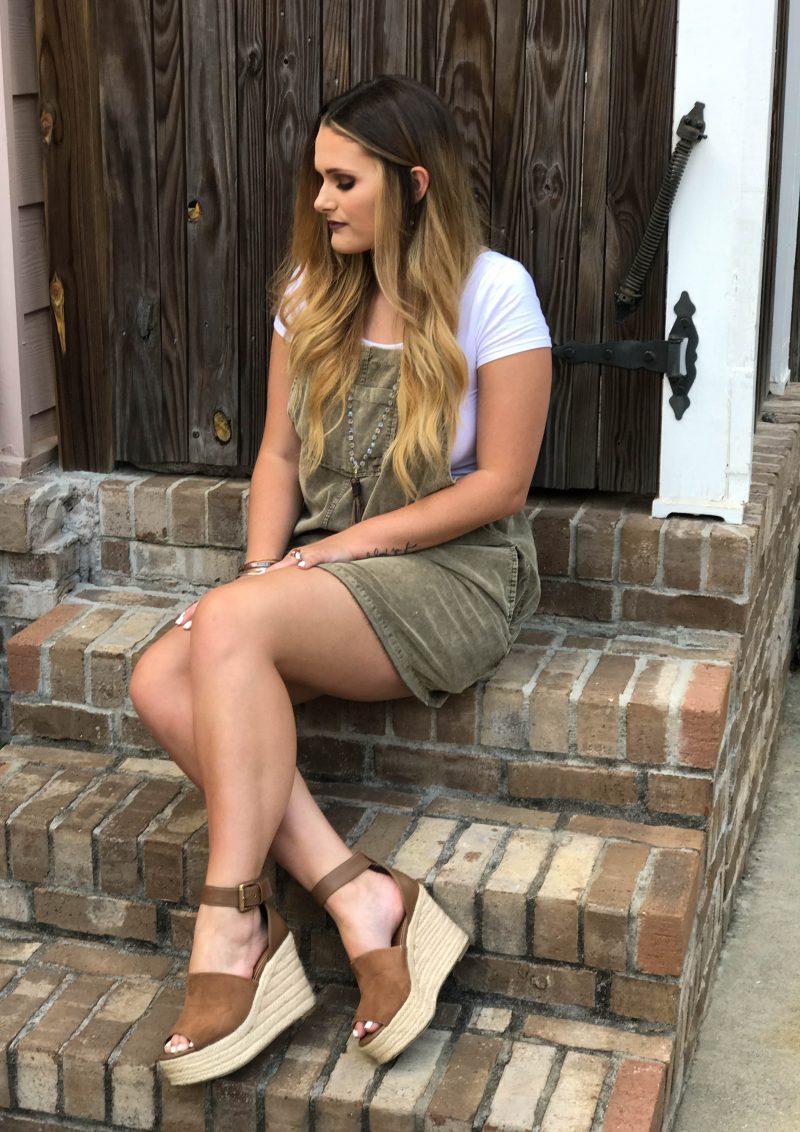 Corduroy Overall Dress: $60 at Sprited Boutiques, similar option listed here and here | Crop Top: American Eagle, Soft & Sexy Collection, similar option here | Long Tassel Necklace: Gypsy + Magnolia, on sale for $10 | Espadrille Wedges: Indigo Rd, on sale for $35 at Belk
Hi, friends! I recently wore this outfit to a summer outdoor concert and fell in love with it, so I decided to do a little impromptu shoot before we left. Of course, as soon as we headed out the rain came in and my hair did not look like this for much longer – story of my life. I promise this won't be the last time you see this outfit in one way or another!
A few weeks back I went back to Woodstock, where I grew up, to get my hair done and meet up with my mom. Well, my mom and I always end up in some kind of store shopping, oops! There is an adorable boutique in Downtown Woodstock called Spirited and we just can't get enough. If you live in the Atlanta area, there are several locations and they are worth the trip! They carry such cute styles and brands, you are bound to find a great piece to take home! When I saw this dress, I died! I love overalls and definitely own a pair or two, but this overall dress was just so unique to me. I love that it has pockets and the cute front pocket. It's also slightly distressed on the side which adds some personality. The best part about this dress – it can be worn in pretty much any season! I look forward to styling this in the fall!
I bought this crop top a few seasons ago from American Eagle and it's been such a good piece to have. It's long enough to wear a high waisted pant with and not show much skin. It's a good layering piece like I have done here, or great to wear alone. This necklace is also the perfect piece of jewelry to add that extra something to any outfit.
Lastly, my shoes! If you follow me on Instagram, you already know how much I love them. I had been wanting these shoes for a while after seeing every blogger wear them but I couldn't bring myself to pay the price for them. Then, I went into a local shoe store called 50 East Shoes and there they were! They were $37 with an additional 20% off, I knew I had to have them! Ever since I bought them I've taken any excuse possible to wear them. They are comfortable and go with just about anything. I love that they pair great with jeans or a dress – you always want items in your closet that can do both!
This look is truly me and I just loved wearing it so much! I know that it will be making a reappearance soon since this past Saturday got rained out. Also, stay tuned to see how I style it this fall – I seriously can't wait! If you don't already, head over to Instagram and follow me there to see my outfits of the day and other posts! Also, make sure you subscribe to the blog over in the sidebar so that you never miss a post!
With love and hopes of inspiration,
Carly