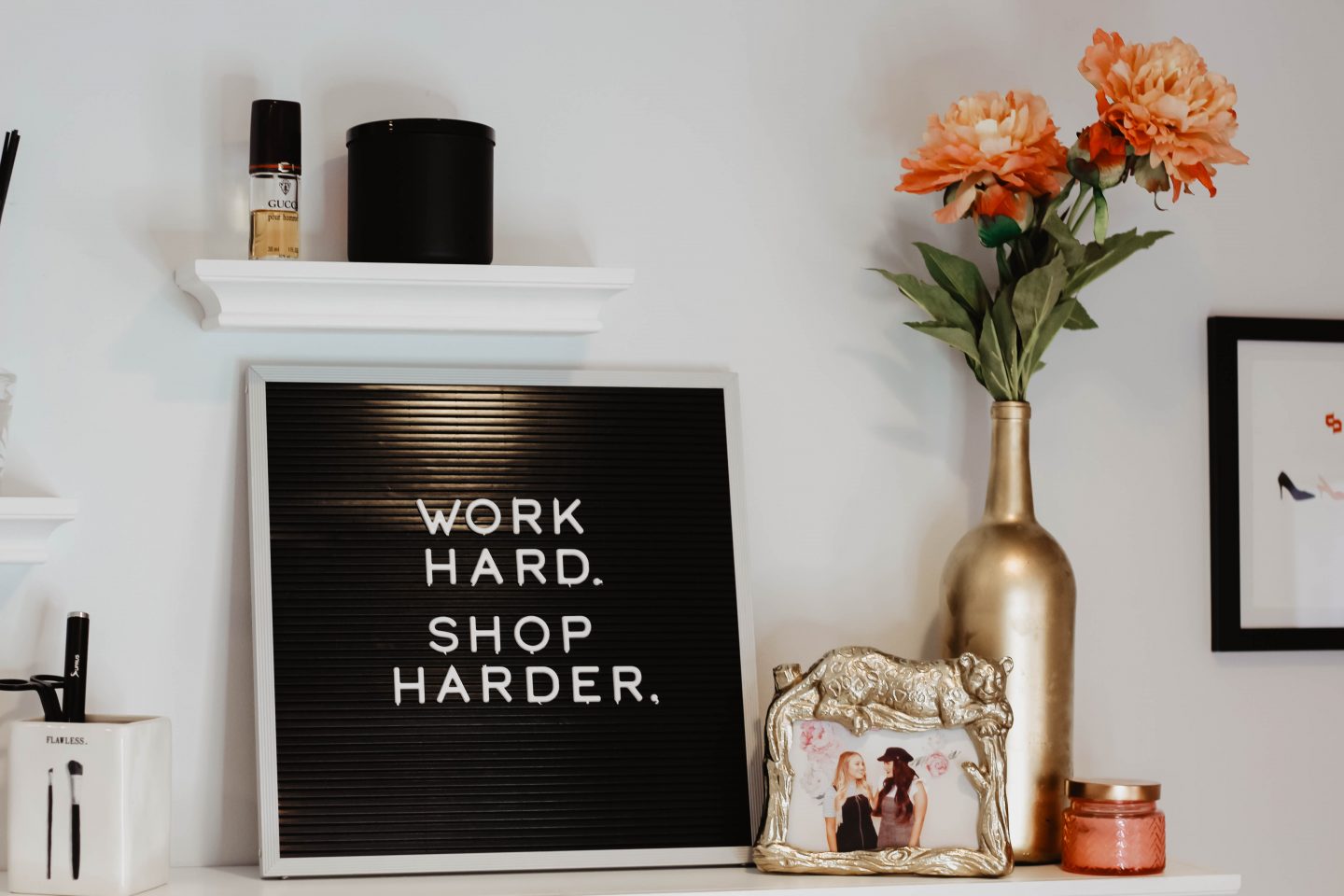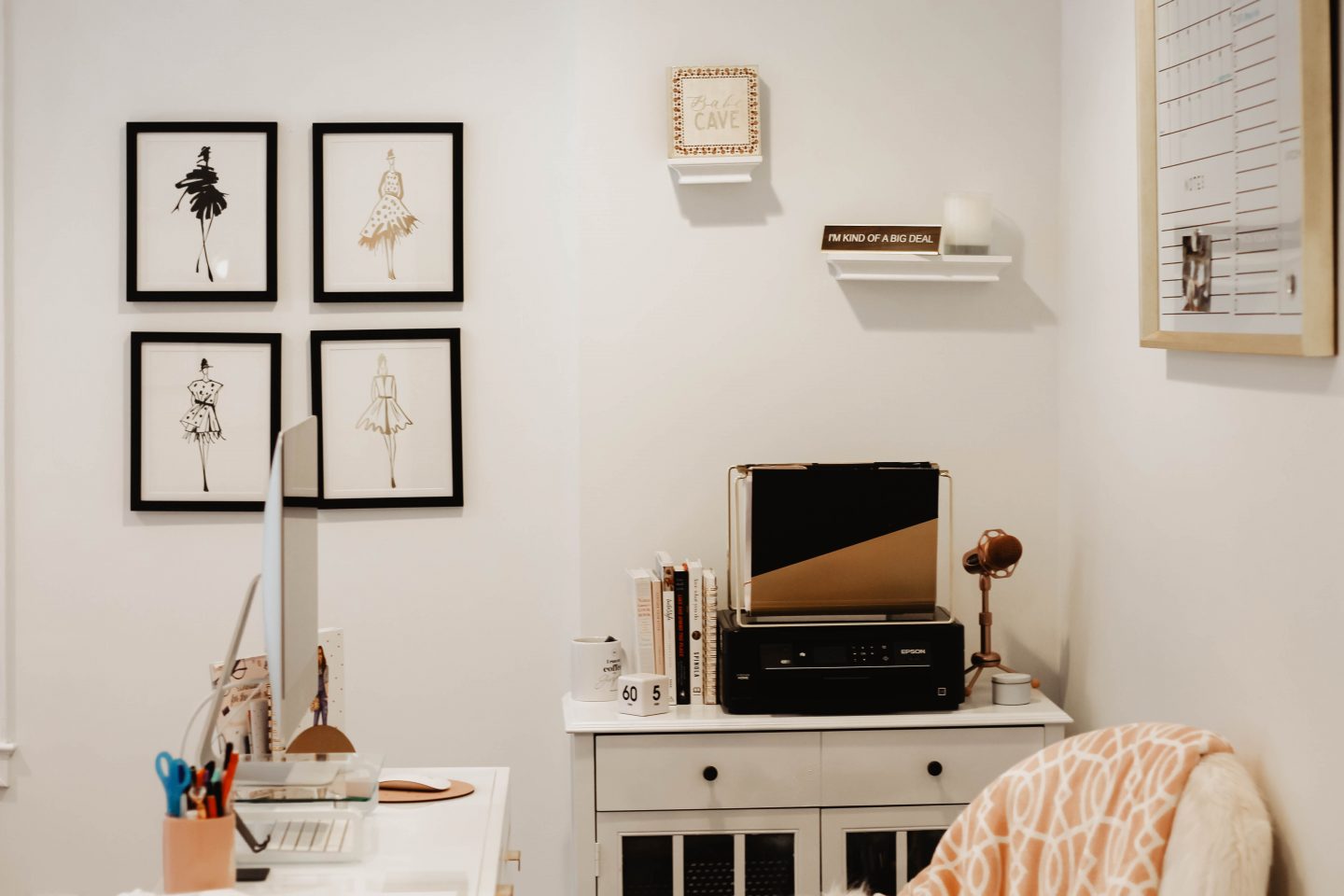 It's finally here! A few of you have been extremely invested in the process, so it seems (lol), so I'm so excited to finally share this project with you all! You may or may not know, but I live at home in my mom's basement — sOoOo glamorous lol! I transformed one of the basement rooms into my home office.
Before I completely transformed the room it was a home gym turned pool storage. But now that I'm working from home a few days a week and working on my own business, I found myself wanting a space to work out of. I had a desk in my room, but my creativity and productivity was declining because I was constantly retreating to my bed. Plus, I was always quarantining myself in my room and it was just becoming an issue.
I also want to preface that the majority of this stuff I already had around my house! The most expensive item that I bought for this office makeover was the plush pink chair! Other than a few decorations, I repurposed some old furniture and decor to create this space. I knew that I wouldn't be living at my mom's house for too much longer (I say that now lol), so I didn't want to buy too much for the space. The pieces that I already had and purchased can easily be transitioned into my new space one day!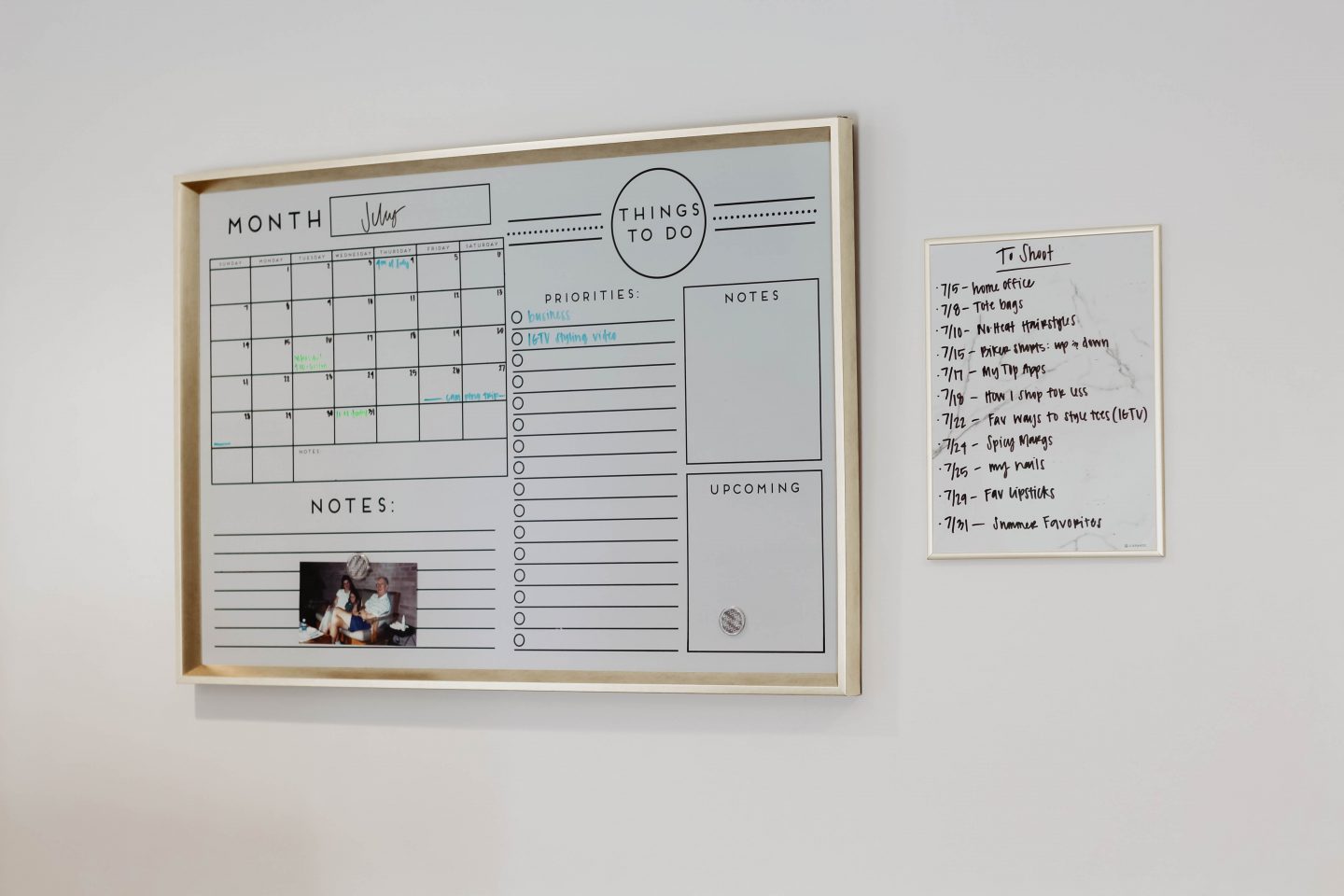 It seems as though every time I post stories while at my desk I get questions about this white board! Unfortunately, this exact one is nowhere to be found. I bought it over a year ago at Hobby Lobby, but I'm linking two similar options here and here.
This calendar is where I map out major dates, what I need to shoot when and list major deadlines for my job and work. Next to the calendar I keep a smaller dry erase board where I write out my shot list for the month so it's visible!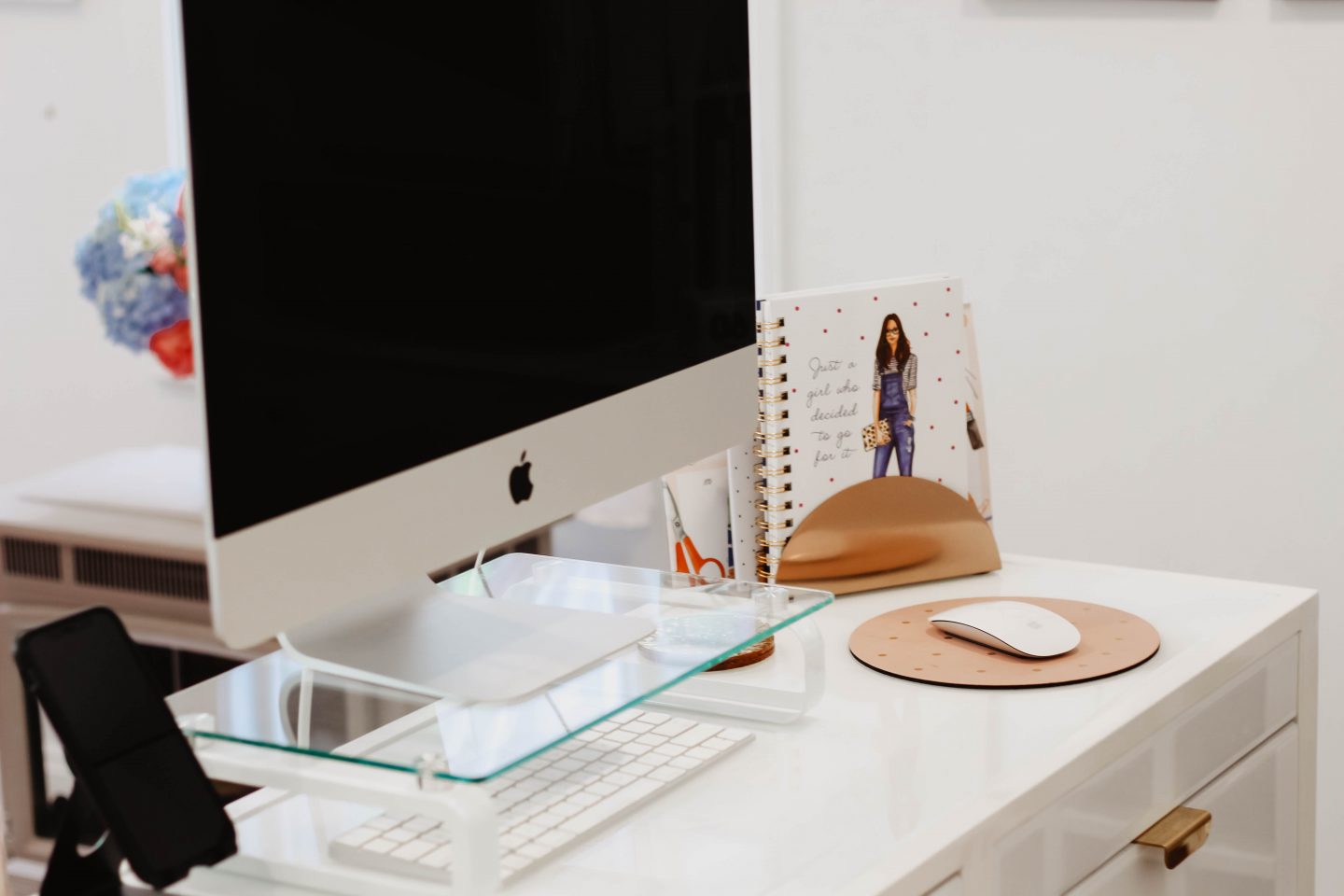 Now that I'm scrolling through the photos I realize that I didn't get a really good shot of my desk, oops! While it's definitely beautiful, I can't find it anywhere online so I guess it's best not to tease you with! I did find two very similar options that are a lot less than this one – here and here.
Aside from my new pink chair, this is the most expensive piece of furniture in my office. I bought it almost two years ago from HomeGoods. I love it because it's so sleek and chic, but I will say that it's very short, so not much room to spread out on which I don't like. My desk chair is also old and from HomeGoods but I found a similar one as well. Full disclosure, I wouldn't buy a white fur chair. Now that I have it out of my room and in natural light, I can see how incredibly dirty it is from makeup, jeans and self tanner.
Because the depth of the desk, I ordered a computer stand to elevate my monitor and create more working space. I love this because it allows me to keep my keyboard underneath and I can lay my planner on top. This is a very affordable option compared to some others! I also got a phone stand so that I'm able to see notifications better and cut out how many times I pick my phone up, which leads to me getting distracted.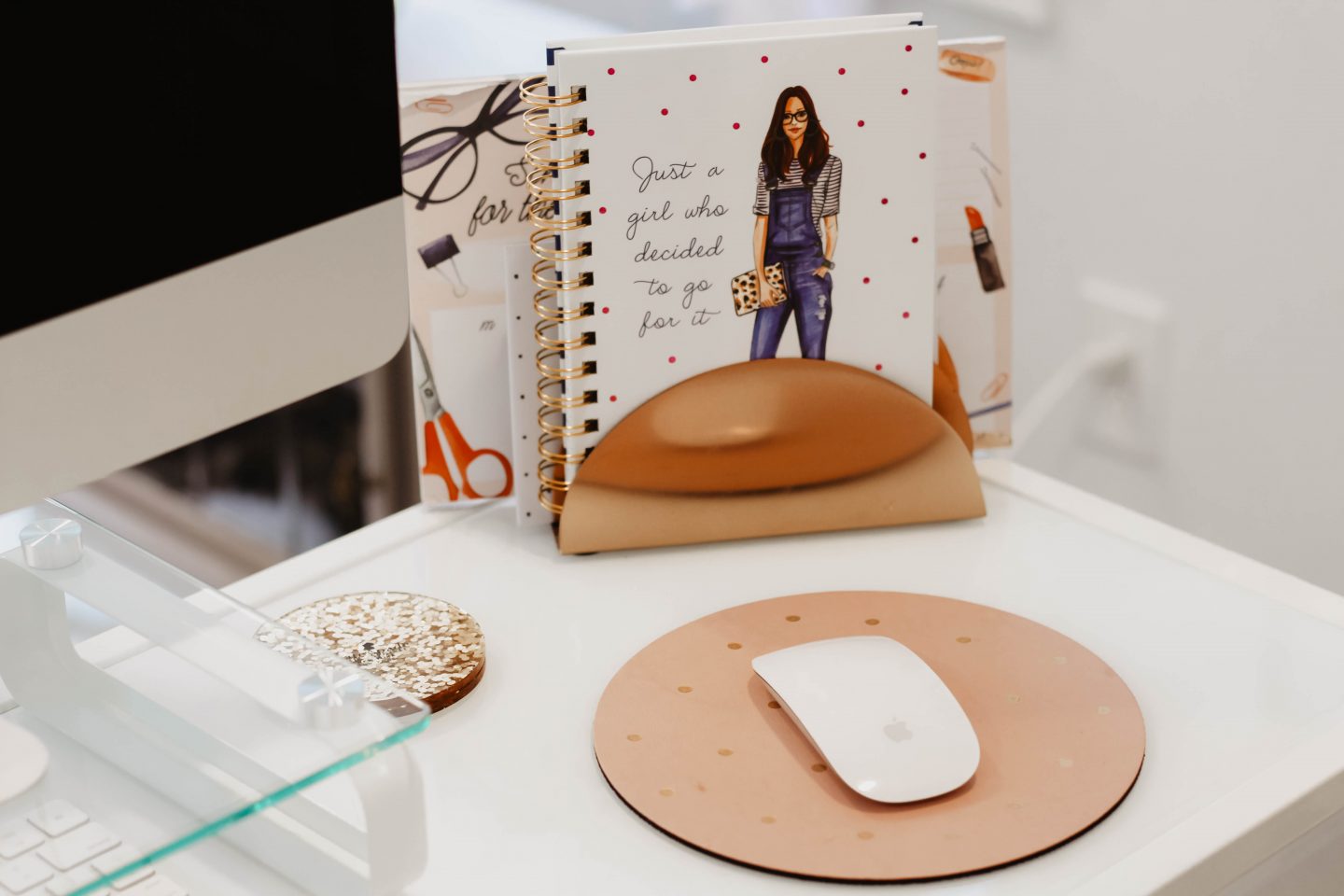 As far as my desk accessories go, I keep a small file organizer with a notebook and some notepads. And did you think I was going to have a boring mouse pad? Of course not!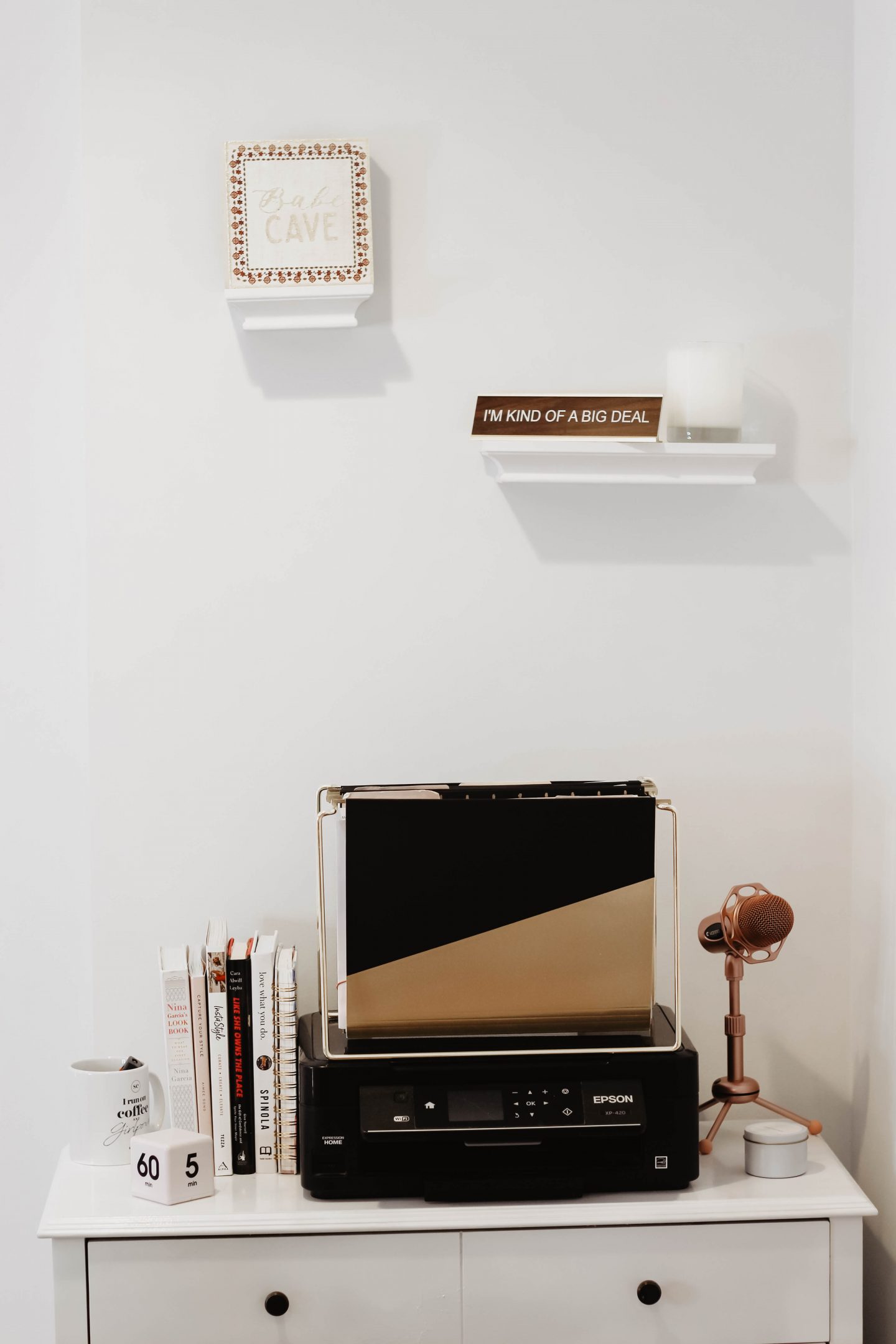 Next to my desk I have a small cabinet that I repurposed to match the theme of the office! Before it was a lime green cabinet that didn't actually shut, and was used as a bar cart in my college houses. I also got rid of it but I'm so glad I didn't because I saved so much money by spray painting this one instead!
In the cabinet I keep office essentials and all of my giveaway prizes that I have stock piled! On top, I keep my printer, important files of the moment, my current reads, my time cube and my mic! Above the cabinet I have two of the floating shelves with some decorations like my 'babe cave' sign and a desk plate to help fill up the space.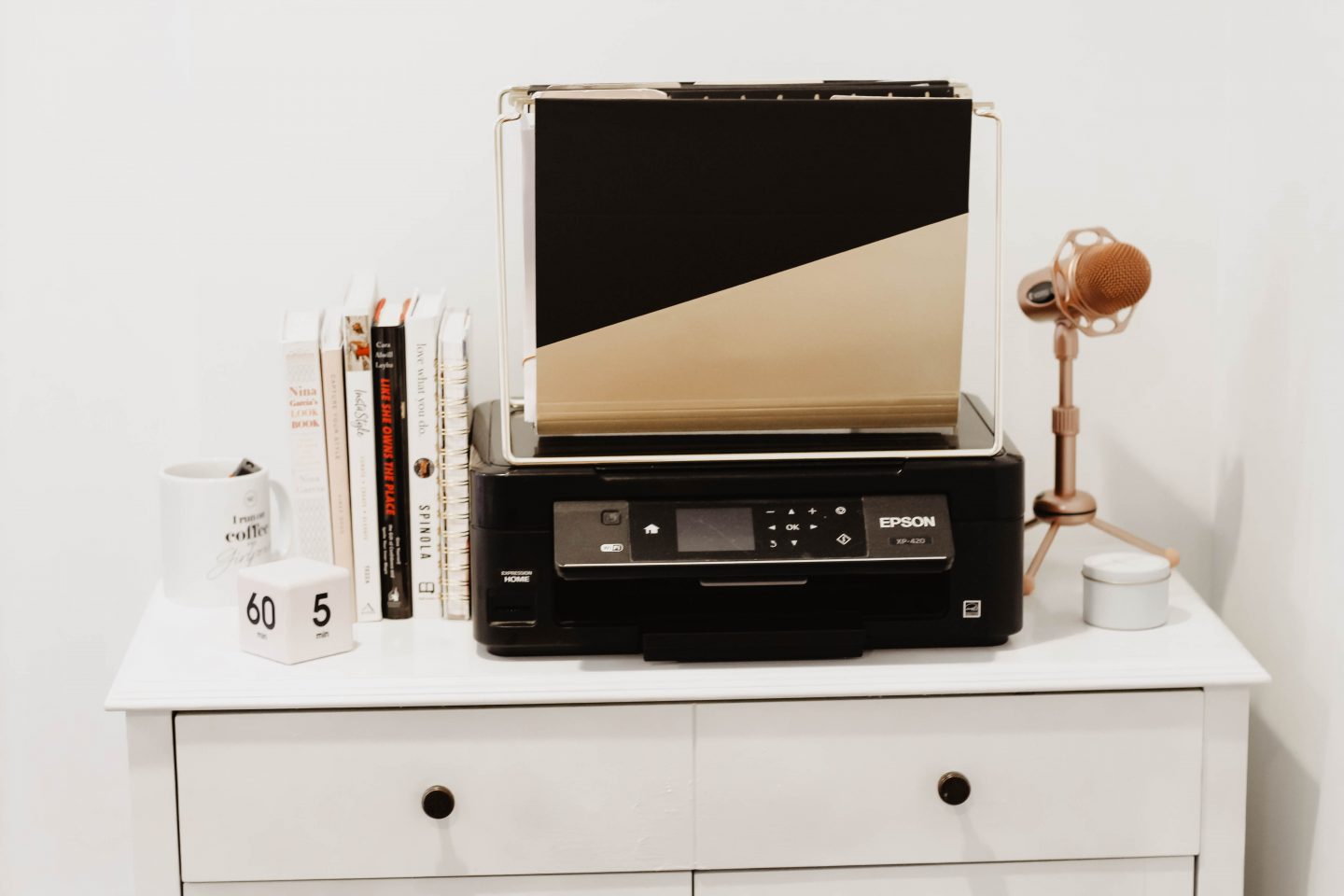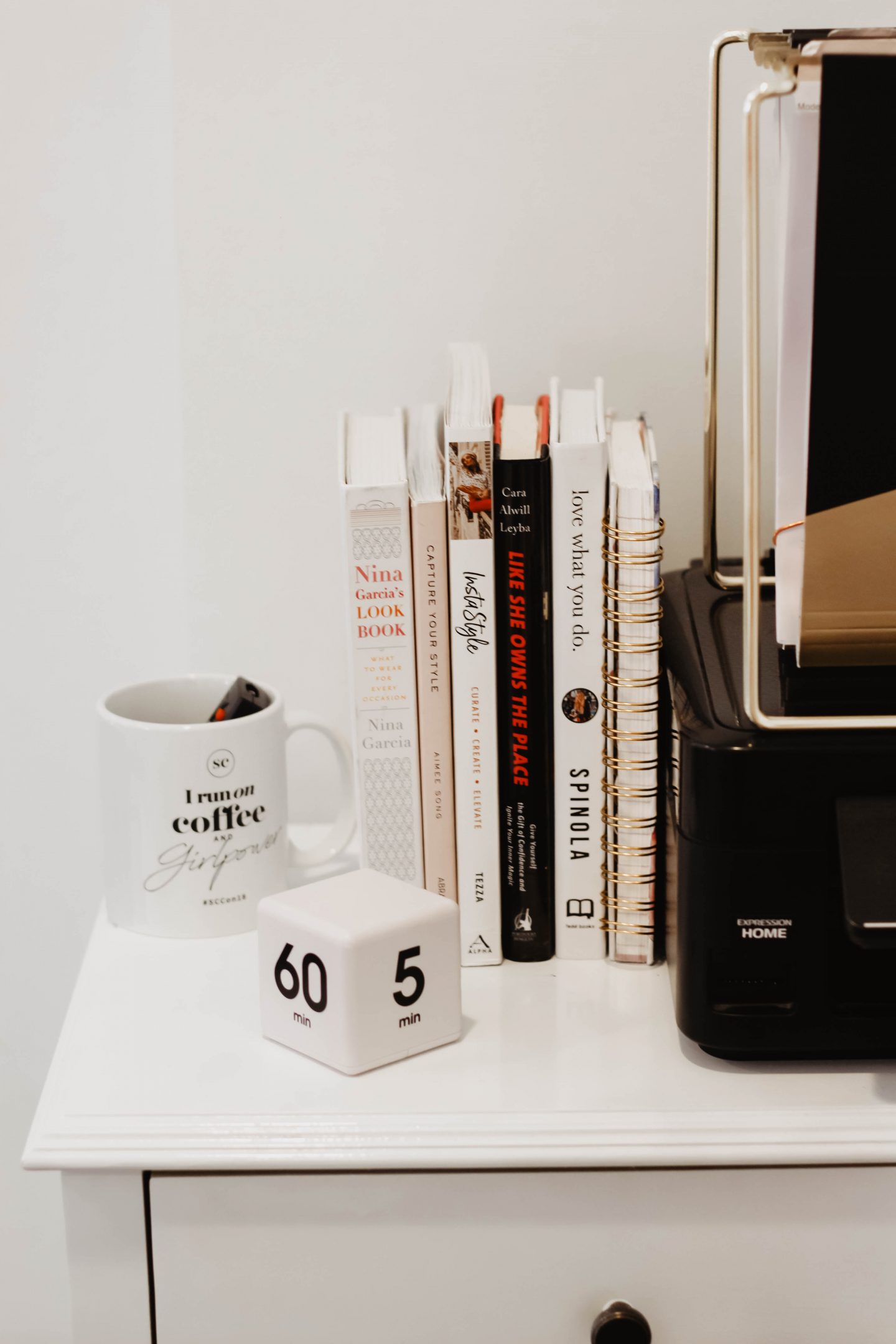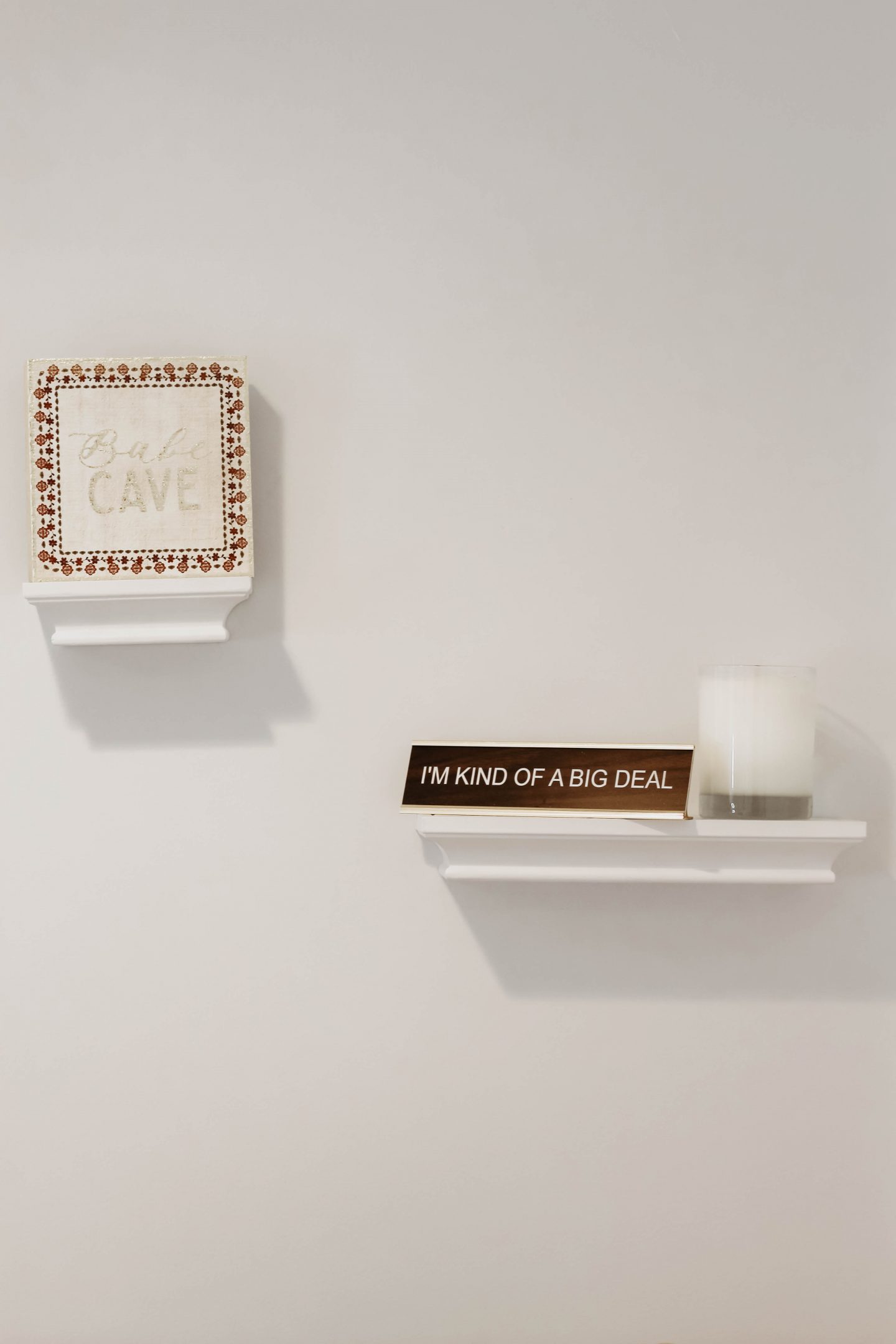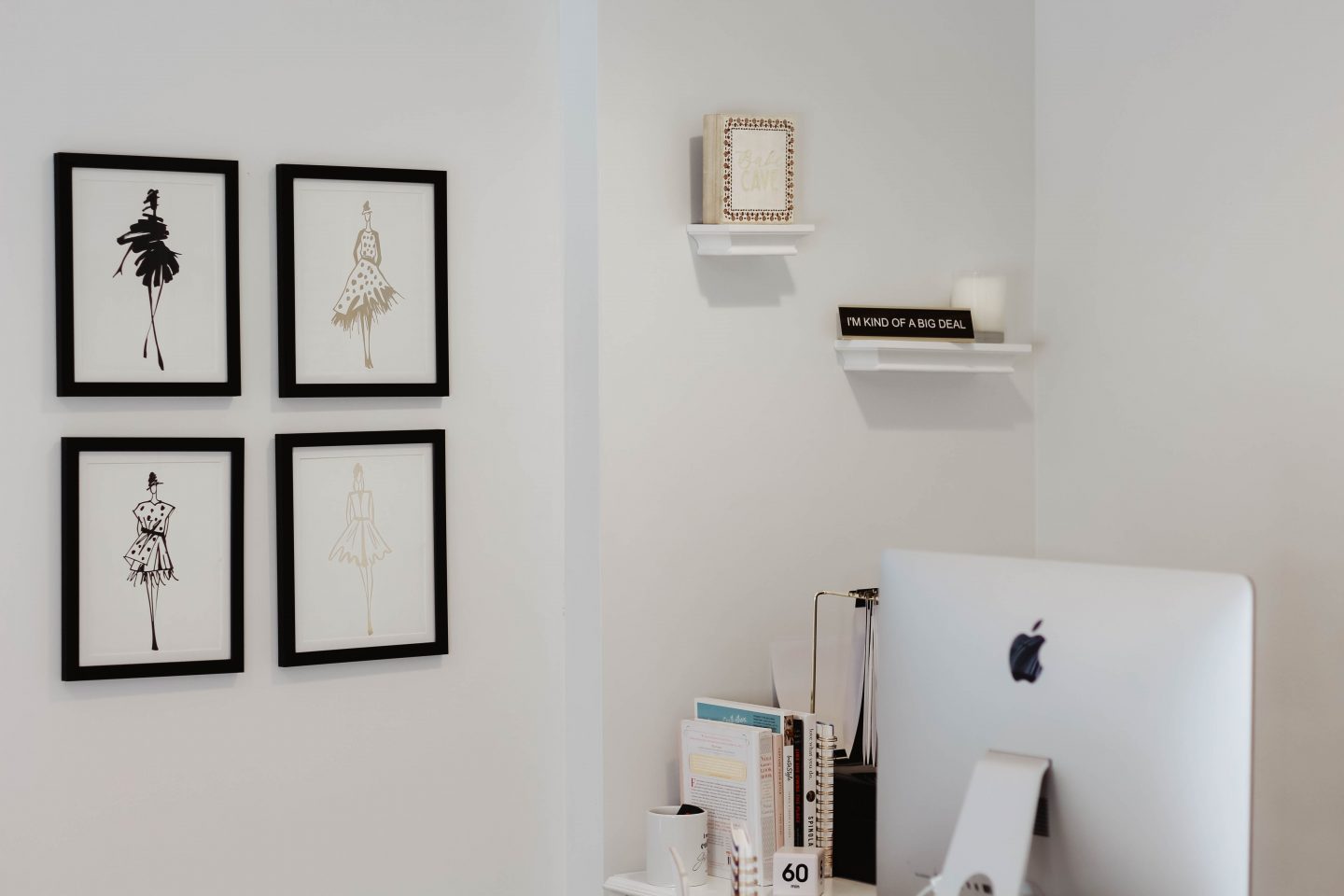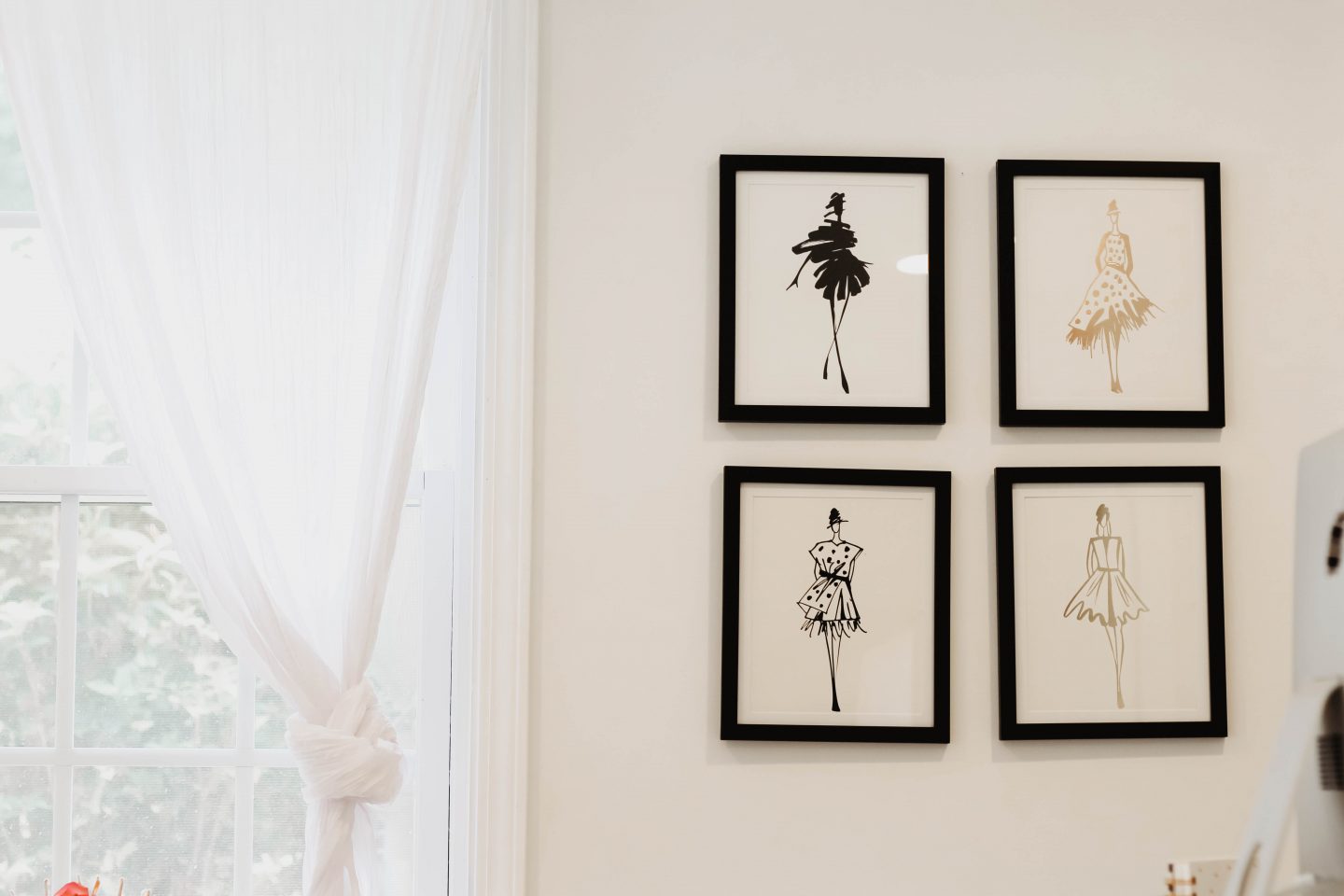 When I was cleaning out my desk and files I came across a pack of prints that I had purchased a while back. They just so happen to be the perfect addition and color scheme for my office! This pack of fashion sketch prints are from Graphique and come in a pack of 6, in black and gold.
I ordered a set of 6 frames from Amazon to put them in, and while the are cheap and good enough quality for the time being, I wouldn't recommend them for a gallery wall. The hardware to hang them on the back are not placed correctly on all, so these four are a little crocked because there was just no way around it!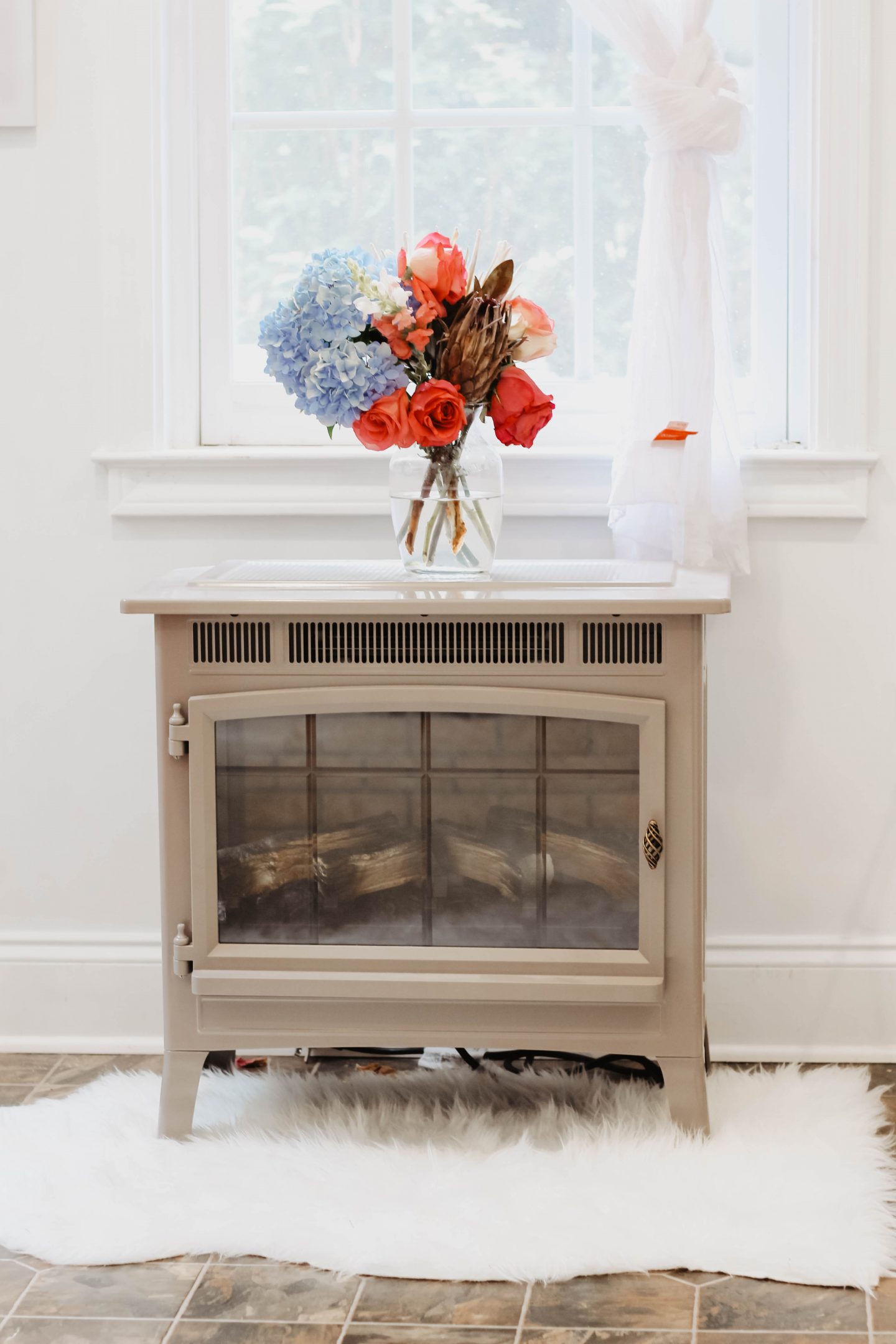 This little bad boy is a life saver! My grandma is obsessed with QVC and she ordered it for me about two years ago. It's been in my room, but it's the perfect fit for my office! This mini fireplace is completely electric and there is no open flame. It's perfect because it can be used as a heater or just to show a faux fire. I also love that it doesn't get too hot on the outside! I put a small faux fur rug underneath to add some dimension. This faux fireplace is a bit of a splurge, so I linked a similarly one here!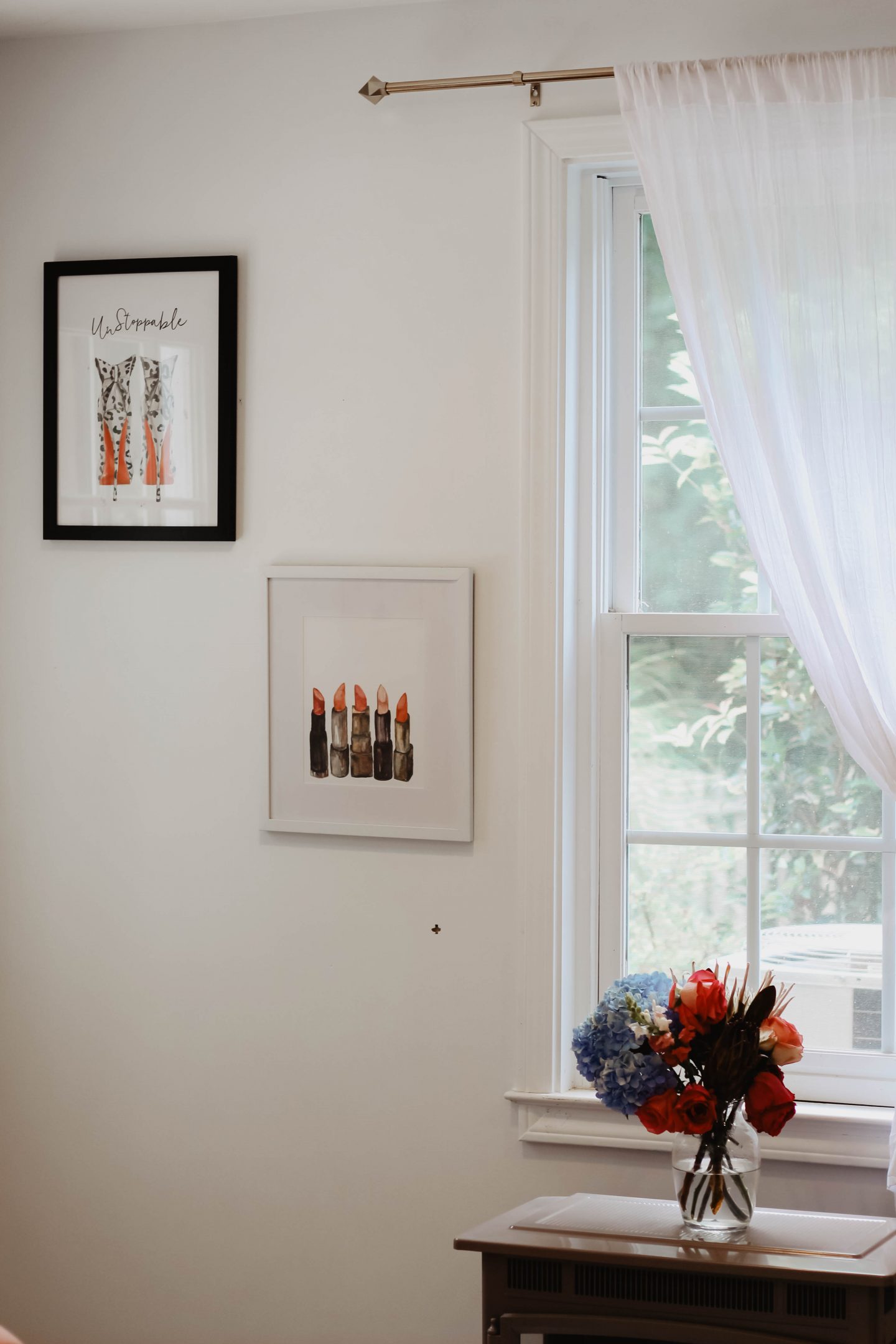 I'm a sucker for good print and Hobby Lobby always seems to have the best of them! I spotted the Unstoppable print and couldn't resist. The lipstick print was also another one that stood out to me that I thought would be perfect in my home office! The only thing that I don't care for is the white frame just because the rest of my office frames are black, but I think I'm going to spray paint it soon.
I didn't want to leave the window bare, so I got gold rods with geometric ends from Target and chose two sheer white curtains from Target's Opalhouse collection! I didn't want a color because I felt like it might be too busy. These sheer curtains are great to leave down when it's nighttime, but don't prevent too much light from getting in, which is how I like it!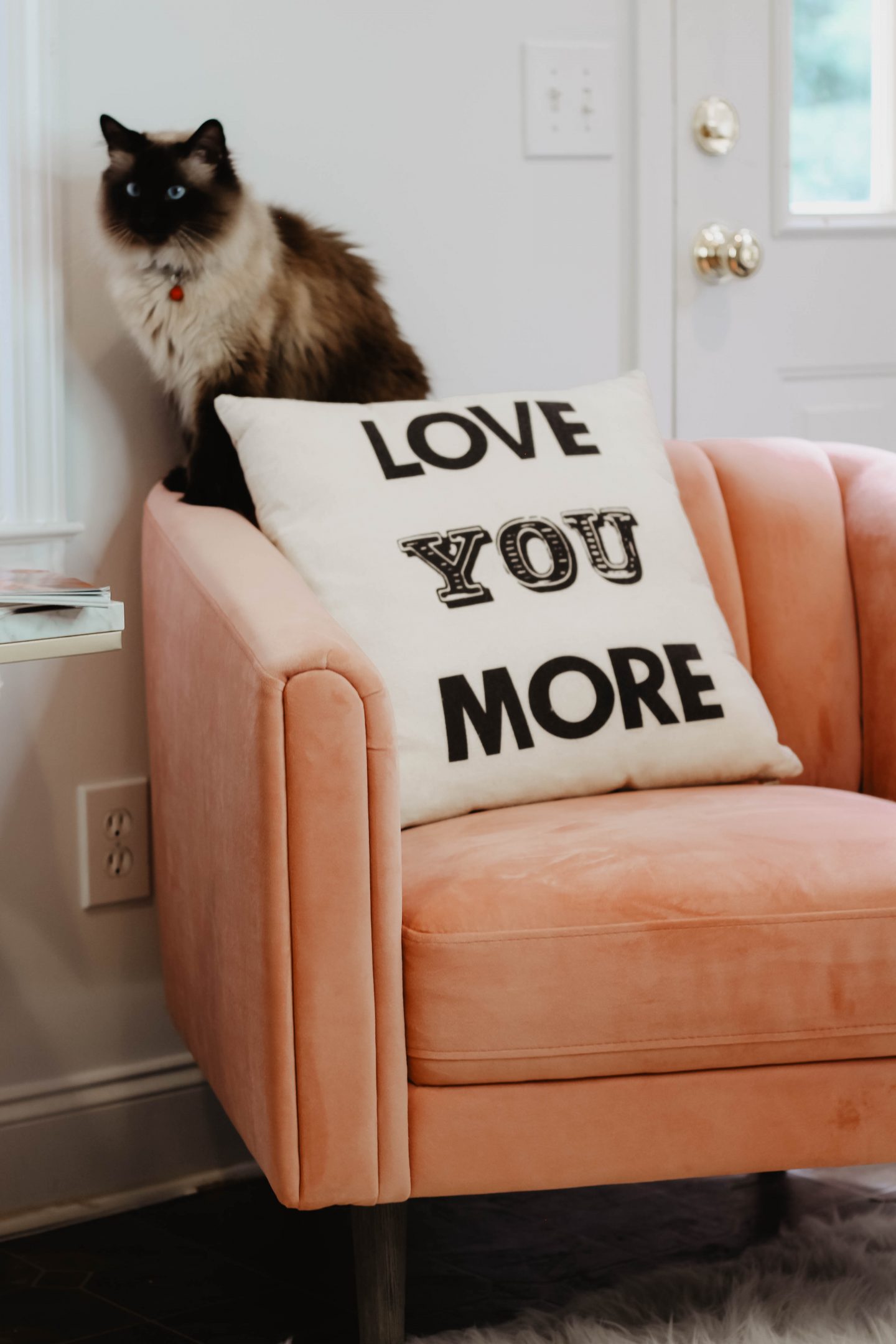 Now for my new baby — my big comfy chair! I originally was going to just have the wicker chair in my office, but I felt like something was missing. I didn't want to spend too much (who knew statement chairs were so expensive), so I found this one on sale! I did a lot of research before deciding on one! It's incredibly comfortable and ties the office together. Whenever I'm tired of sitting at my desk I'll just grab my laptop and curl up in it. I styled it with a simple pillow to complete the sitting area! I don't think I'm the only one who loves it….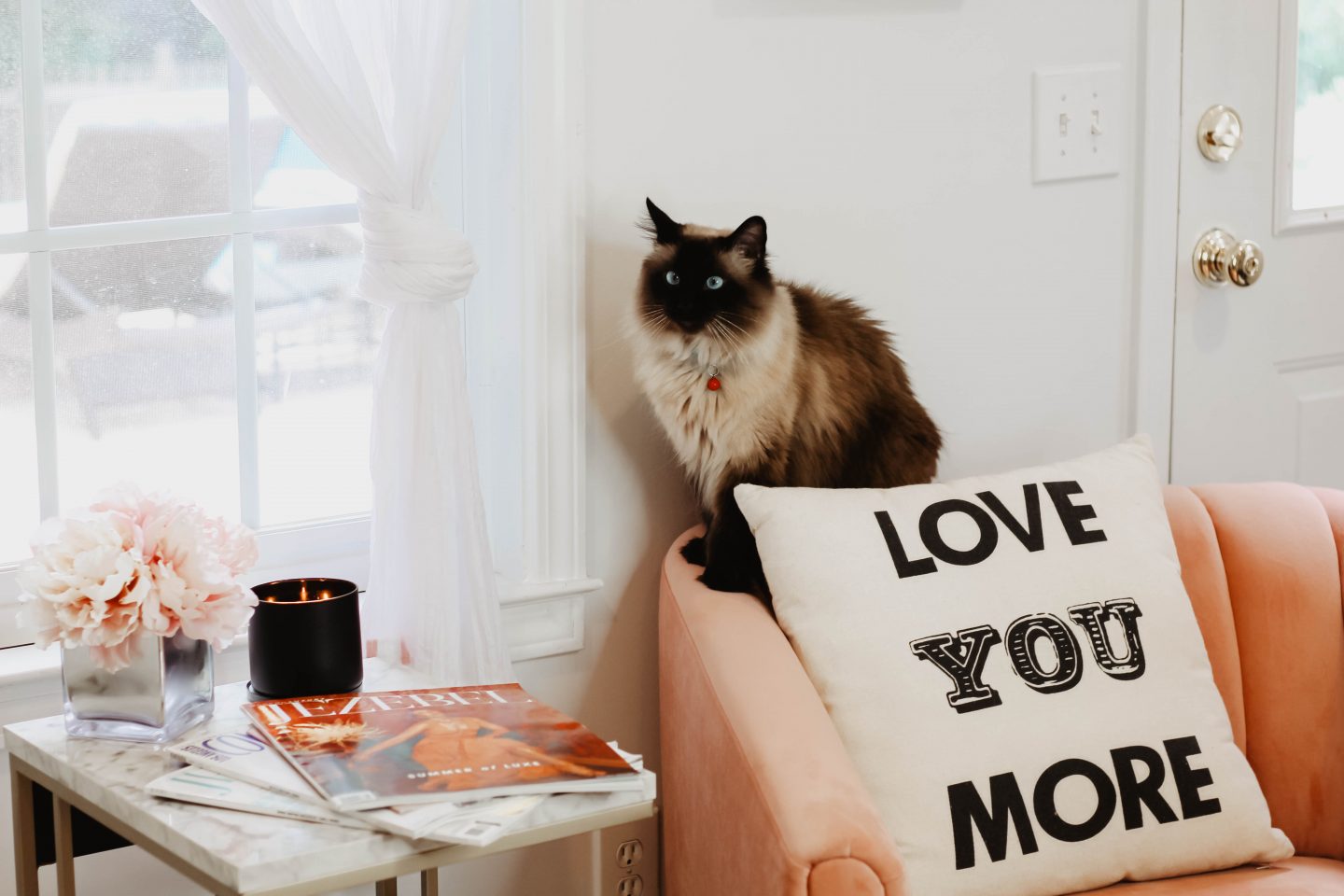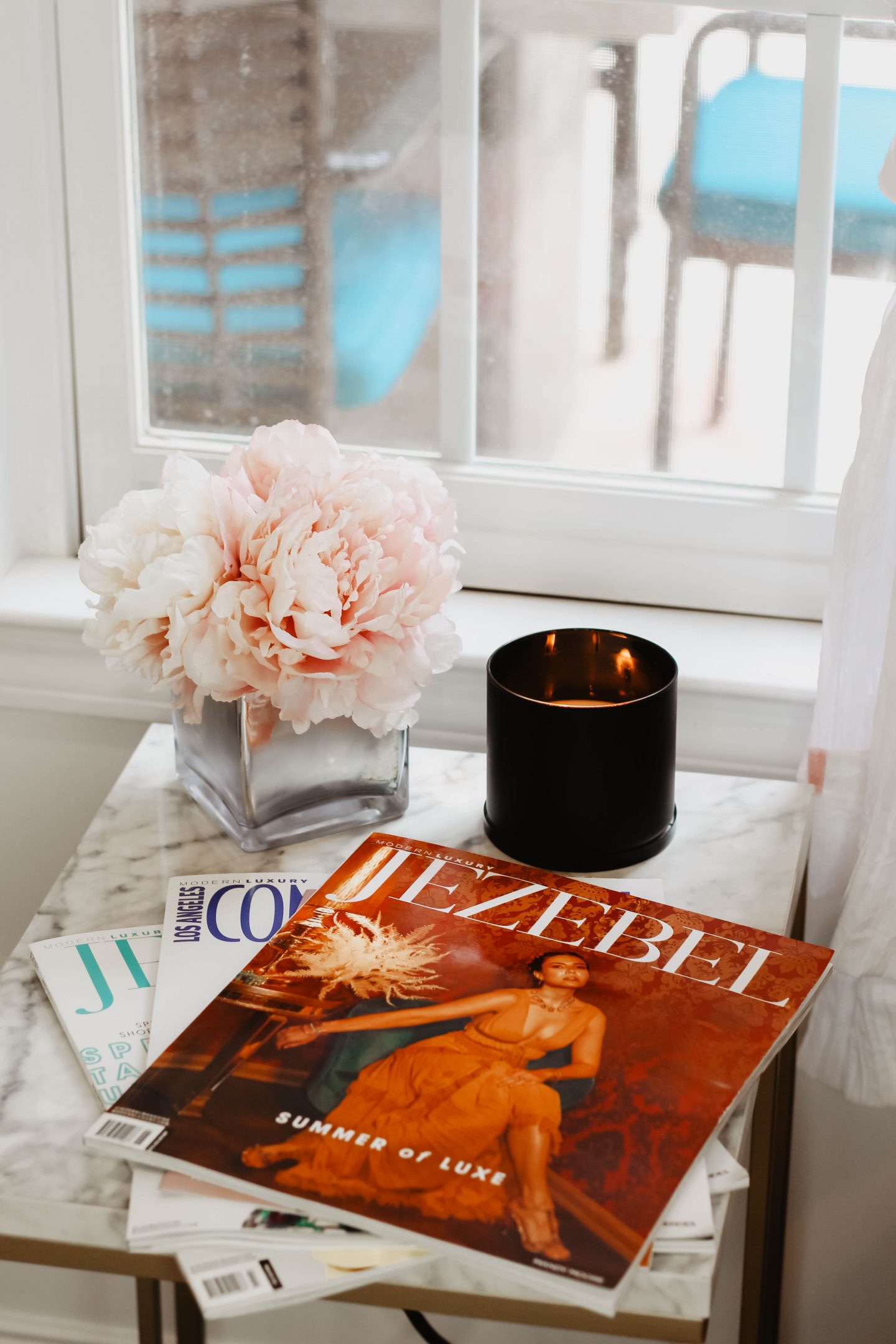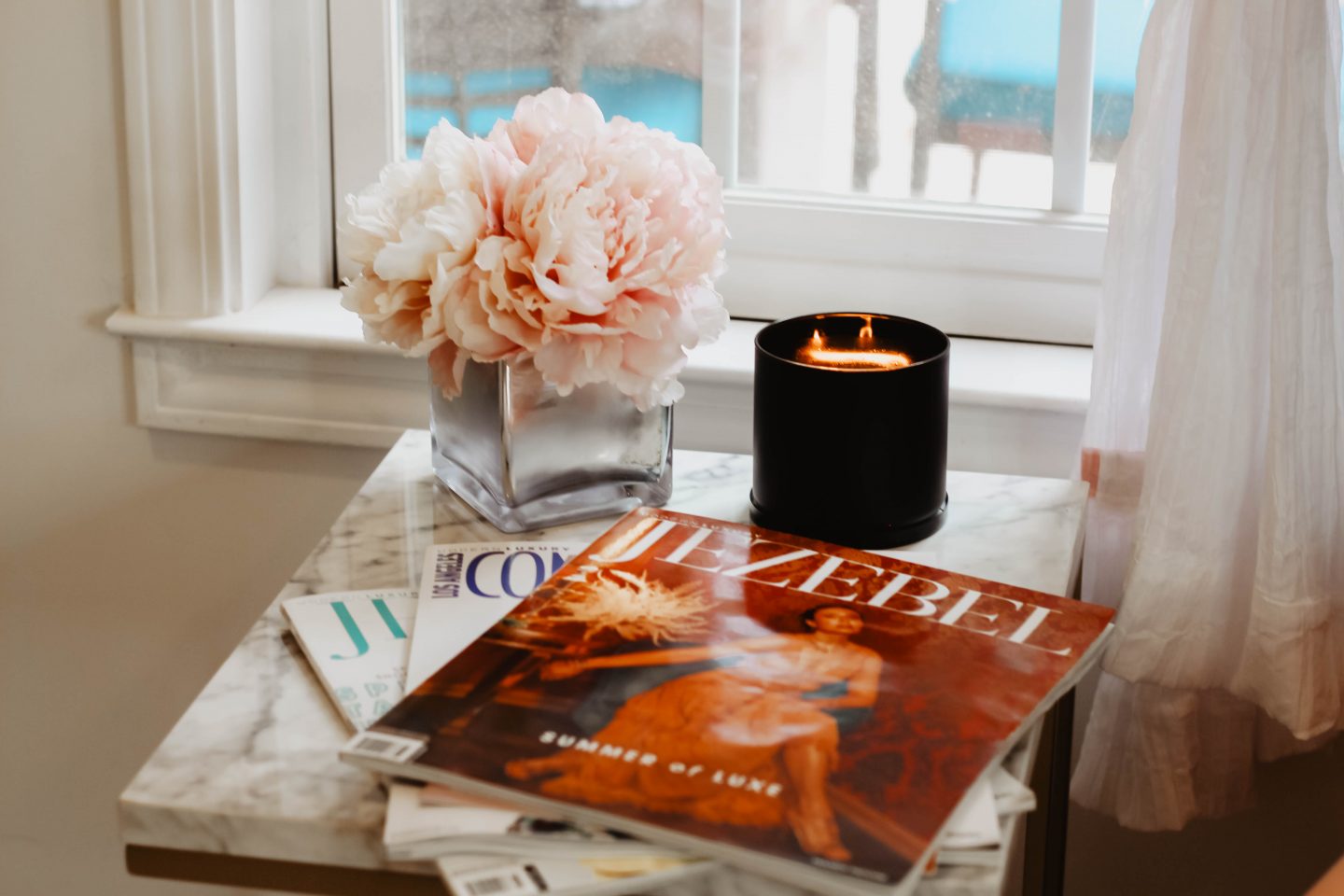 Next to my chair is my new marble, charging end table! I found this particular one at HomeGoods for around $60. It fits the color scheme of my office perfectly and comes with two USB and charging ports on the back. I will say that the top is one of those marble contact paper situations, and the store put a huge sticker on top which peeled up the marble a little when trying to take it off. This table is great because it's at the perfect height to put your laptop on and work off of!
On my table I keep some faux flowers, a Bath & Body Works candle and some magazines. Can you tell I'm a magazine editor, lol?? My favorite place to get faux flower arrangements is TJ Maxx and HomeGoods. They're relatively inexpensive! For my candles, I got some of the new rose scents in the all-black canisters. I love how chic they look. I turned the labels around for a more minimalistic look.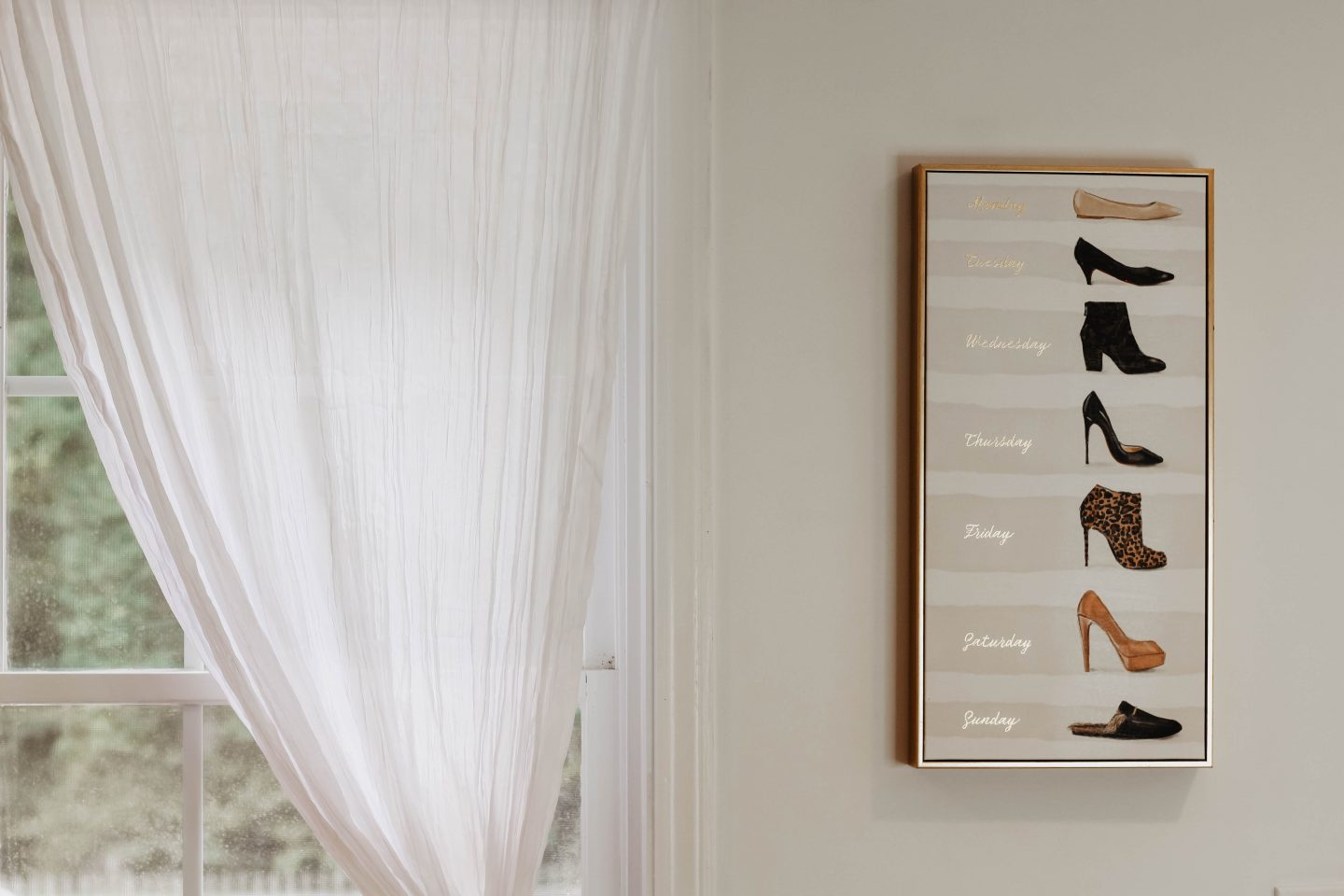 This is another piece that I get questions about whenever I story in front of it! Sadly, I can't find it online anywhere, but my mom got it from TJ Maxx. I'm linking it here even though it's sold out so you can see it closer and get the designer's details. It's one of my favorite pieces in the office because it's so me! I love the shoes corresponding to each day of the week!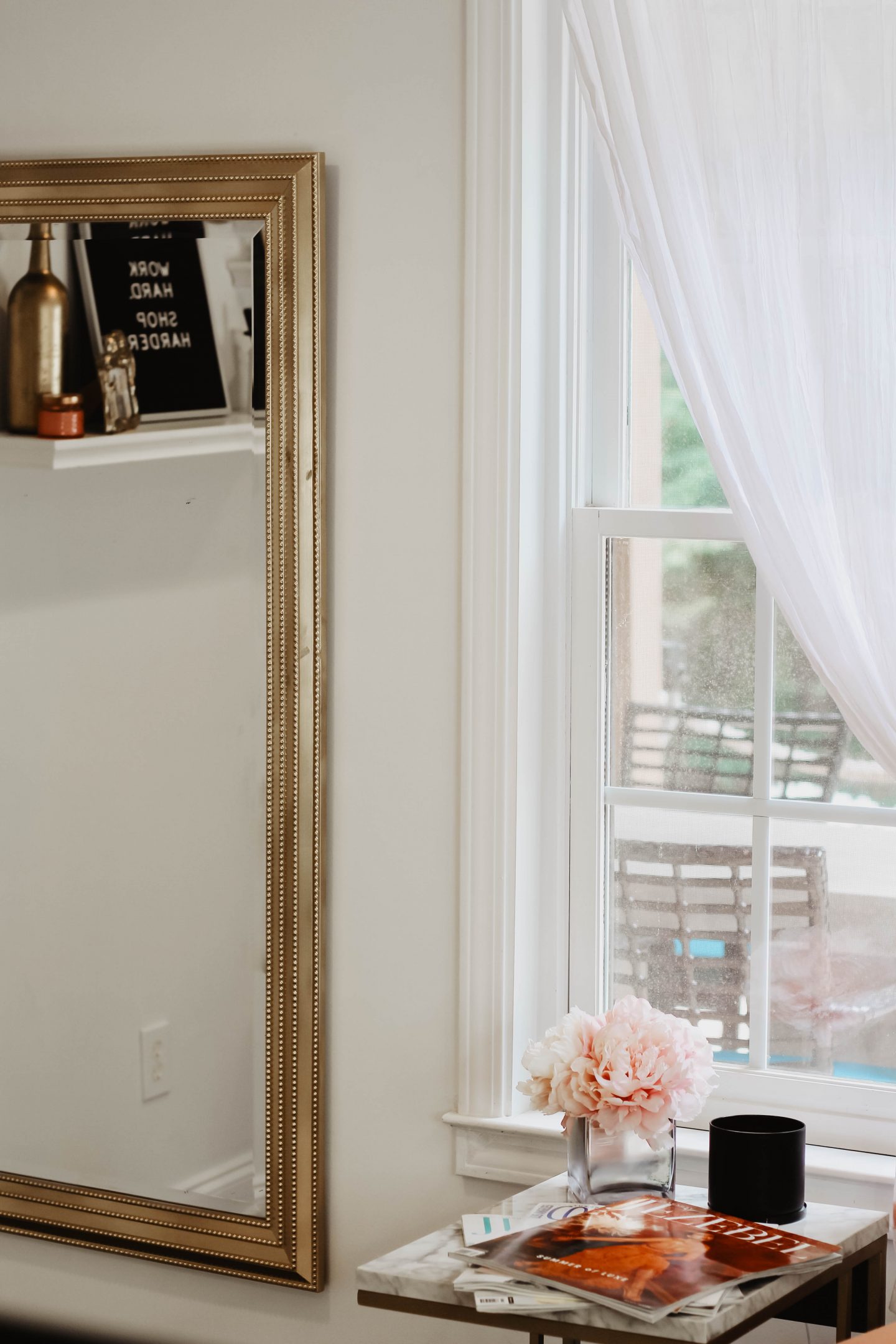 This was another DIY upgrade for the office! I bought this full-length mirror almost 2 years ago when I did my walk-in closet, but it was a grayish tone. It didn't look bad in my office, but I wanted to spray paint it gold to better tie things together! I'm linking a great mirror option here that comes with lighting, but I recommend going into a TJ Maxx or HomeGoods to find a mirror so you don't have to worry about shipping!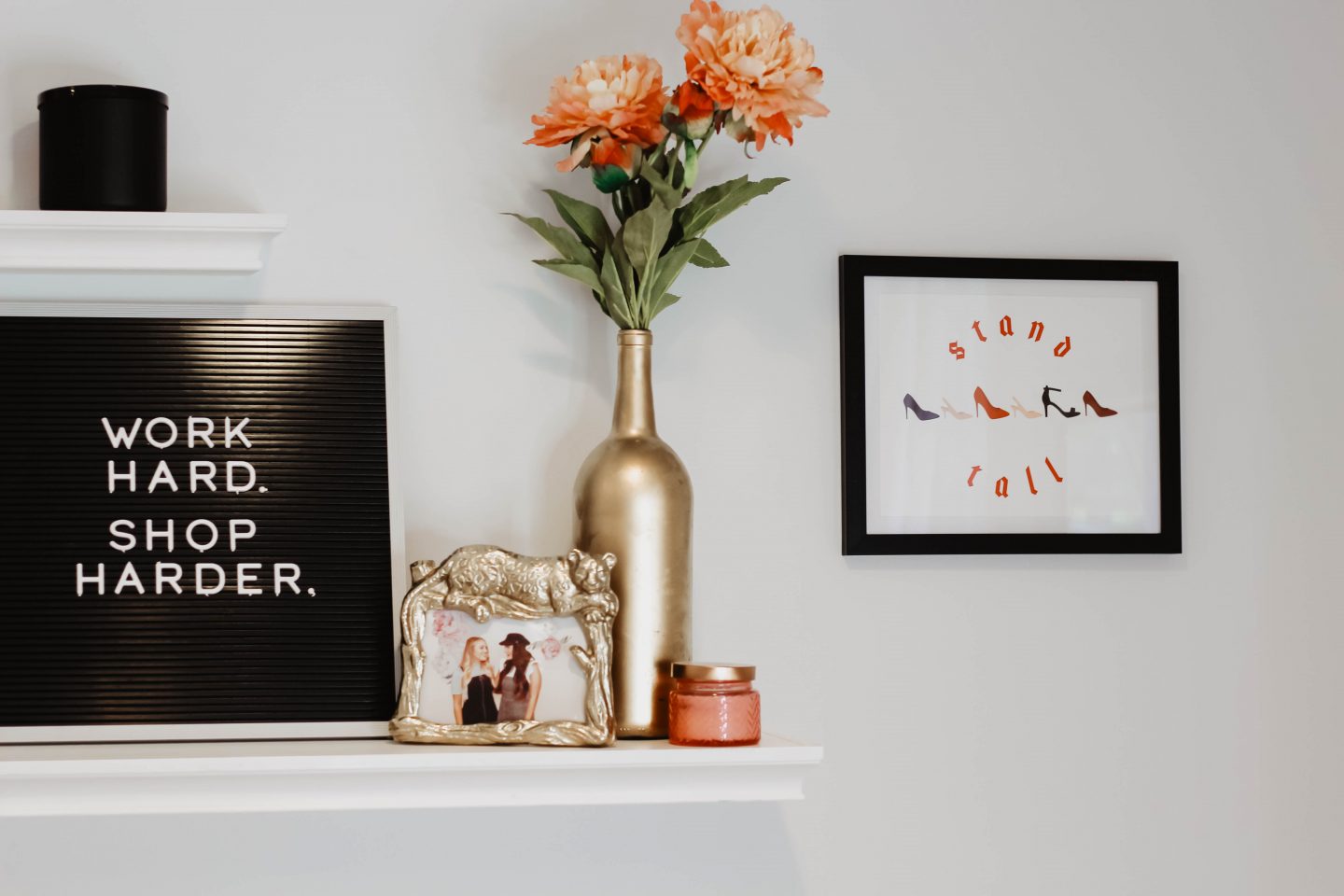 I was originally planning on getting a bookshelf or two to go on this wall, but the ones that I wanted were way too expensive, of course. I saw some floating shelves in Target and immediately grabbed them. They're great because they help fill the empty space without making the small room feel too cluttered with furniture! I took the two extra frames from Amazon and framed my prints from Carley Sibley Designs! I did a giveaway with her in December and got two for myself!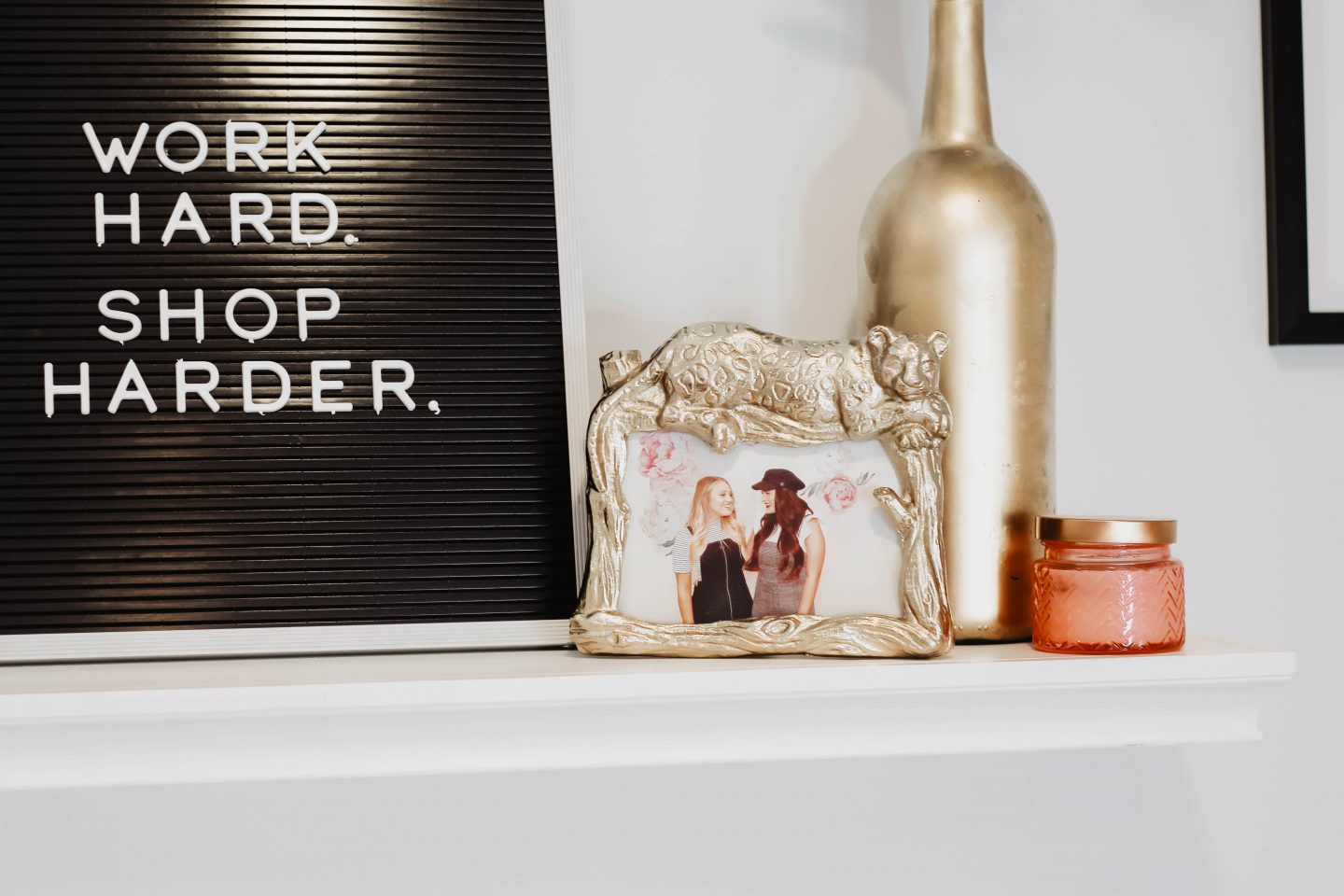 I loved styling this shelves with some new and some old decor! The first item I brought in was my letter board! Of course my motivational message has to do with shopping! I also grabbed the leopard gold frames on clearance and they're the perfect addition to my floating shelves.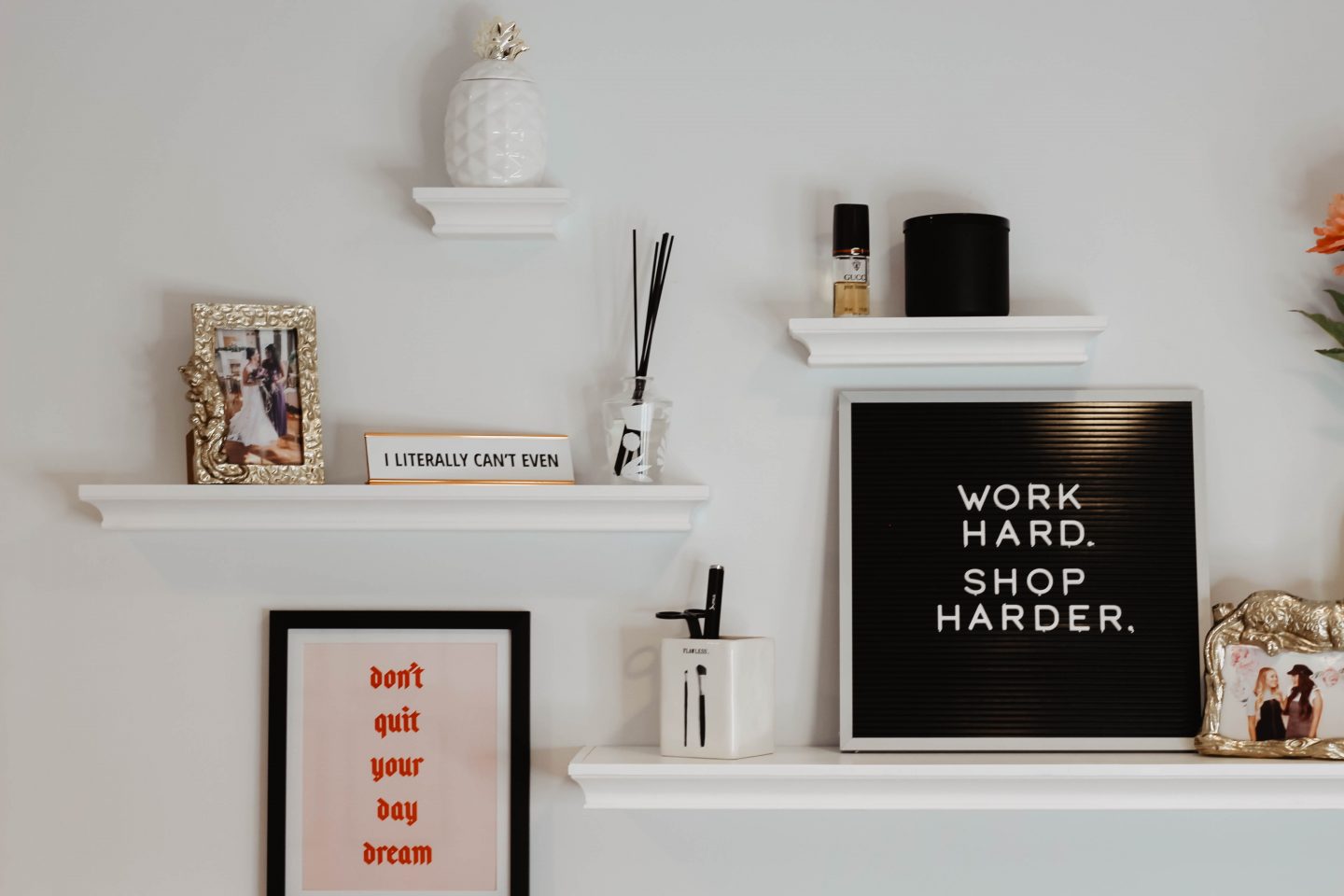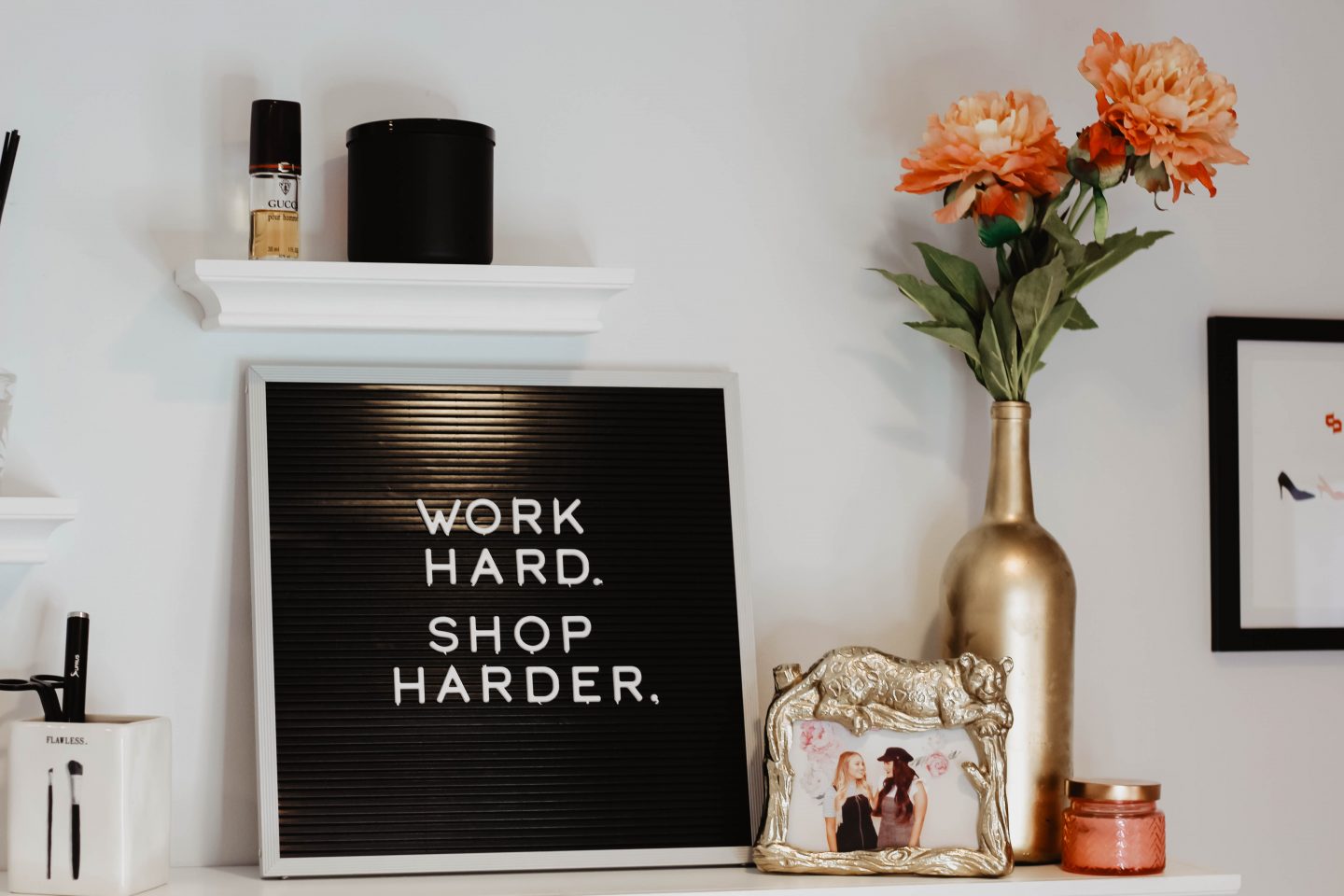 One of the last DIY projects for the office are my spray painted wine bottles! I made these in college with some leftover super tankers lol. Simply soak off the labels and spray them with the paint color of your choice! I picked up faux flowers from Hobby Lobby and arranged them in the bottles for an easy, inexpensive decoration.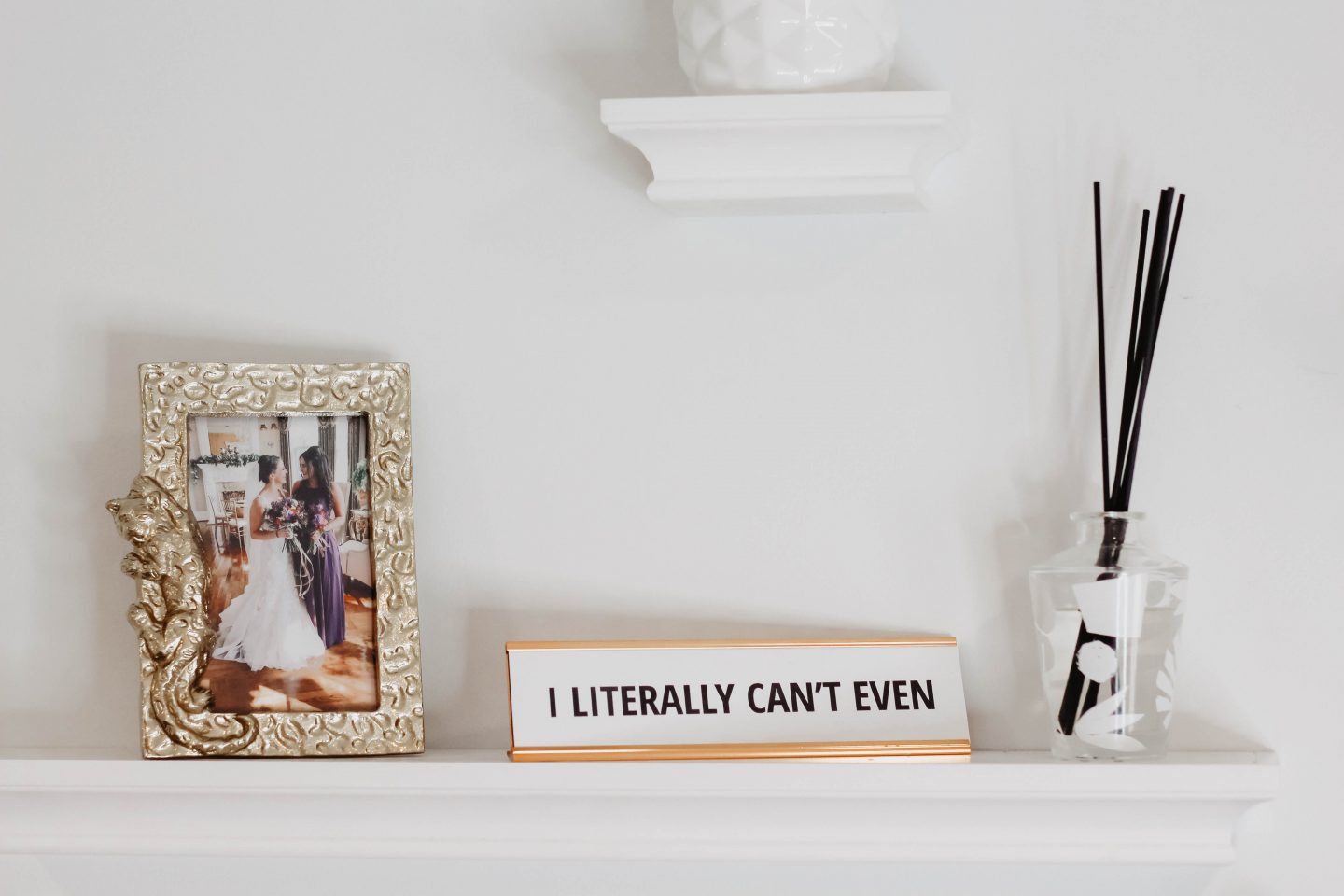 One another shelf I styled it with another gold leopard frame, a desk plate, and a diffuser!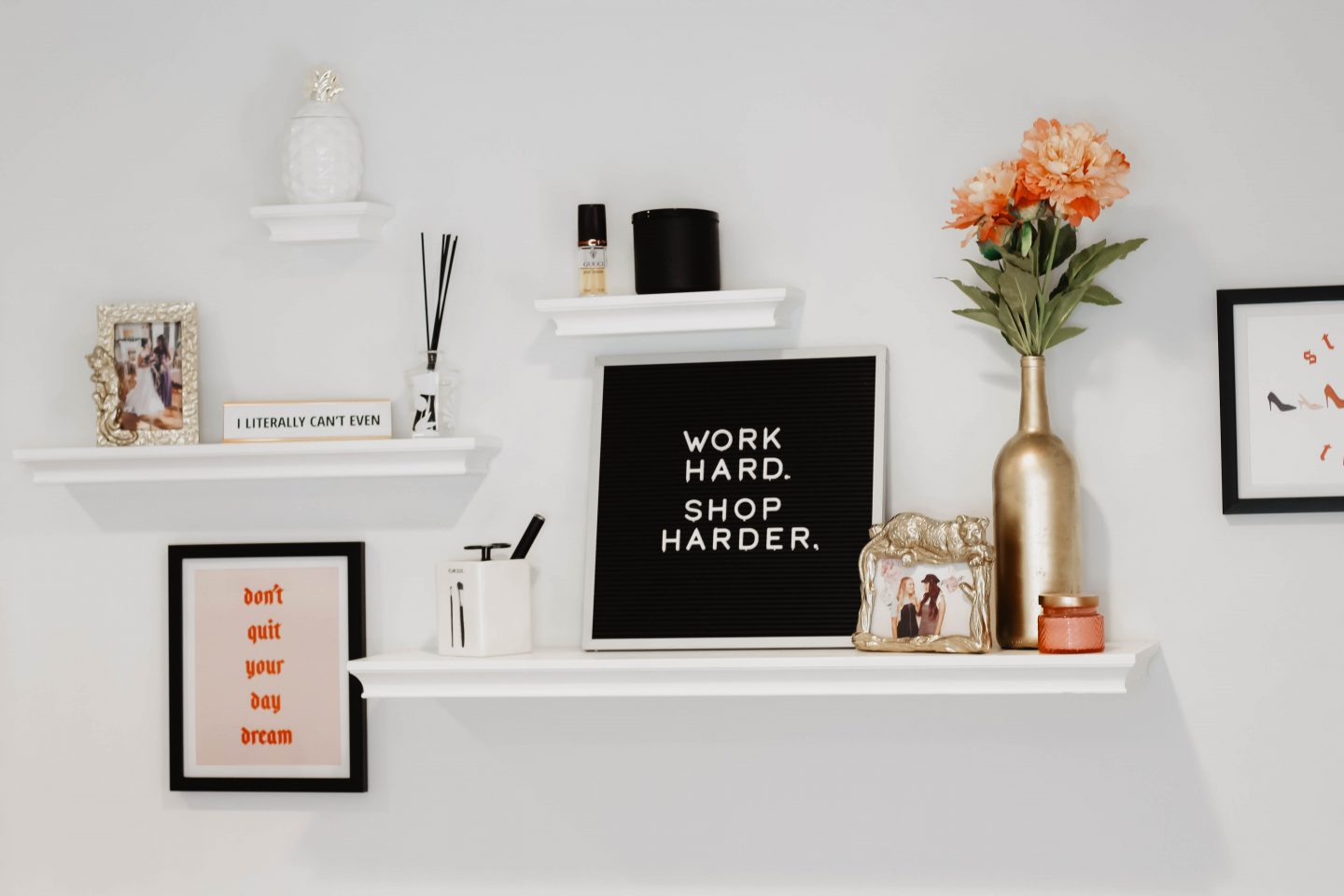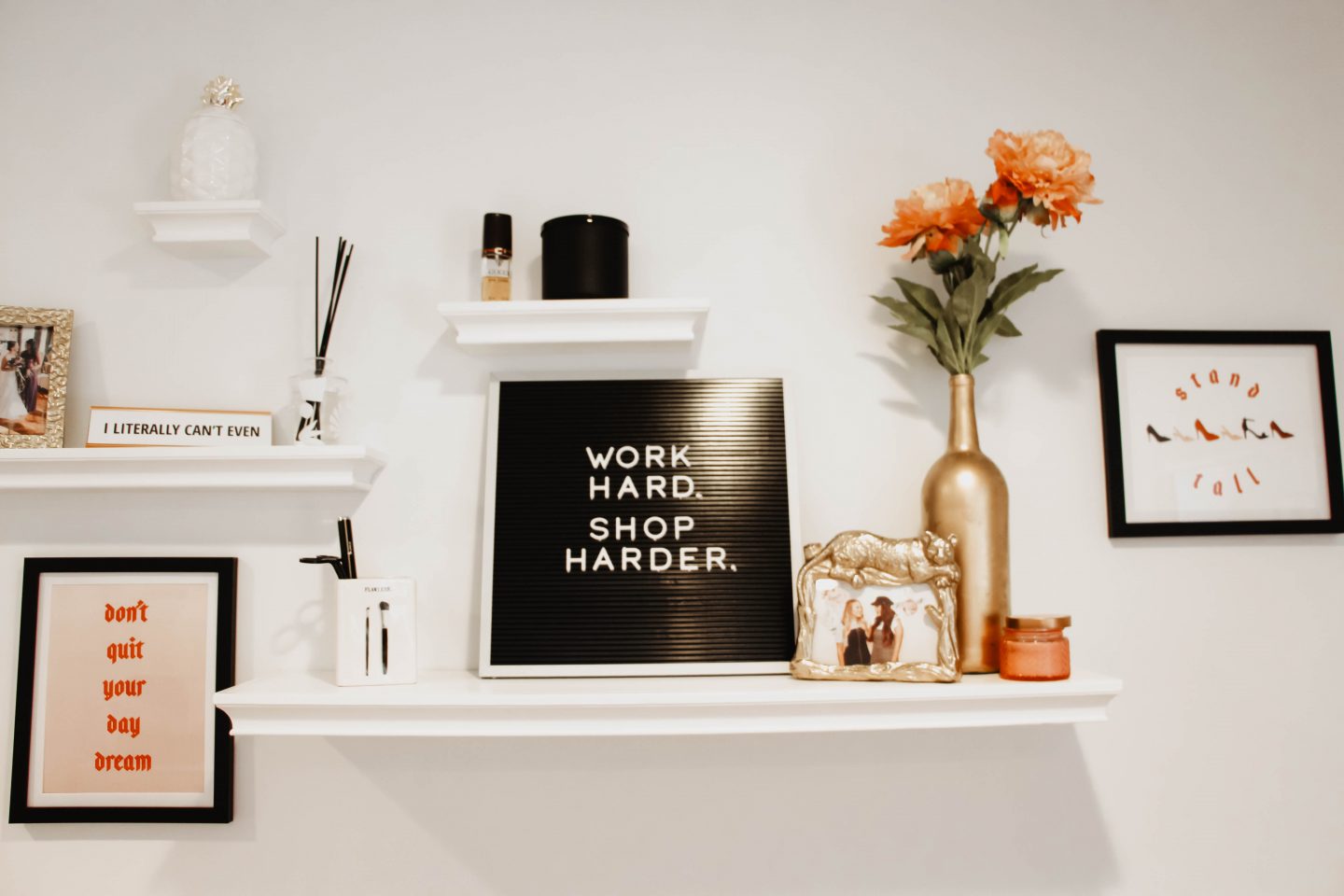 Lastly, I moved the wicker chair over to another wall just for an extra seating option! And because I'm always cold, I have wicker basket in the corner to keep my blankets! I got my basket from TJ Maxx and my blanket from Amazon. TJ Maxx and HomeGoods are great places to buy both types of these items! Also, if you have been following me on Instagram, I talked about the floors and how I hated the current situation. To remain under budget and make the whole process easier, I just brought the faux fur rug that I got from TJ Maxx that was in my bedroom into the office. Large rugs are just way too expensive, so I made due with what I had!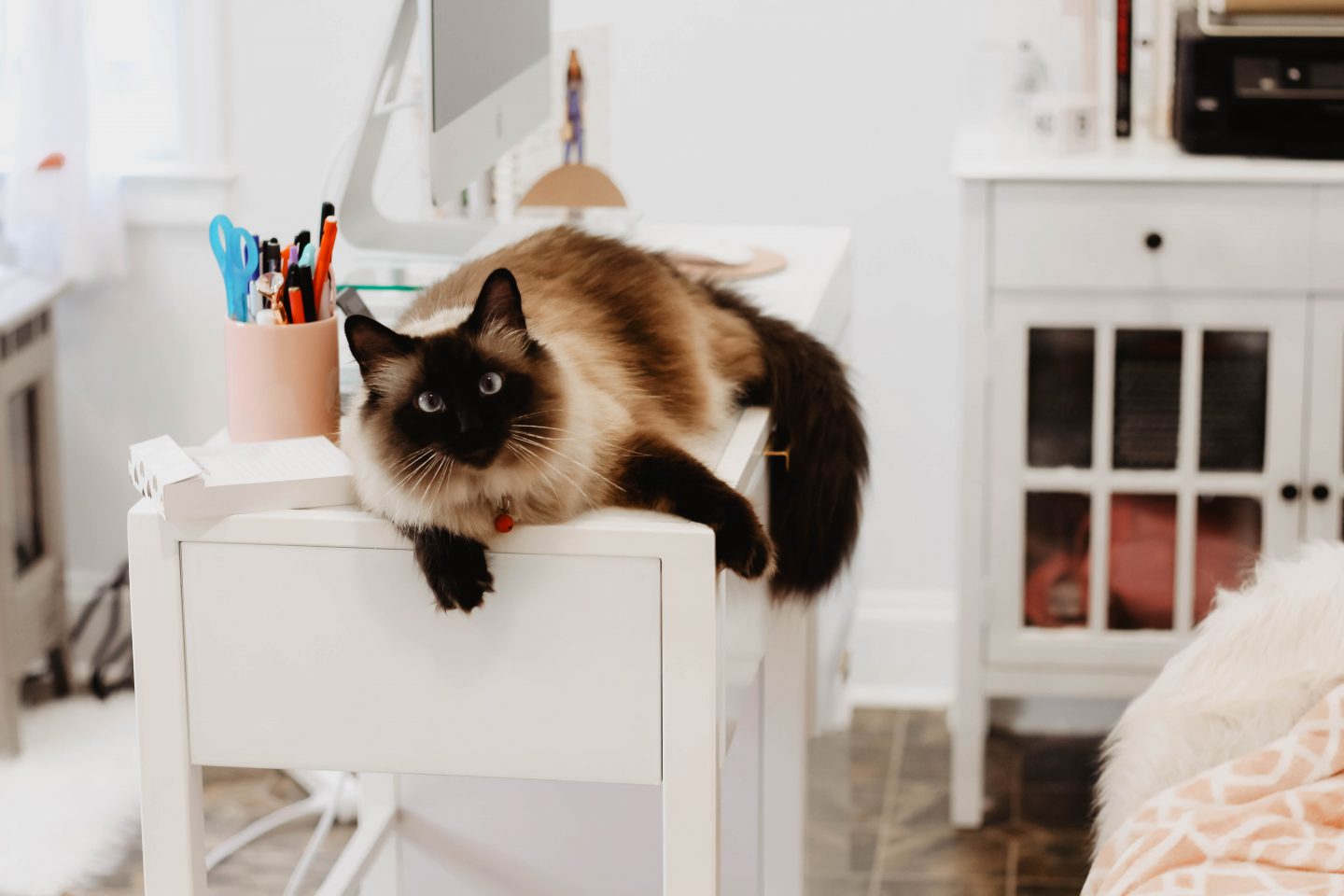 Thanks so much for keeping up with my office makeover and waiting for this post! I know it was a long one, but I hope you guys got some good home decor ideas and inspiration! While a lot of these items are a little older, I did my best to link the real thing or something very similar. If you have any questions or need another recommendation, send me a message on Instagram!