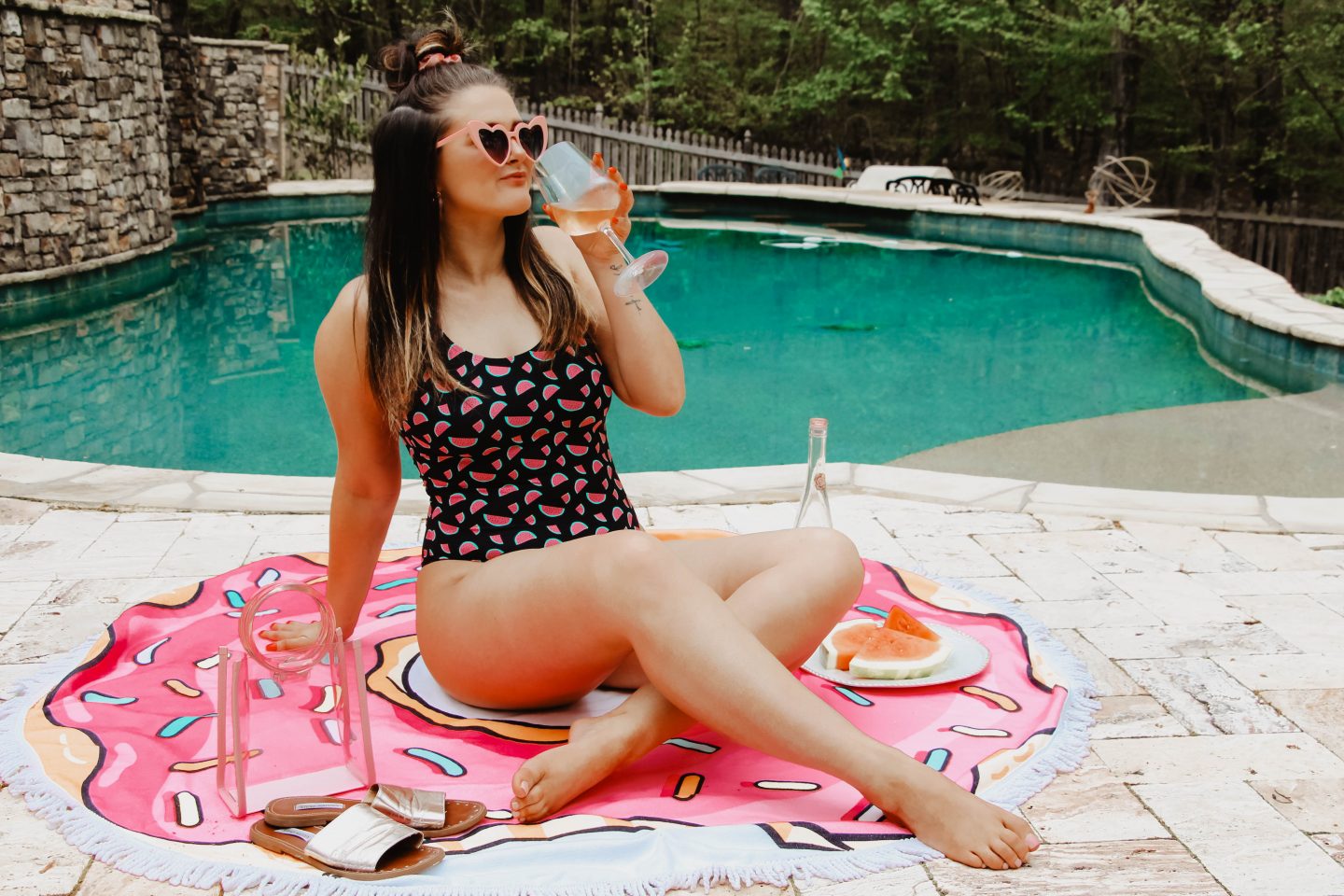 The blog post you've all been so anxiously waiting for! This post is a bit delayed this year due to order delays, weather and busy schedules, but it's finally here. First, I need to give a very big thank you to Lucas for spending a Saturday out in the heat for hours taking over 300 photos for this! Seriously, what a trooper. But, I also have to thank you all because you guys have been so supportive, patient and kind when it comes to me sharing these suits on my stories. No matter what, it's still hard to share photos and videos like this on the internet!
Before we get into the suits themselves, I have to give a disclaimer. This post is by no means necessary a post meant to brag, show off, thirst out or anything of that nature. This blog post is simply to share affordable swim options with you all on a body that isn't a size 0-2. I've got hips. I've got rolls. I've got cellulite and saddlebags, but it's so important to love yourself, no matter the skin you're in.
I'm going to be honest, sharing these photos this year is a bit harder. Last year, I was going through a time in my life that made me lose some weight and I was feeling better in my own skin. Fast forward a year and I've gained a bit. Am I proud of it or happy with it? No, but I don't have a right to complain because there's so many things I can do to look and feel my best, which I'm starting to do.
What you may not know is that I had an eating disorder when I was in college. I would go days without a full meal and my physical and mental health deteriorated rapidly. Ever since I recovered from that time, I vowed to myself that I would never revolve my life around my weight again. I made a promise to myself that I would put my happiness and health over the number that I ever saw on a scale. While I've had my moments of weakness and allowed myself to indulge during a joyous time in my life recently, I'm looking forward to putting my health (mind and body) at the top of my priority list!
Lastly, remember to always be kind and uplift others, especially when they are being vulnerable. There is too much hate, negativity and trolling in this world. You never know what someone is going through. So think about that before speaking ill of or to anyone. I don't say this for my own good, but because it's not fair that people who feel like they don't 'fit society's standards of beauty' should feel like they subject to hate. You're beautiful no matter what!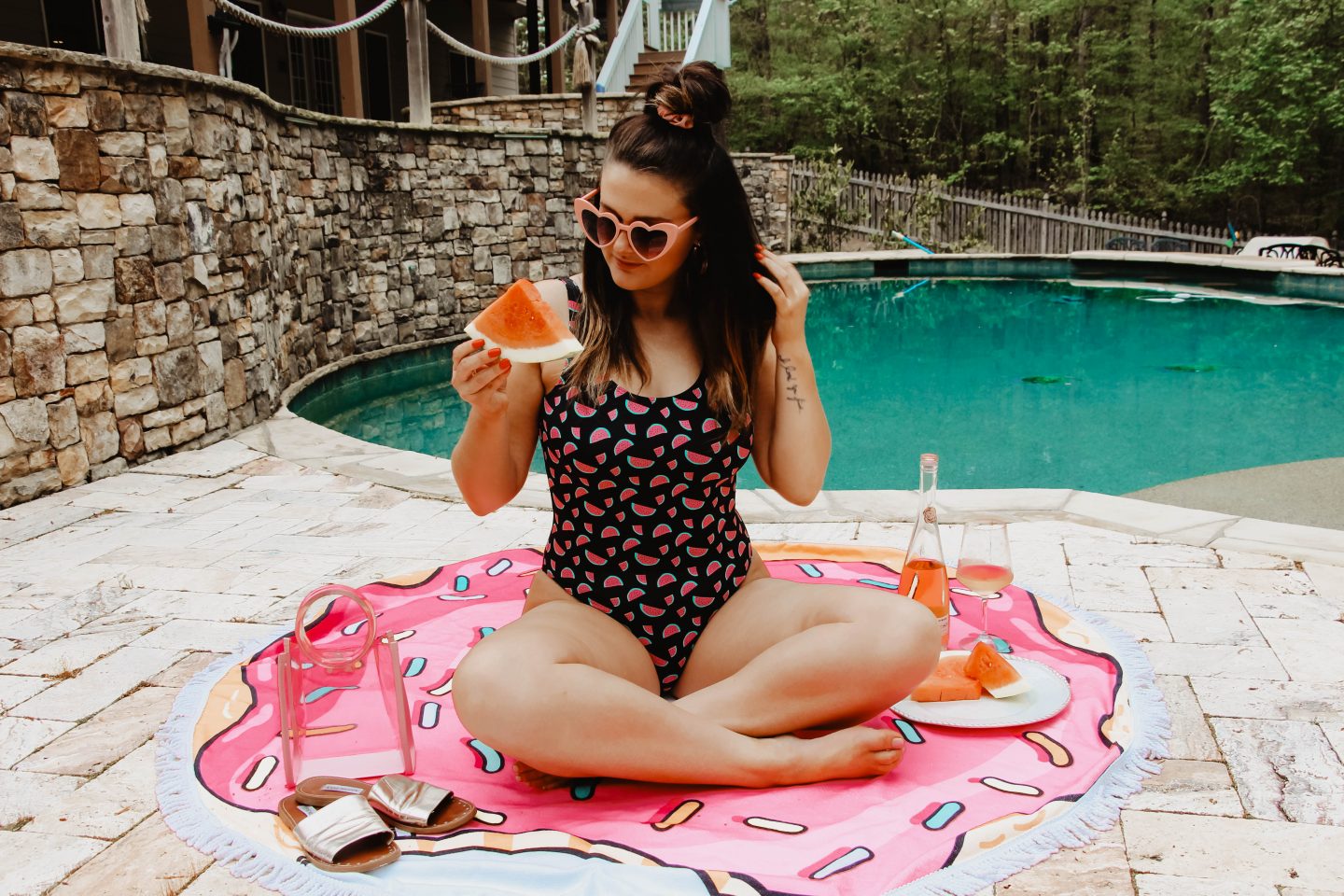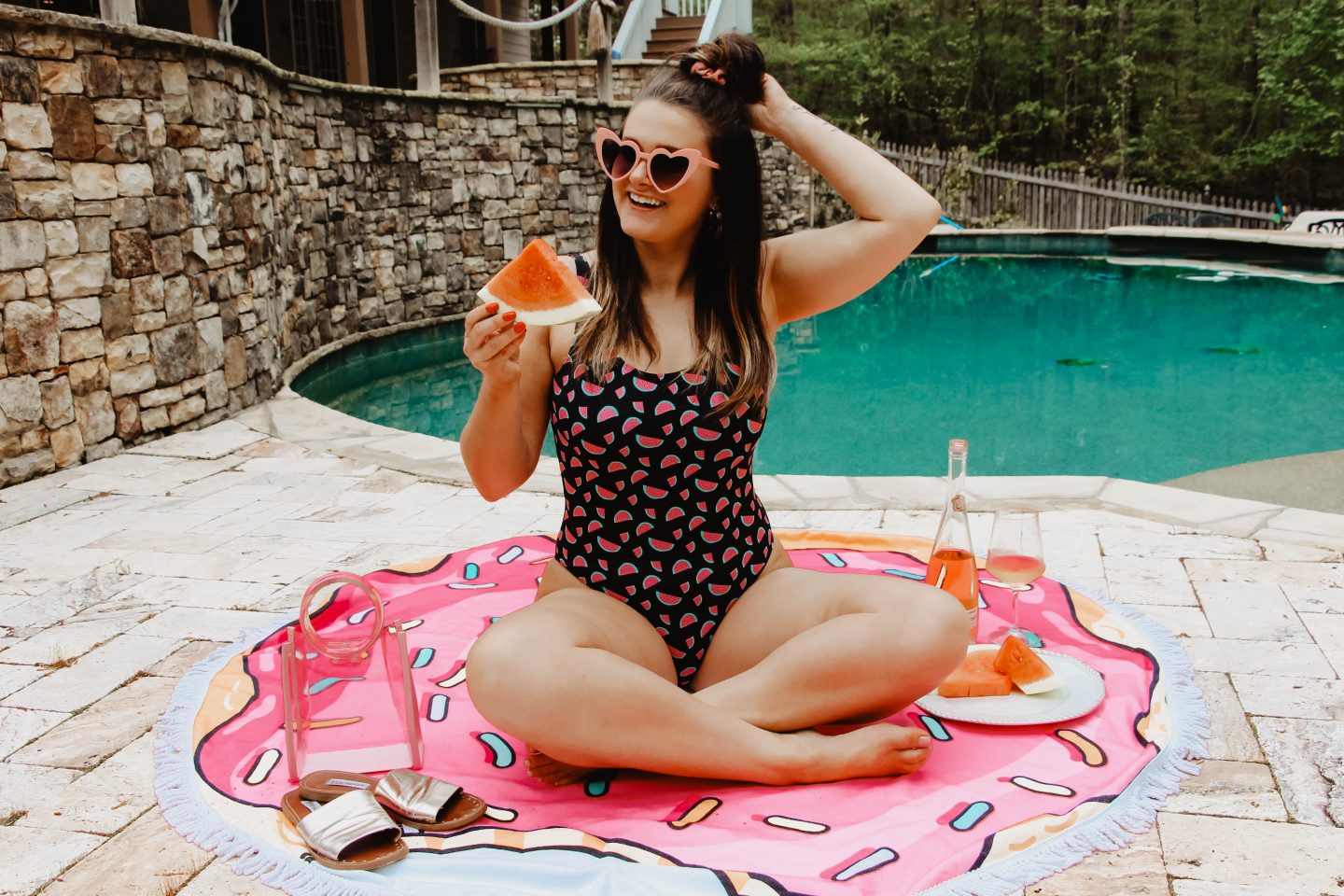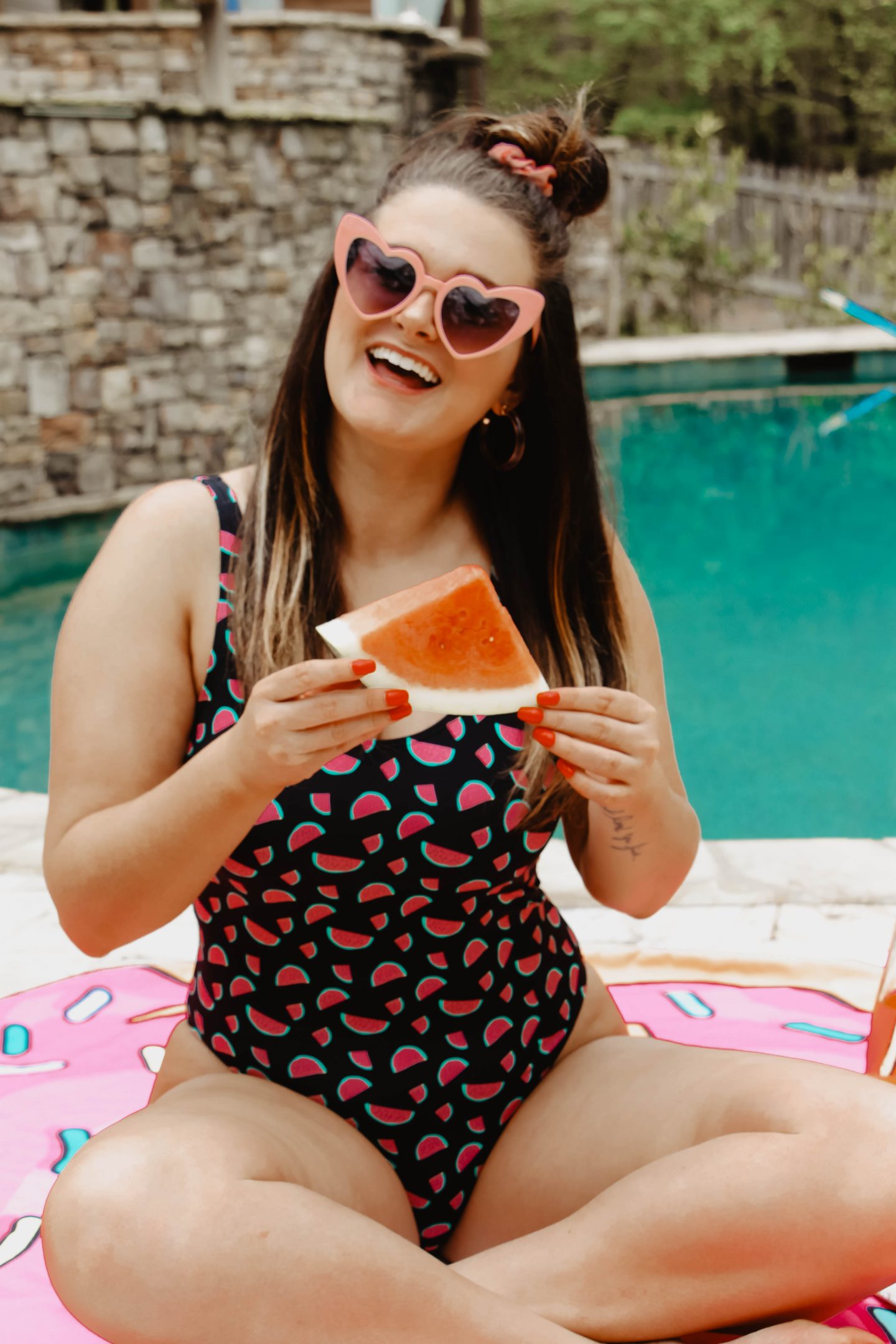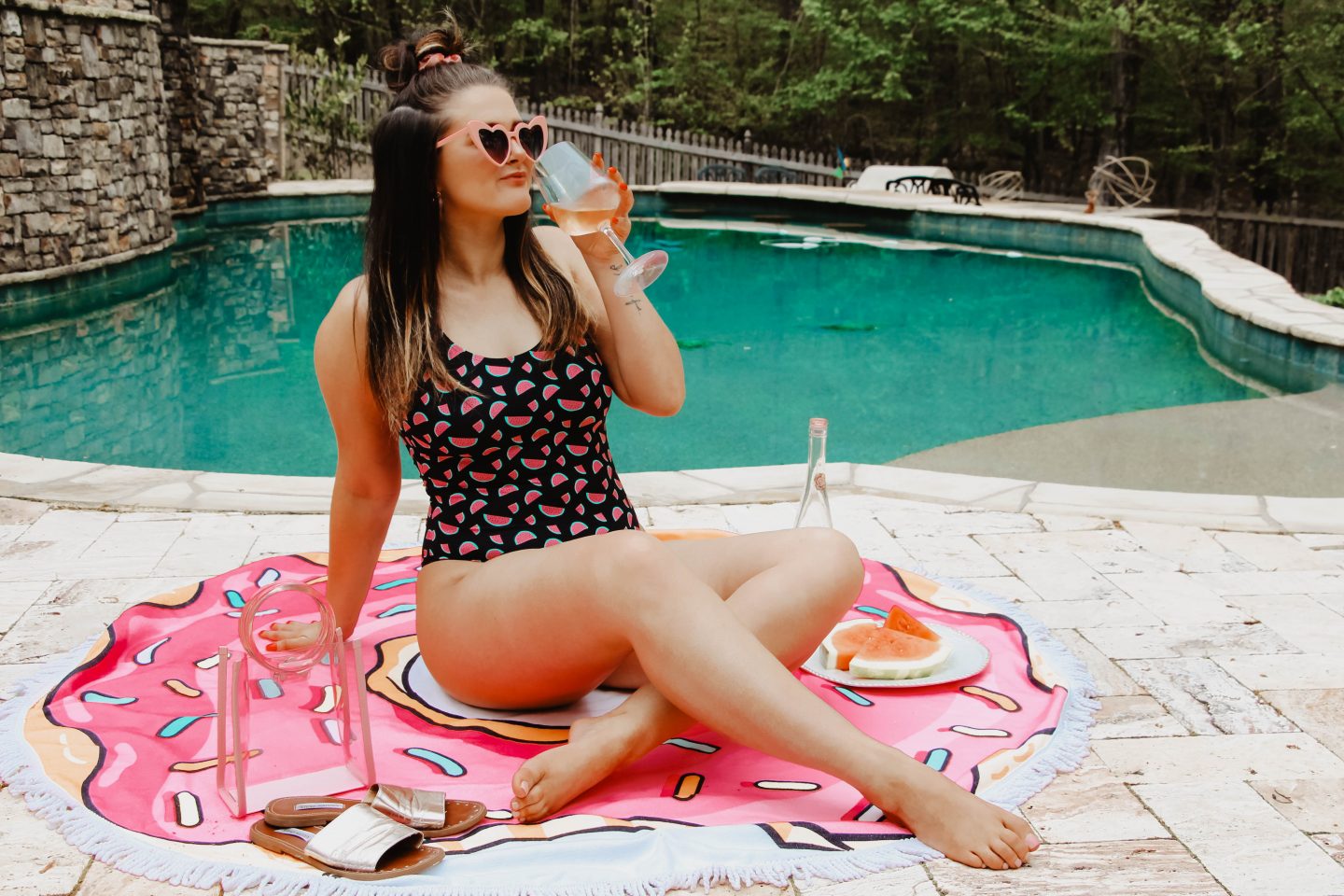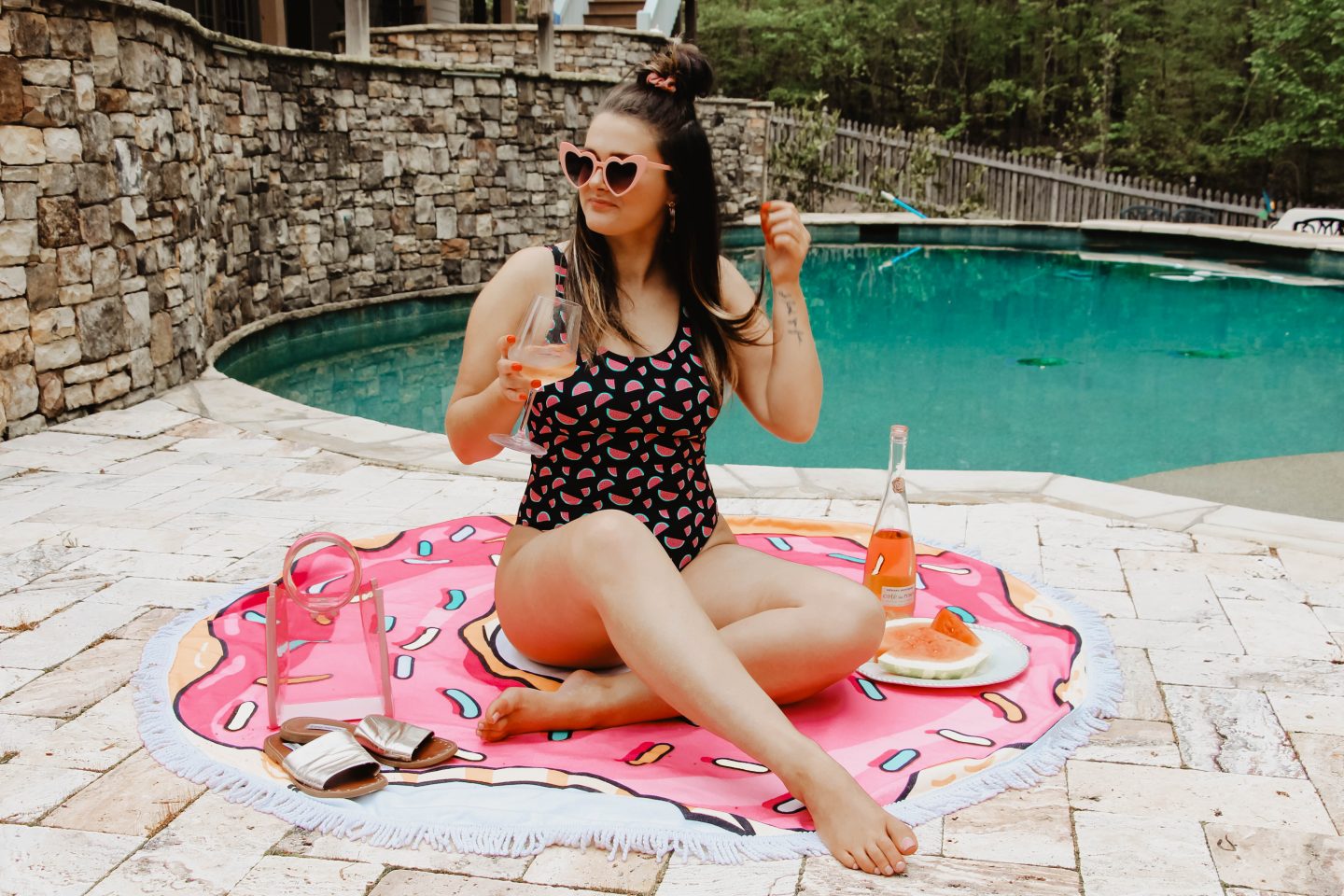 Happy Socks One Piece – Watermelon, $75, medium
This suit was gifted to me by Happy Socks and I love it! If you're looking for a full coverage, high quality one piece swimsuit, this is definitely it. I forgot to snag a picture of the back, but this is very much a full coverage swimsuit. This one piece is on the more expensive side, but if you want something unique that's going to last season after season, this is a great option.
This is great for someone with curves and bigger assets because it covers everything you need covered! It's also great for other body types than my own because of the cut. It cuts a little high on the bottom in the front, but definitely not as high as others.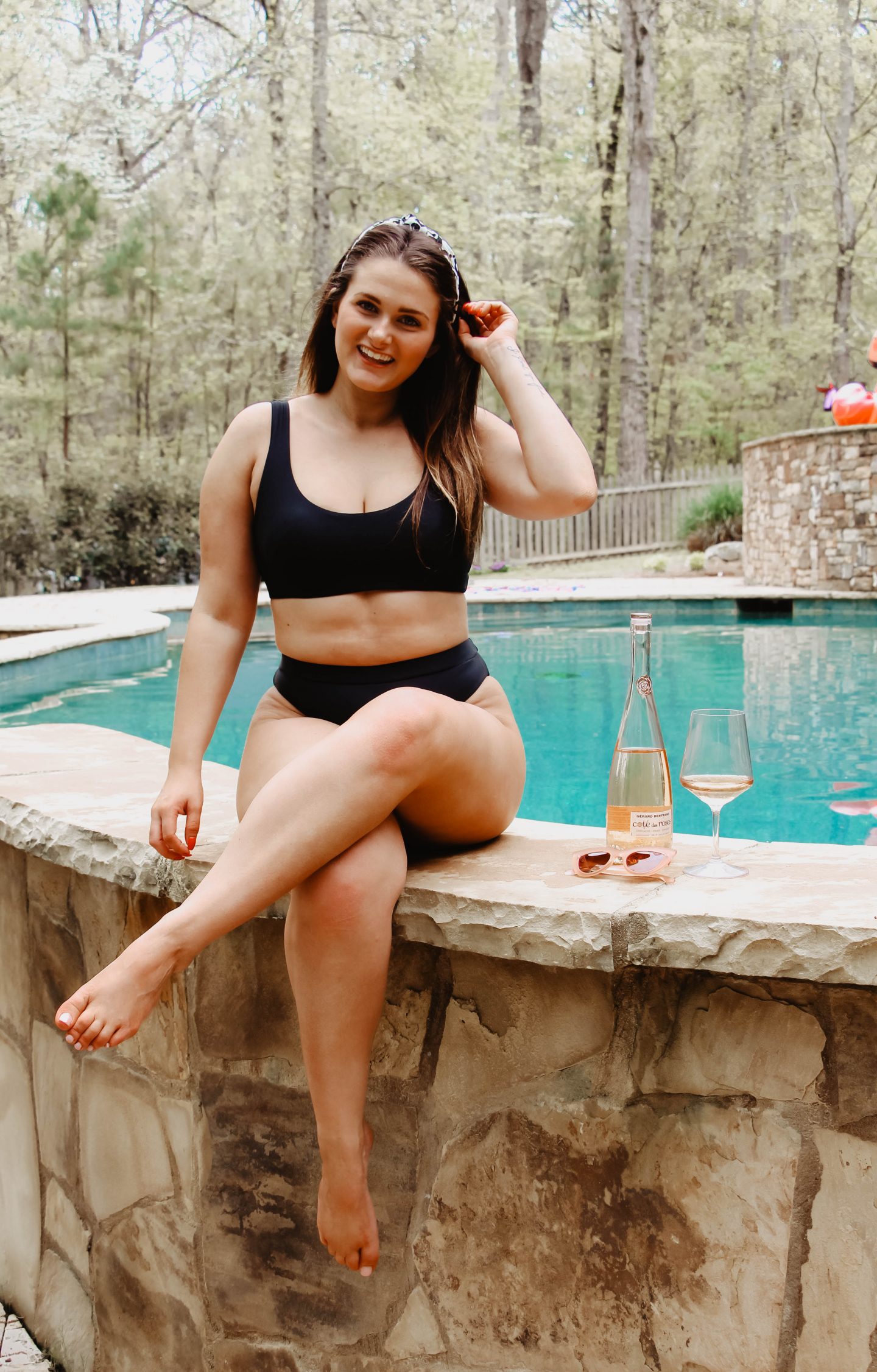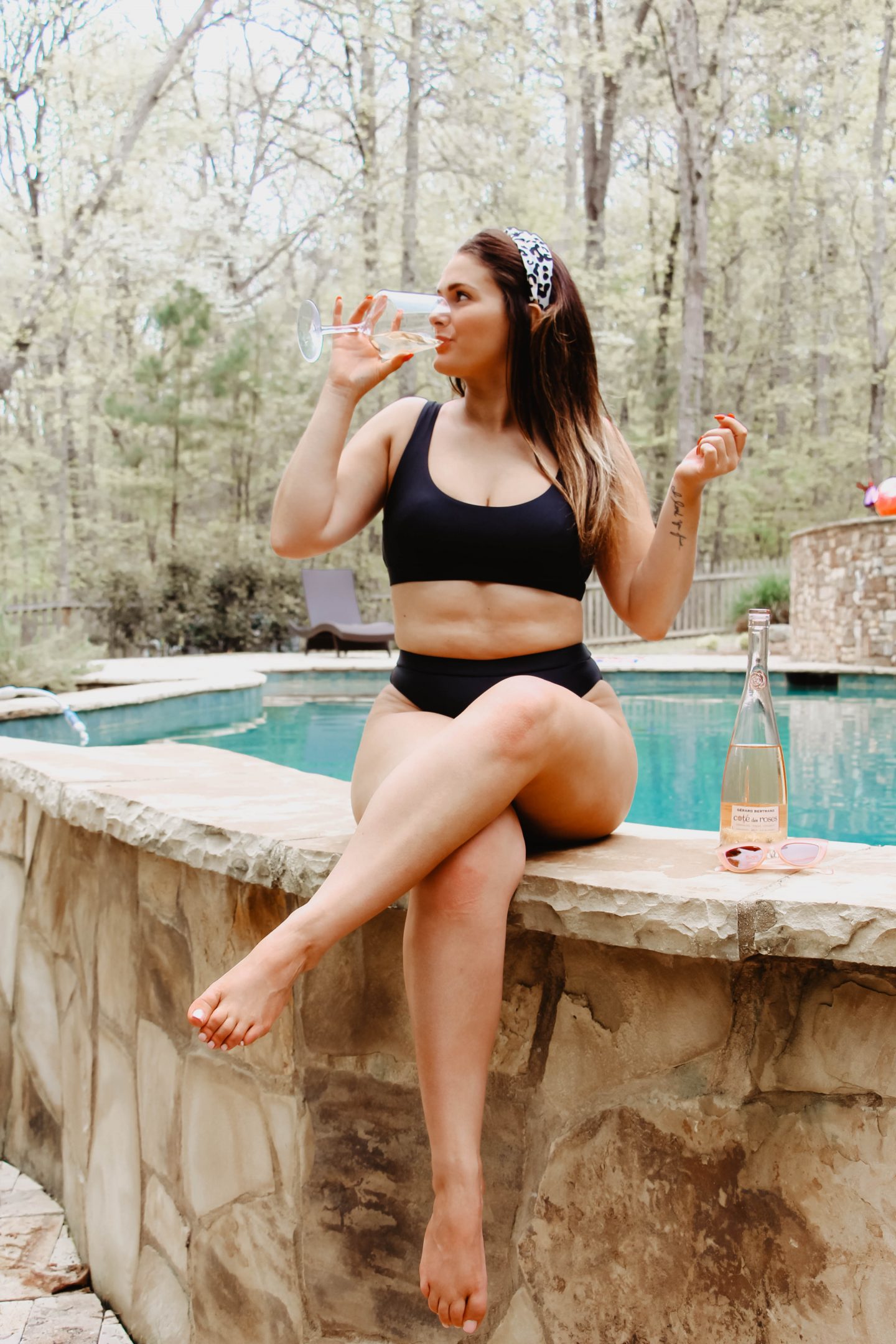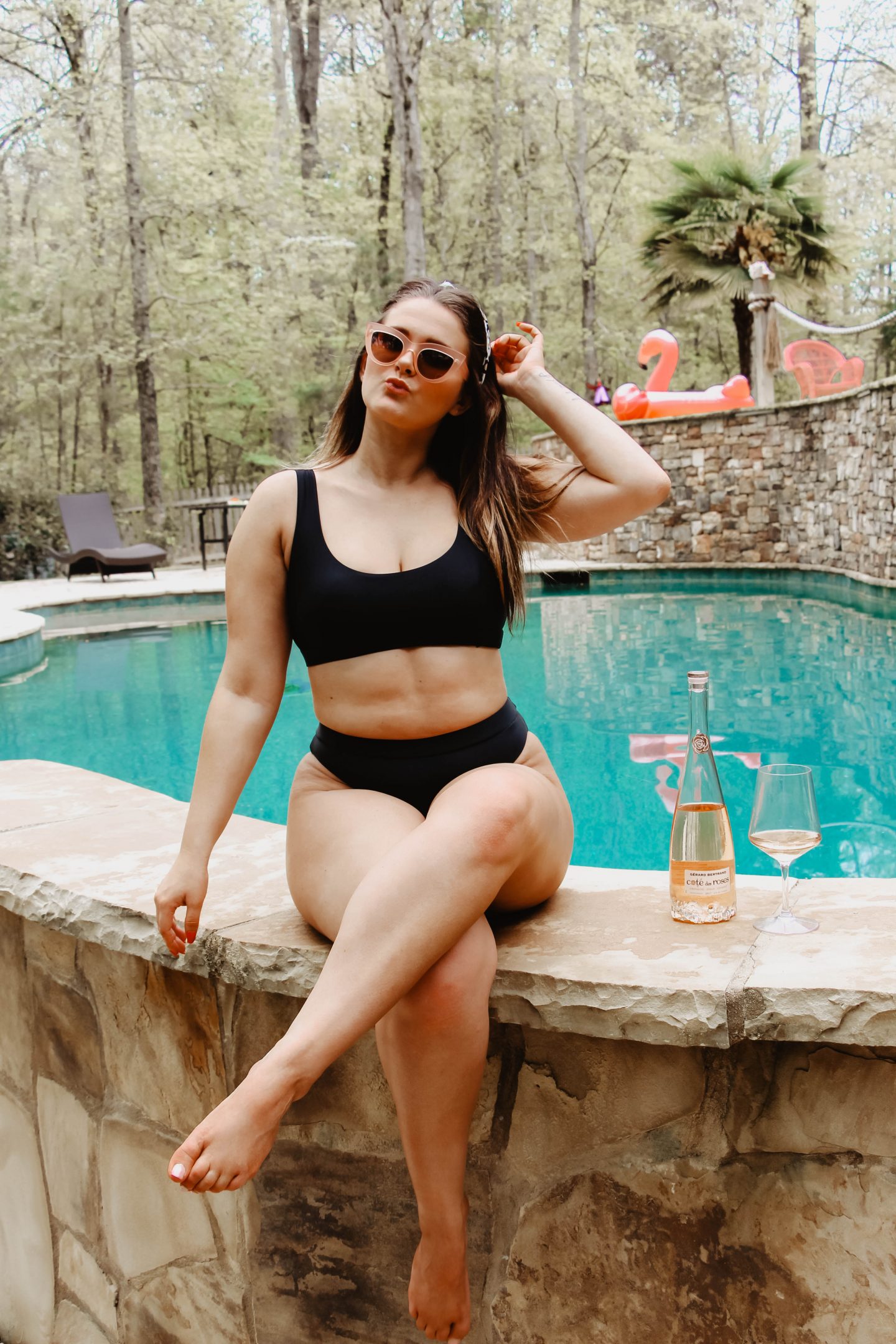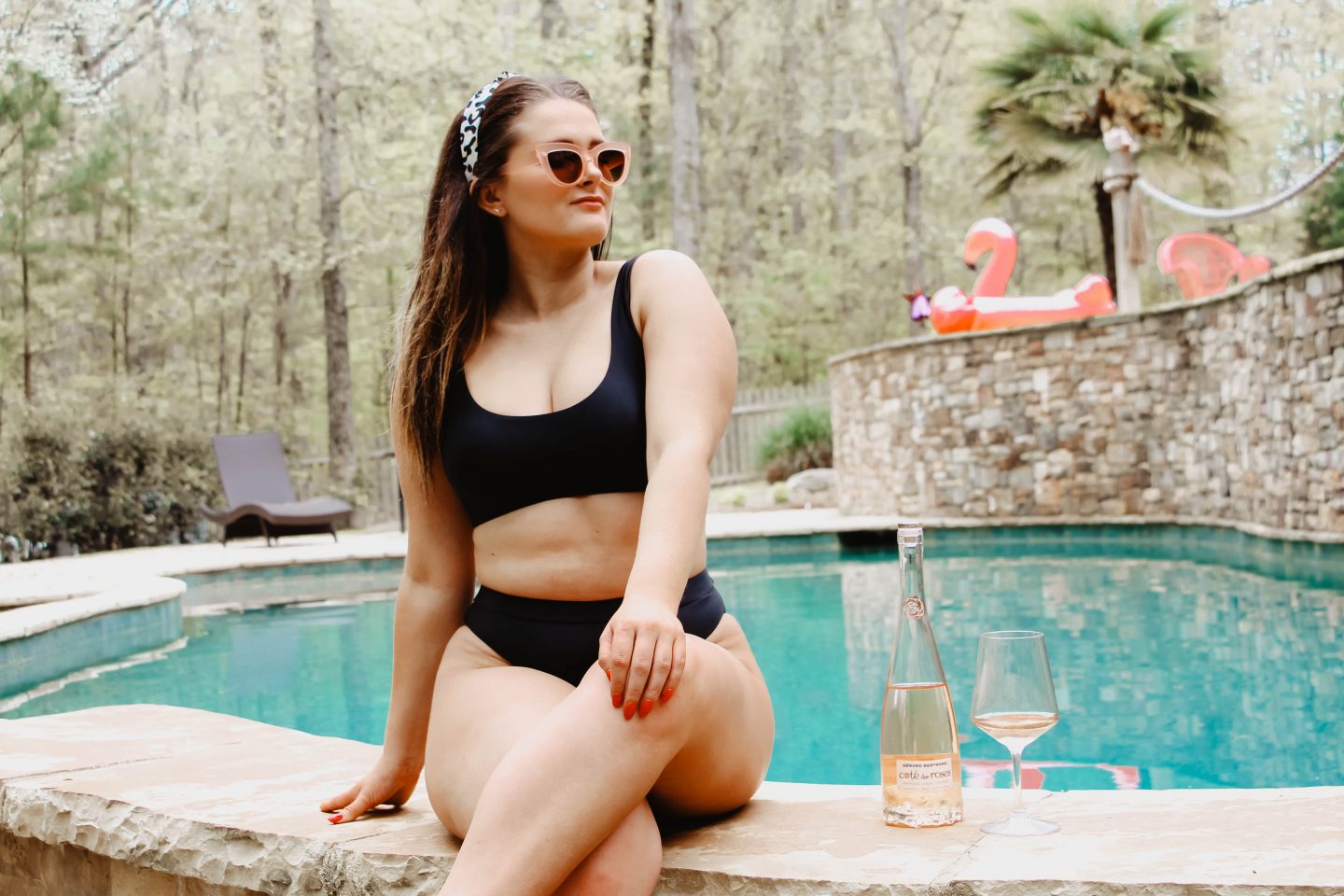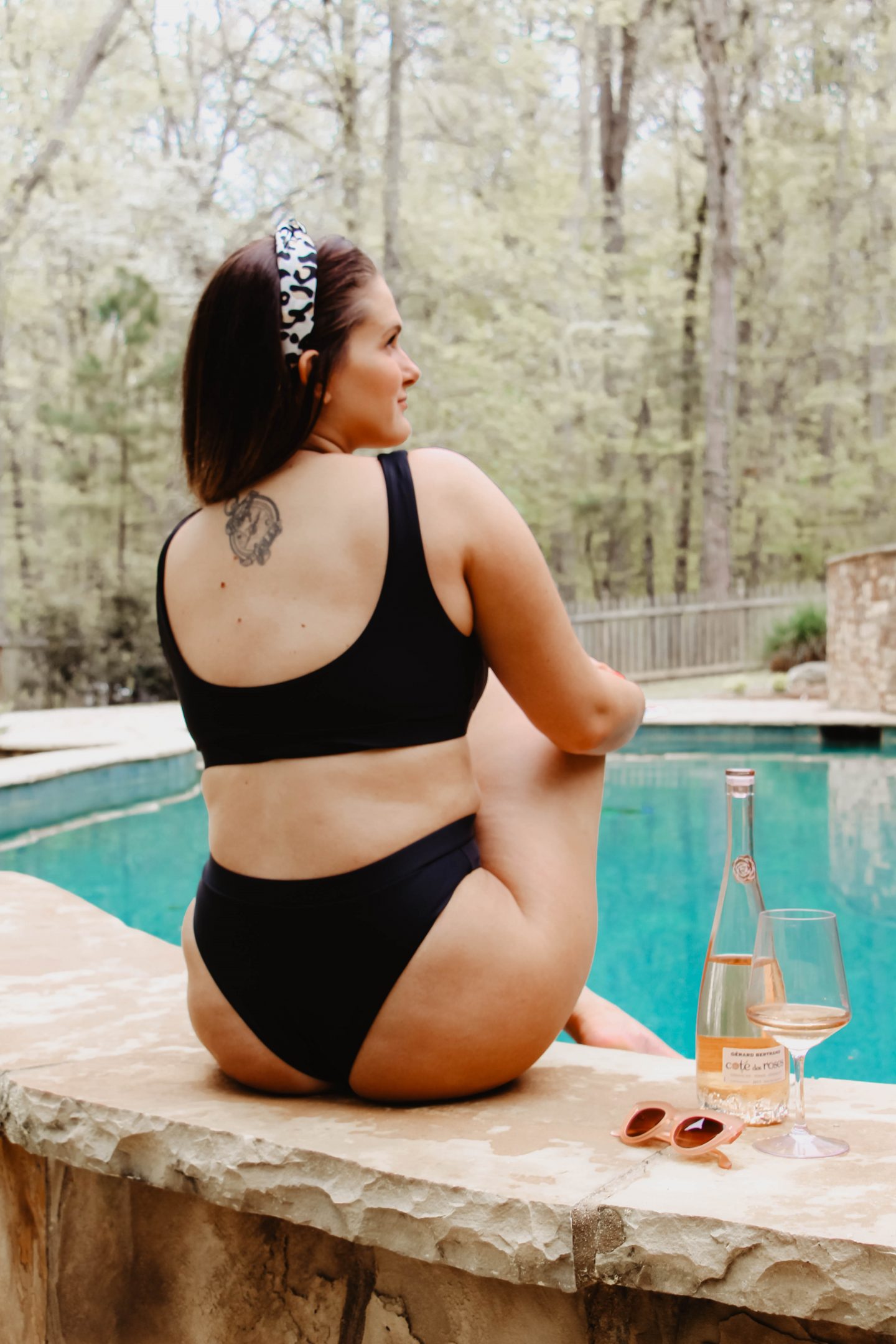 Amazon High-Waisted Sport Bikini – Black, $17, medium
This bikini is actually from last year, but I have it in 3 different colors and it's my absolute go-to. This particular cut looks best on my body type. My main problem area is my lower stomach, so I always go for a high waisted bottom. I love the high cut, but it also means that the back is pretty cheeky.
I was nervous about the top fitting because I have a larger chest, but it actually fits quite well! Another plus to the suit – mix and match your tops and bottoms with print/patterned suits!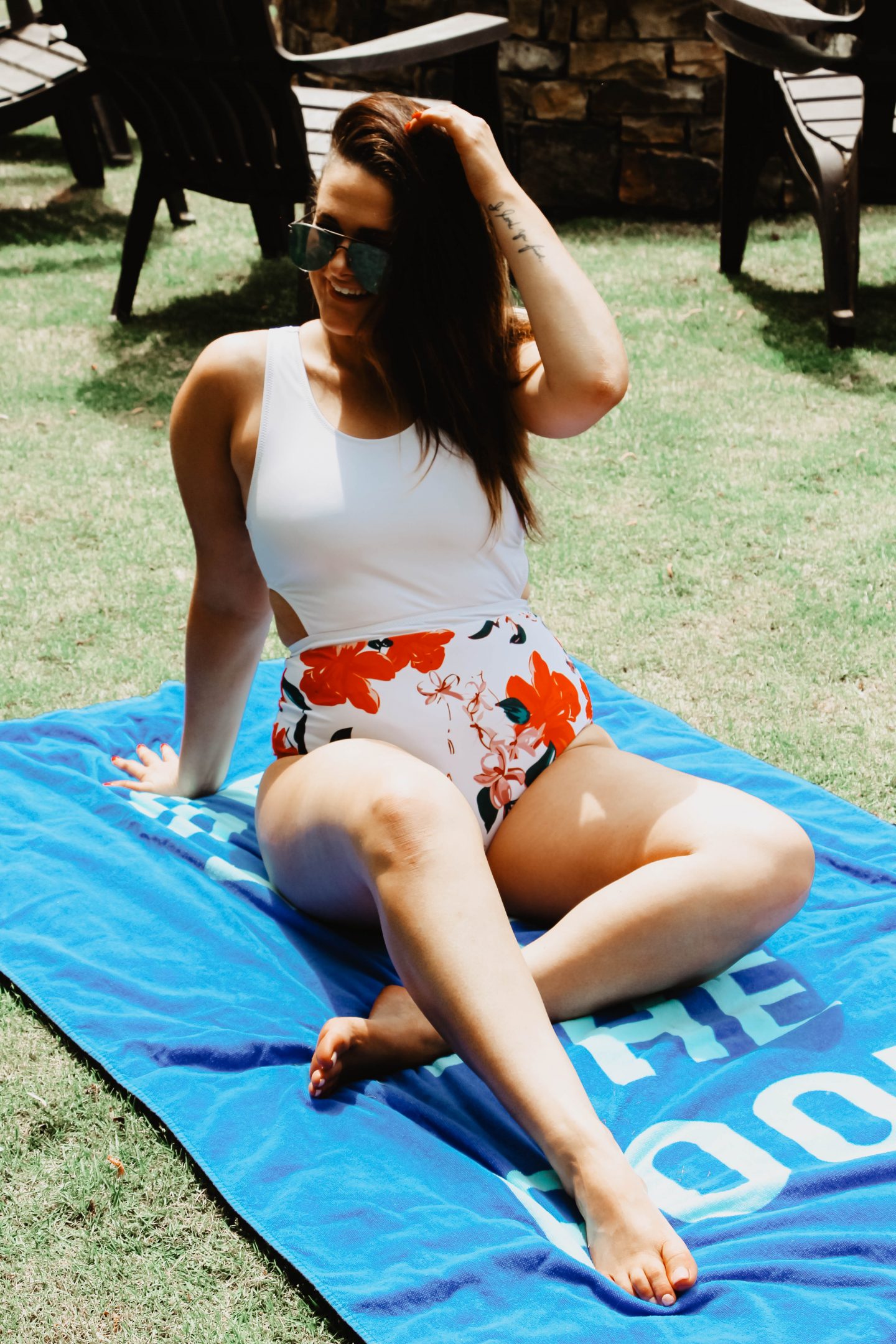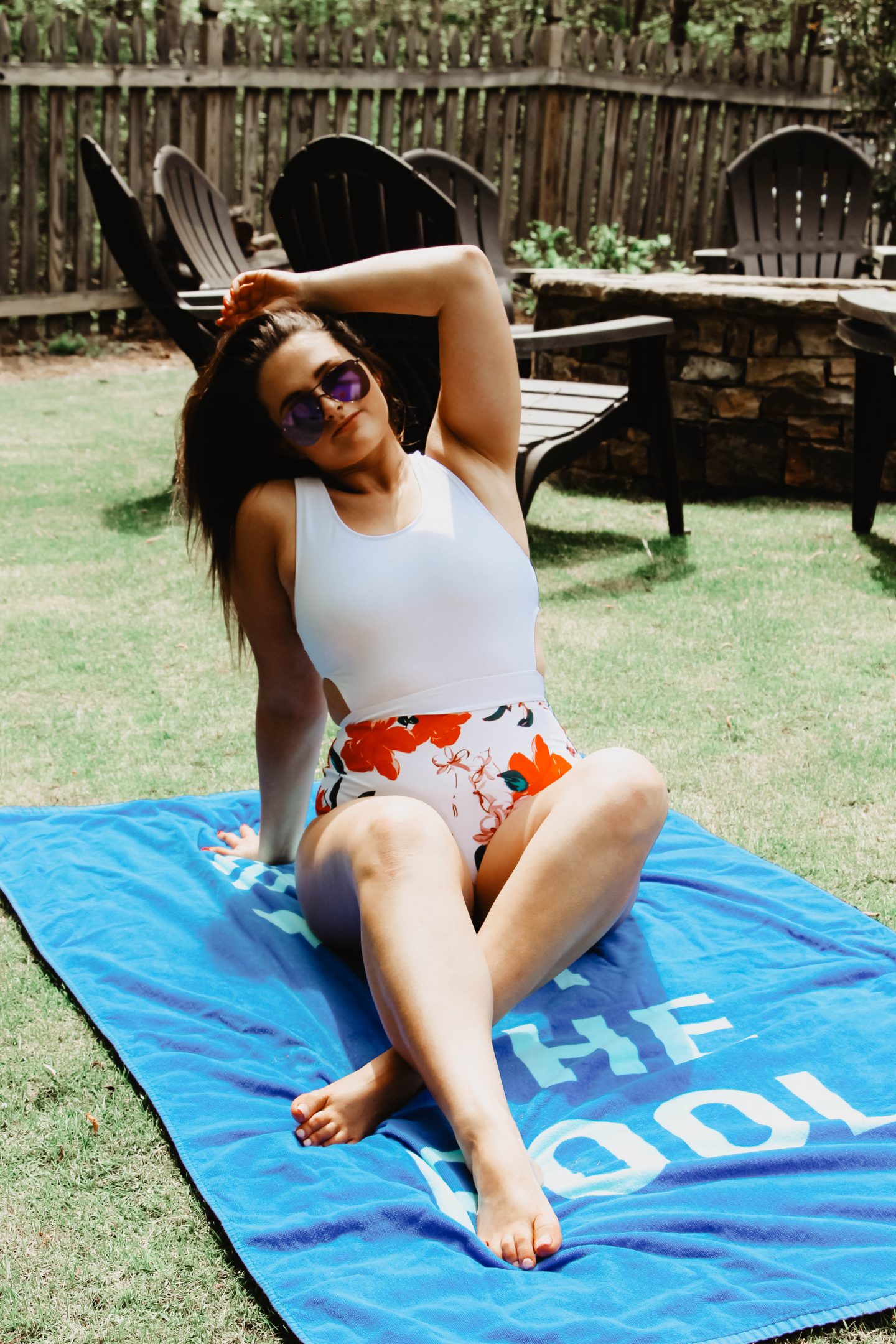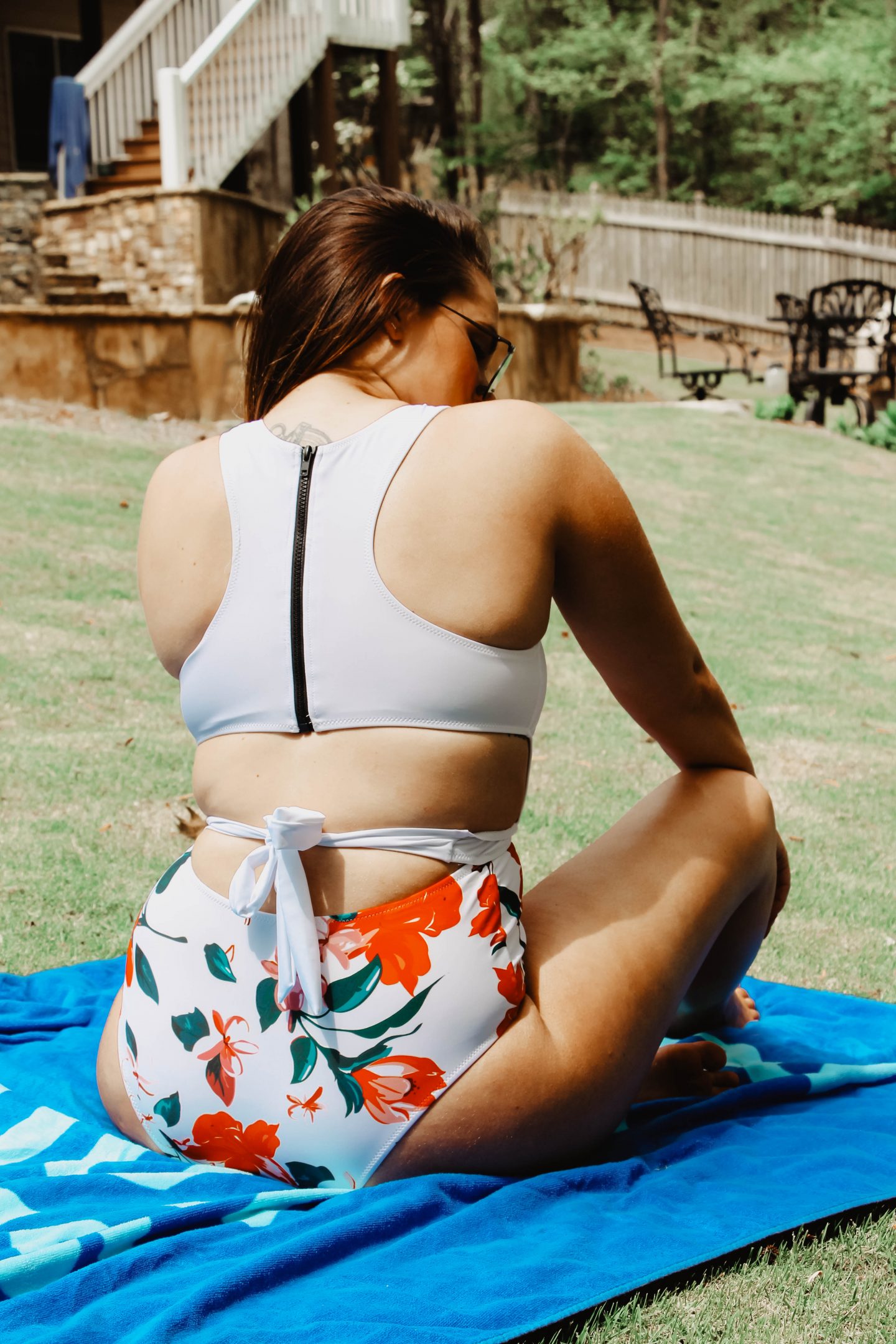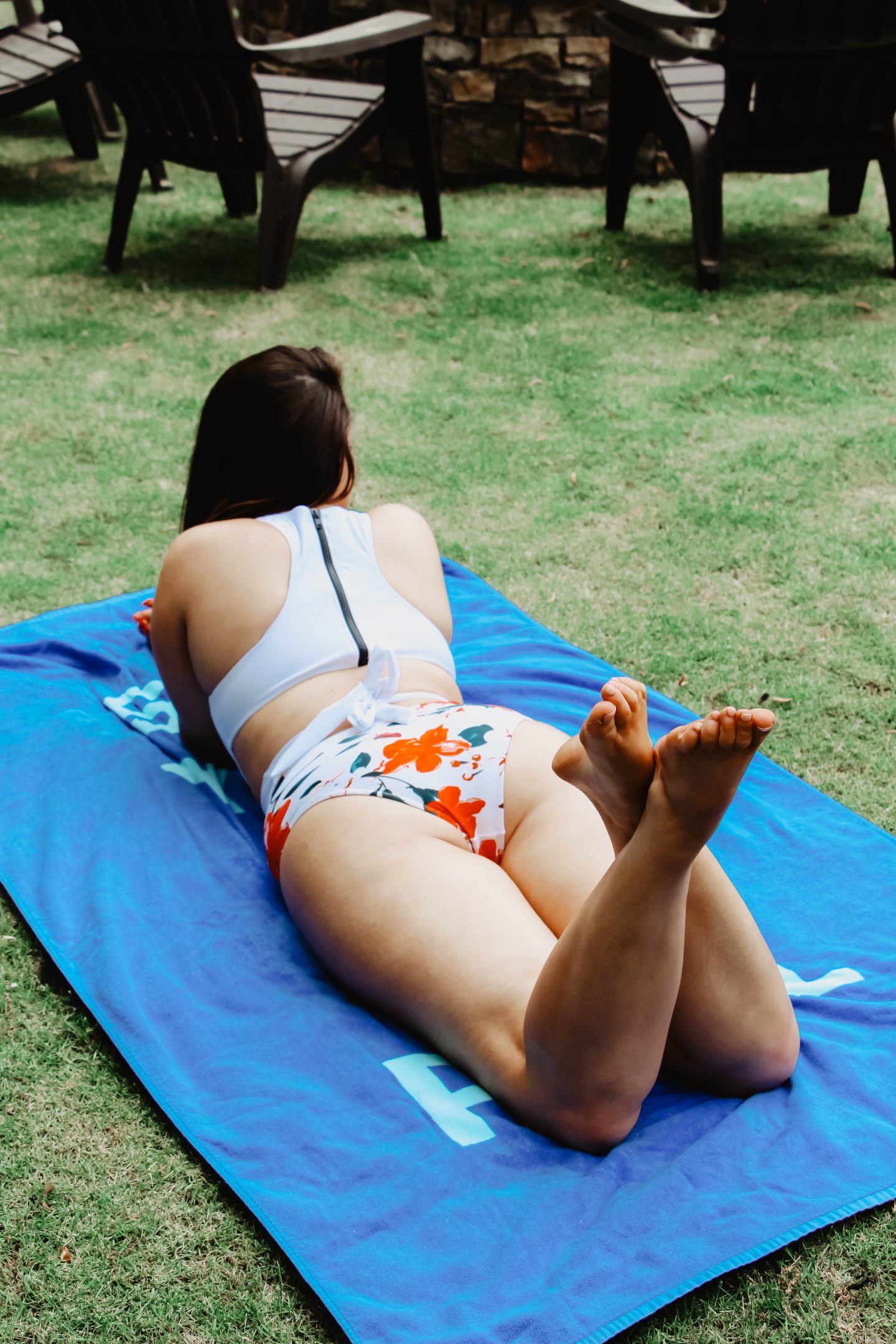 Amazon Color Block One Piece – White & Floral, $27, medium
This was the last swimsuit that I purchased with intentions of taking it to the beach with my boyfriend's family next month! This has great coverage in the front and the back. I love that it looks like two separate pieces and one all at the same time.
This suit will look great on just about anyone, but especially those with curves because the tie around the waist allows you to accentuate your waistline.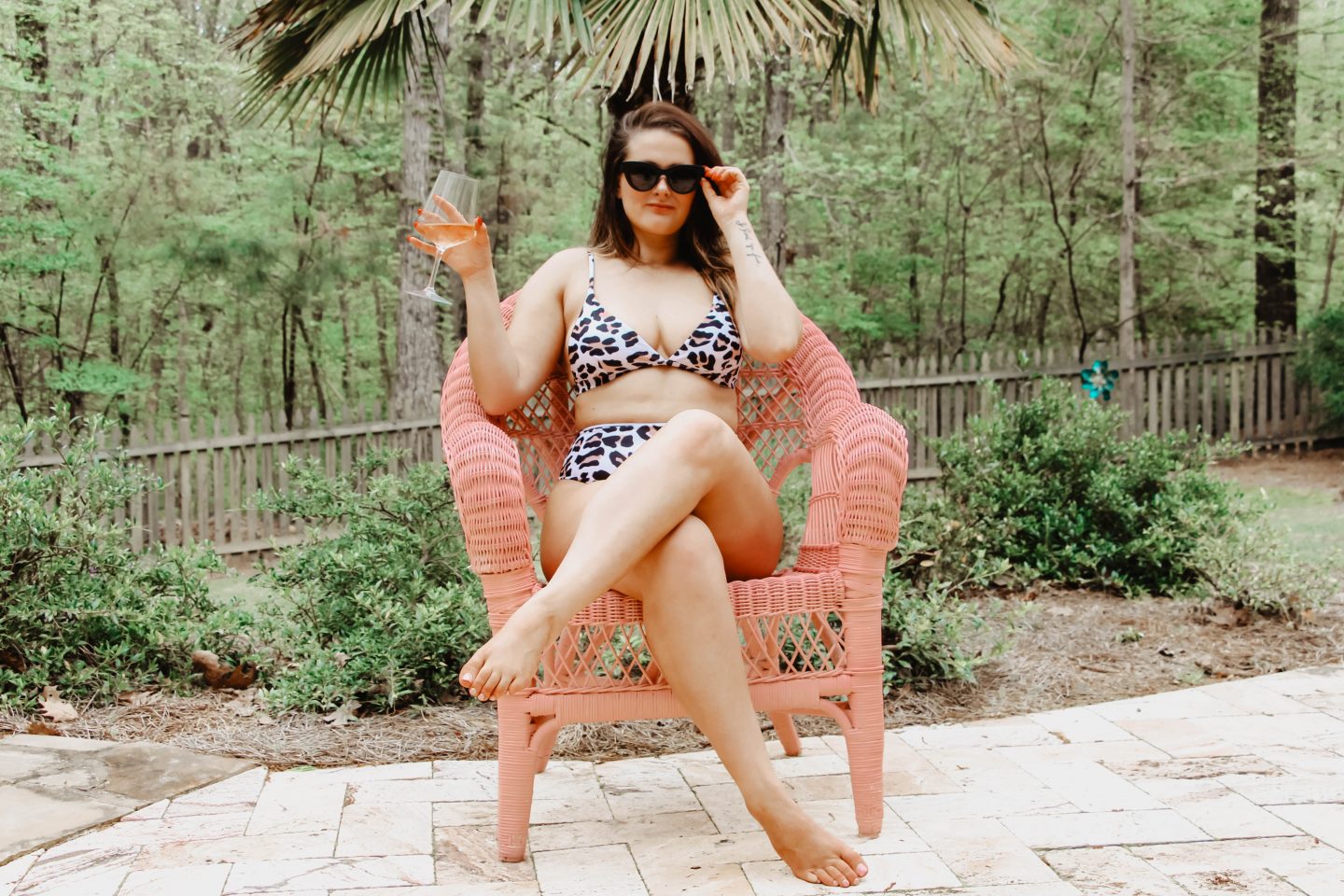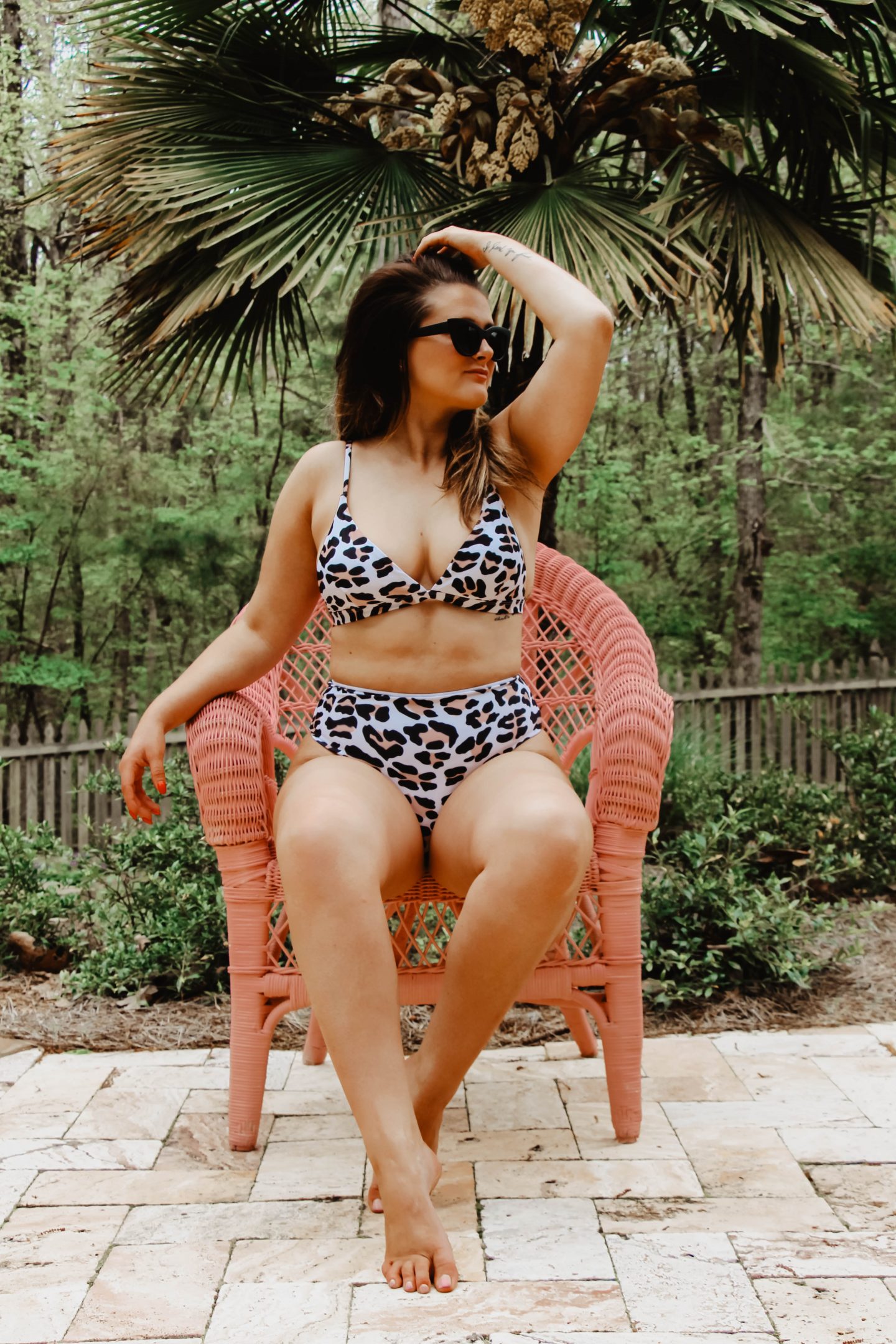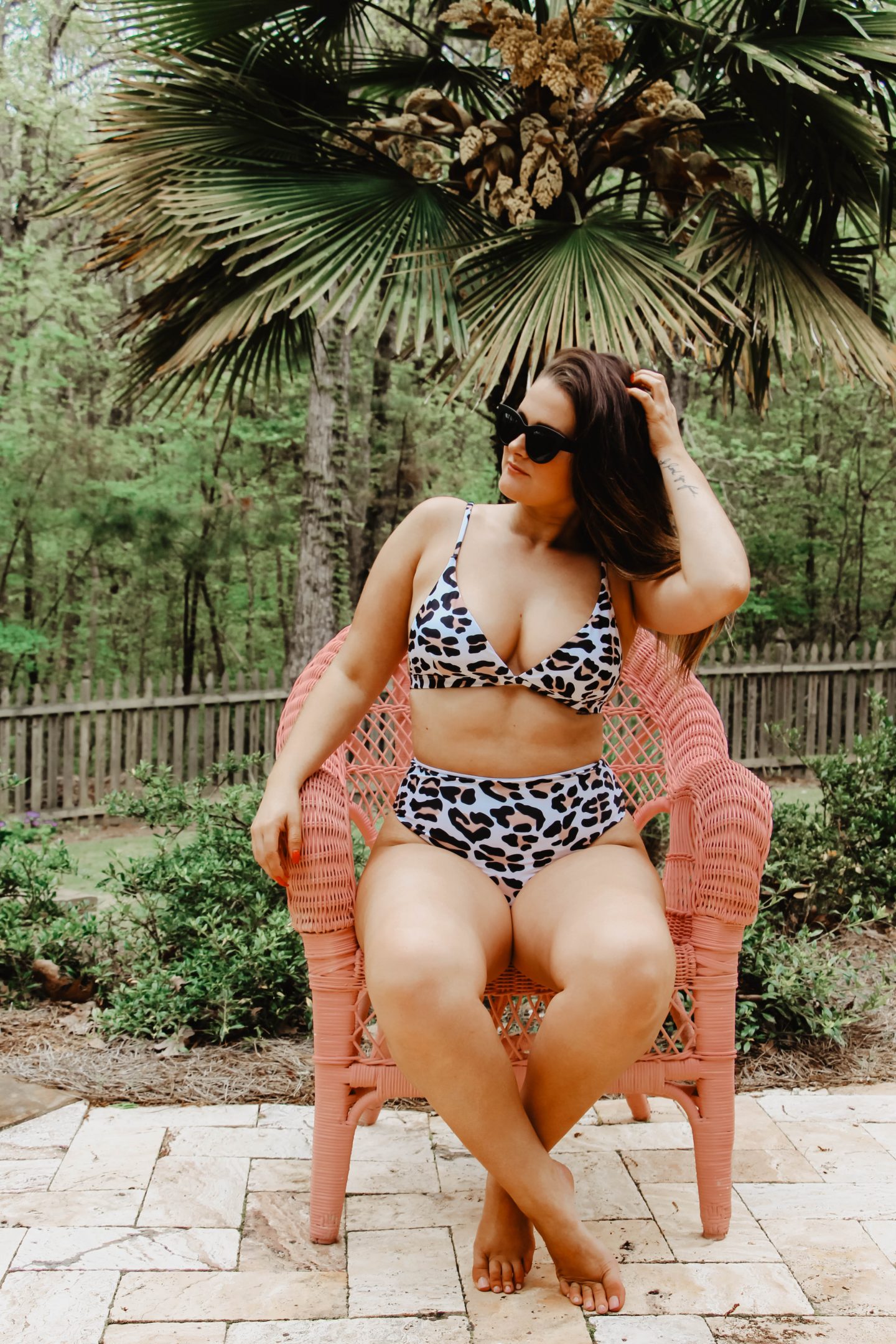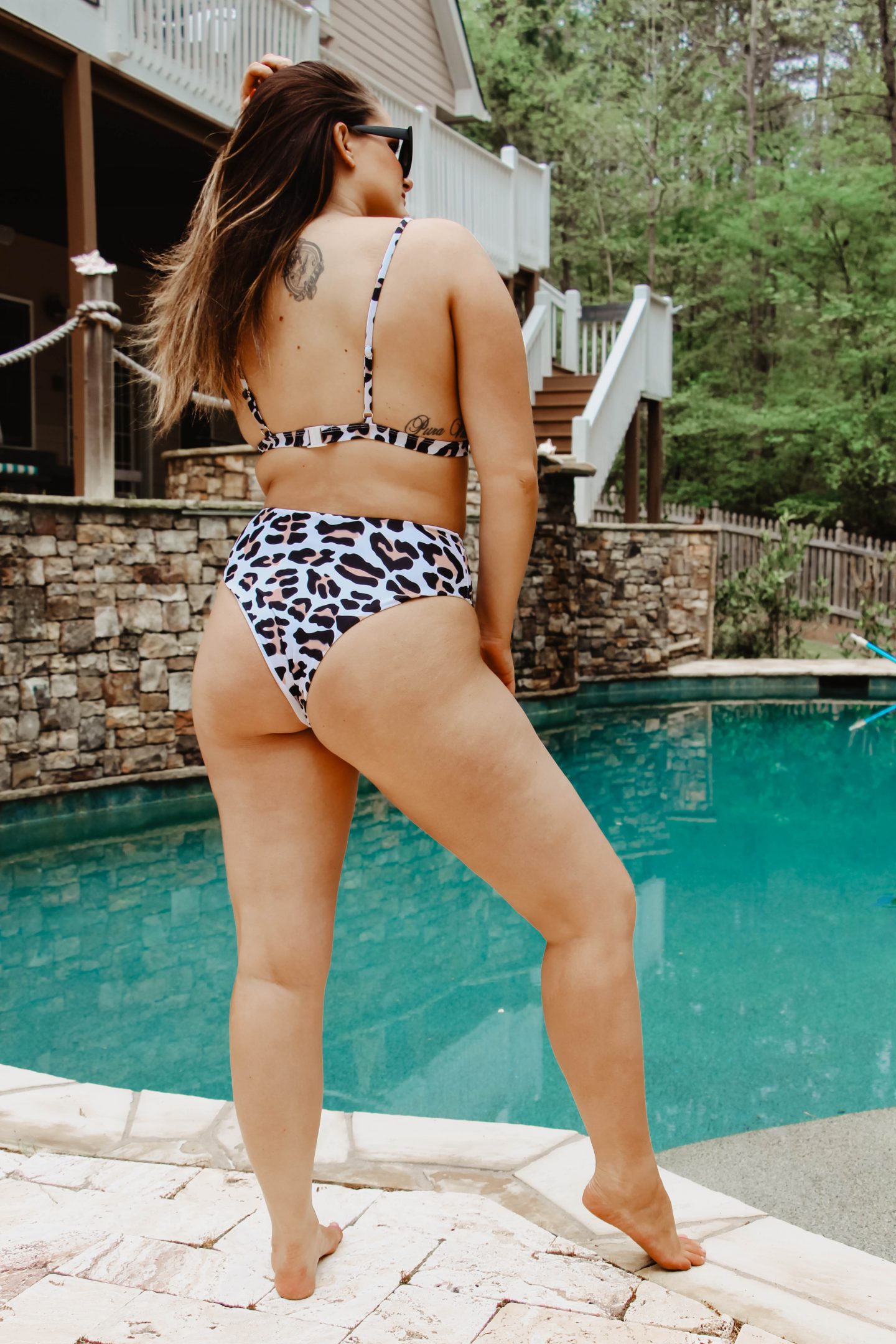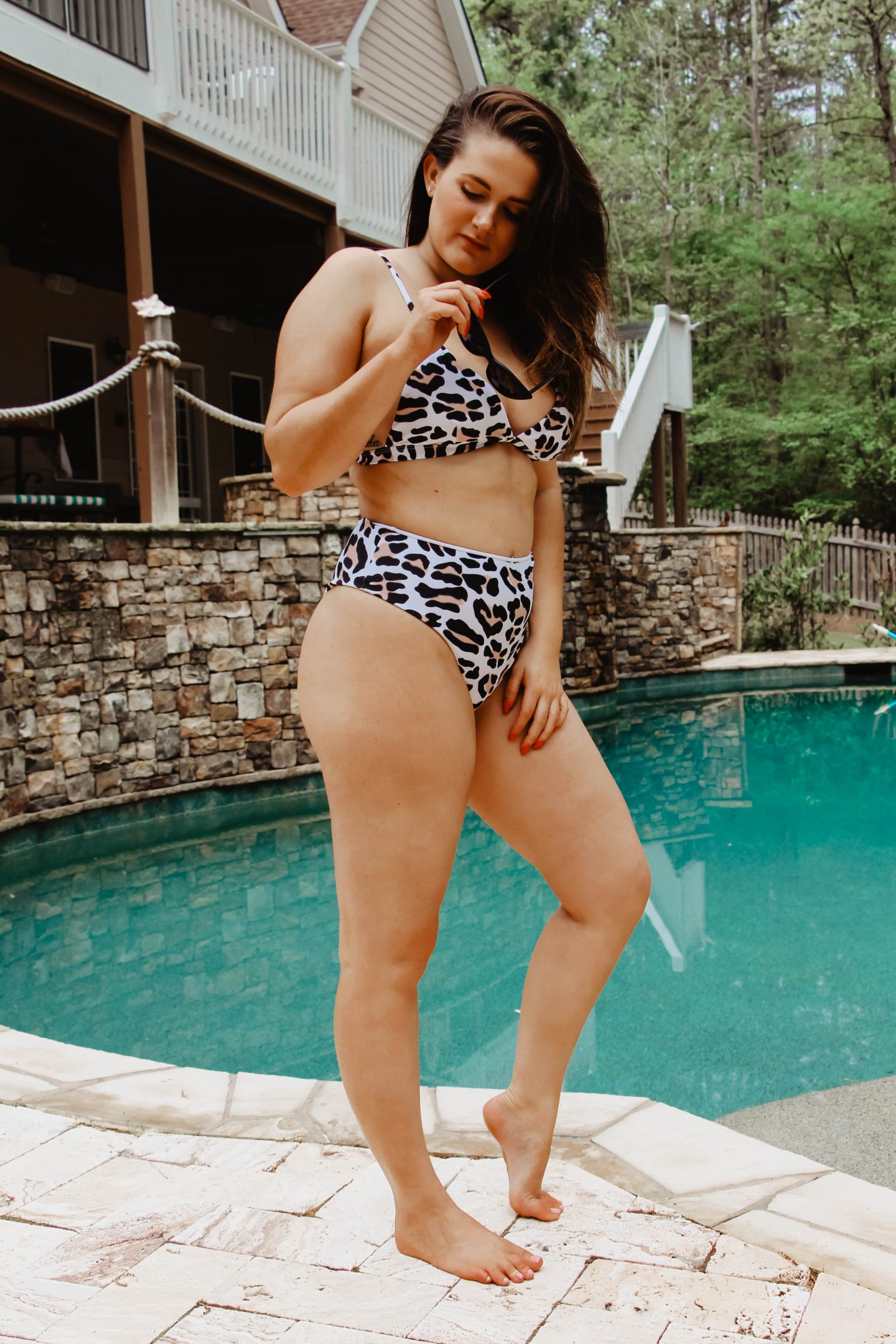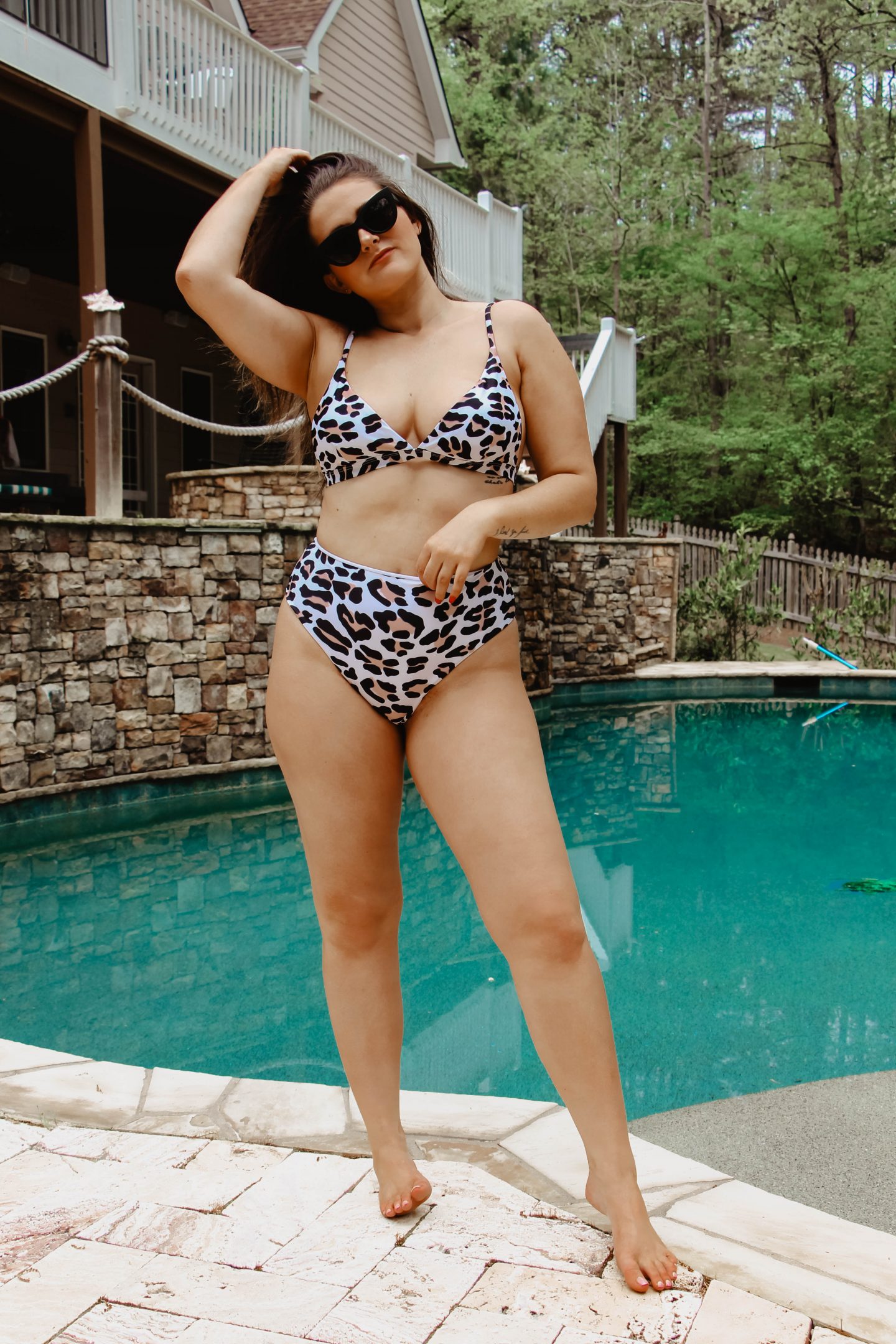 Amazon High-Waisted Triangle Bikini – Leopard, $20, large
I absolutely love this swimsuit! I got a large because it said it fit like a 6-8. While the bottoms fit perfectly the top could be a bit bigger. I'm around a DD cup and this top fits, but you have to be careful for a slip if ya know what I mean lol!
Again, this is a high-waisted cut, so it flatters my body type best. This suit is meant to be cheeky, but I'm carrying a lot of junk in the trunk, so it's bit cheekier than it may be on most. This also would look great on all body types because of the cut and high-waisted bottoms.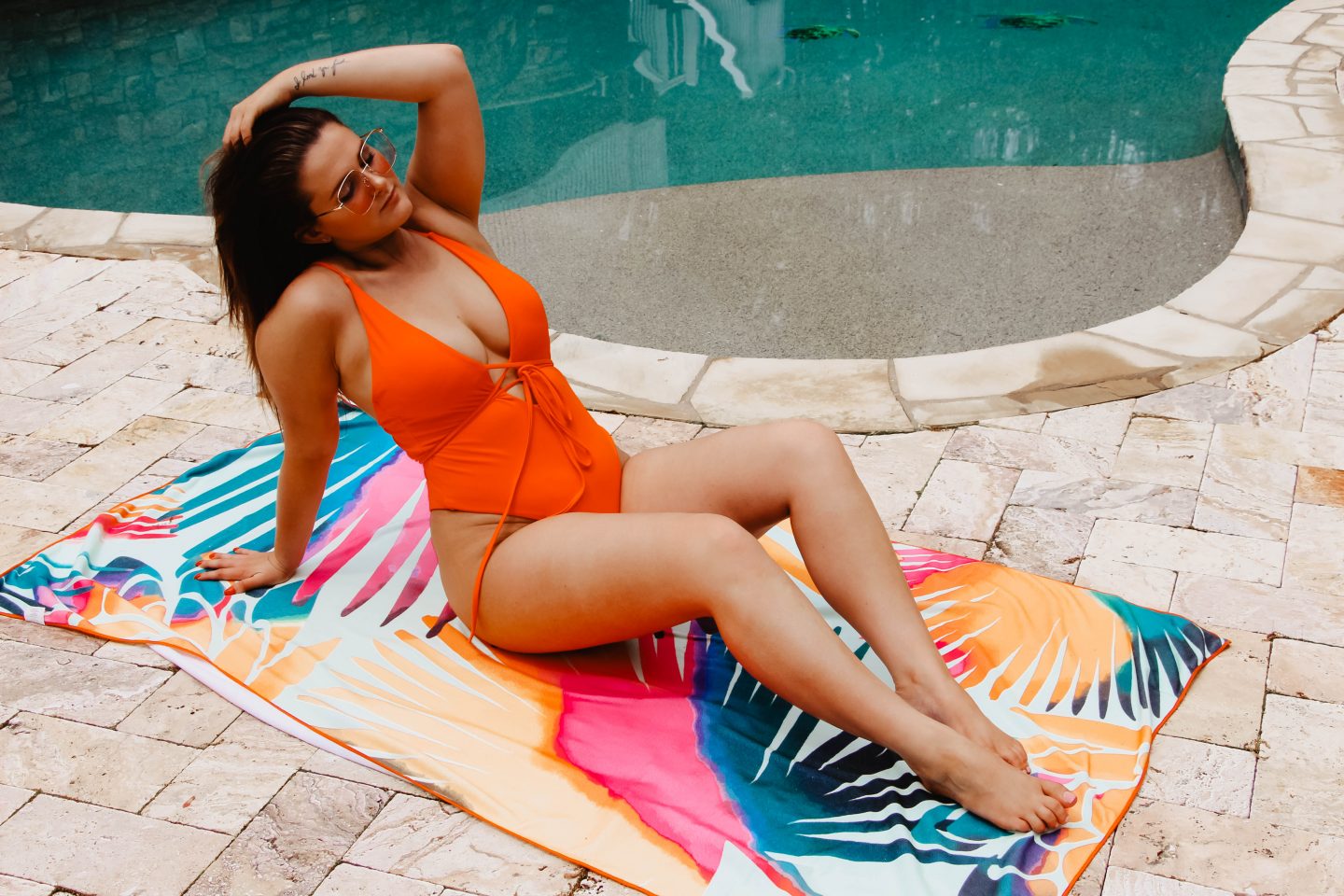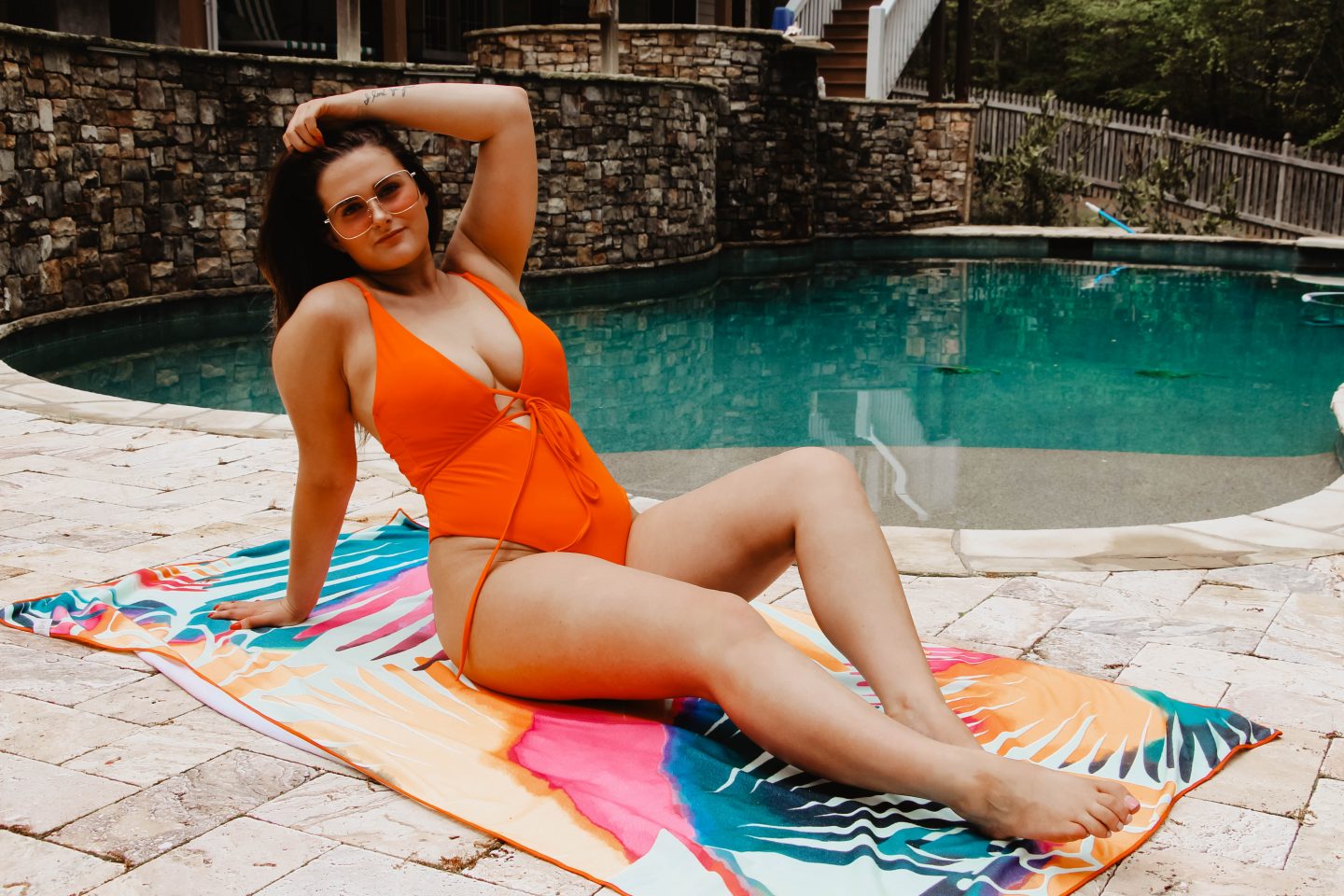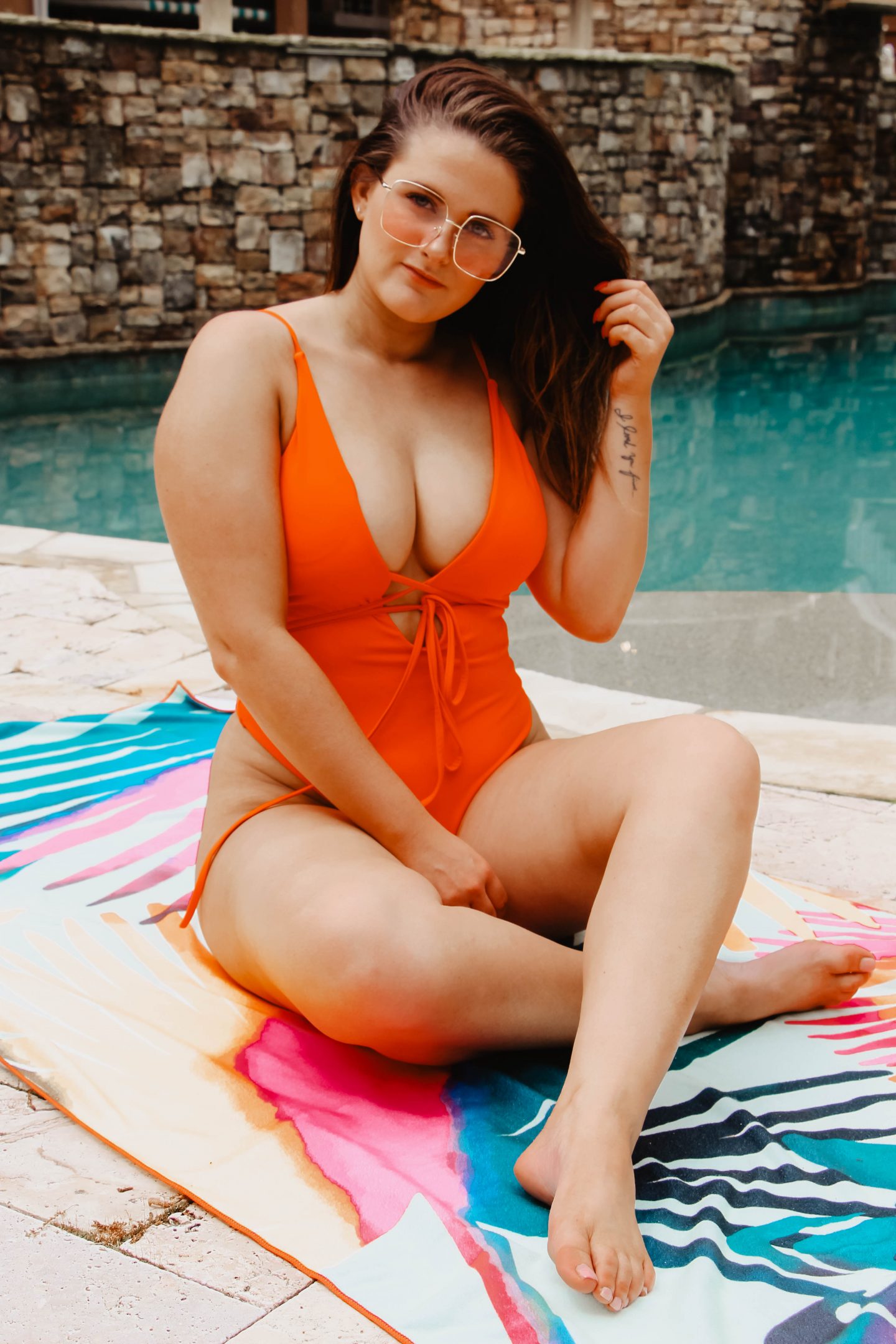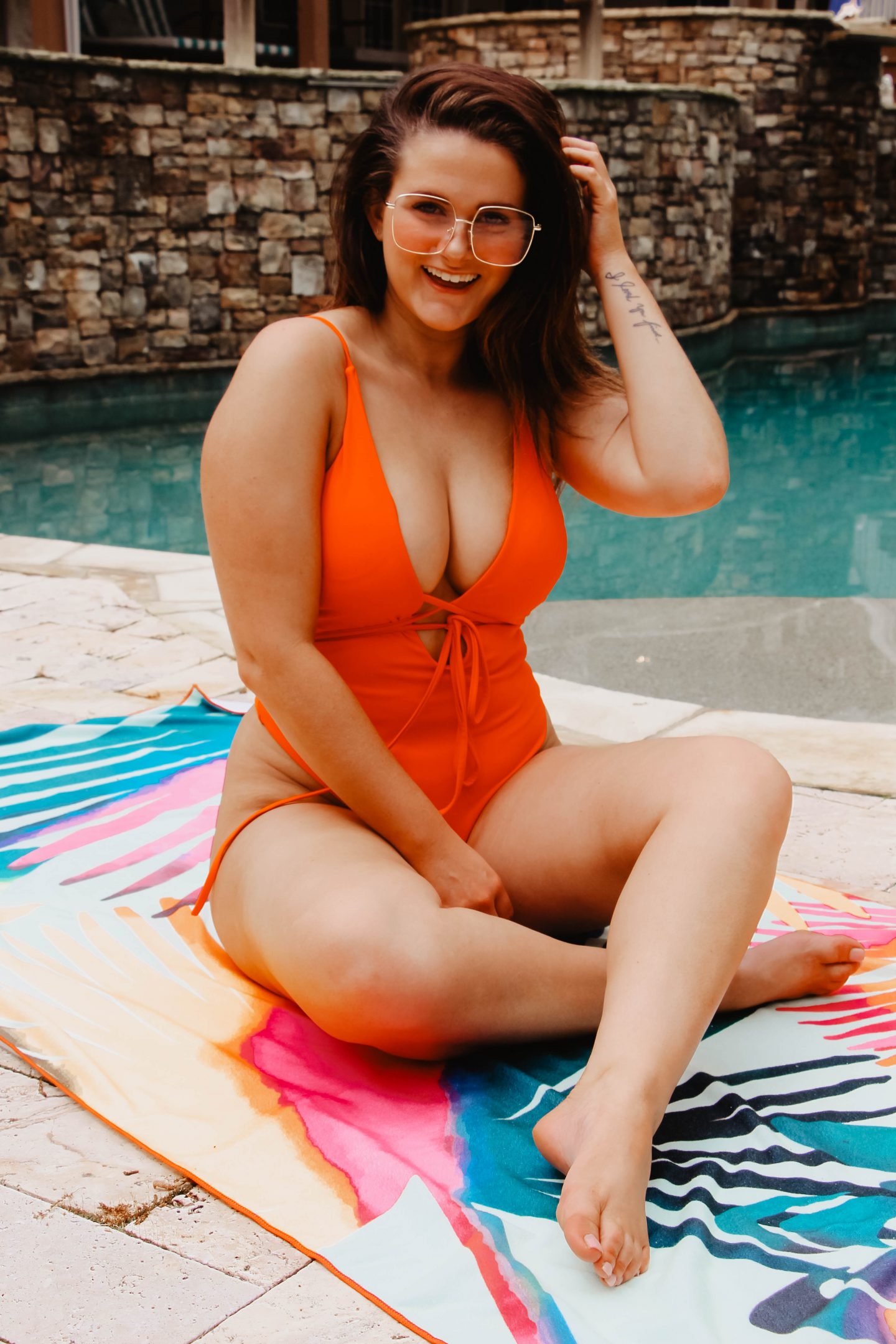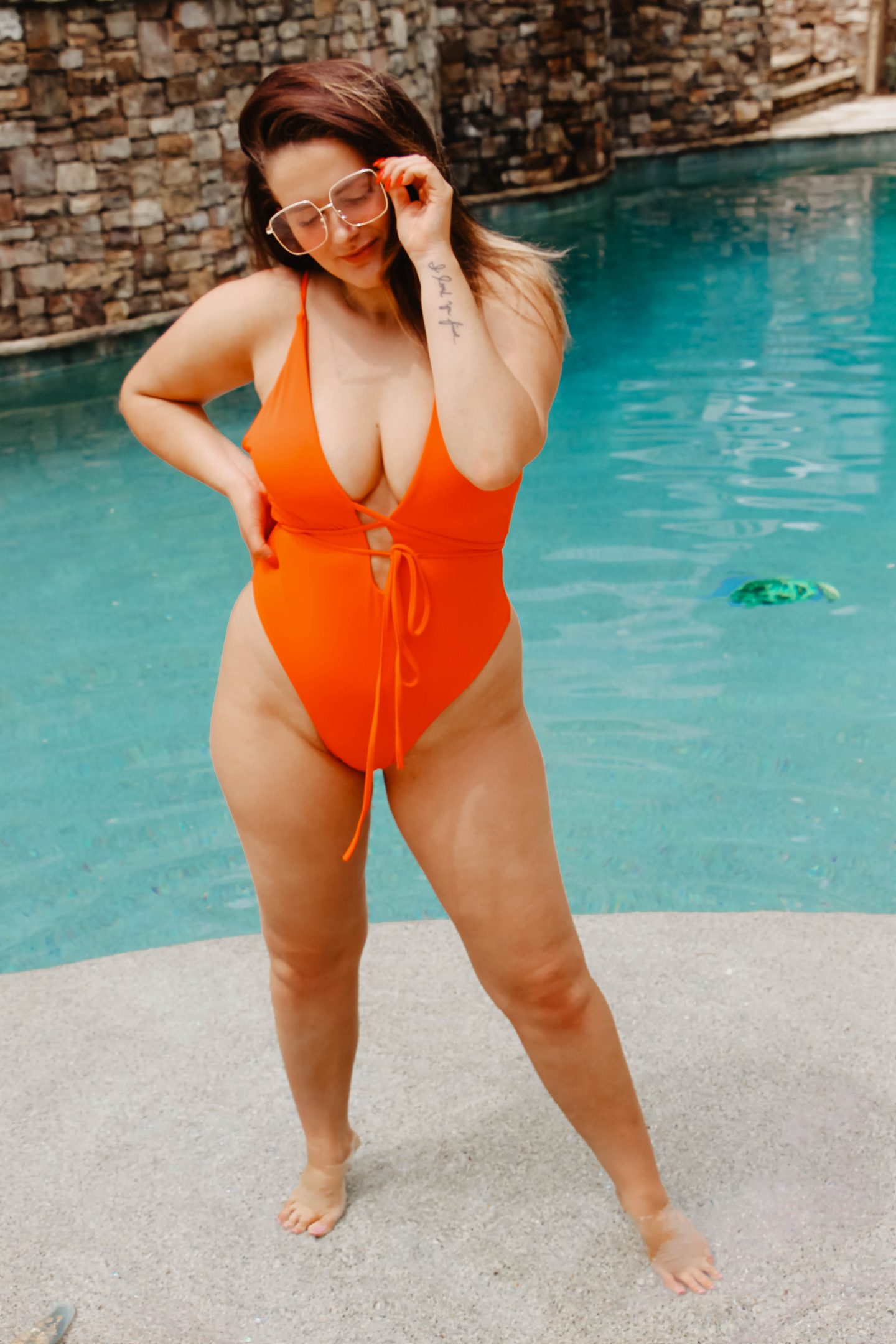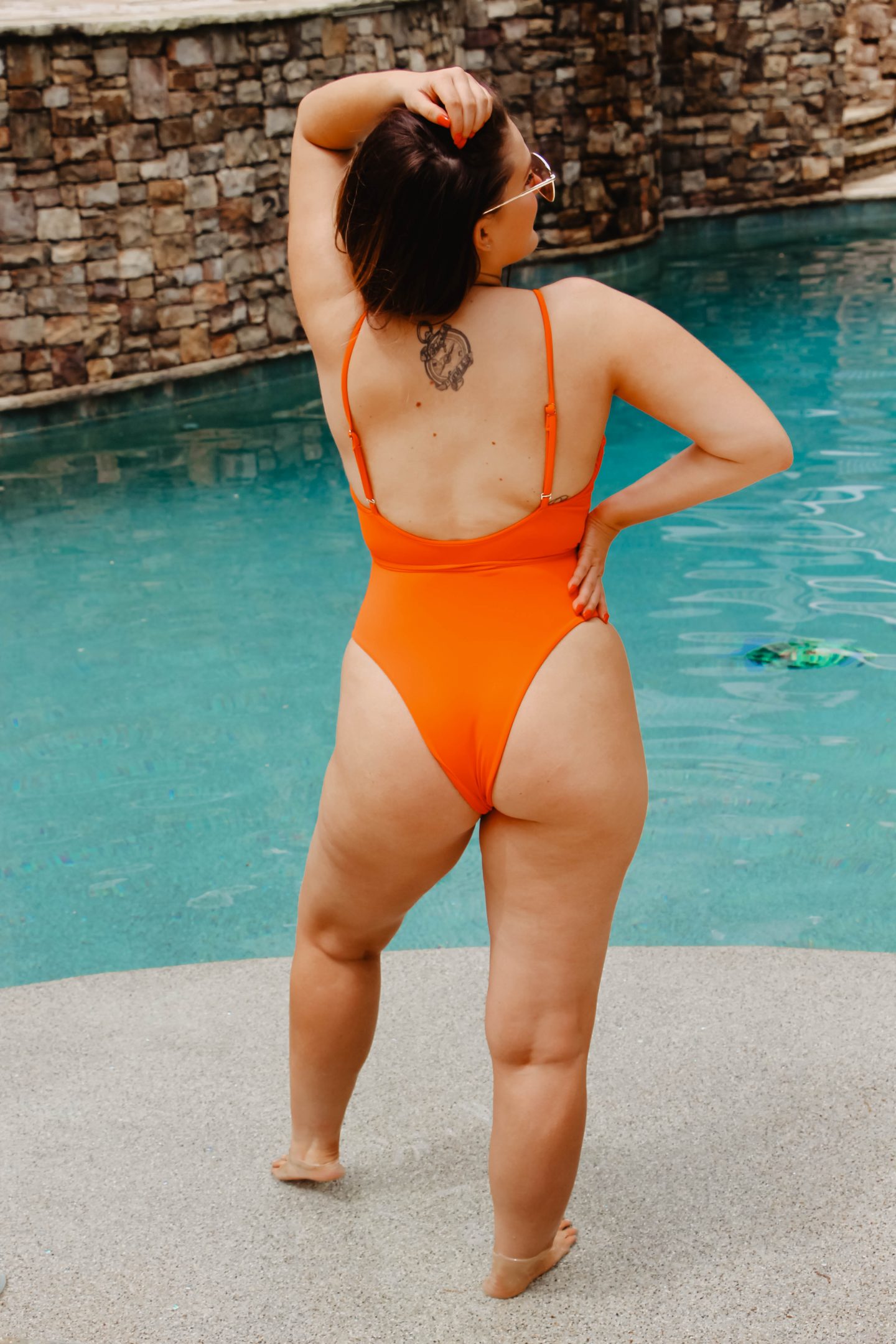 SheIn Belted Plunging One Piece – Neon Orange, $14, large
This one was a risk that I took on SheIn because I was sure it wouldn't fit, but I love it! This one is definitely more on the revealing side. For me, this will be worn strictly at my home pool or on a tropical beach vacation.
It surprisingly holds me in up top, but you do have to be weary of a possible slip. This is another great one for the curvy girls because the belting allows you to accentuate your curves how you like. It's also very cheeky, like almost to a thong, so definitely be aware of that!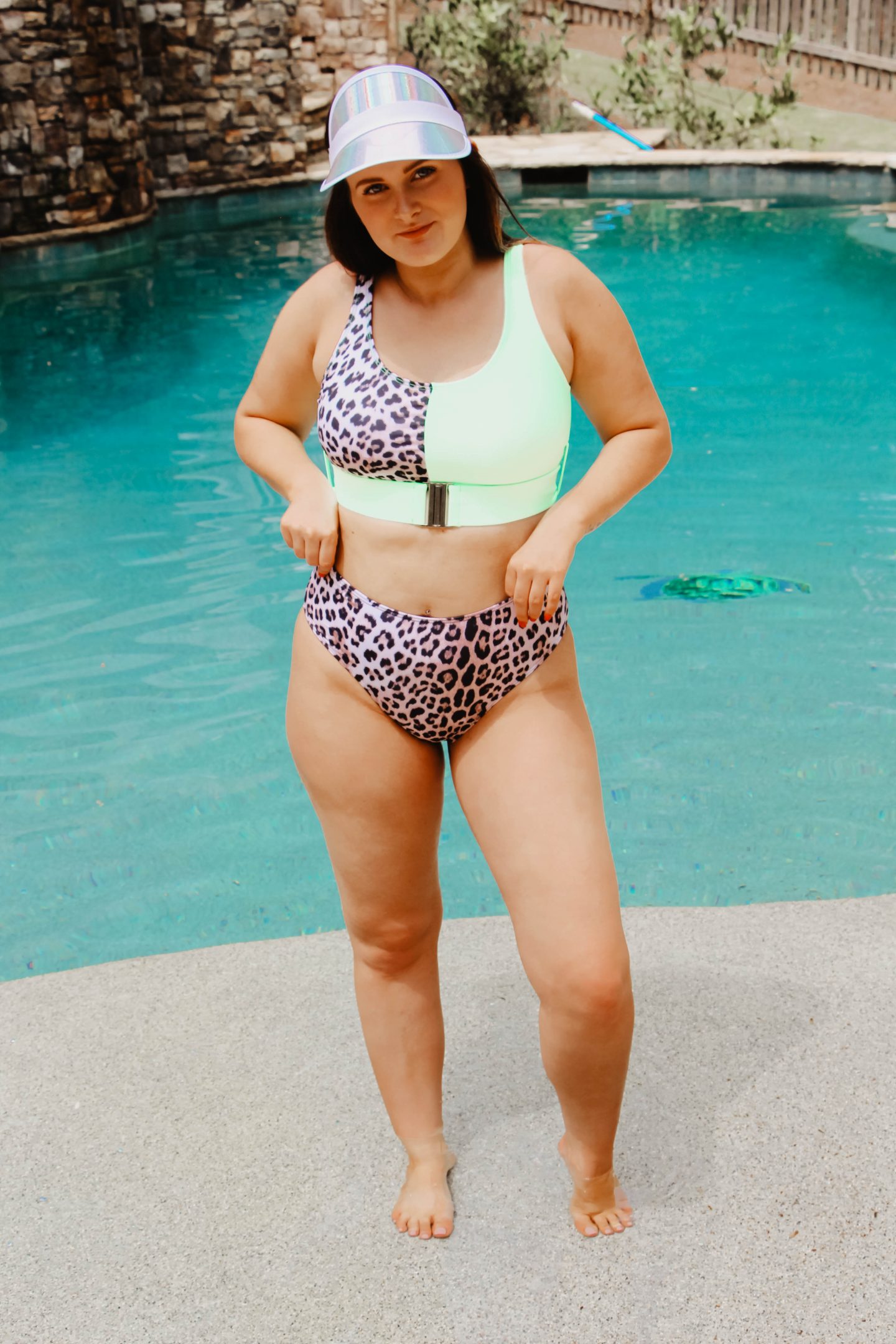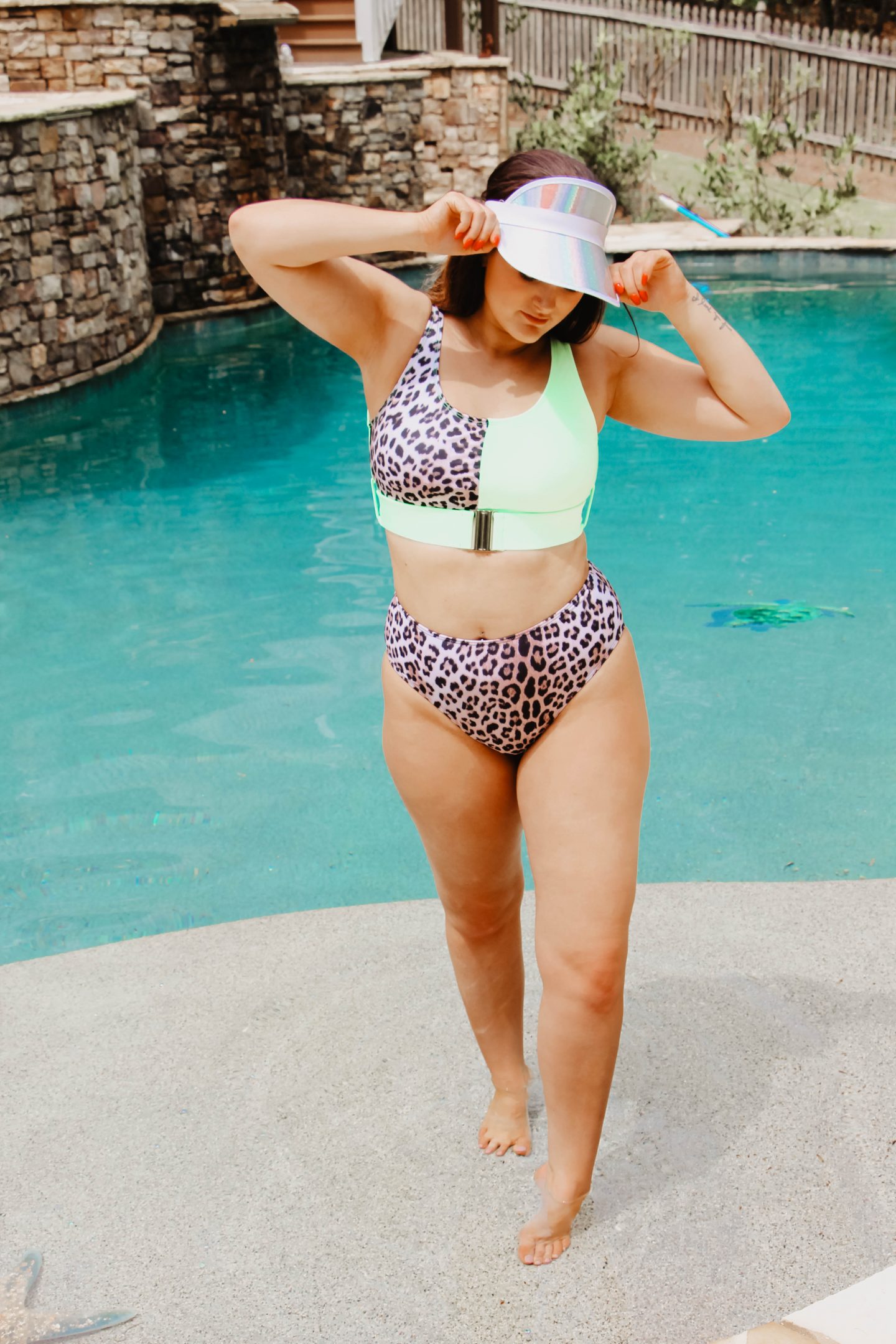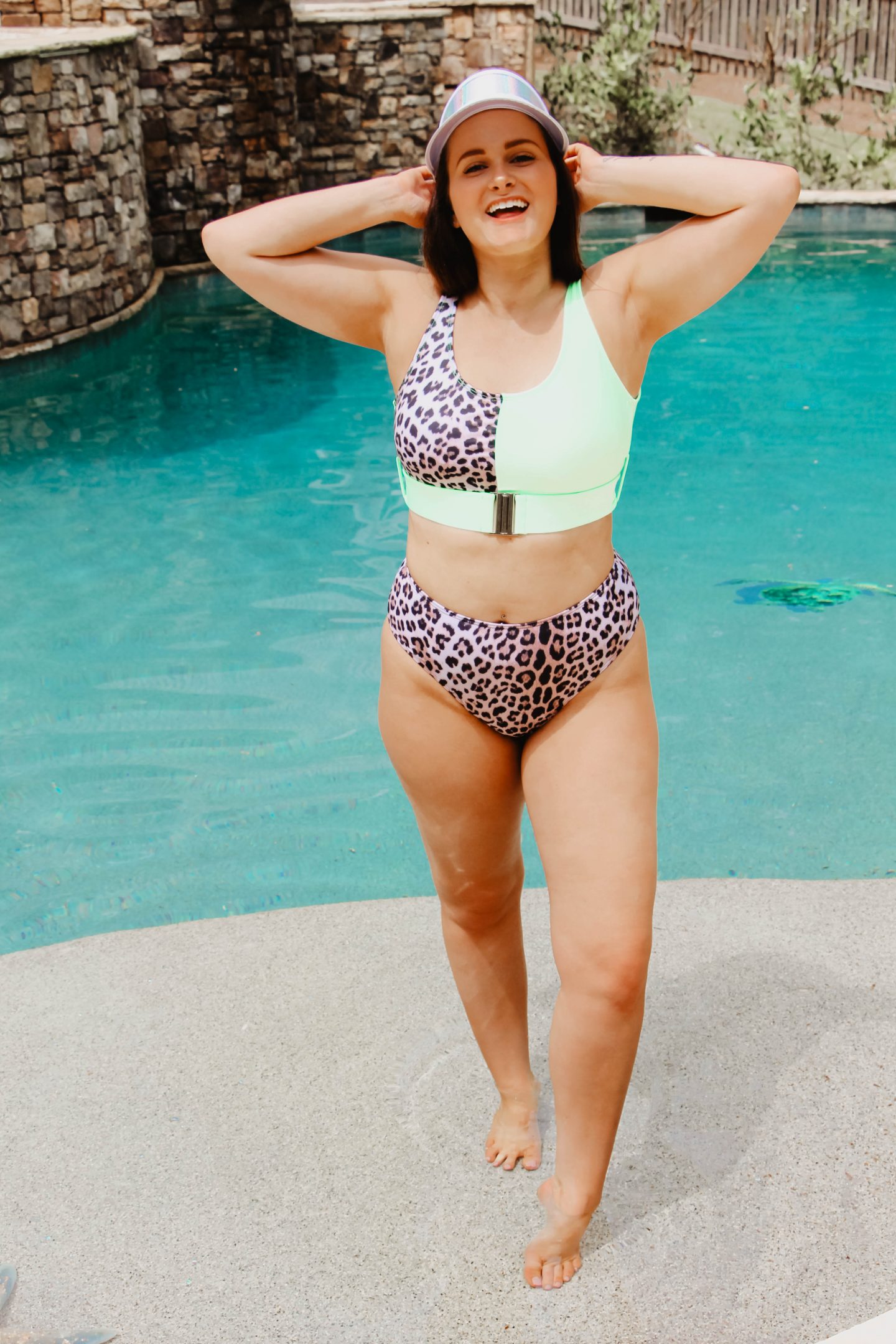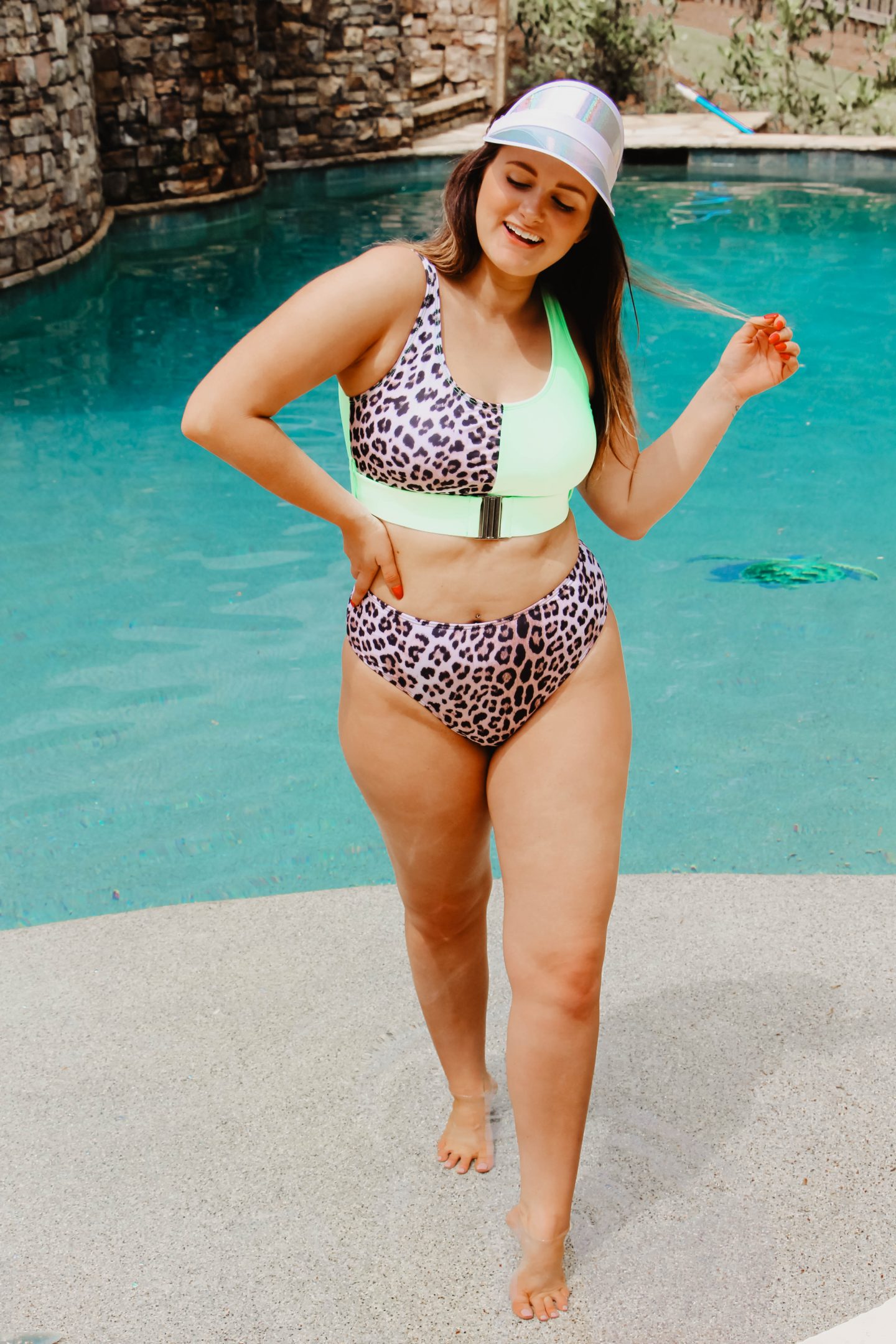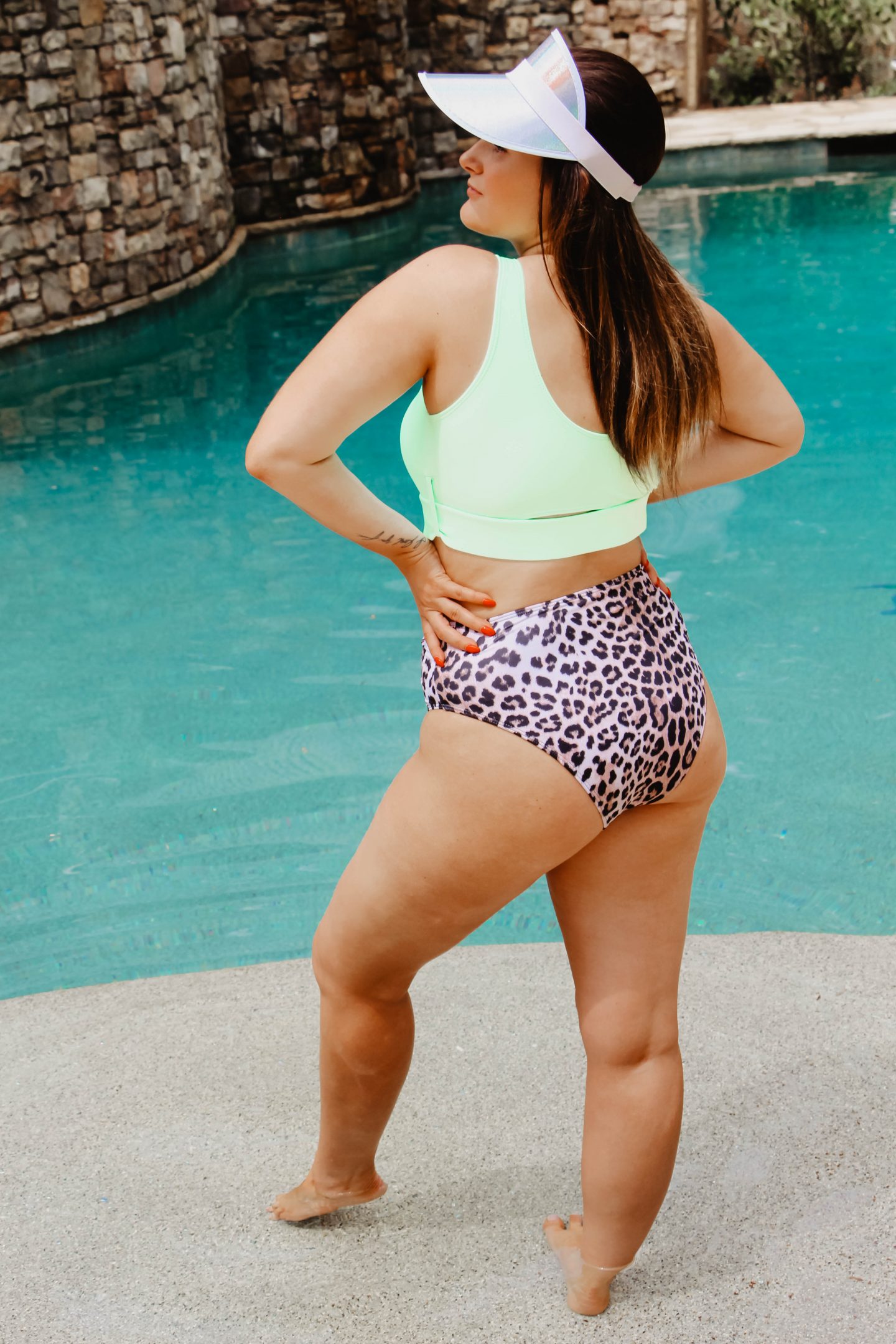 SheIn High-Waisted Bikini with Belt – Neon Lime & Leopard, $13, large
This was another SheIn find that happened to be a dupe for some more expensive ones! It's great quality and has great coverage. The neon trend is one you're going to see in many forms this spring and summer, especially in swimwear.
I love that this swimsuit is high-waisted because it flatters my curves. I also love that I've got full coverage on top and in the back. The belt is also removable if that's not your thing! This is a great swimsuit option for any body type!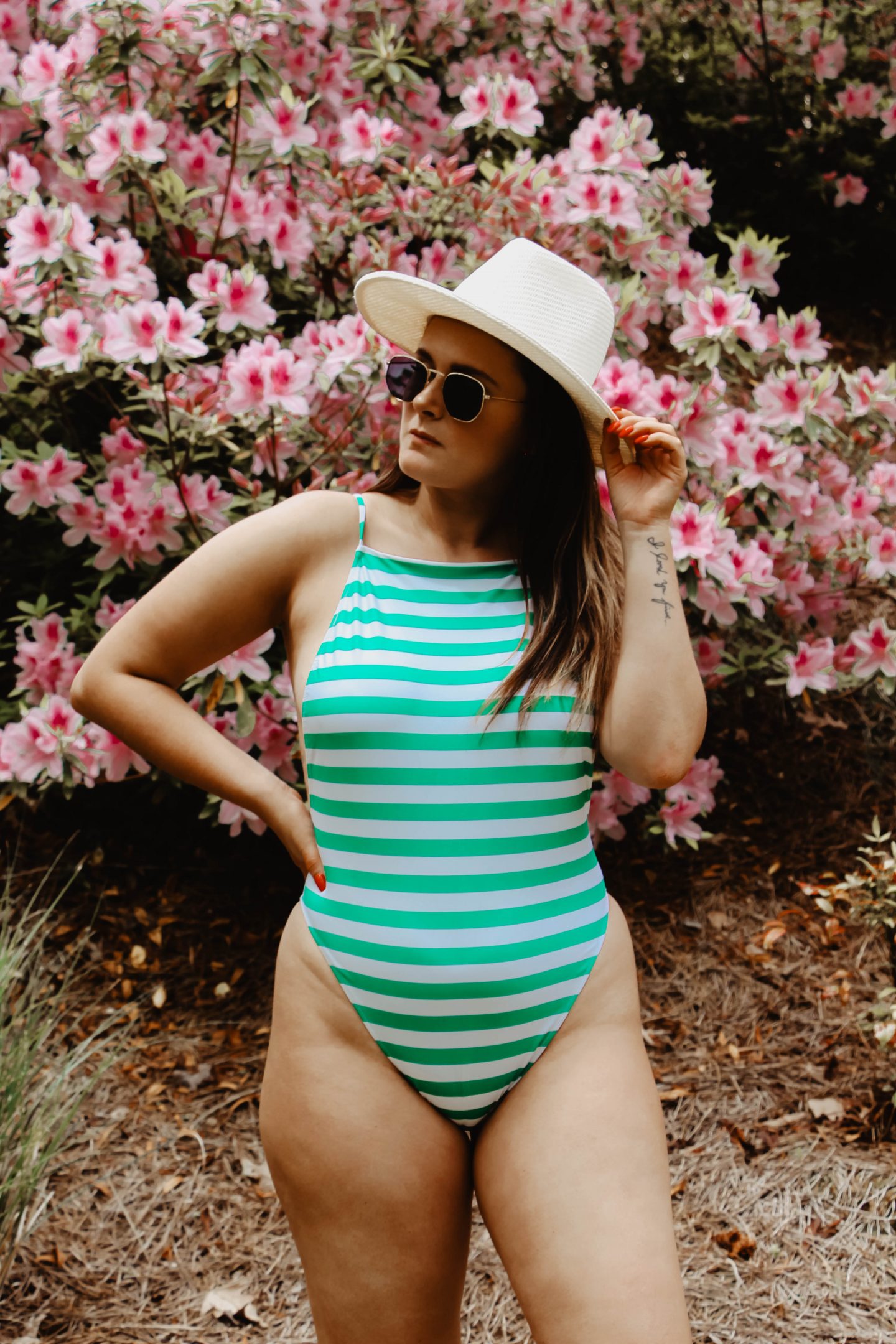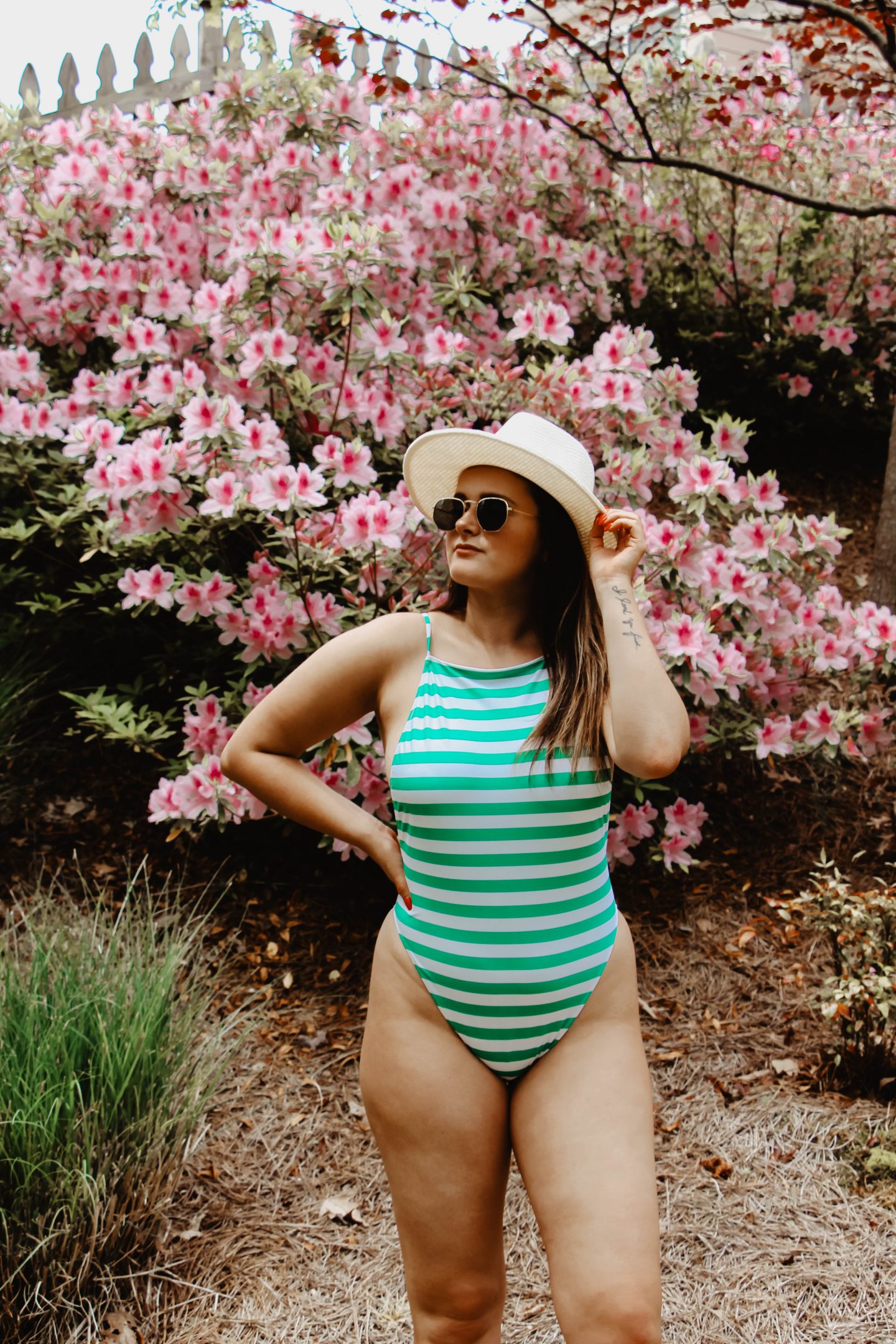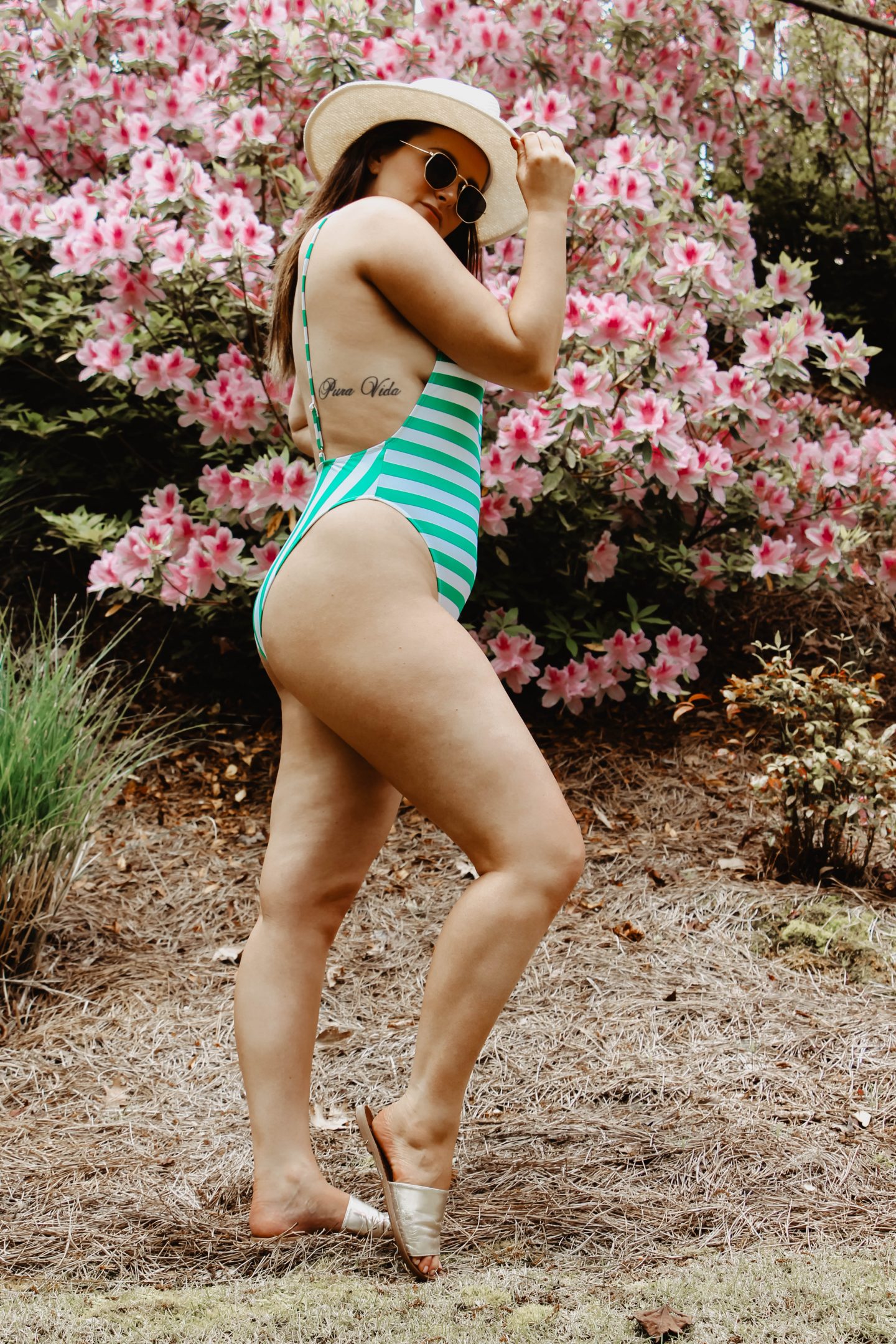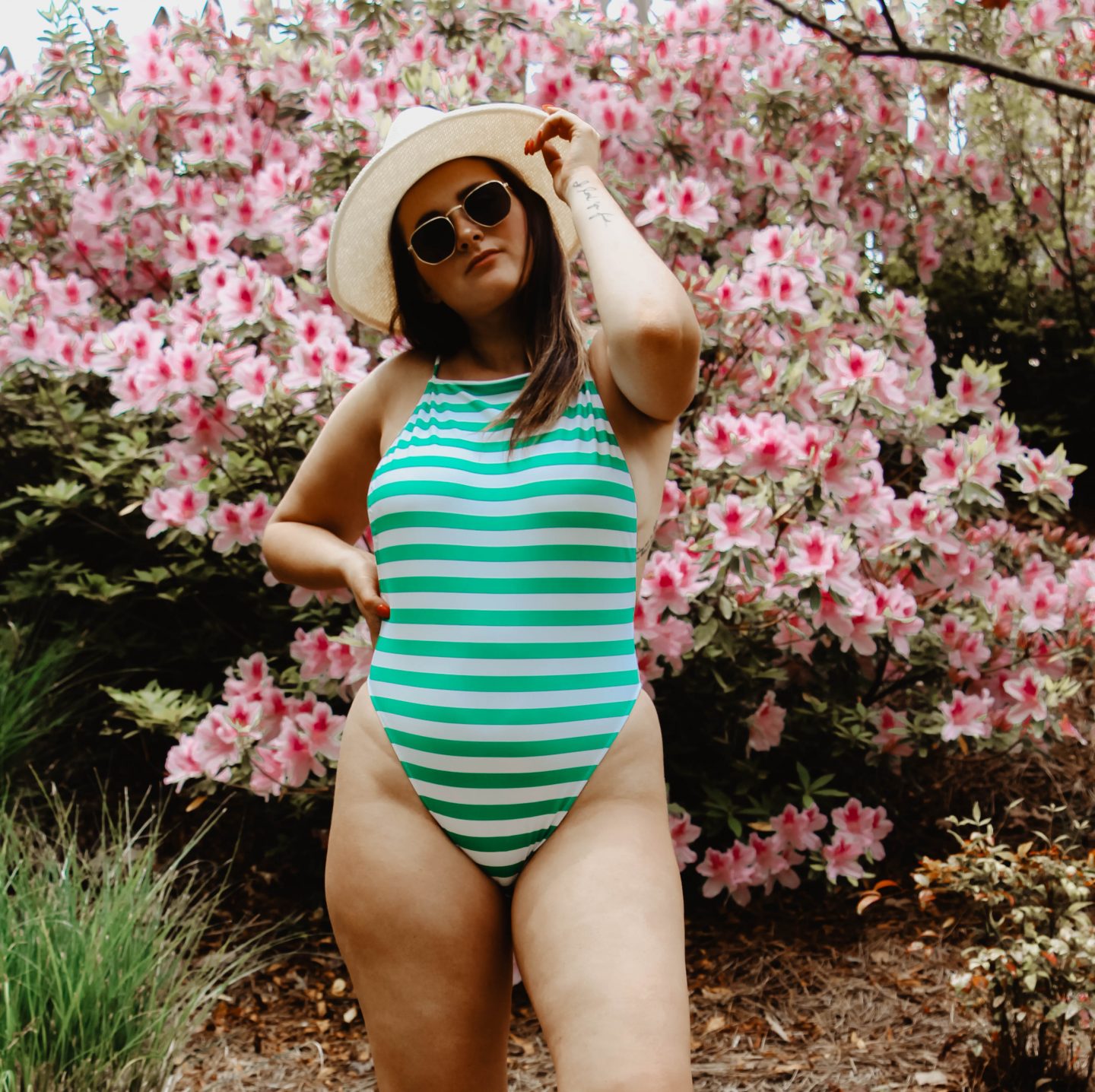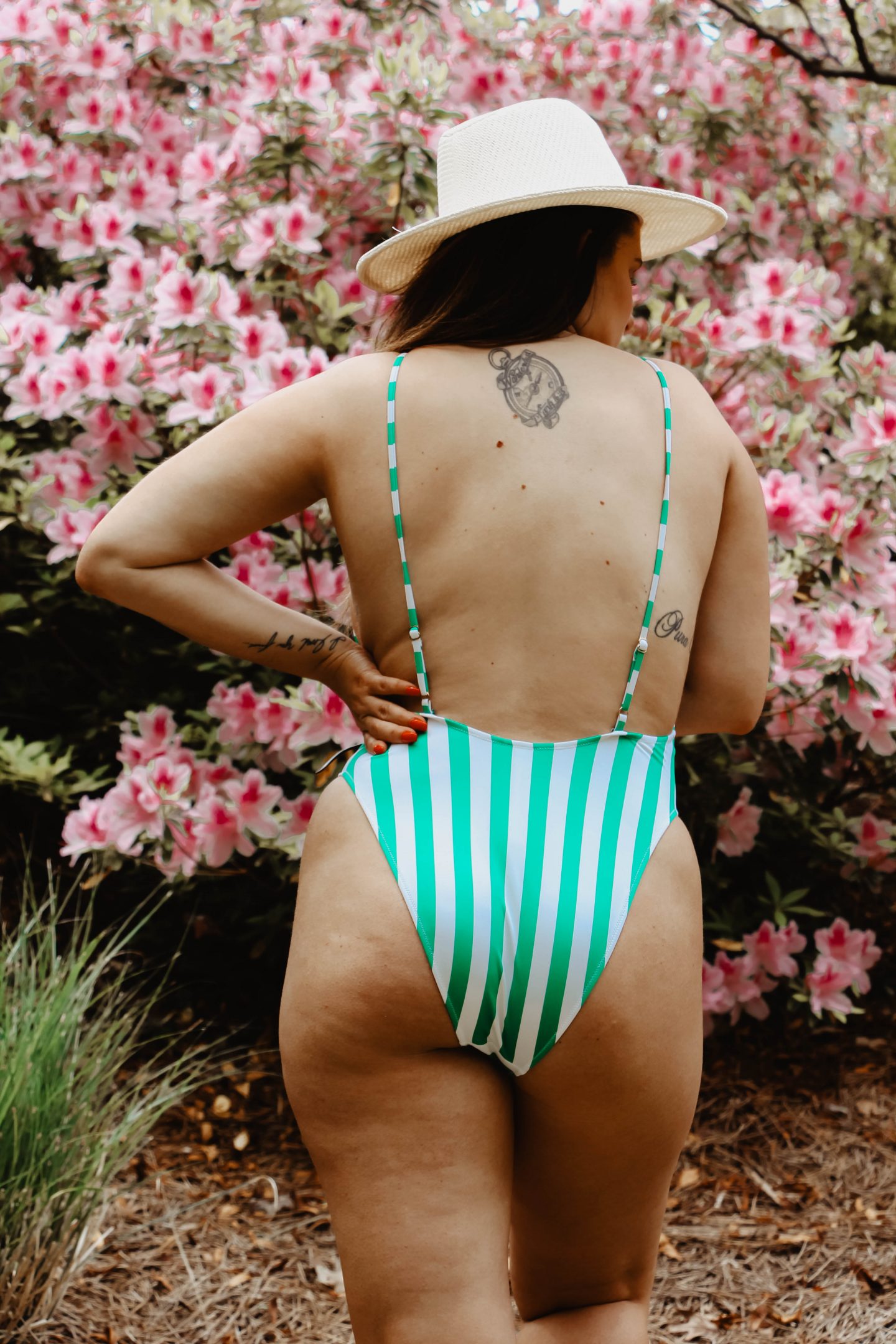 Forever 21 Low Back One Piece – Green Stripes, $23, large
Gotta love a sexy gondolier look, am I right? lol! Can you tell I'm obsessed with the one piece trend? I thought this one was so fun and had such a unique cut. It's great quality too!
I love that this suit gives good coverage in the back and up top, with just a bit of side boob. The straps are adjustable, so it's nice to be able to customize the fit to your body! While you have to be a little cautious with the side boob, this bathing suit it great for babes with a set of girls.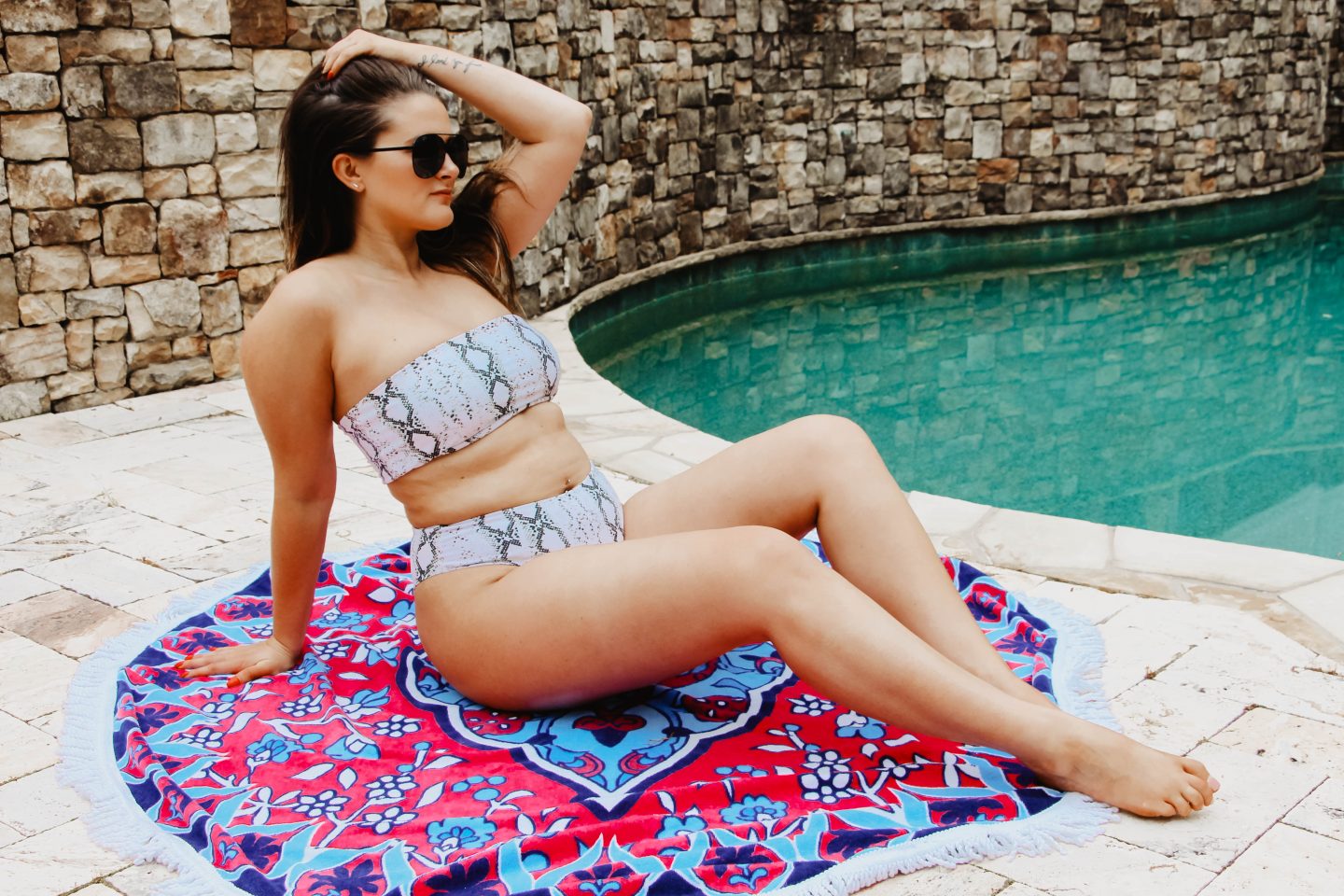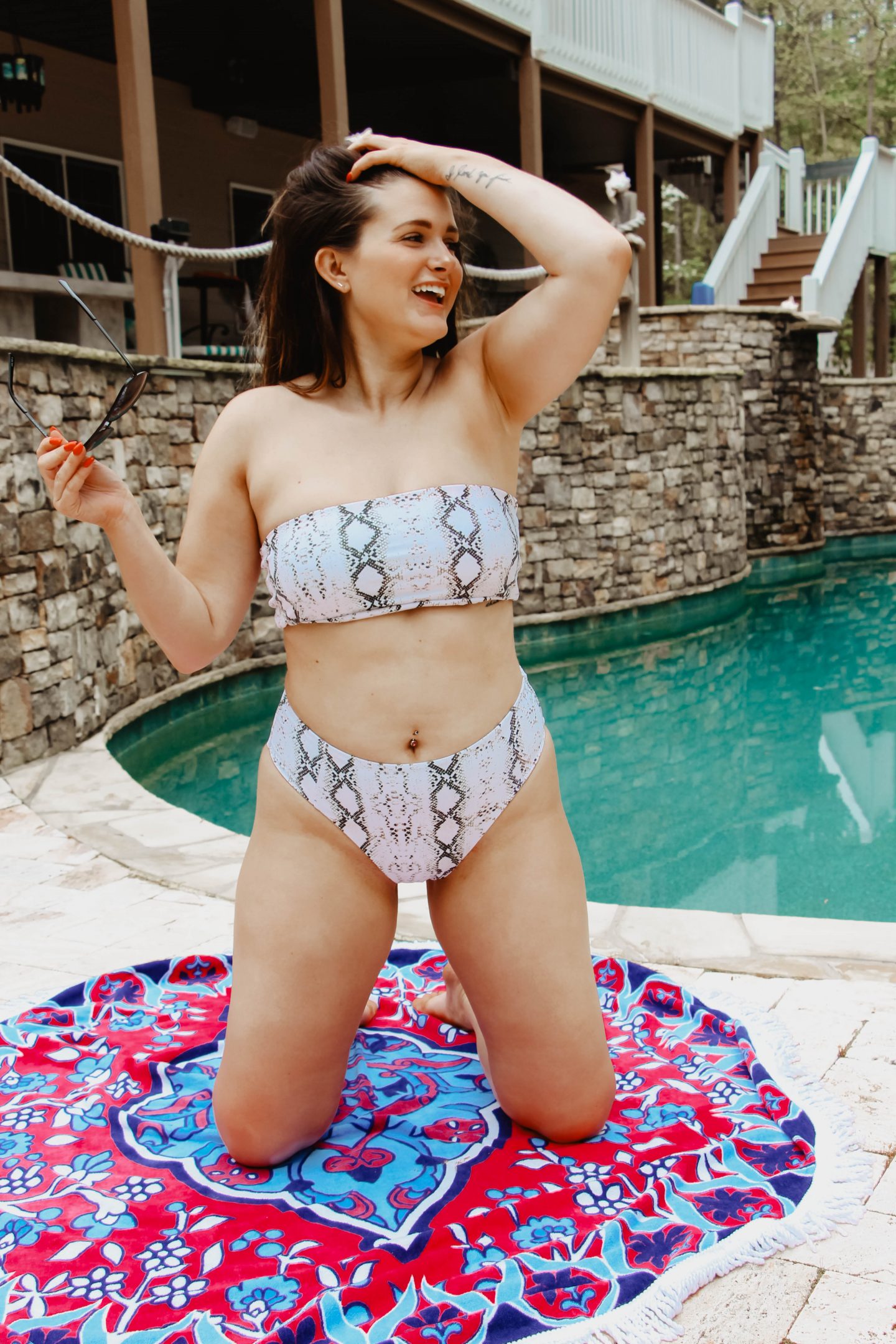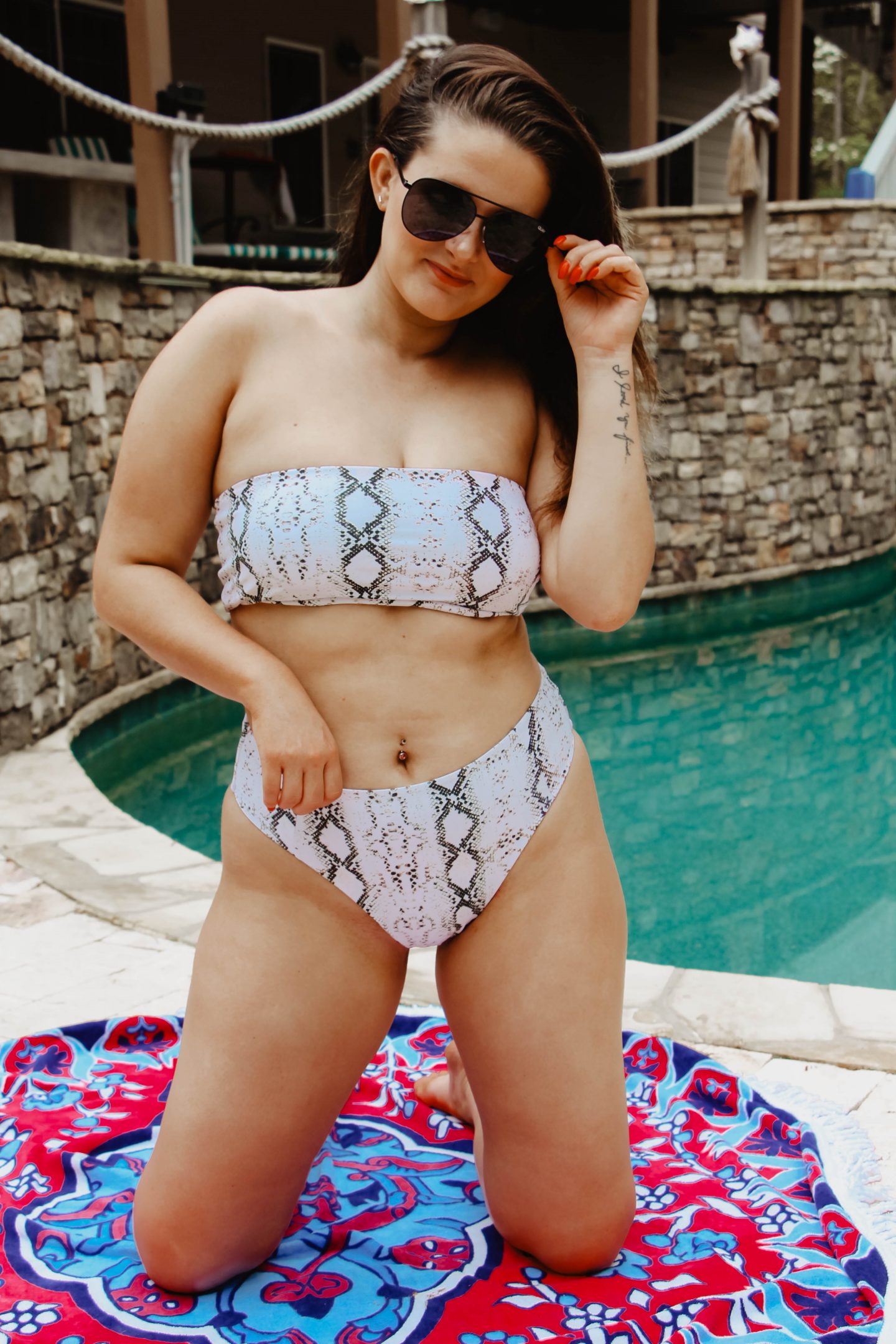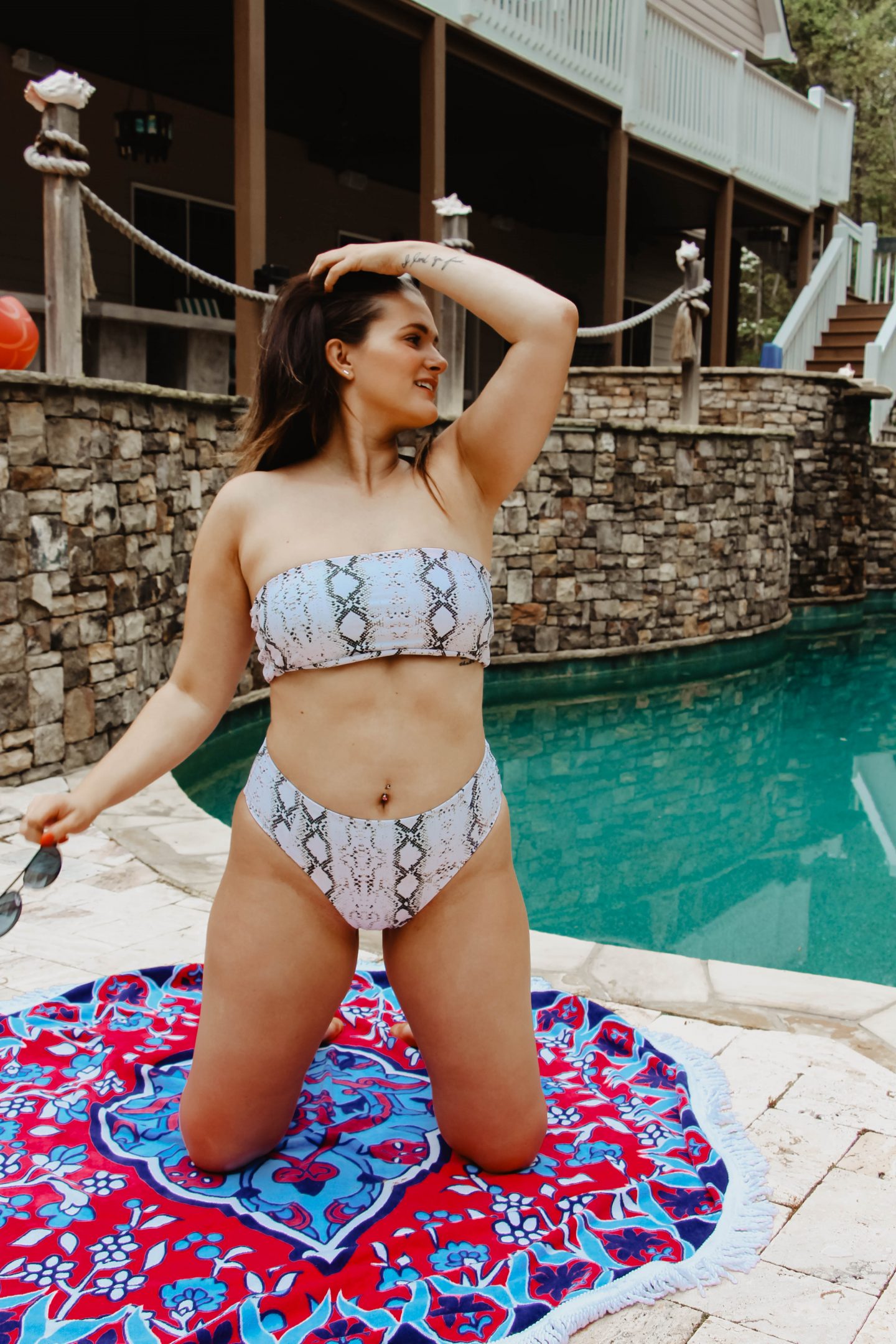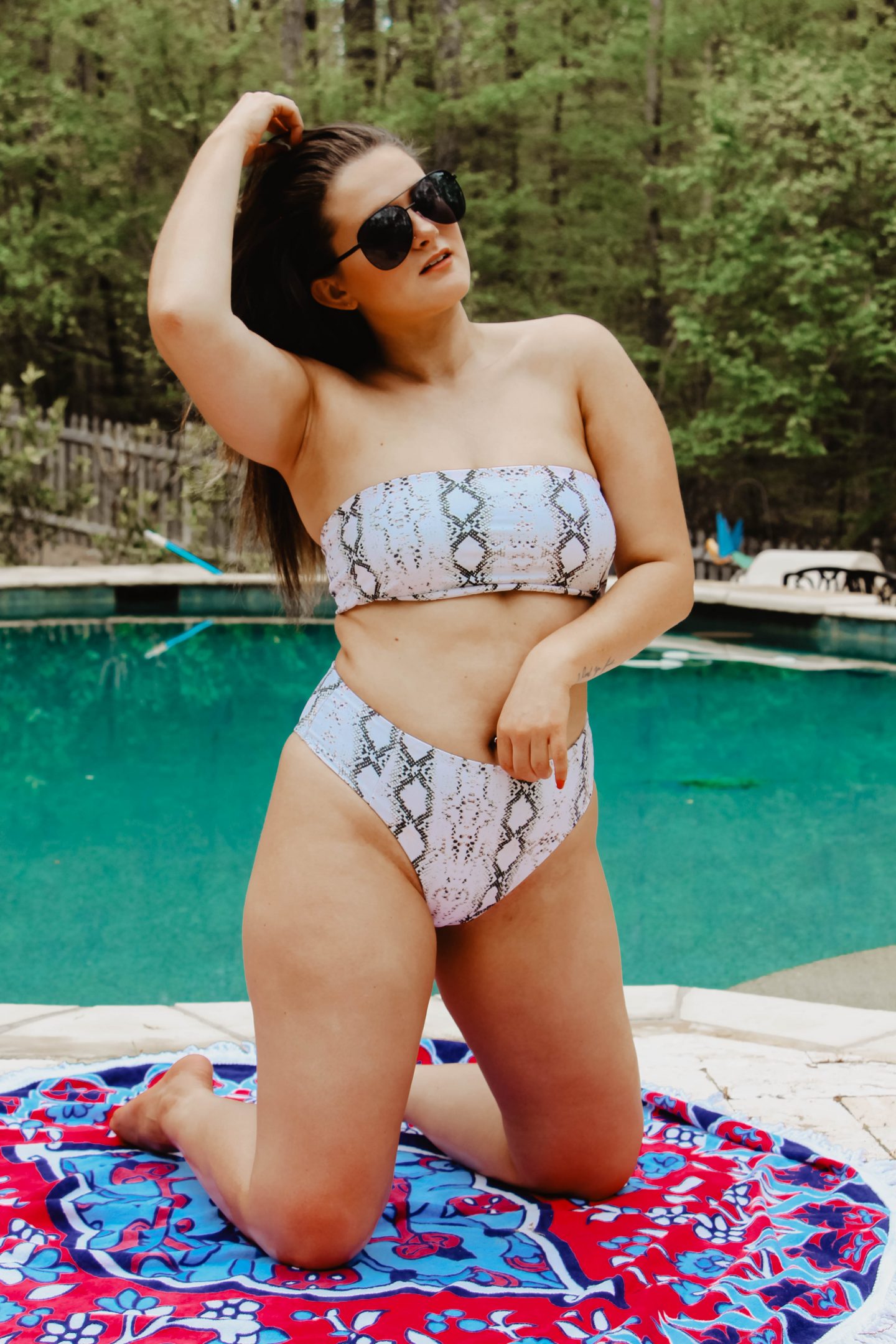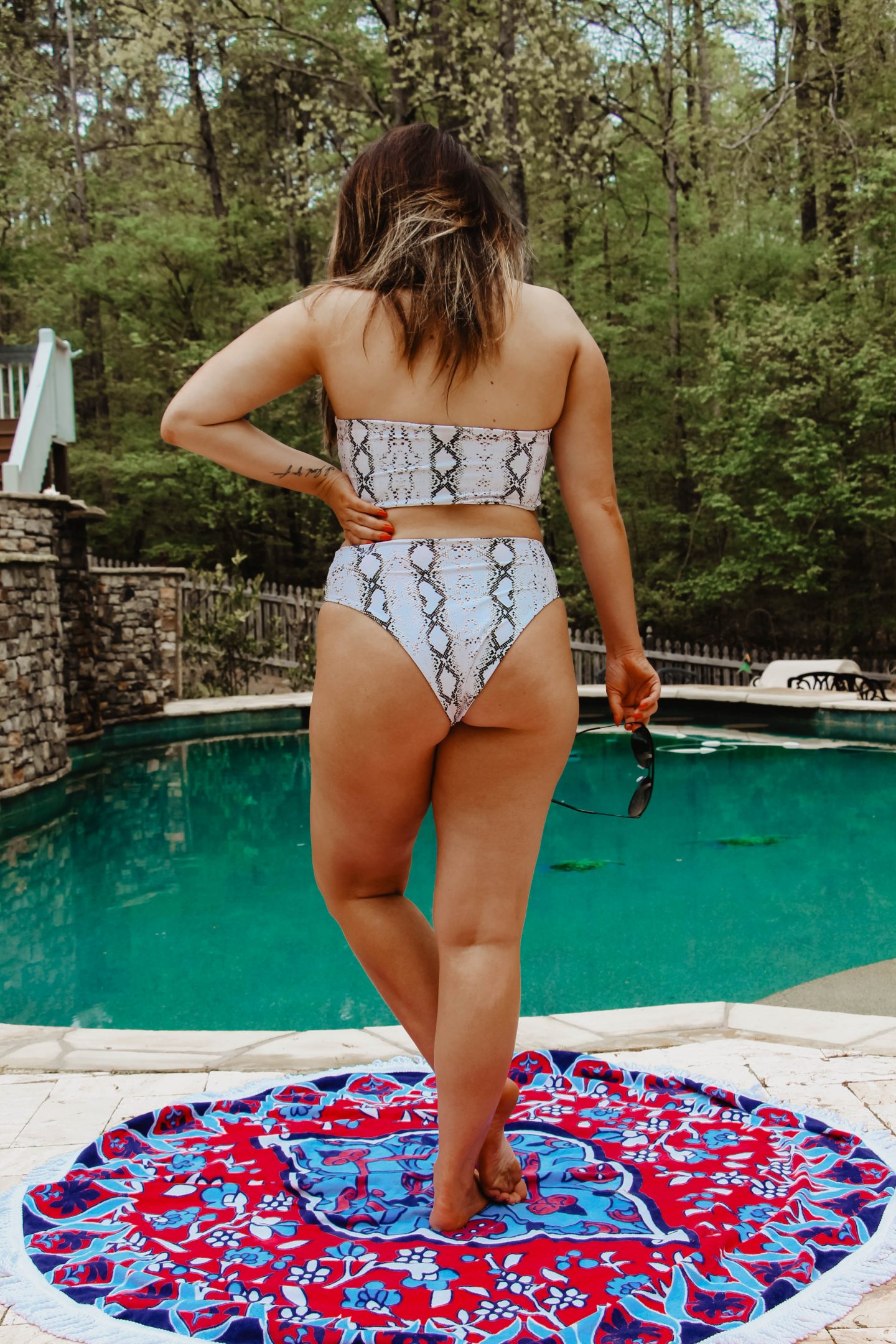 Amazon High-Waisted Bandeau Bikini – Snake Print, $23, large
This is def one of my favs because the print, the cut and the fact that it comes in so many different colors/patterns! The bandeau top is great for avoiding weird tan lines up top and keeping the girls in. This top is a perfect fit and doesn't completely fall off of me, which is a change!
Again, the high-waisted cut is super flattering on just about anyone, but especially curvier girls. I also love that the bathing suit itself has thicker bands on the side, so it hides more of my problem areas and give a smoothing effect! It is cheeky, so beware of that when buying!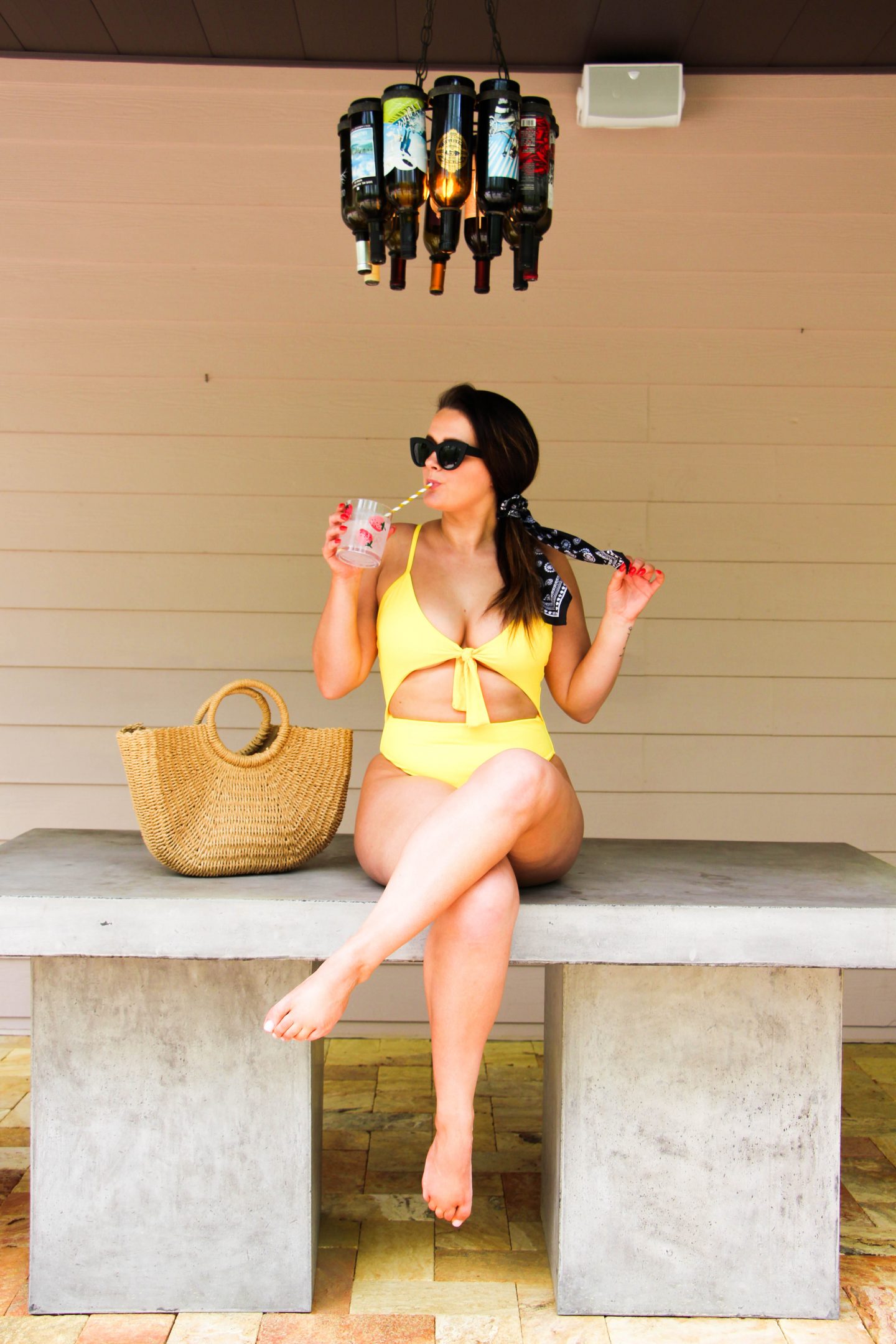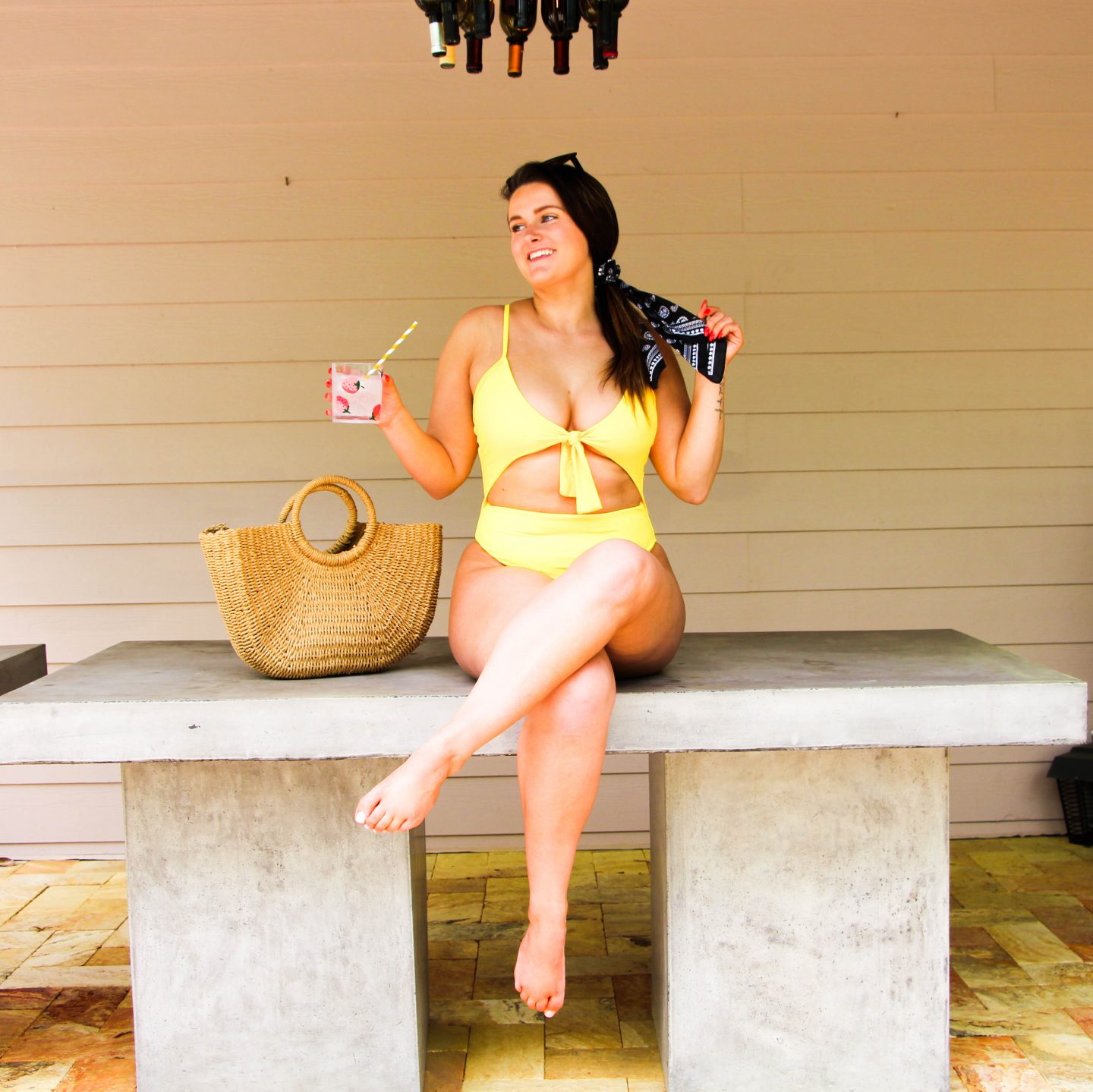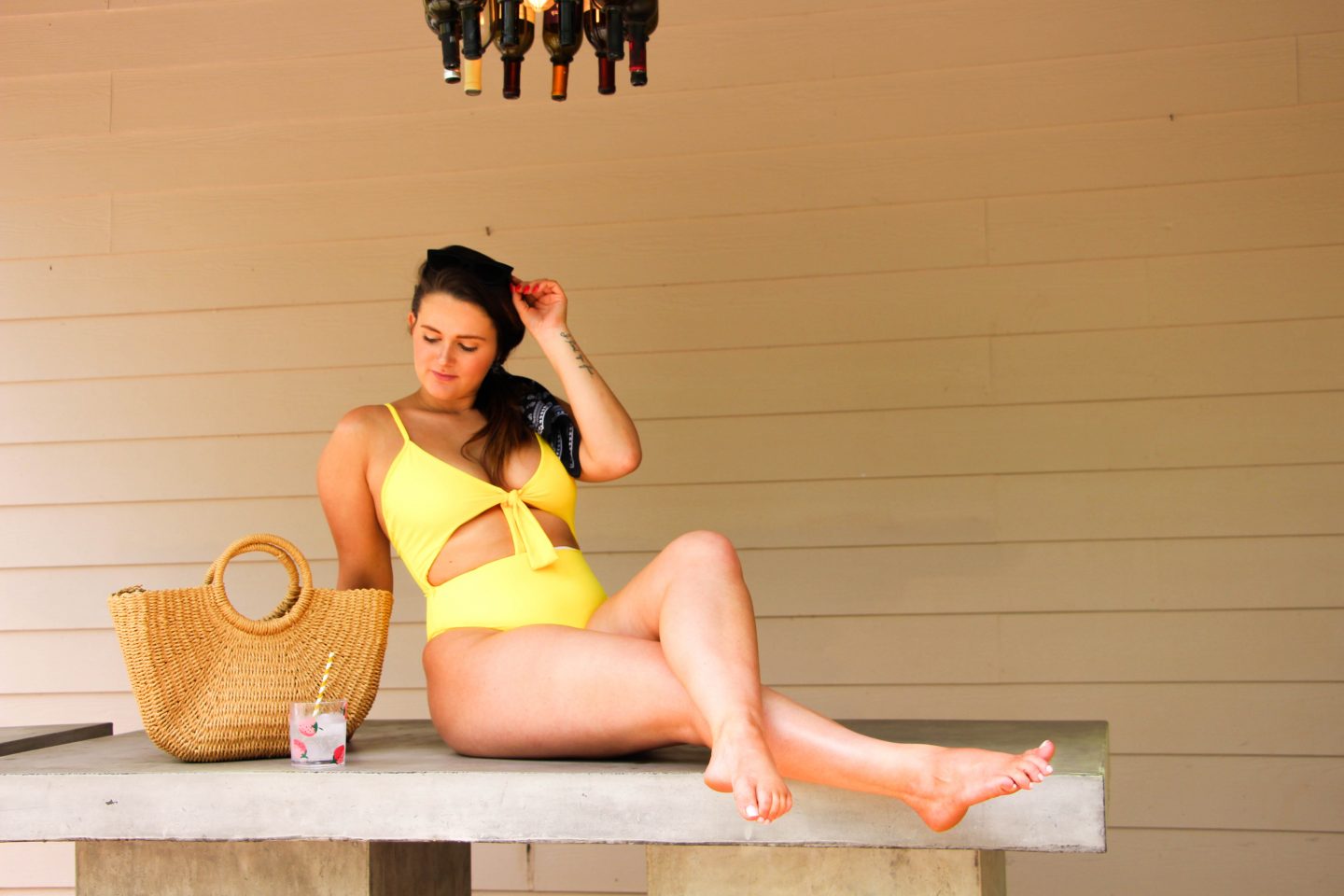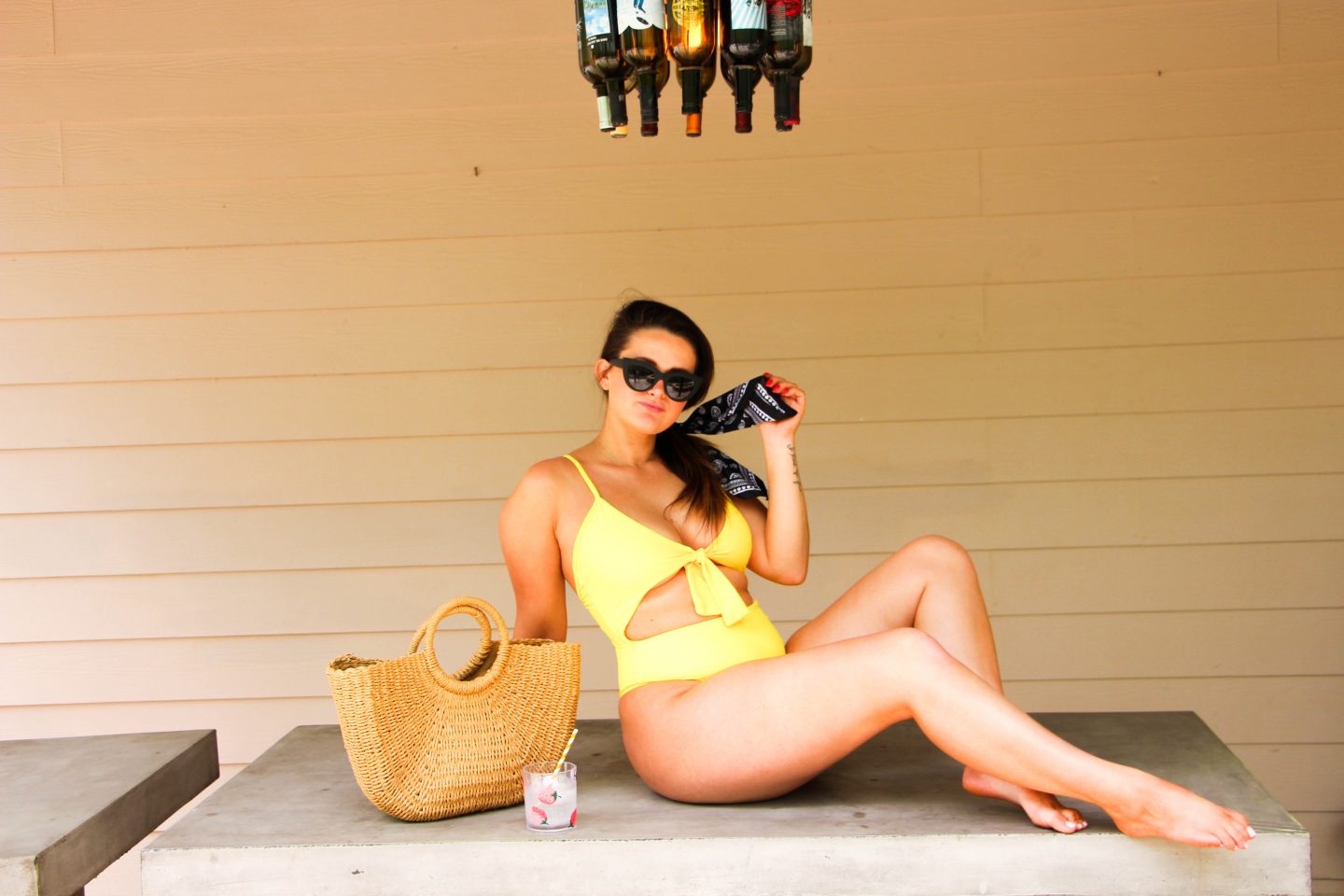 Amazon Knot Top, Thong One Piece – Yellow, $21, medium
This one piece gives the allusion of a bikini with the comfortability of a one piece, with a thong back lol. I'll be honest, I completely missed 'thong' in the title when ordering, but it's super cute! The tie in the front is adjustable, so it's great when it comes to adjusting to your chest size.
While the back may be a thong, there's great coverage in the front! This suit is great for all body types, but ladies with larger chests that may be bigger than mine, be weary! After a while I got a little underboob, but nothing a little adjusting couldn't fix!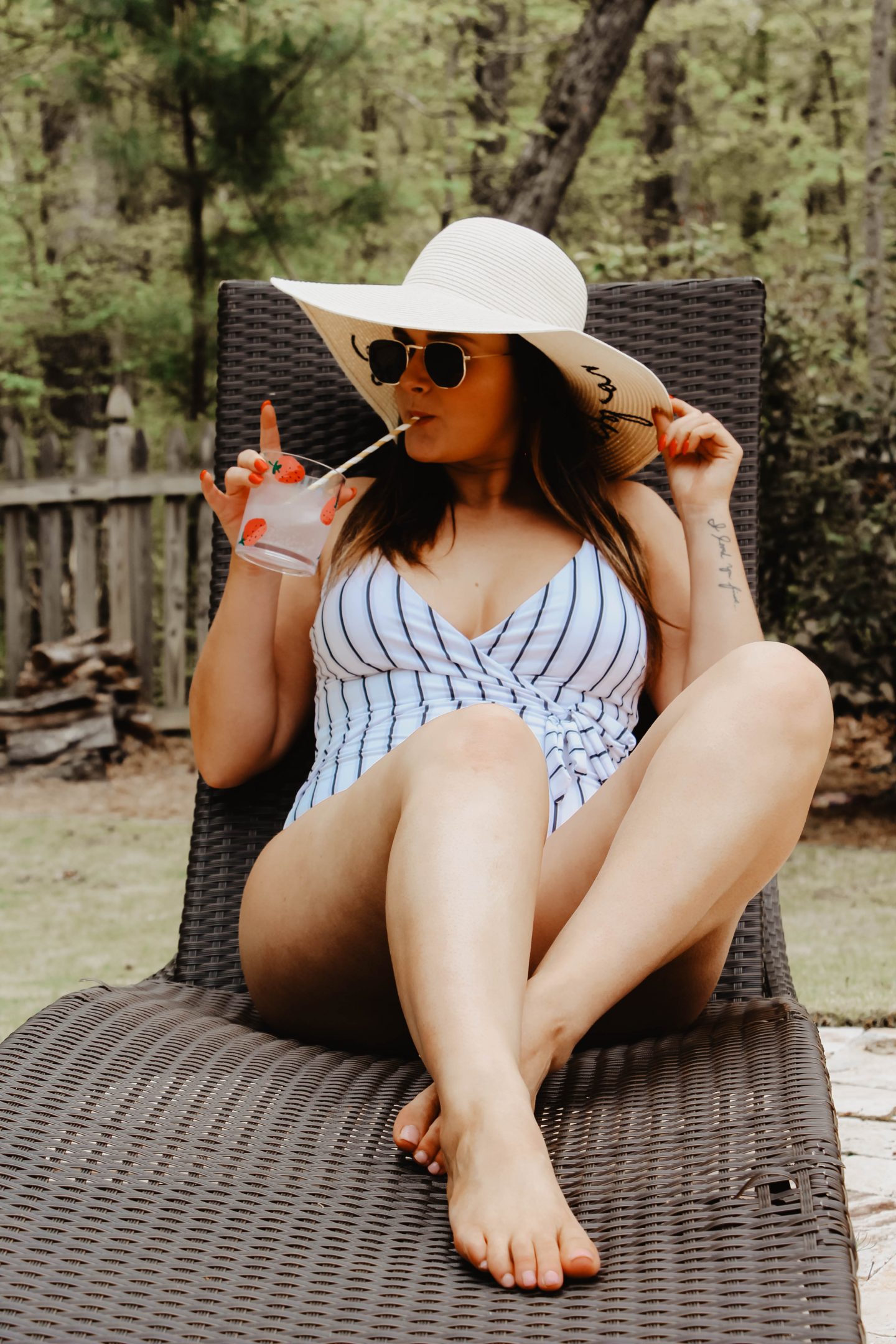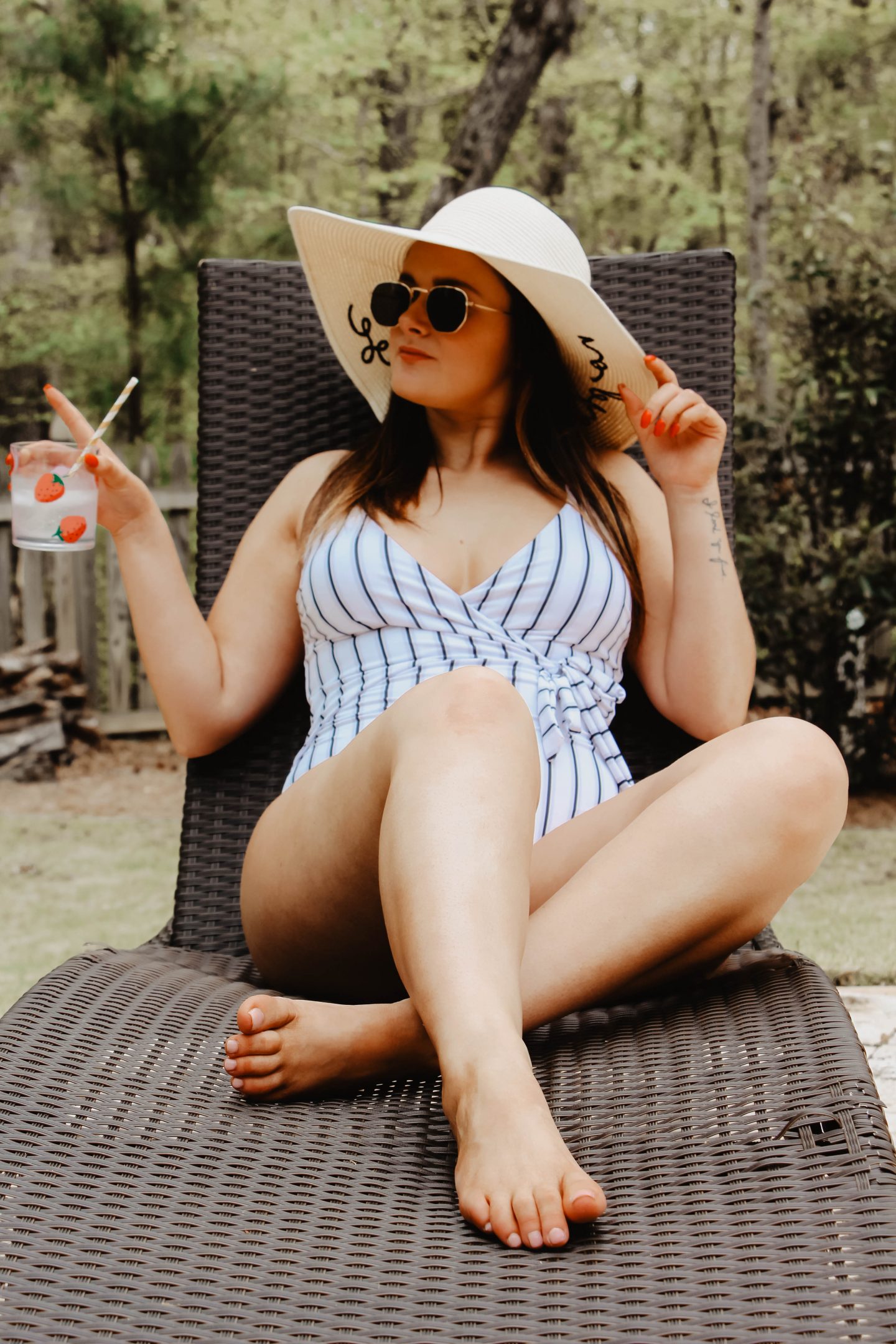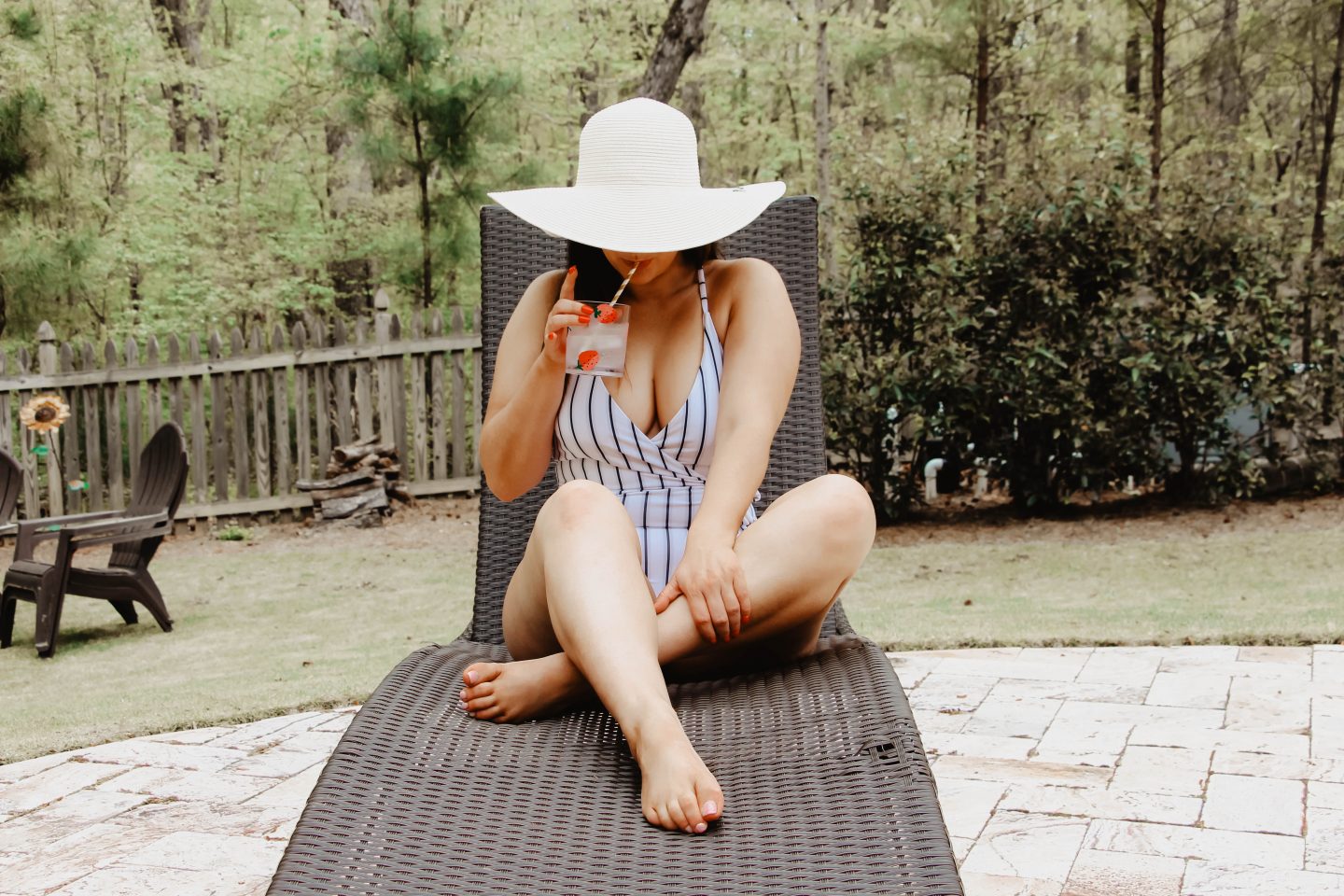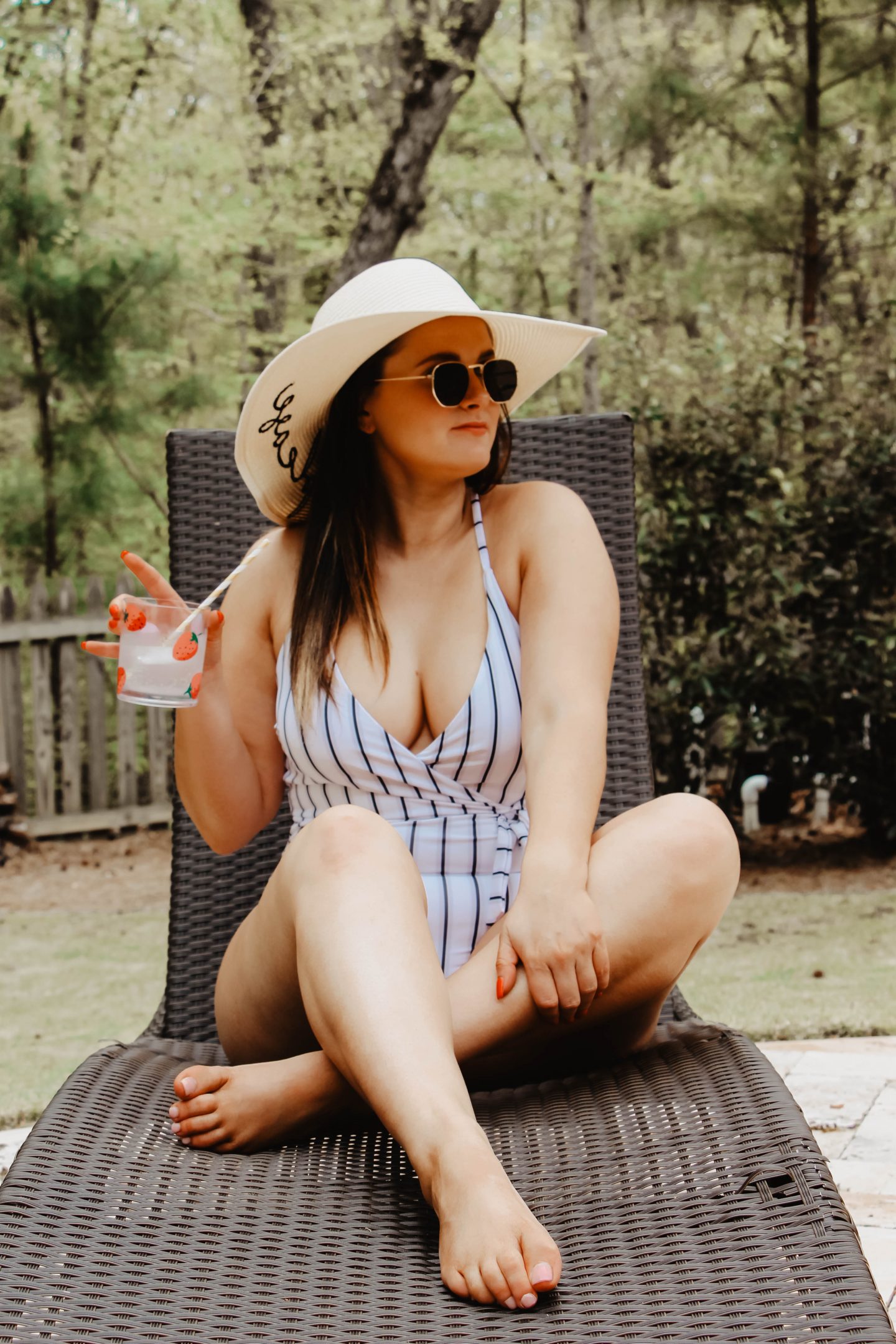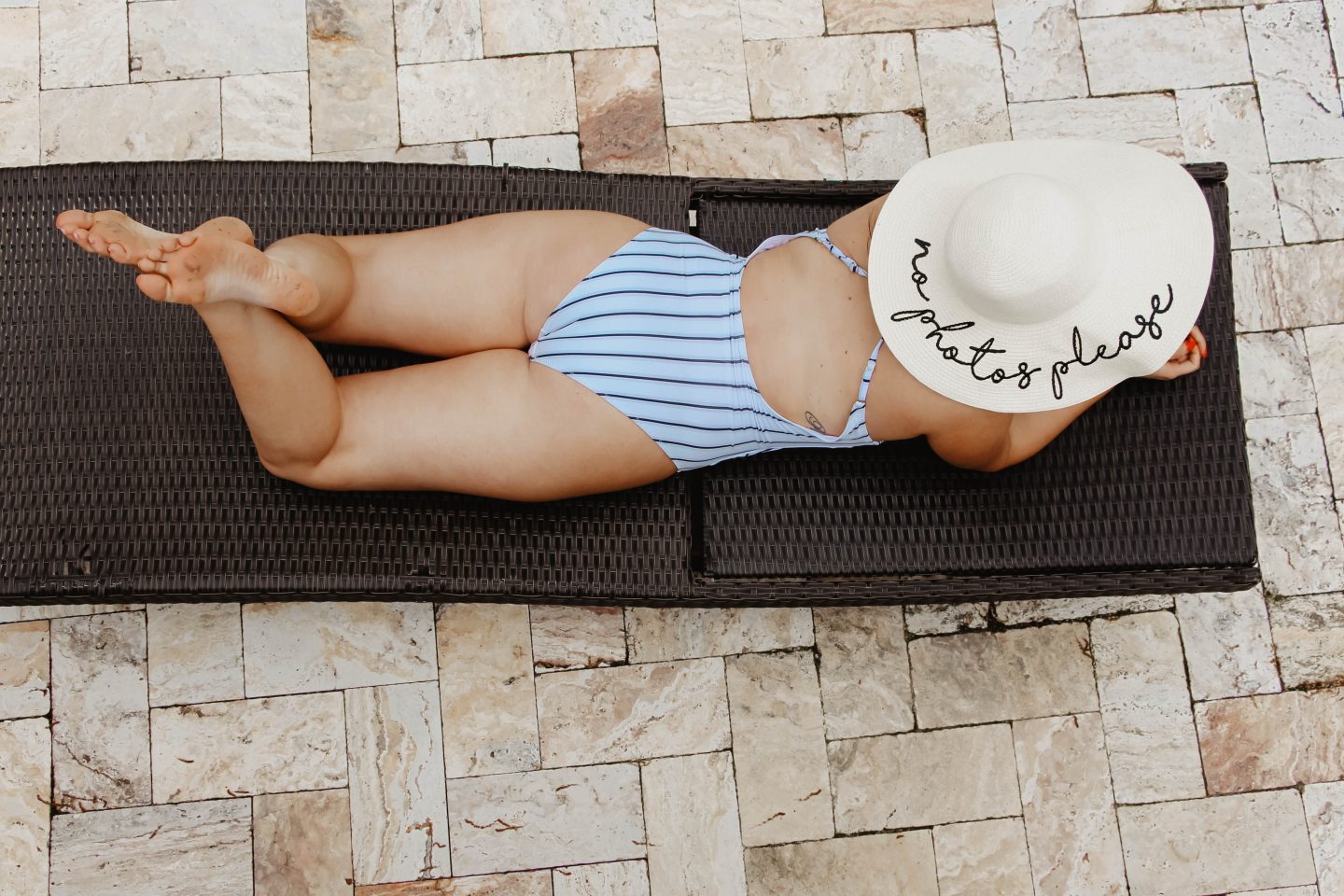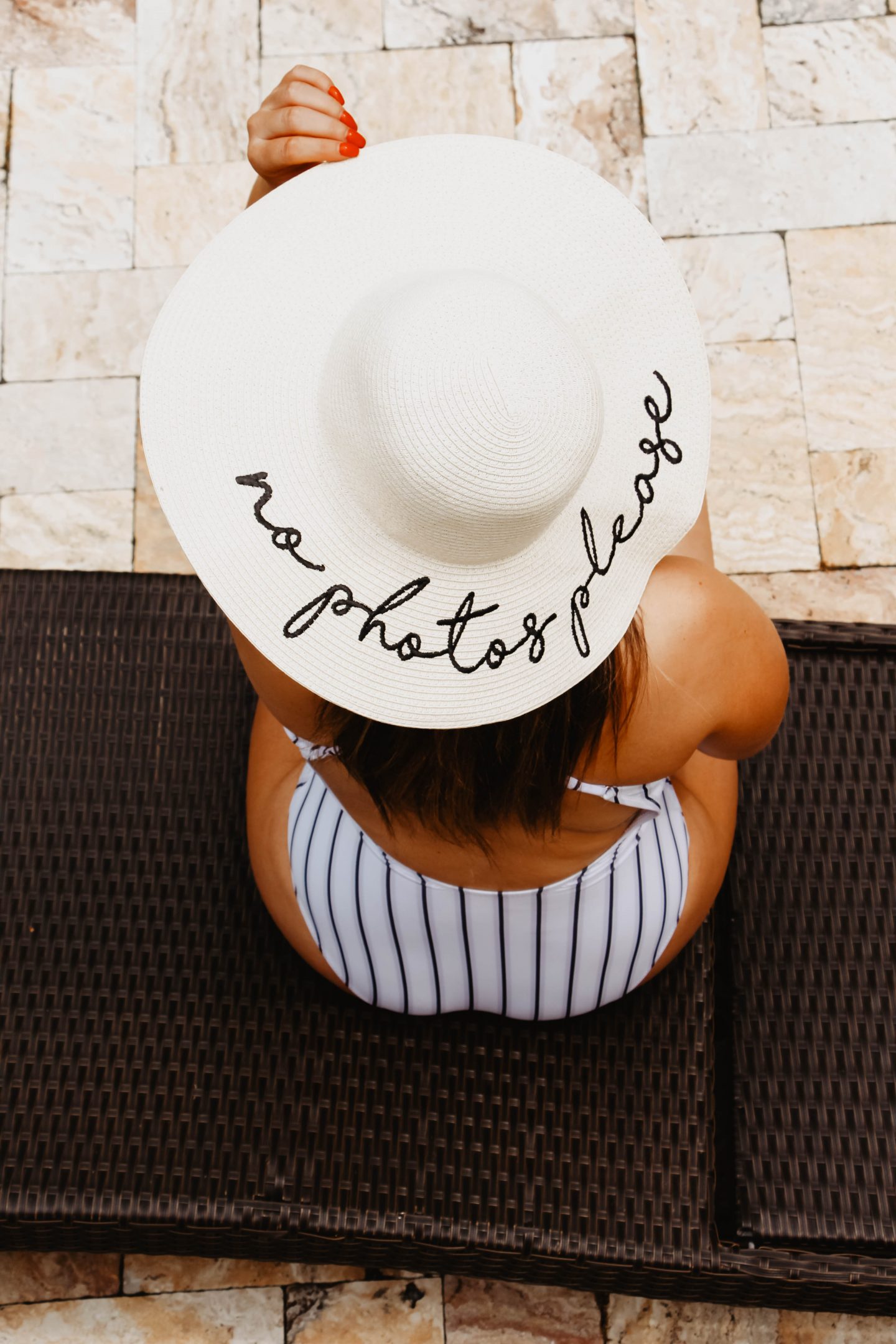 Amazon Wrap One Piece – Navy Stripes, $29, medium
This swimsuit is the most expensive, but it might just be the best… I don't know why I don't have any photos standing up (lol oops), but it's the perfect amount of coverage. The quality of this suit is amazing and it has adjustable straps.
In addition to the straps, you can also personalize it to your body with the tie in the front. This one piece has great coverage in the front and the back, with just a little bit of cleavage. Because of the adjustable straps and tie around the waist, this is perfect for everyone and their body type. This is definitely a great suit to wear on family vacation!
SHOP MY SWIMSUITS

SHOP MY BEACH/POOL ACCESSORIES

Thanks so much for tuning into my swimsuit roundup this year! I hope you guys enjoyed all of my different suits that I chose. If you'd like to see them tried on, check my 'try-on haul' highlight tab on my Instagram! Also, I know that with my preset it's a little hard to see the true color, so definitely check out my highlights so you can see it there! Like I said when I talked about this post on my stories, none of the photos have been retouched. Yes, there is my personal preset, but all of my flaws have been left as is! No fraud here my dudes – cellulite, rolls and all!