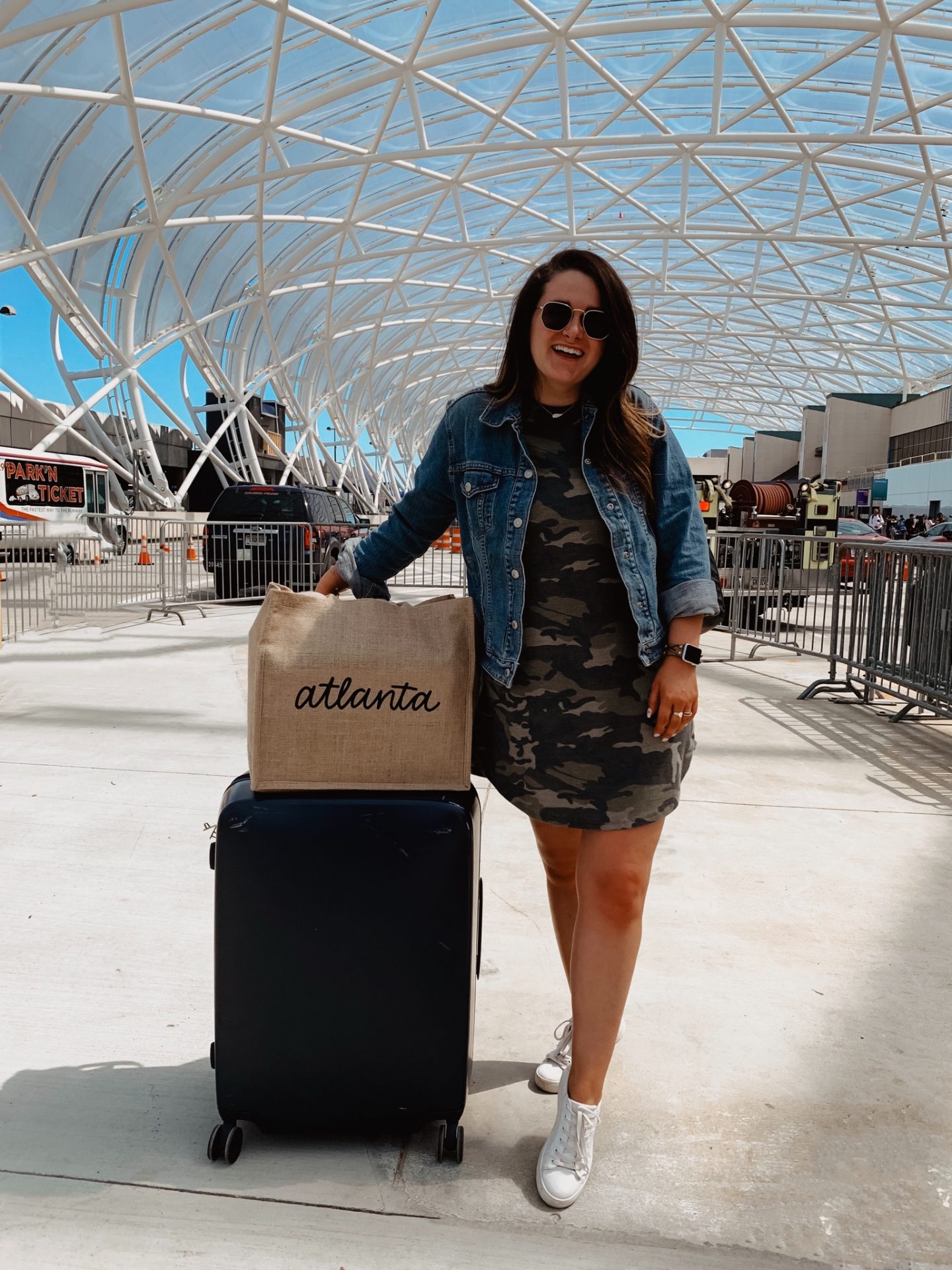 When I'm traveling, I've always got to have my essentials on hand. From skincare to electronics to medications, I'm always prepared. I usually always carry on one large tote bag/purse and a small rolling suitcase. I'm a firm believer in having your toiletries and an extra outfit up top with you should your luggage get lost. If I'm able to, I'll most likely always try and not check a back, especially since the airline I usually fly always charges for every bag.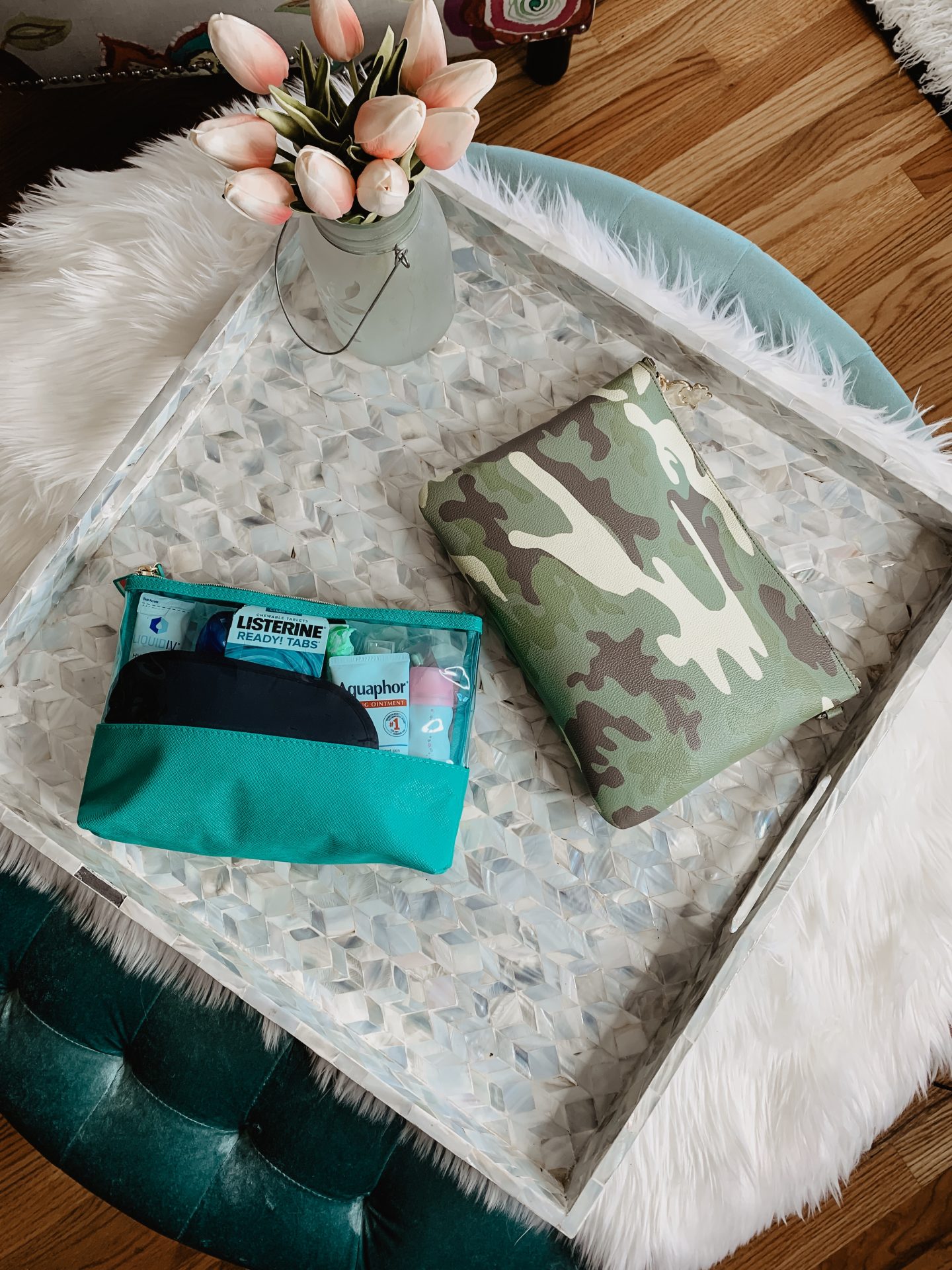 Inside my carryon I like to keep things organized. I've invested in getting several pouches in different sizes so I can categorize each pouch and not feel like I have to dig through everything to find what I need. Aside from the usual items that I keep in my purse, I've got two large pouches that hold my in-flight essentials!
My favorite carryon bags are big totes! I recently found one of the best bags ever from Jungalow for Target that has a tech pocket, a slit to go around your suitcase handle, and a crazy amount of room. Unbutton the sides to make a full square tote, or keep them down for a more shaped and structured bag.
Other than investing in a nice roomy and compartmentalized carryon bag, find a tote that works for you. Right now, I'm using a large shopper tote from The Little Market. I got it for under $30 and it says 'Atlanta' on it. It's absolutely adorable and it fits my Louis Vuitton organizer in the bottom to keep it structured. While a top zipper is clutch, I'd opt for a roomier tote than a bag that zips across. But, when in doubt, you can't go wrong with a classic duffle. I have a Ban.do Duffle from Amazon and it's also very spacious. It's a great option to carry on your necessities!
In my first essentials bag, I keep all the things my mind, body and soul could possibly need on a trip!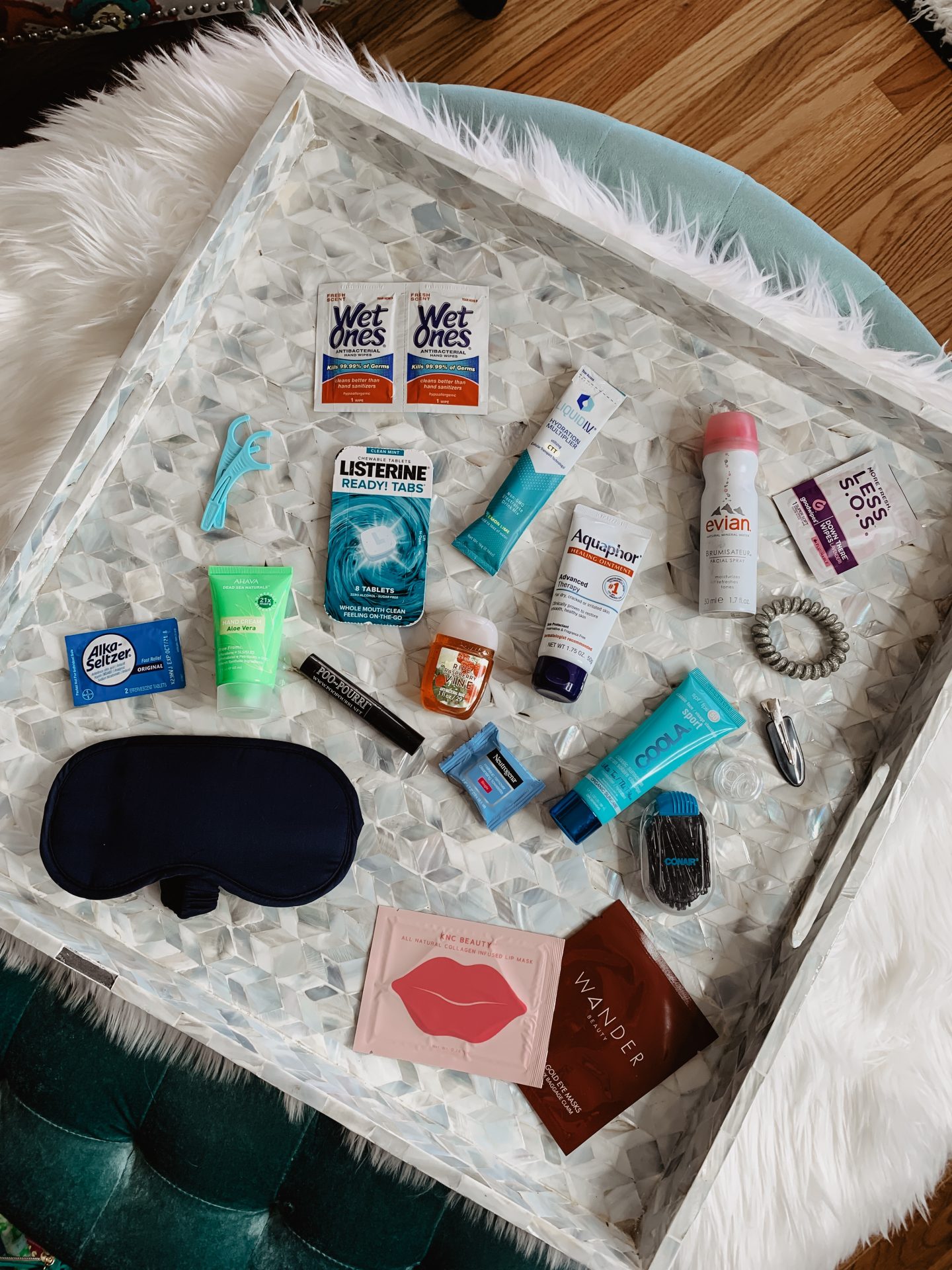 Wet Wipes singles: for wiping down your tray table, cleaning up a mess or anything else that calls for a wipe
Placerks: for taking care of the post-snack situation that's stuck in your teeth
Liquid IV: for when you're hungover and on your returning flight from a crazy girl's weekend
Alka-Seltzer Tabs: for when something just doesn't sit well with your stomach
Eye Masks: for when you need to wake up your face and get ready for landing
Lips Mask: for keeping those lips hydrated while in the air
Face Sunscreen: for when you're hopping off the plane at LAX and need some extra protection
Bobby Pins: for when you took an A+ nap and need to fix your locks before touching down
Invisibobbles: for when your hair is in your way on the flight, but you don't want to crease it with a regular pony
Good Wipes: for a quick refresher post-flight, if ya know what I mean
Evian Facial Spray: for an in-flight moisture boost
Small Plastic Hair Ties: for when you want to do a cute top knot to prep for landing
Single Neutrogena Wipes: for when you're hopping on the red eye home after a long day and you want to take the day off
Hand Sanitizer: for after you touch literally anything in the airport or on the plane
Poo-Pouri: for when you just gotta go and you don't wanna be that person
Aquaphor: for your chapped lips or when you just want some extra moisture
Hand Lotion: for in-flight use to keep your hands moisturized and crack free
Listerine Ready! Tabs: for that post-flight breath, nap or no nap
Eye Mask: for when you're ready to take a snooze but it's just to bright to fall asleep
Meds: for all of your in-flight needs that you've got to take care of
Band-Aids: for the unexpected knick or cut
Scrunchie: for when you're ready to give it your all and put all your hair up in a messy bun
Deodorant Ball: for when you've got to go straight from the plane to happy hour and need to freshen up
Perfume Sample: for the gal who is obsessed with smelling her best and wants to get rid of the airport aroma
In my other essentials pouch, I keep everything I need to keep my devices charged and ready to go!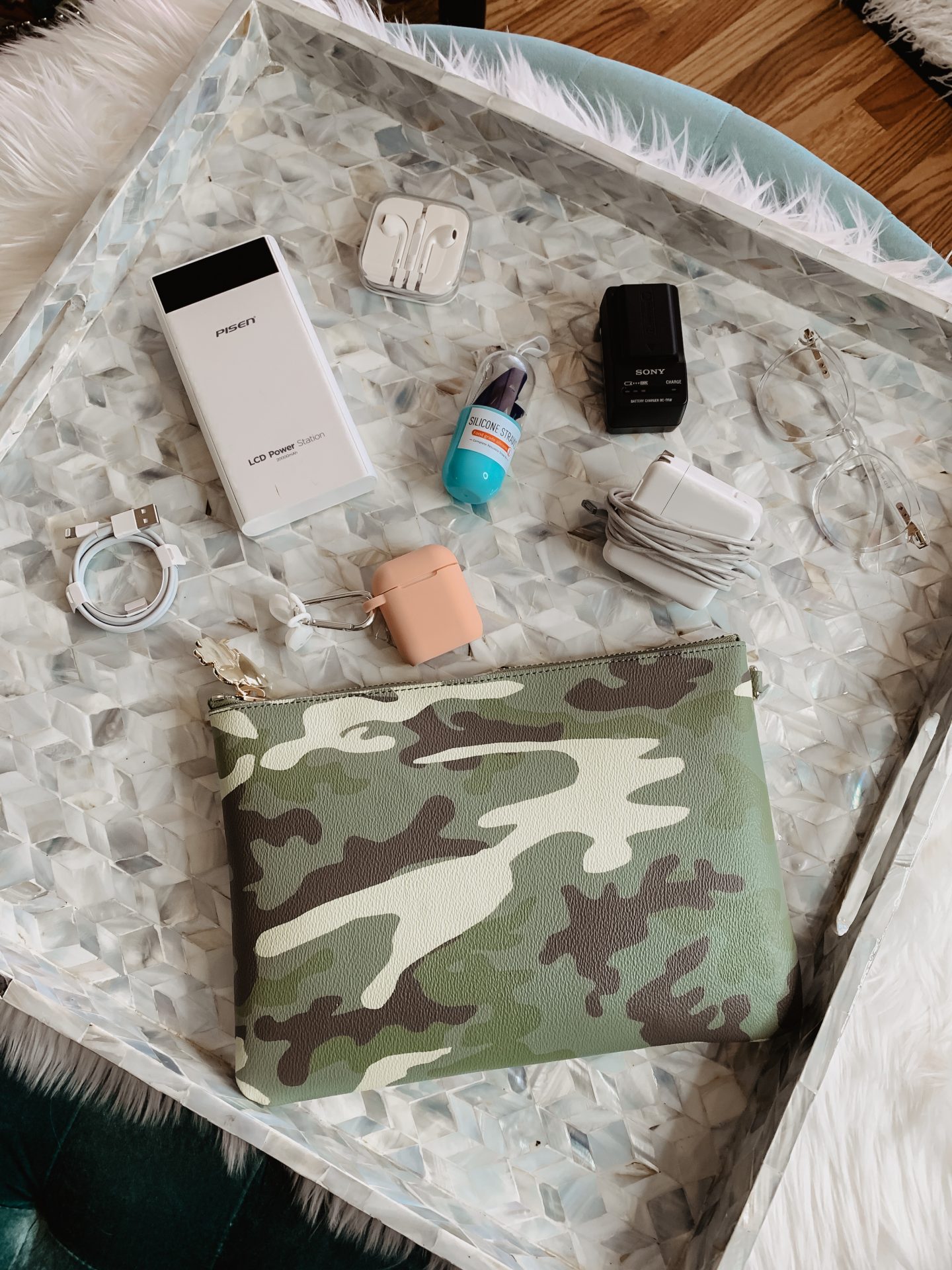 External Charger: to keep your lifeline all juiced up and ready for scrolling the gram, an in-route jam sesh or just to make sure you can call an Uber when you get to where you're going
Phone Charger: to keep your external charger for emergencies when outlets aren't an option, you're going to need the cord part anyways
AirPods: to satisfy all of your listening needs without the trouble of cords
Regular Headphones: to watch all the free in-flight movies and shows because the airlines still have the good ole fashion headphone jack
Silicone Straw: to keep yourself hydrated in any form or fashion, alcoholic or non, instead of sipping out of the glass and risking some unexpected turbulence to spill it all over you
Computer Charger: to keep your computer alive and well, and you entertained
Camera Charger: to make sure your camera is ready to capture all of the memories that lie ahead
Blue Light Glasses: to protect your eyes from all the screens we stare at constantly
In addition to those essentials, I always make sure to travel with a cardigan (works great as a blanket in addition to a jacket), a refillable water bottle (not paying the airport prices), laptop/ipad, notebook and planner, small makeup bag, and a travel pillow if it's a super late/early or long flight.
I know what you're thinking, because my boyfriend is currently sitting next to me on this flight as I write this saying the exact same thing – you are so extra! Well, I'm sorry! Better to be over prepared than unprepared. Now that I've spilled all of my carryon must-have secrets, I figured I'd let you in on a few other of my travel tips!
Other Travel Tips
Always wear some of your bulkier items so that you can utilize the space in your suitcase more. For instance, I'll always wear a coat and some of my chunkier shoes.
Charge everything fully before you leave, as well as your external chargers. Never travel without a backup charger for your phone!
Use packing cubes! This is a more recent discovery of mine and it's something that I'll never travel without again. I feel like I can pack so much more into my bags when I use these and I love that I can group my items together.
Don't wear face makeup! I used to always make sure I was done up and ready to go. I never truly realized how bad it was for my skin until recently. Now, I fly fresh faced and apply a face cream, mask, or under eye patches.
Download music, movies, books, etc. ahead of time! If you're on a flight without screens, download something on your phone, iPad or laptop beforehand so you don't get bored.
Get TSA pre check! This has been a game changer for me. I don't fly as much as some people do, but often a few times a year. I hate nothing more than having to go through security, take out every electronic individually, take out my liquids, and take off my shoes and jacket. So, I got myself pre check and it's been a god sent.
Bring snacks! I hate getting to the airport or getting on the plane and getting hungry, because then your only options are way over priced. I throw a few little things in my bag and I'm good to go! I almost always get a meal of some sort at the airport, but I'm not paying like $4 for chips!
I hope you all enjoyed my carryon tote must haves and travel tips! Leave a comment below and let me know one thing you must carry on with you!