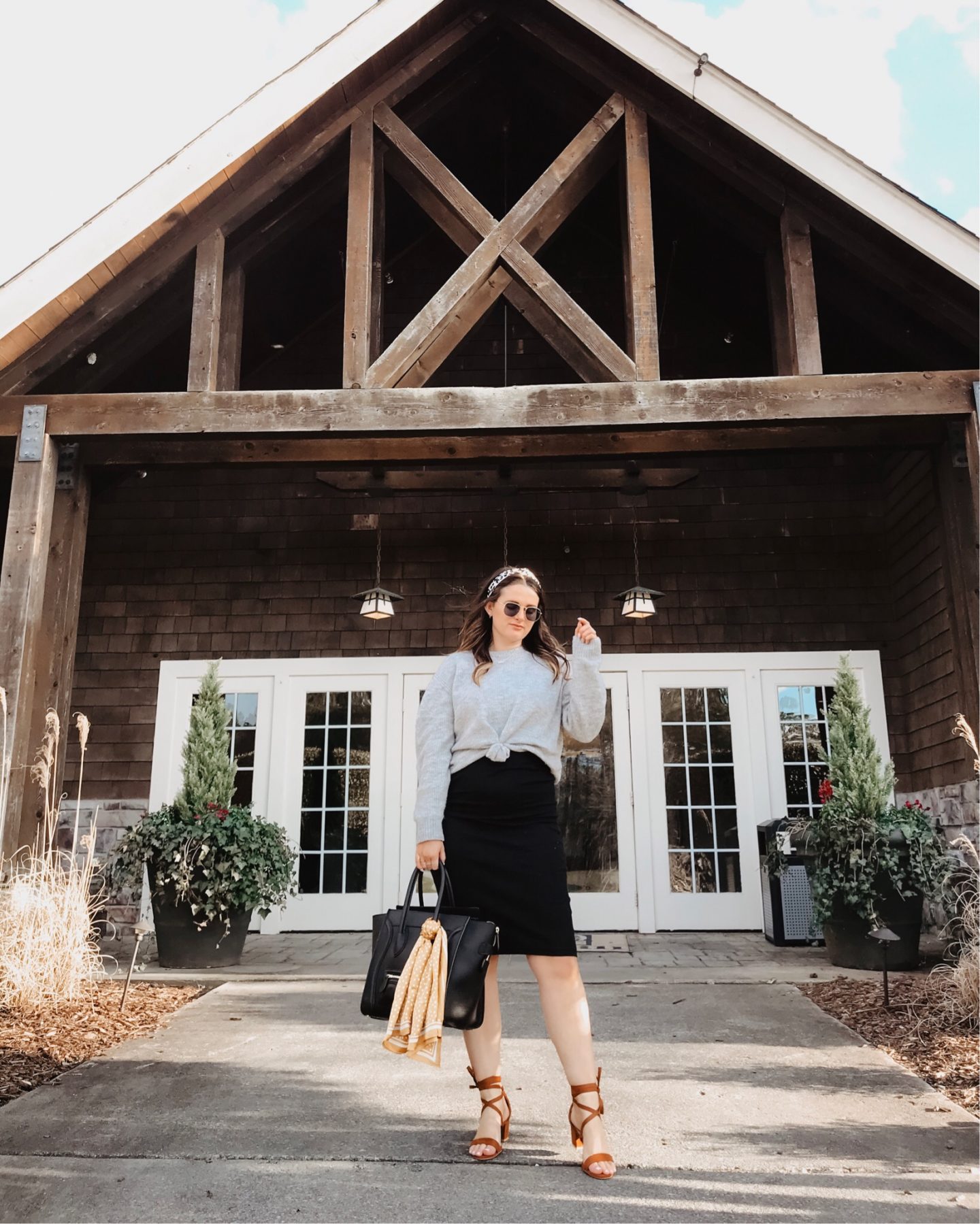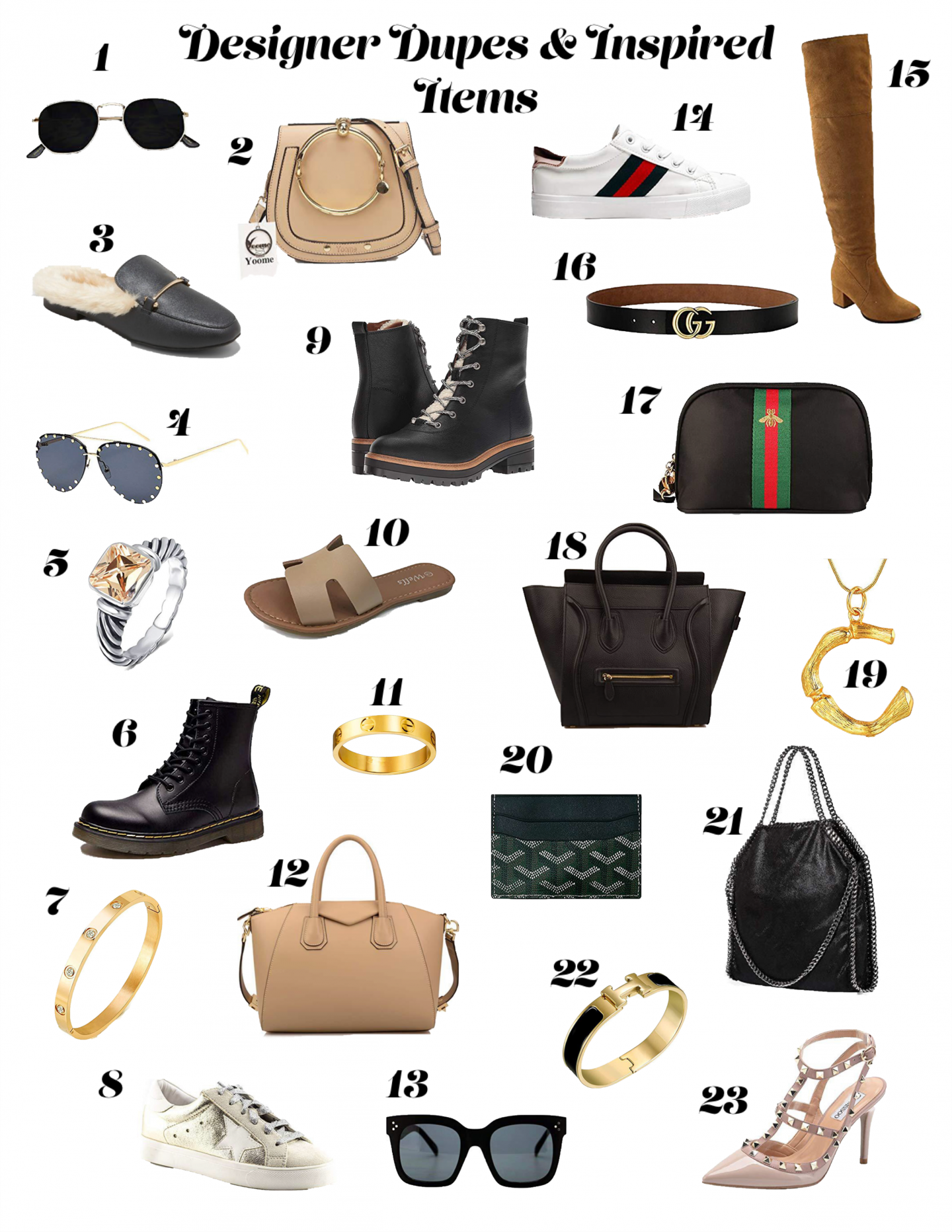 SHOP THE POST

I feel like this post has been a long time coming and I'm so excited that it is finally live! I've been working on this for literal months – from personally trying the majority of these items or doing the research. For the most part, all of these items are from Amazon. Winning! I know the graphic contains a lot of times, but I'm going to break them down by the number below!
*Disclaimer: I know not everyone is so keen on designer dupes and inspired items, but I don't really see too much of an issue with it. Like myself, I know there are a ton of people out there who would love to own something that even remotely looks like a designer item, but it's just not financially realistic. If you have a personally issue with this, I am sorry! I am not trying to personally offend anyone. Just spreading some of my knowledge!*
ONE – RAY-BAN HEXAGONAL FLAT LENSES
These are one of my best purchases to date. I found these randomly scrolling the 'zon one day and I literally wear them multiple times a week. These sunglasses are one of my most asked about and purchases items that I've ever shared! They are almost identical to the designer pair. Be careful – they are dainty and fragile, you're going to want a case!
Designer: $153 | Dupe: $10
TWO – CHLOÉ NILE BRACELET BAG
I always forget that I have this bag in my wardrobe, but it definitely deserves some more love! It's so chic and the perfect spring bag. The designer version is almost identical, but the dupe is a way better price. It's the perfect bag for when you're going out for the night or even for a day date!
Designer: $1,790 | Dupe: $40
THREE – GUCCI MULES WITH FUR
Mules are in no matter the season; throw on a pair with fur and you're all good to go on the cooler days. I have the pair with and without the fur from Target and they're amazing! I don't know about you, but well over $500 on one pair of shoes is a no for me honey! So, I did what I do best, and I hustled on over to the holy land (Target) and found myself a dupe!
Designer: w/ fur $995; w/o fur $695 | Dupe: w/ fur $13; w/o fur $23
FOUR – LOUIS VUITTON PARTY SUNGLASSES
I haven't personally purchased this pair yet, but they're most definitely sitting in my cart! I love how edgy they are, yet they can go with so much. If you can't tell boy now, I'm definitely a sunglass collector and these are needed in my collection next!
Designer: $665 | Dupe: $12.49
FIVE – DAVID YURMAN RING
If you're from the south, then getting a David Yurman is like a right of passage to some people. Well, I don't got that kinda money, honey! So, I bought a designer inspired ring from Amazon and I feel just as good. Why, you ask? Because it was super affordable and I've still got lots (lol jk) of money left to spend on food!
Designer: $800 | Dupe: $21
SIX – DR. MARTEN BOOTS
I've been wanting these retro classic boots for a while now, but I just could not justify the price. I found a pair on Amazon that is almost identical! Seriously, down to the stitching and loop in the back. Did I mention that they're comfortable and great quality? These are definitely a no brainer!
Designer: $140 | Dupe: $40
SEVEN – CARTIER LOVE BRACELET
I've wanted a Cartier bracelet for as long as I can remember, but that price tag is just unrealistic for a babe on a budget. Ya feel me?? Well, I'm guilty of buying one of my two in NYC, but I couldn't resist grabbing another from Amazon. I love that these look so real, but I don't have to worry about selling my first child just to get the look!
Designer $10,100 | Dupe: $19
EIGHT – GOLDEN GOOSE SNEAKERS
I love a good fashion trend, but seriously, at what cost?! I love the look of the Golden Goose sneakers, but you have lost yo dang mind if you think ya girl is paying like $500 for shoes that are literally made to look dirty. My momma would slap me; she taught me better than that! Anywho, I have two pairs of the dupes from SheIn and love them. Amazon also has several versions which you can guarantee are currently sitting in my cart just calling my name.
Designer: $530 | Dupe: $37
NINE – MARC FISHER LTD SHEARLING BOOTS
I wore these all through the winter, and honestly, I feel like I'm going through a breakup now that I have to put them away for a while. That's how much I love these shoes! Again, another great pair of shoes for a ridiculous price that I just had to have. So I made it my mission to find a good dupe! And I did!
Designer $250| Dupe: $56
TEN – HEMÈS ORAN SANDALS
I've heard nothing but good things about these sandals, and then came all of the designer dupes! I finally caved and found an awesome snake print pair on Amazon and they might be some of the most comfortable sandals I've ever worn. These are a must – designer inspired or not!
Designer: $650 | Dupe: $15
ELEVEN – CARTIER LOVE RING
I've been wearing this ring everyday for over a year. I literally feel naked without it on! It literally looks like the real thing and doesn't turn my finger green. Ladies, we have a winner!
Designer: $1,650 | Dupe: $10
TWELVE – GIVENCHY ANTIGONA BAG
This has been my dream bag for as long as I can remember. I've always told myself that once I 'made it' I would purchase this bag for myself. Then I realized that I wanted the bag for the look, not the label. I found the best dupe on Amazon that I will be purchasing ASAP! I have purchased another bag from this seller before and I carry it every single day.
Designer: $2,450 | Dupe: $135
THIRTEEN – CELINE OVERSIZED SUNGLASSES
I've had these sunnies in a different frame for a while now and love them! I have a smaller face and the oversized look is my go-to when it comes to sunglasses. When I bought these years ago I had no idea they were a designer inspired item. I guess younger me was very fashion forward!
Designer: $400 | Dupe: $10
FOURTEEN – GUCCI SNEAKERS
I'm a sneaker girl through and through, and I've had my eyes on these for a while. I found the perfect designer inspired pair on Amazon and they turned out to be incredibly comfy! I swear I could wear these every single day and never take them off.
Designer: $650 | Dupes: $20
FIFTEEN – GOODNIGHT MACAROON OVER-THE-KNEE BOOTS
I had considered purchasing these boots time and time again, but yet again, the price tag was just too high. After some extensive research, I found what I think to be the perfect pair on Amazon! Not only do they fit over my large calves, they stay up, have the perfect heel and they are great quality. These actually might be my most purchased item of all time! I promise they're worth the purchase.
Designer: $163 | Dupe: $40
SIXTEEN – GUCCI BELT
I don't feel like I need to even explain this one as it was only all the craze over the fall! You couldn't pay me to spend hundred of dollars on a belt, and lucky me, I found what I was looking for on Amazon! I have the dupe of this designer belt in two colors and they're surprisingly great quality!
Designer: $550 | Dupe: $19
SEVENTEEN – GUCCI MAKEUP BAG
While this isn't an exact dupe of any current Gucci items, it's definitely designer inspired. I love it because it's the perfect little travel case. It's got clear pockets on the inside and I use it to transport jewelry and other miscellaneous items when I travel!
Designer: $650 | Dupe: $15
EIGHTEEN – CELINE LUGGAGE BAG
Aside from the Givenchy bag above, this was the other bag of my dreams. I've admired it for years and I couldn't wait to get my hands of it. Well, lucky me, I stumbled upon the most perfect dupe I've ever found. This Amazon retailer sells some of the most amazing designer inspired bags and I intend on ordering so many more!
Designer: $3,100 | Dupe: $150
NINETEEN – BAMBOO LETTER NECKLACE
Everyone and their mother has been wearing these necklaces! While I don't personally have this one because it's not really my style, it's a great subtle statement necklace!
Designer: $80 | Dupe: $15
TWENTY – GOYARD CARD CASE
I love a good card case. I carry one every single day and it's a life savor! If I carry too big of a wallet, I end up carry a bunch of receipts and unnecessary stuff. This dupe is such a good one and the Goyard pattern is so unique. Grab one now before they become too mainstream.
Designer: $330 | Dupe: $9
TWENTY ONE – STELLA MCCARTNEY FALABELLA CHAIN TOTE
This has been a classic bag for a while now and I've always admired it. I never had much of a desire to have it just because of the price tag, but now that I've found a good dupe, I think I need it in my collection!
Designer: $1,125 | Dupe: $33
TWENTY TWO – HERMES CHIC H BRACELET
I don't personally own this one, but I know a lot of people have purchased this and it looks great! I love a good bangle, so this is definitely going to be an upcoming buy!
Designer: $650 | Dupe: $22
TWENTY THREE – VALENTINO GARAVANI ROCKSTUD STILETTOS
Last, but not least, some stilettos! Again, I haven't personally purchased these, but I know a lot of people have. They're such a great alternative to the designer pair that is almost $1,000 and perfect for an office outfit!
Designer: $995 | Dupe: $60
What's your favorite designer dupe or inspired item? Let me know in the comments below! I want to check them out!