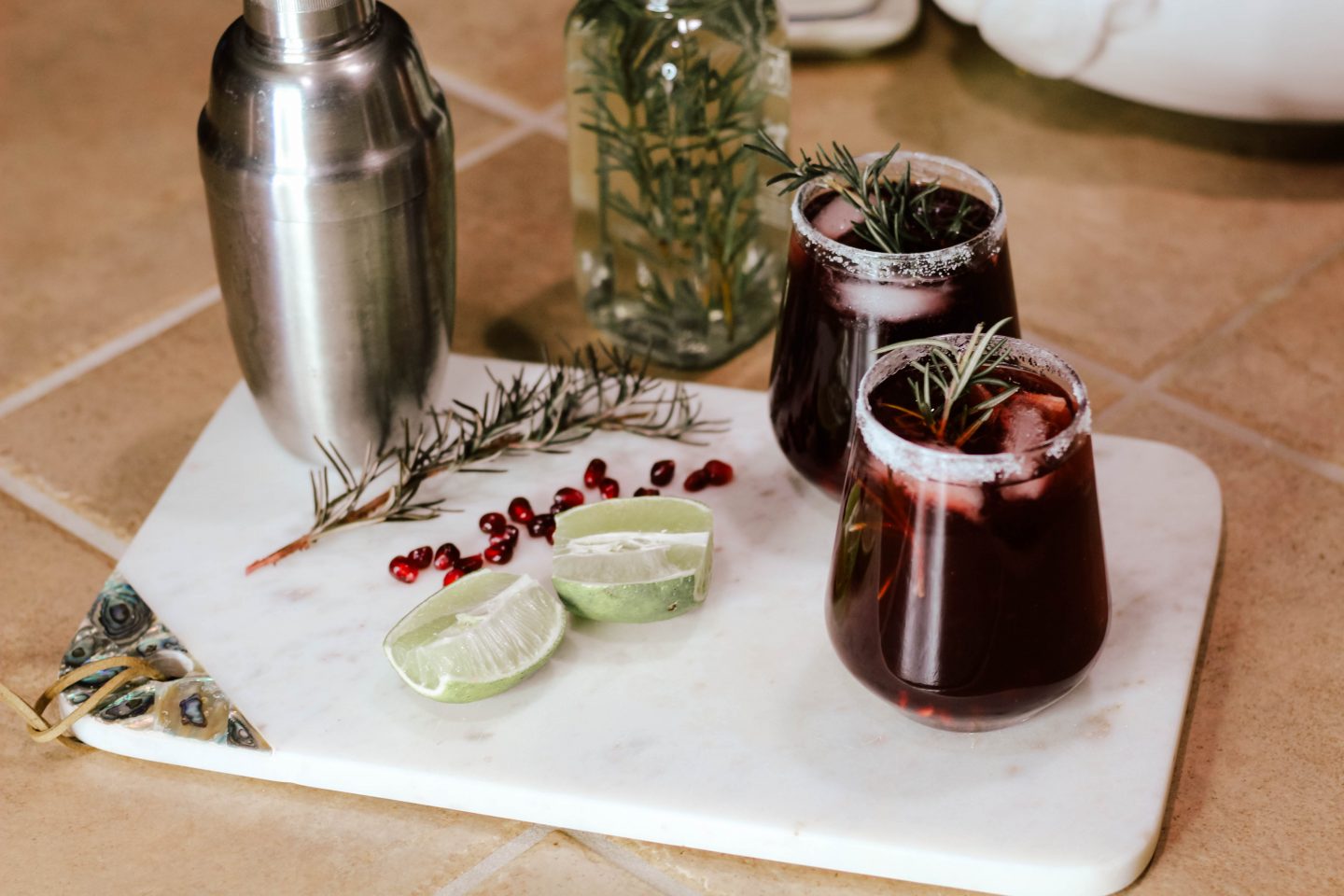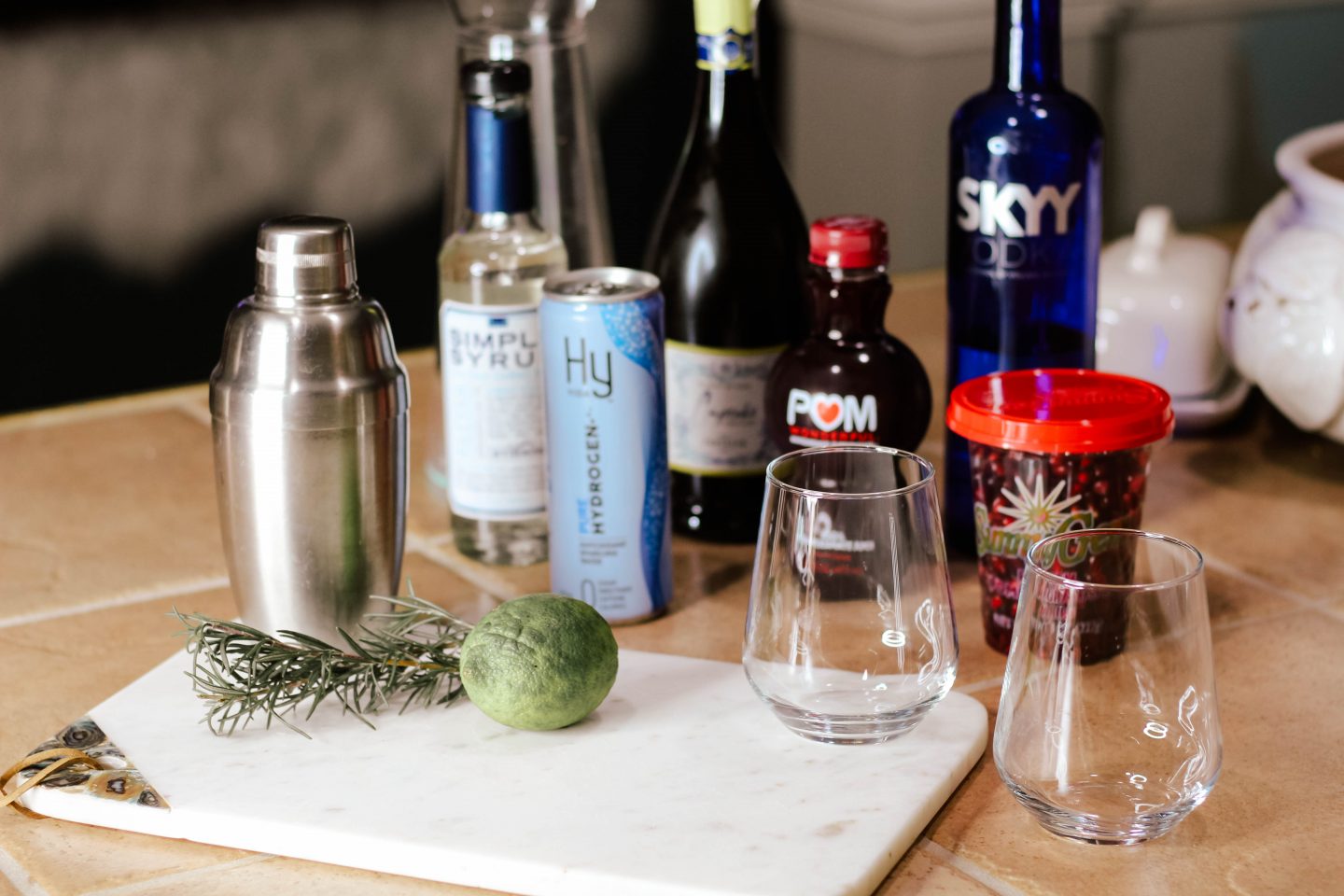 It's time switch it up on the blog! As I get older and busier, I enjoy spending as much time at home as I can. Being a homebody means getting creative with your free time and how you like to spend your time! Lately, I've been really into making cocktails at home rather just pouring a nice glass of wine. Which, don't get me wrong, I still very much enjoy.
For today's blog post, I'm sharing my latest go-to cocktail recipe that I've come up with! I'd say that it's pretty simple, but there are different alternative that you can take to kick it up a notch. So, here's my original recipe for my Pomegranate Rosemary Spritz!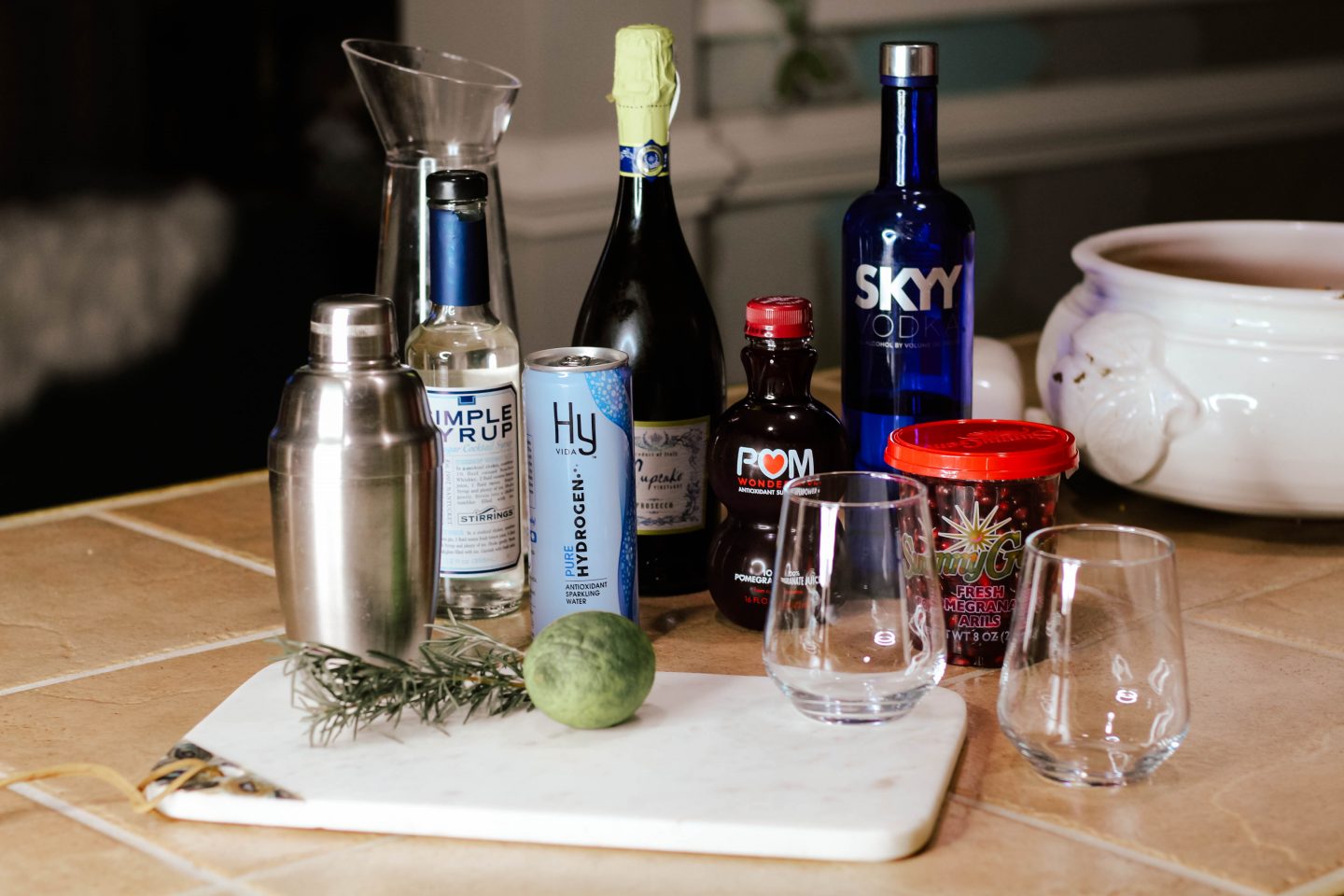 What You'll Need
– Vodka
– Prosecco
– Sparkling Water/Club Soda
– Pomegranate Juice
– Pomegranate Seeds
– Simple Syrup
– Rosemary
– Lime
– Sugar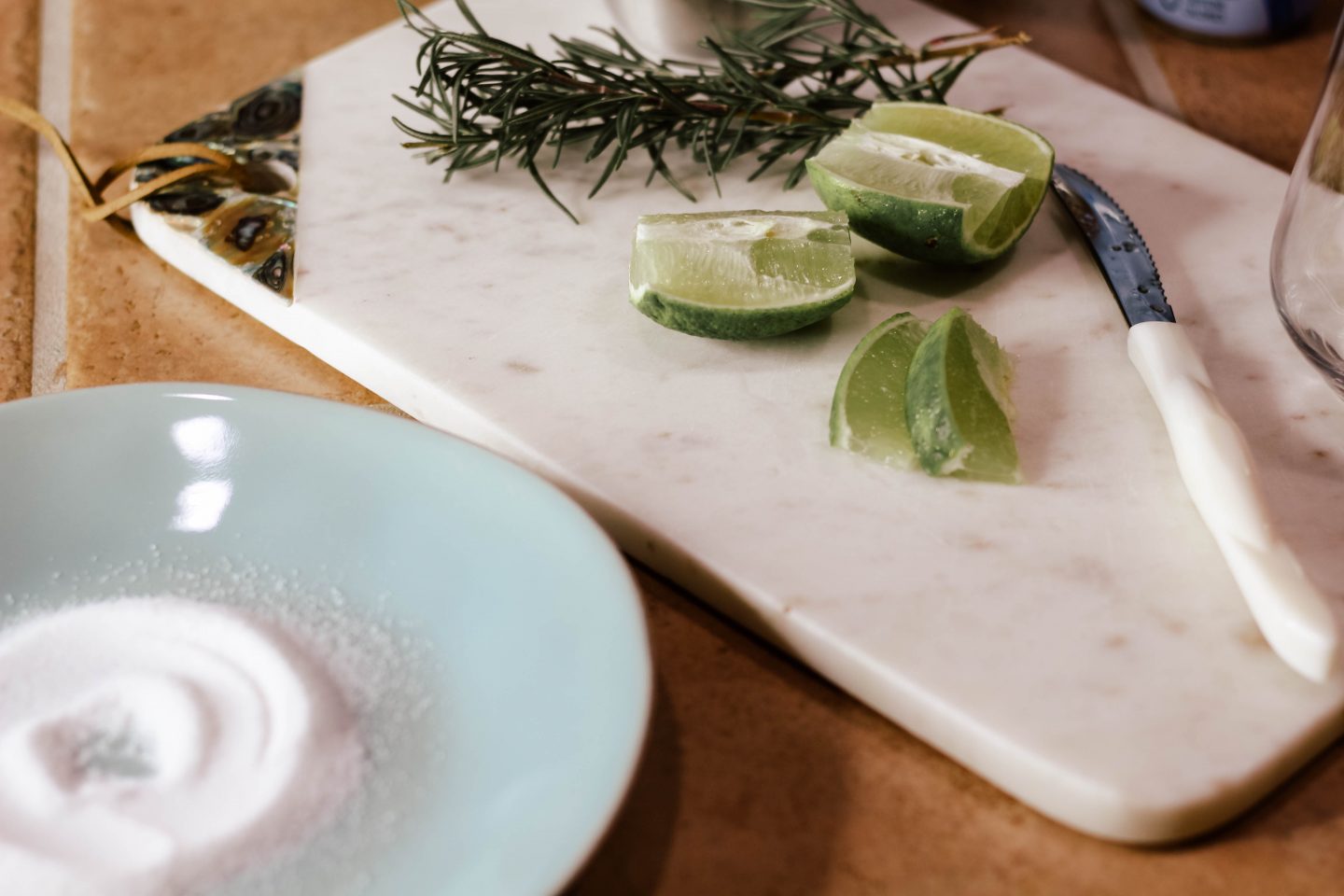 First, you're going to start by rimming the glass with lime and sugar!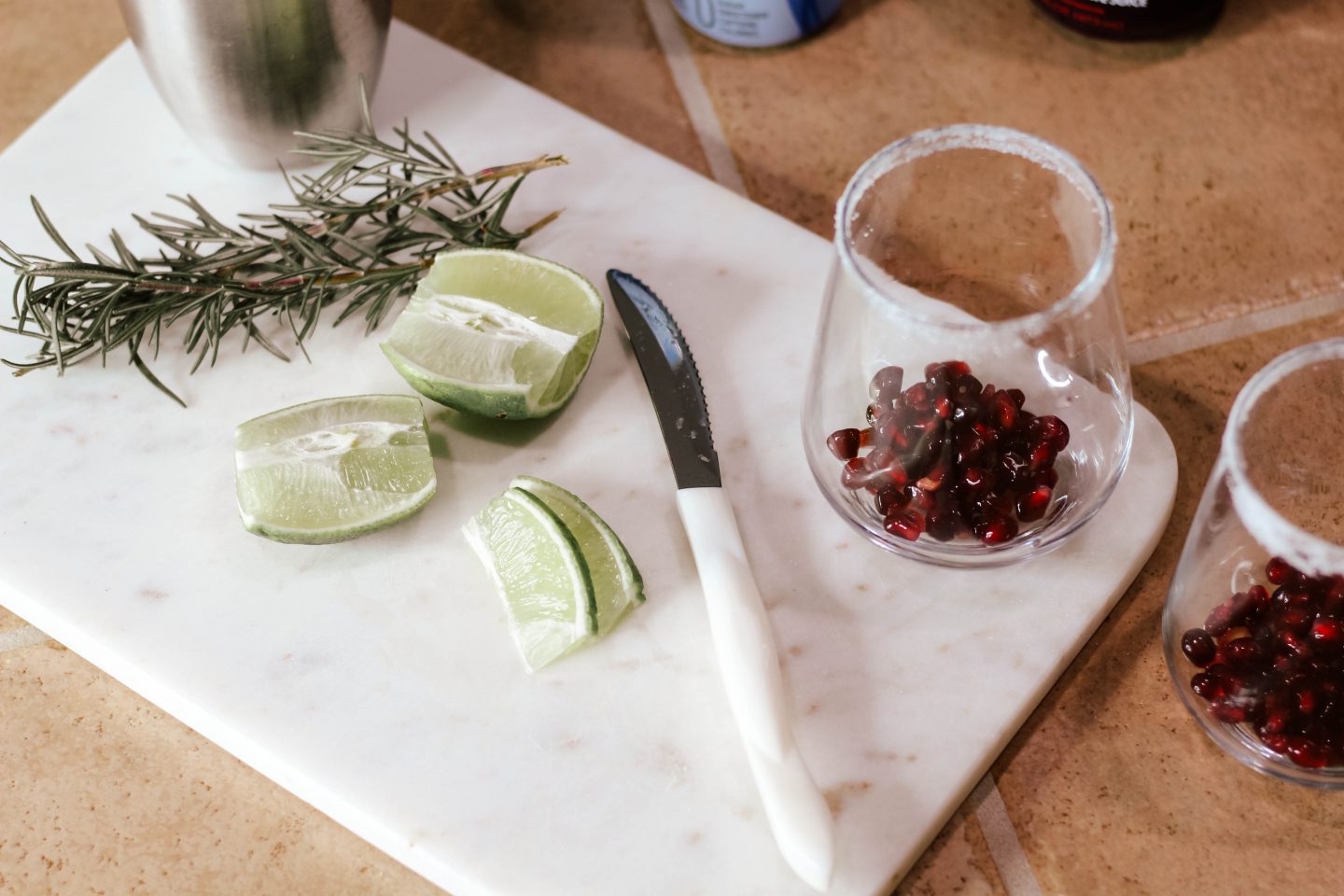 Next, you'll fill the bottom of your glasses with pomegranate seeds. I had planned on buying whole pomegranates and getting my own seeds and juice, but the store was out. This is also the easier way rather than squeezing it yourself!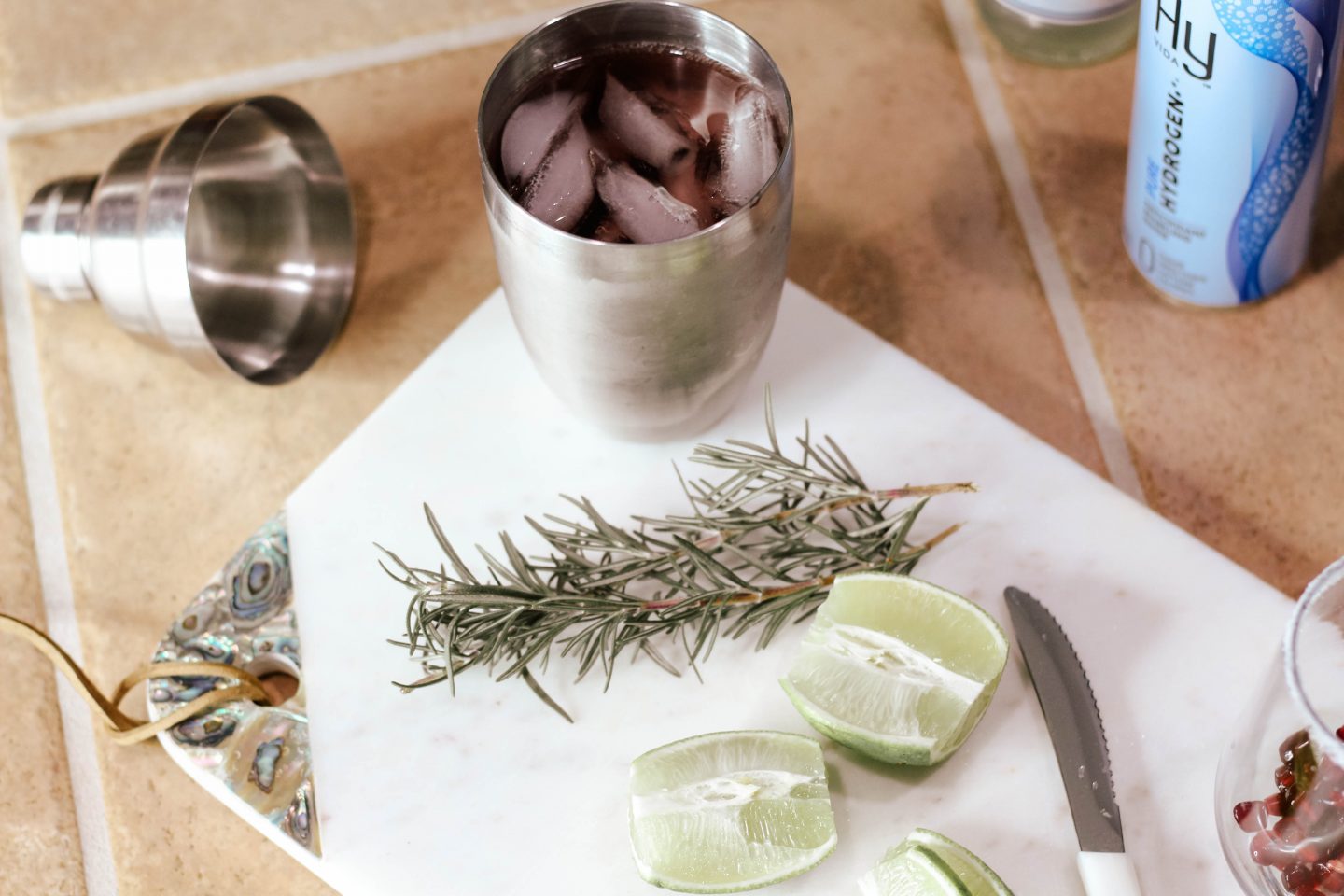 Now, it's time to put together the cocktail! Start by adding one ounce of the vodka of your choice, two ounces (or more depending on taste preference) of pomegranate juice and one teaspoon of simple syrup to a shaker with some ice.
Then pour the cocktail mixture over some ice in your glass! Now, you'll top off the mixture with one ounce of Prosecco and a splash or two of sparkling water. Don't add these two in the shaker glass or it'll explode all over you when you shake it! I learned that the hard way lol.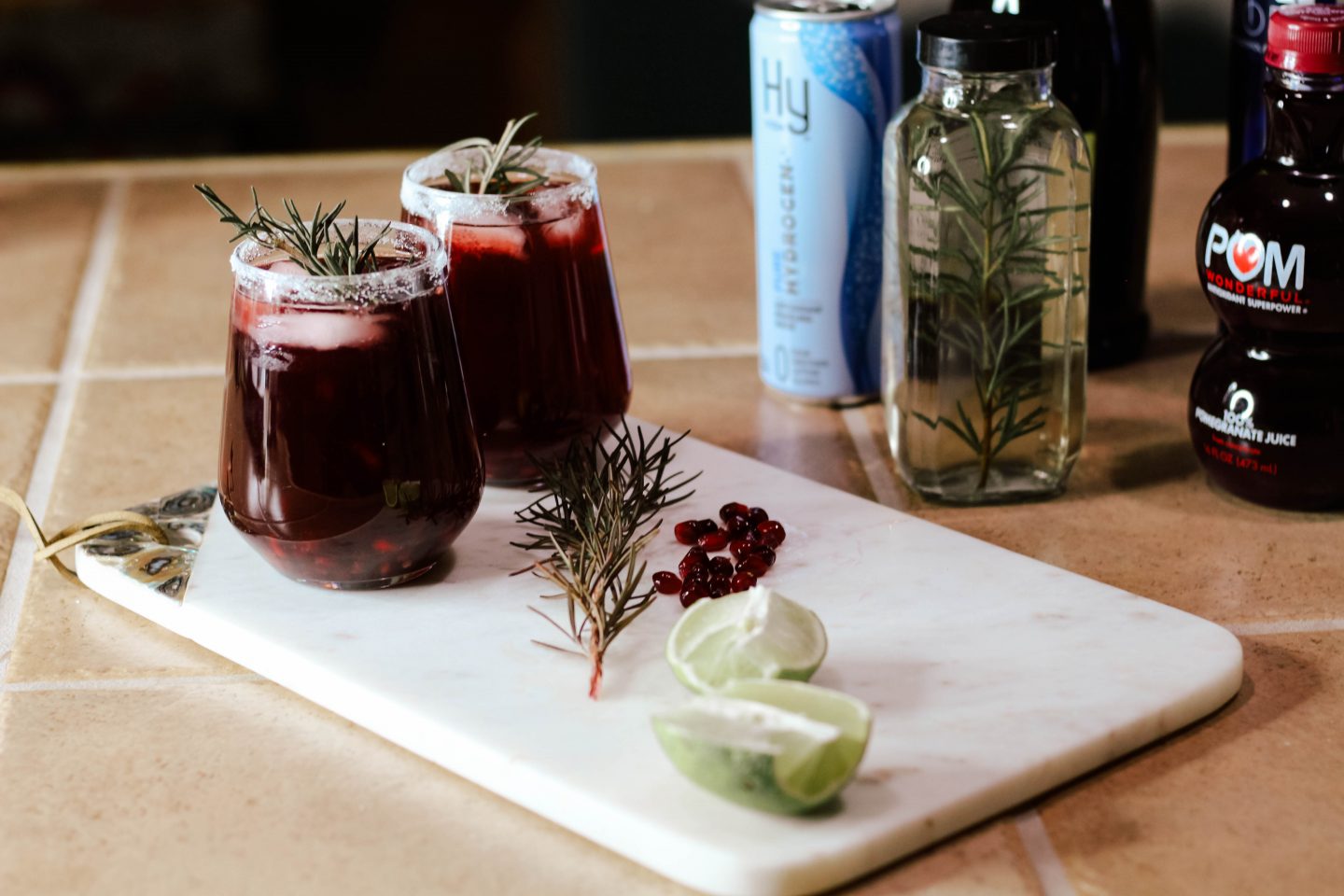 To finish off the cocktail, add a small squeeze of lime and garnish with a sprig of rosemary!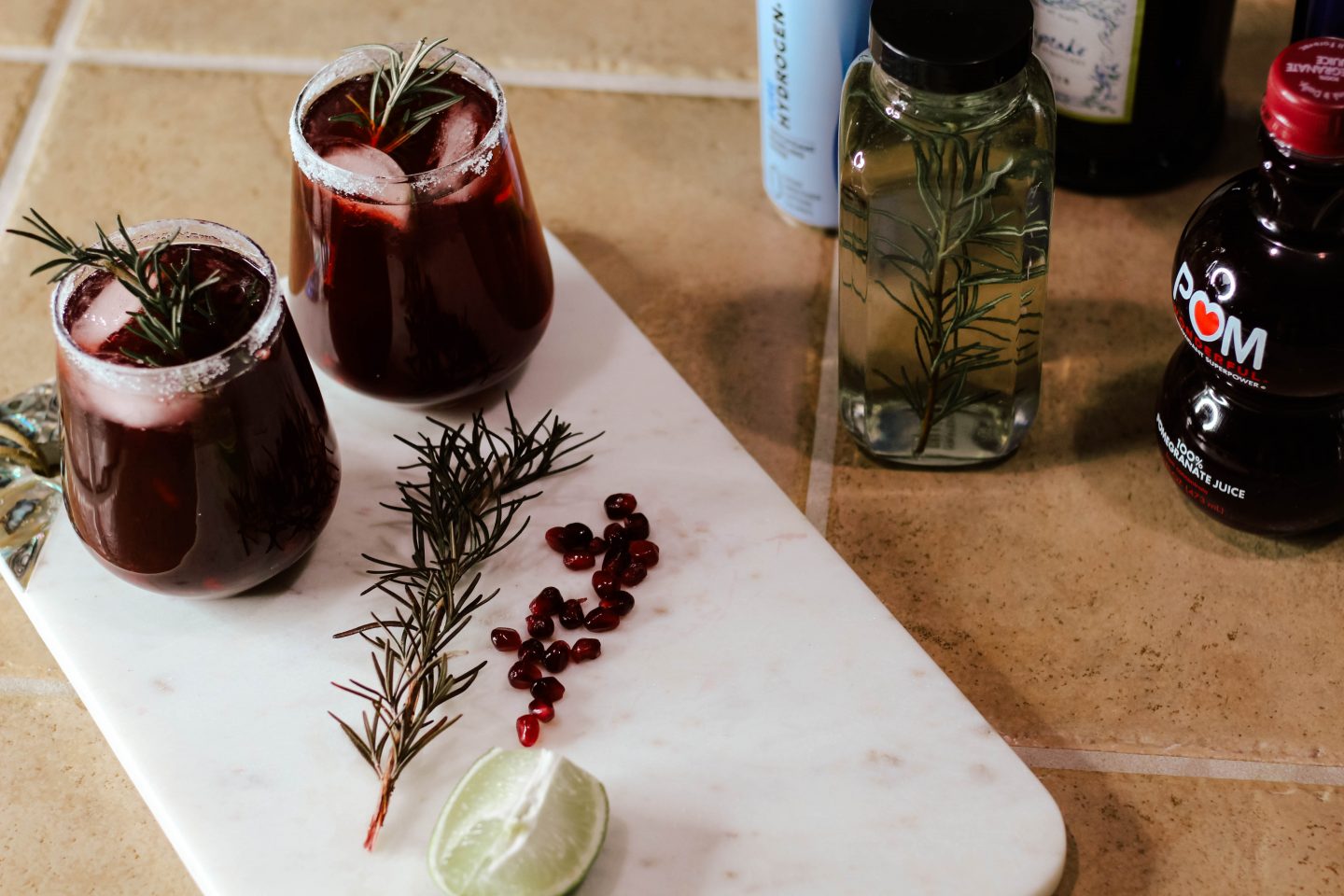 If you want to take it to the next level and create your own simple syrup, it really makes a difference! My boyfriend and I love the taste of rosemary, so we wanted it to be a little stronger in the taste profile, so I made my own.
You'll take one cup of water and bring it almost to a boil and then add one cup of sugar. Take a whisk while it's on the stove and stir until the sugar dissolves. Add a sprig or two of rosemary and let sit for a while on the heat. After about five to seven minutes, take the mixture off heat and let it cool to room temperature before transferring it to a glass for storage. I keep the sprigs of rosemary in the glass with the simple syrup!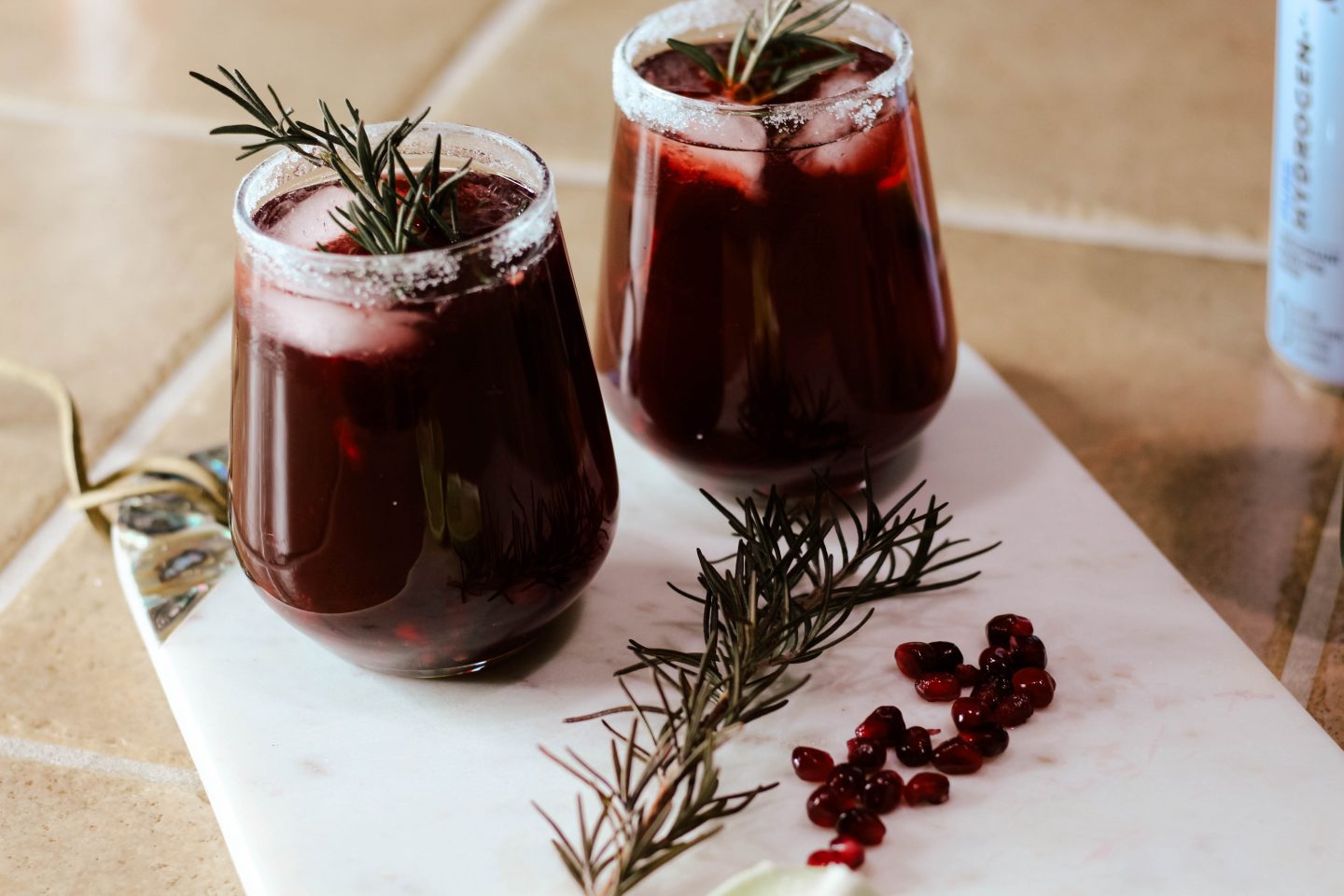 Pomegranate Rosemary Spritz
– 1 ounce of vodka
– 2 ounces of pomegranate juice
– 1 ounce of Prosecco
– A splash of sparkling water
– 1 tablespoon of pomegranate seeds
– 1 teaspoon of rosemary simple syrup
– 1 lime for the rim and a spritz of juice
– Sugar to rim the glass
– Rosemary to garnish the cocktail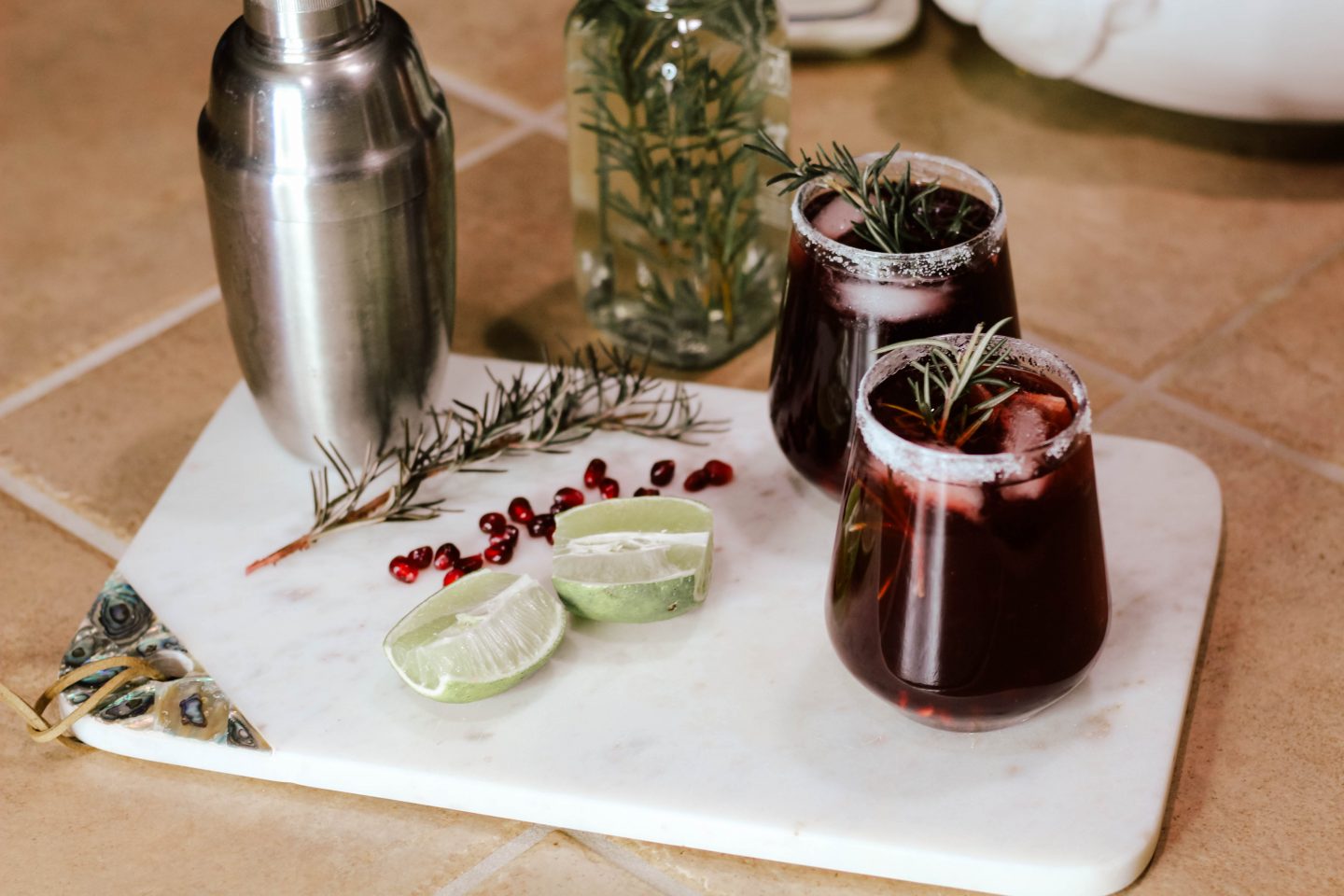 Y'all seemed to love the last time I shared a recipe because some of you went out and made it yourself! So, I hope you enjoy this one. If you make this at home, post a picture on your stories and tag me and I'll reshare it on mine! Cheers, babes!