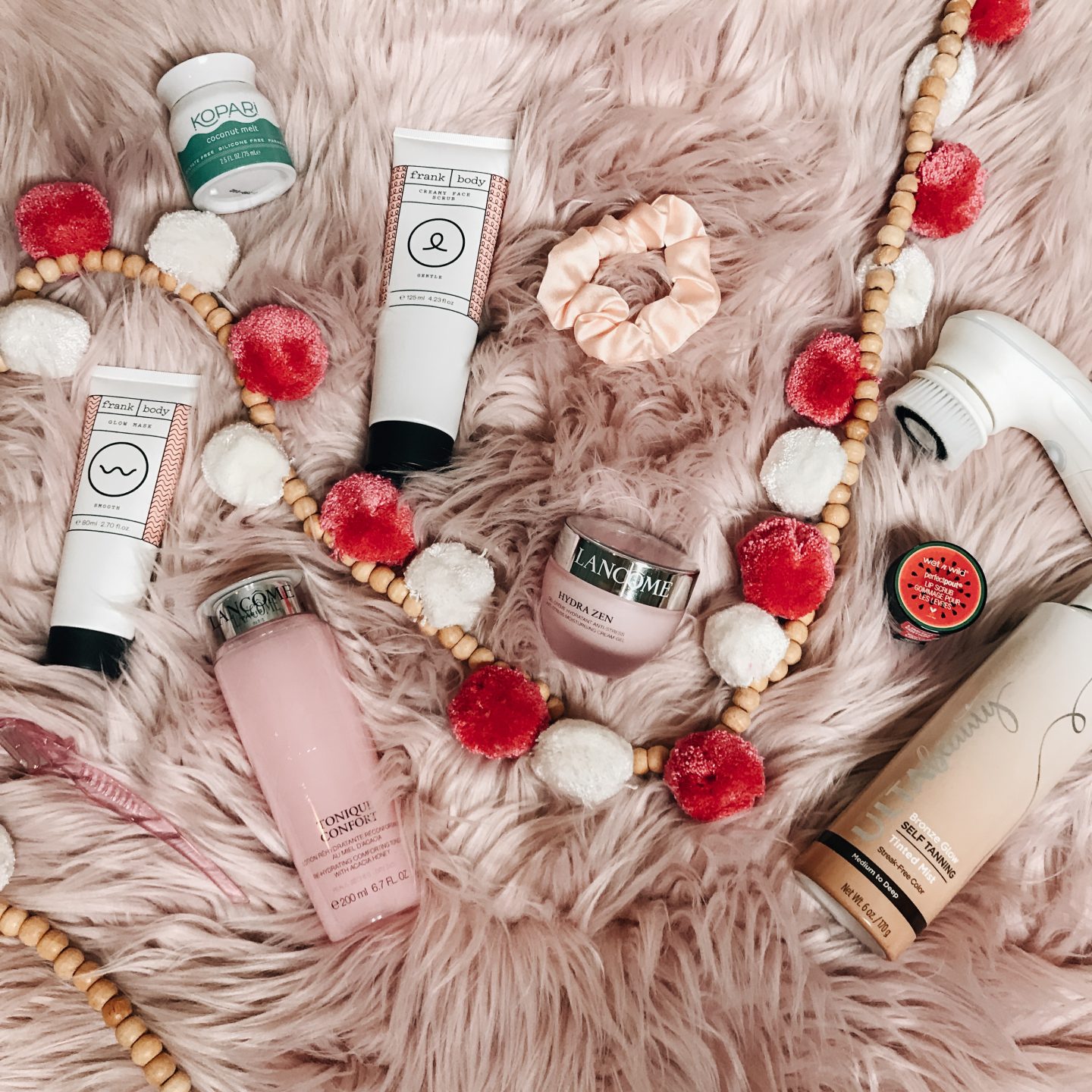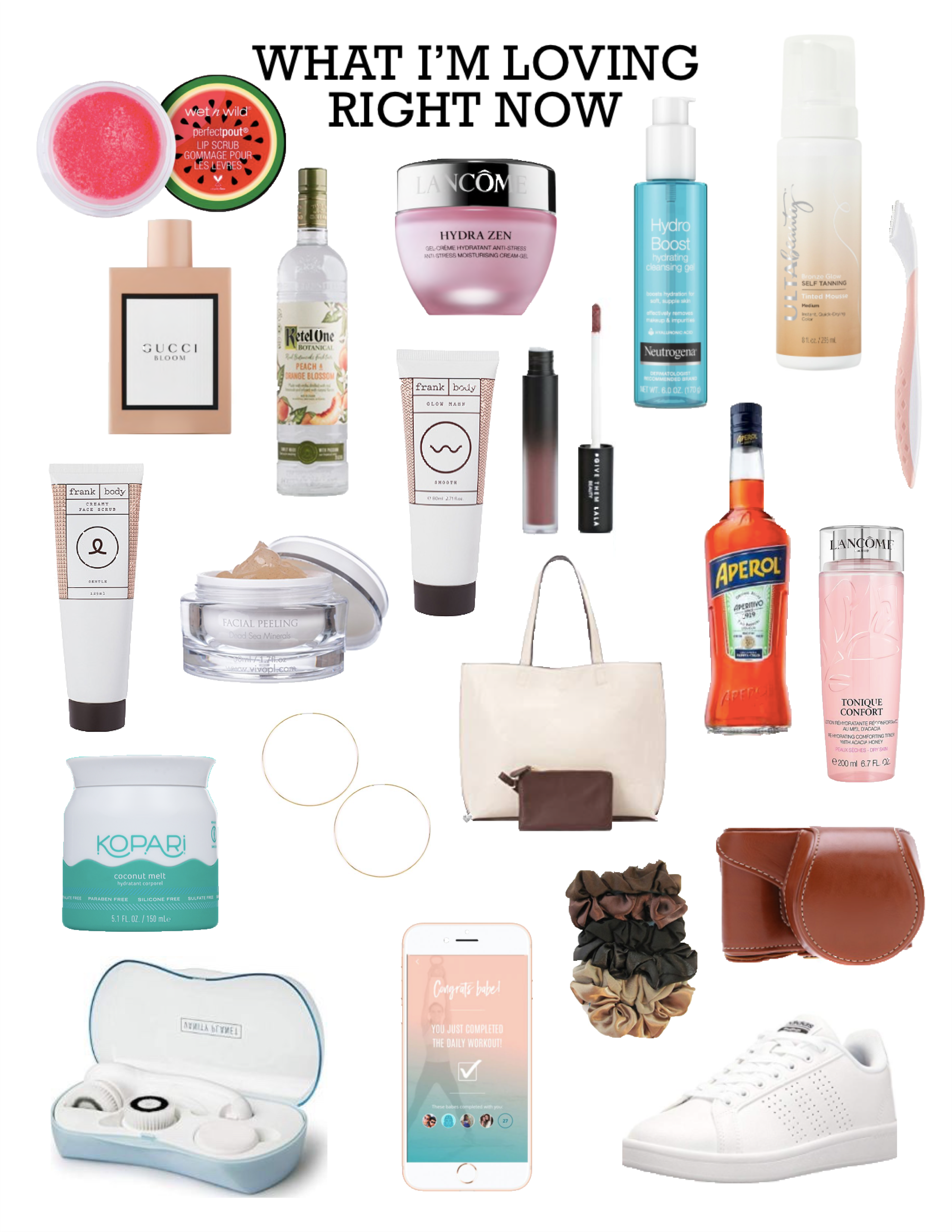 SHOP THE POST

Happy Friday, my loves! I am incredibly stoked for the weekend. This week has gone on for way too long. I had another post planned for today, but I just wasn't feeling it, so I figured that I'd update you all on some things that I'm loving as of August 2018!

BEAUTY
Full disclaimer, a lot of these beauty products that I'm featuring in this post were sent to me for free, but I never promised a blog post for them, so I promise these are my honest opinions! Let's start with the high-end products – the Lancôme moisturizer and toner. These were both sent to me through Influenster but I've seriously fallen in love with them. They are cool and calming on my skin, so they're the perfect products to use after removing my makeup and exfoliating! My newest face wash that I can't stop using is from Neutrogena, and if you've been following me for a while then you know how much I love the HydroBoost line. This was sent to me, but I've literally used it every day since! The last products that were sent over to me are the Frank Body products. I've known of the brand for a while and I've always wanted to try them out, but I've just never pulled the trigger. They sent me the Creamy Face Scrub and their Glow Mask, both of which are very gentle on the skin and left me feeling so refreshed! I'm pretty sure I've mentioned this product several times on my blog before, but it's worth mentioning again – Dead Sea Minerals Facial Peel from Amazon. I had no idea what this product was before I ordered it, but I am in love. Normally you would think that a facial peel would be very abrasive and irritating to the skin, but this is the exact opposite! I take a small amount and rub it in circular motions all over my face and literally watch as all of the dead skin balls up and flakes off. Gross, but so satisfying! Another thing that I've been super into lately is dermaplaning my face. I definitely don't recommend doing this yourself until you've done research and watched videos, and maybe even go have it done professionally first. But, it's seriously changed my skin and how well my makeup applies and stays all day long. One of the items that I'm probably most excited about is this $3 lip scrub from Wet N Wild. I've tried so many lip scrubs but this is the first one that I actually feel a difference in my lips after using. It says it's limited edition, so I will be stocking up here shortly. Two products that I purchased on Amazon Prime Day were the Vanity Planet facial brush and silk sleep scrunchies. These two items have seriously been holy grails of mine since the first time I tried them. The facial brush comes with three heads and a case. I use it quite often with scrubs and face washes and it leaves my skin feeling so smooth! For the scrunchies, I wanted something that wouldn't cause creases but kept my hair up, so needless to say I've found my match. Since making my self tanner posts, I've discovered my all-time favorite for when you're in a time crunch, or you're just lazy like me – the Ulta Beauty Tanning Mist. Seriously y'all, it's so hard to use any other tanner now. I simply stand in the shower and spray it all over my body and then go over it with a mitt to help blend it in – takes less than 10 minutes and gets me crazy dark! I've also recently rediscovered the Kopari Coconut Melt. I've been using it on extra dry areas or itchy spots and it's working wonders! Last, but certainly not least, two products that I use every single day. This Gucci perfume was certainly an investment, but I am so glad that I purchased it because it is amazing! I literally got a comment from a stranger the other day as I walked past about how good I smelt. Second is my new everyday lip gloss from Give Them Lala Beauty. I received it in a monthly box and I can't stop wearing it!

FASHION
If you follow me on Instagram, then I really shouldn't have to explain this item, but my new sneaks are THE BOMB! I purchased these on Prime Day for like $18 and I could literally wear them everyday. They're by far the most comfortable shoes that I own. I've dressed them up and dressed them down and I am still so obsessed! You need them, trust me. Something else I've been super into lately is a good slouchy carry-all tote. Usually I go for a more structured fit, but I've been loving one with a little more slouch to it that fits everything I need. The totes from Urban Outfitters/Free People are great ones! Last, but not least, in the fashion category are my latest accessory craze – hoop earrings. I don't know why, but I've pretty much been wearing some sort of hoop every day and I'm digging' it.

MISCELLANEOUS
I know these are weird things to include, but I just have to share! My drinks of choice lately have been vodka sodas and Aperol Spritz. Like, who am I? But for real though, I've been trying to steer away from super sugary drinks and I've found two that I'm in love with! I love them so much that I'm making them at home! First up is Ketel One Botanicals in Peach and Orange Blossom. I mix this with a La Croix over some ice and garnish with fresh fruit if I have it! Truly a low-cal, refreshing cocktail that isn't too strong! Next up, the Aperol Spritz! You can look this one up, but I had to share because this is now a staple in my bar cart. Since I got my new vlog camera for my birthday, I've been carrying it just about everywhere with me. And since it doesn't have a lens cap and the screen is exposed, I knew I needed some sort of protection that wasn't bulky. I found this leather case on Amazon and it is seriously everything! And my last latest obsession is very recent, but I already adore it — The Tone It Up app. I never go to the gym because I just simply don't have time. I'm literally always working, but I love this app because I can take a break from a task and do a quick 30-minute or less in-home workout and don't have to waste all this time getting ready and going to the gym. Truly a life saver! No more excuses for me.

I hope you all enjoyed the things I'm loving lately! Drop a comment down below and let me know what your latest obsession is!