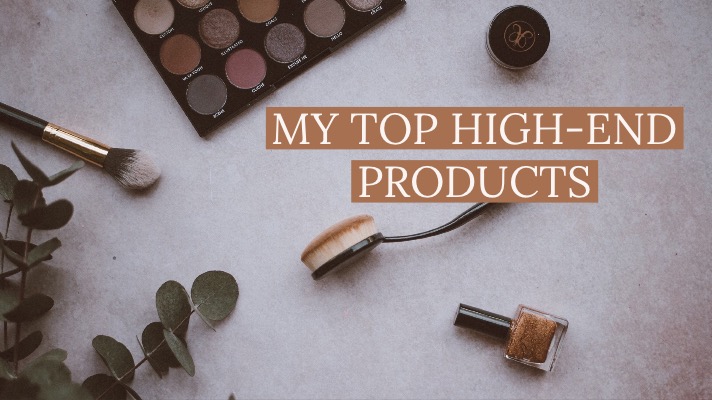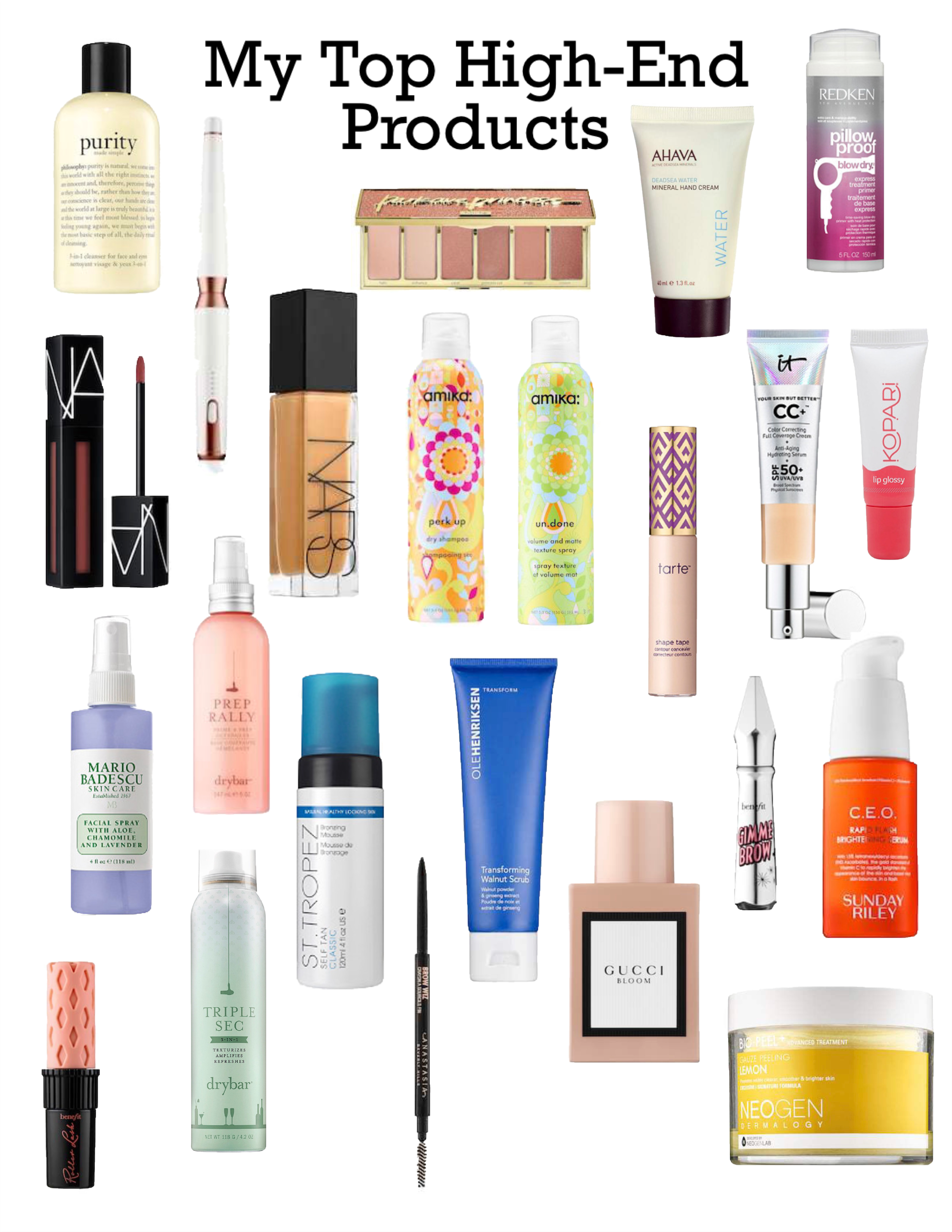 SHOP THE POST

I feel like I've really been falling behind on my beauty blogs lately, so I'm trying my best to do one a week! A few weeks ago I shared my top drugstore products, so today I'm sharing my top high-end beauty products! Y'all know I'm all about saving money, and balling on a budget (hints the name), but there are some things that are worth saving up for and splurging on. By no means am I bragging about having some of these items, most aren't even that expensive, but these are items that are absolutely worth spending a little bit more on over the drugstore options! So, let's jump right in to my ride-or-die, high-end beauty products that I will never stop buying!
MAKEUP
Let's start with the obvious here, my all time favorite foundation – NARS Natural Radiant Longwear Foundation. Before this foundation I was a drugstore foundation girl through and through, with the occasional splurge for a special occasion. I went to a NARS boutique for an event and to interview one of their senior artists for a piece for the magazine I work for when I was introduced to this product and fell in love. They did my makeup for me and I fell head over heels for so many of their products. I'm not going to lie, before then, I really had only used their namesake blush in 'Orgasm.' This foundation is lightweight, can literally last all night long if you need it to, looks flawless and a little goes a long way. Another reason why I love it so much is because it's buildable! You can achieve a light, sheer coverage look, or you can build it up for a full coverage look! It truly is the best foundation that I've ever worn! I'm on my second bottle and I only started using it in January. Enough about my love affair with the foundation, now onto another love of mine – Tarte Shape Tape. I truly can not and will not ever use another concealer. I use others in conjunction with my Shape Tape, and I might bring out a more lightweight one to cover some blemishes when I'm wearing no makeup, but Shape Tape is everything to me. I learned the hard way that a little tiny bit of this concealer truly goes the longest way. I use it under my eyes only and make a small little triangle coming out from my tear duct and then finish the rest of the triangle with a more sheer concealer and blend them all out! Some people say it's too heavy for them, but the key is to only use a little bit and set it like crazy with a powder! When I'm not going for a full beat look, I am loving the IT Cosmetics Bye Bye Foundation CC Cream. I never thought I'd be able to get behind a more natural look, but this stuff is truly a game changer. I love that I can just throw this one, add a little concealer, set it a bit, pop a tad bit of blush on and go! I mean, how great is that?! Another product that I can not live without and literally use everyday is the Tarte Park Avenue Princess Contour Palette. Not only does it smell ah-mazing, it truly looks so good on everyone, goes on flawlessly and stays all day. Seriously can not say enough good things about this palette (shout out to Casey Holmes for the rec)! Before I got my brows microbladed, the Anastasia Brow Wiz was my go-to. I still use it from time to time when I want a fuller brow, but this pencil is by far the best one I've ever used. If you're filling in your brows heavily, and every day, then this product will go fast and there are some great dupes out there, but this is still my tried and true. Now that I don't fill in my brows every day, I still set them so they stay in place and give them a little bit more tint with the Benefit Gimme Brow. When this product was discontinued for a while, I truly died a little bit inside. But now that it's back, I will never use another product! It's the best brow gel in the game and I love that it works wonders even if you don't want to fill them in, you can still tell a difference! Another Benefit product that I have recently come back to is their Roller Lash Mascara. Now that I have lash extensions for a little while, I'm only wearing mascara on my bottom lashes when I put makeup on and the wand on this mascara is perfect for the natural lash look! Lastly, let's talk lips! Aside from the usual Aquaphor, my ride-or-die hydrating lip product is the Kopari Lip Loves. They are so hydrating, smell great, come with the option of a tint and are so different than any other balm or chapstick I've used. When it comes to lipstick for a full out look, NARS Power Matte Lip Pigments are the way to go! I only own one shade and I truly don't know why I haven't bought their whole collection yet, but it is the absolute best. Put it on in the morning, drink your coffee, eat your lunch, lick your lips and go to dinner and I promise you that it will still look flawless (at least in the shade that I've been wearing)! It's not too drying, doesn't crack on my lips, doesn't leave me needing to constantly reapply and it literally stays all day! Oh, and it doesn't get everywhere! I seriously can't say enough good things about it.
SKINCARE
I probably should have talked about high-end skincare before makeup, because if you aren't going to invest in your skin, don't bother investing in makeup! While the majority of my skincare products are from the drugstore variety, there are a few that I can't live without. One of the most recent products that I've fallen in love with in this Ole Henriksen Transforming Walnut Scrub. I love a good scrub/exfoliant and this one is my new fav. It was one of my products in a monthly subscription box and it was full-sized and now I can't live without it! It's not too harsh or abrasive, lasts a while and leaves my skin feeling fresher than ever! Another product that I'm loving are these exfoliant pads from Neogen Dermalogy, the Bio-Peel Gauze Lemon Peeling Pads that you can get from Sephora. I don't use them often, but when I do, I go to town on my face with skincare that night! I feel like it really gets into my pores and brings out some impurities. When it comes to everyday skincare, the Purity face wash is perfection. It's gentle and makes for the perfect everyday cleanser! Also, the bottle is huge and will literally last forever! The next product that I'm in love with is the Sunday Riley C.E.O Serum. I told myself that I would never buy it, but I received a full-sized product in two different boxes, so now I'm set. But in all seriousness, it's an amazing product and I use it every morning and night! To finish out my skincare products is my favorite that I could literally bathe in, Mario Badescu Lavender Facial Spray. This shit is magical. No joke! I drown myself in it every morning and every night after I do my skincare routine. It's seriously so refreshing, calming and I feel like it just melts everything together!
HAIR
It's taken me a long time to figure out a routine that works for my hair. I have very thick, very frizzy, and very curly hair, so finding products that actually do something for me is a process in and of itself. First thing I do after I wash my hair is spray it down with Drybar Prep Rally! I started using this product over a year ago and it is one that I seriously can not live without. It's great for detangling, heat protection and really does calm my hair down. Next, I throw in some Redken Pillow Proof blow out cream. Y'all, this stuff has changed everything for me. Before I found this product, it took me forever to blow dry my hair. I literally would dread washing and drying my hair because it took forever! This stuff literally cuts the dry time down in half, without weighing down my hair too much! After I style my hair, there are a few hairsprays that I use to keep my curls looking fresh! My top two texturizing sprays are Amika and Drybar. Some times I use them together or even separately and they are game changers! And the last product for my hair that I can't live without is the Amika Dry Shampoo. It's taken me forever to find one that works for me and doesn't leave me feeling gross. While I still use drugstore brand dry shampoos, this one is my all time favorite!
EXTRAS
Last, but not least, are a few of my ultimate favs! The T3 Curling Wand is something I had wanted for ever, but never could pull the trigger on. When I finally did, I was so happy. I love that the barrels are interchangeable, so it means that I don't have to bring too many appliances with me when I travel. If you're in the market for a new curling wand, do yourself a favor and get the T3 wand. Not only are the bundles a great deal, but there are so many other attachments that you can purchase separately for it – Truly the perfect hair tool. Another product that I use everyday and carry with me everywhere is the Ahava Hand Cream! I don't remember how I discovered it, but now it's the only hand cream that I use because it doesn't leave my hands feeling greasy and gross! Another recent love of mine is the St. Tropez Tanning Mouse. It took me forever to pull the trigger on this one but I'm so glad that I did because it is ah-mazing!!! I already finished a whole bottle, so it's about time I place an order! And to finish out the post on my top high-end beauty products is one that I love so dearly but I rarely use because I want it to last forever! During my birthday month I decided that it was time to treat myself to a nice perfume because I really didn't own any that weren't gifts or cheap VS body sprays. I literally spent over an hour in a Sephora with my bff and their perfume specialist smelling every single perfume. I settled on the Gucci Bloom perfume because I couldn't stop thinking about it. It also came in a combo back for $5 more that included the medium sized bottle ($90) and a full roller ball that usually costs $35 on it's own. I mean, that's a deal that you just can't pass up! Needless to say, I'd love to bathe in this perfume every single day, but because it was so expensive, I use it sparingly lol! I'm sure you can understand my craziness on this one!
Drop a comment down below and let me know some of your high-end beauty must-haves!