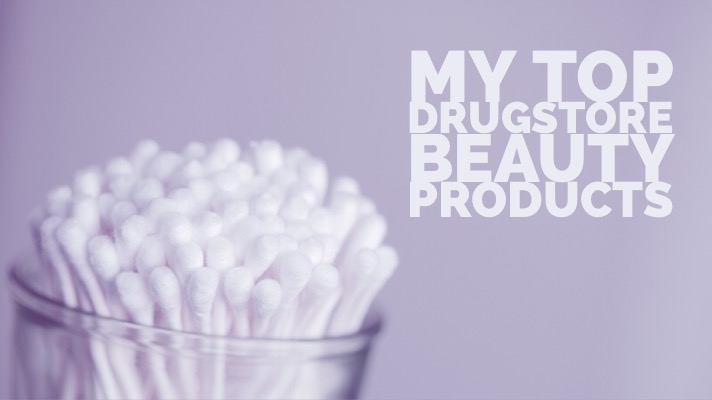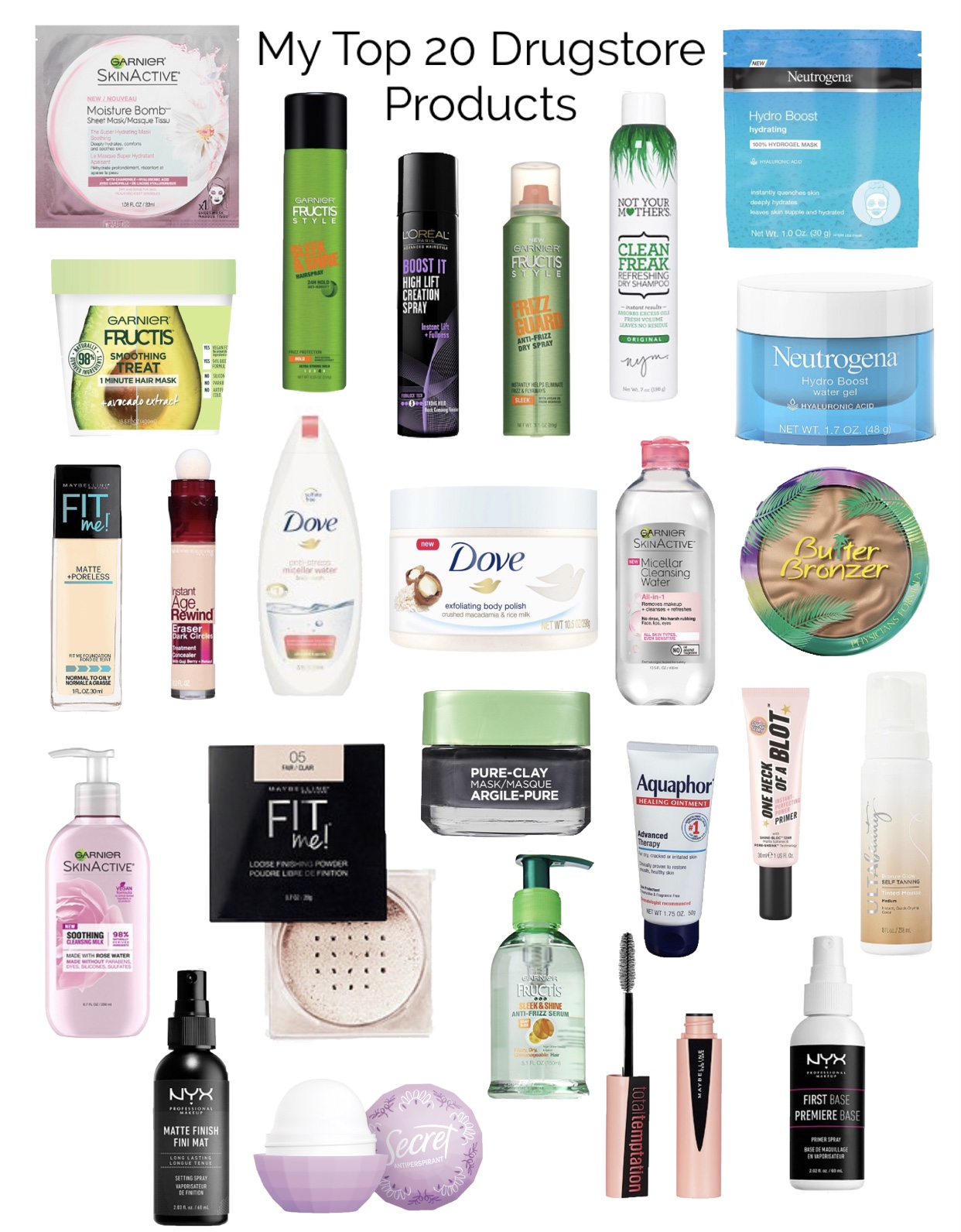 SHOP THE POST

While I'm a firm believer in investing in good skincare and makeup products because if anything, your skin deserves it. But I want people to know that there are options out there that are just as great, if not better, than some of the high-end, expensive products that are so heavily marketed. For me, a lot of my everyday products are from the drugstore. I love that I've tried so many products, so many that are on opposite sides of the price spectrum, yet still some compared. This post today is to showcase some of my favorite drugstore products that I will reach for over a high-end product any day.
– Garnier & Neutrogena Sheet Masks: These are my go-to sheet masks, overall. I love the texture of these sheet masks and the instant glow that I see. They're also cheaper than a lot of other sheet masks that are offered in the drugstore.
– Garnier Hair Products: These three hair products I can not live without. When I wash my hair, I finish it off with some of the sleek and shine oil. I really do feel like a quarter size of this worked through my hair makes such a difference. Once my hair is dry and I'm styling it, I use the frizz guard and sleek & shine hairspray to hold my look and prevent frizz. The frizz spray truly has changed the game for me in the Georgia humidity! As far as the mask goes, I'm in love! I've used two different ones now and absolutely adore them. My method of choice is to really pack it in my hair for a few minutes in the shower in between my shampoo and conditioner, and let it sit while I shave my legs!
– Texturizing Spray & Dry Shampoo: While these aren't my go-tos overall for these products, they are amazing drugstore products! I love the L'Oreal roof lifting spray because the results with instant volume are insane. It's a little heavy on the hair, so just be aware! For the dry shampoo, I constantly find myself reaching for the Not Your Mother's because it's affordable and does a great job. The can is huge and lasts me forever, especially when the high-end products run out. It doesn't leave behind a gross residue or leave my hair too thick and weighed down with product.
– In-shower Products: It's taken me a while to find some in-shower products that I absolutely love. I love how gentle the Dove body wash is. I use the pomegranate and lemon verbena scented one and often even reach for the generic version of it. It smells amazing and the amount of product that you get is insane! Next is probably one of my most favorite products of all time. The new Dove exfoliating body polish is everything. I started with the macadamia & rice milk one and I truly don't think I can switch it up. This stuff smells so amazing that I literally want to eat it. I also would love air fresheners and candles with this scent because it is just that good. I use this exfoliator a few times a week, especially before self tanning. It's not too abrasive, doesn't irritate my skin and smells heavenly. Not only does it do a great job exfoliating, but it leaves my skin feeling moisturized as well.
– Makeup: I use a lot of drugstore makeup products and they're amazing! Let's start with the basics. My go-to primer every single day is the One Heck Of A Blot from Soap & Glory. I finish it off with NYX primer spray before going in with my foundation. While it's not the one I reach for everyday, the Maybelline Fit Me Matte + Poreless is an amazing foundation for such a great price. I also love the Maybelline Age Rewind concealer. I use it every single day! My holy grail setting powder is the Maybelline Fit Me loose powder. I reach for it over the more expensive powders every time. The last two products that I reach for are the Physician's Formula Butter Bronzer (smells amazing!) and the Maybelline Total Temptation mascara. Can you tell I love Maybelline?
– Skincare: Everyday after I take my makeup off, I use the Garnier Micellar Water on a cotton round to better take off my eye makeup. I find that it's easier and more gentle on my lashes! My go-to gentle face cleanser is the Garnier Soothing Cleansing Milk. I love that it doesn't irritate my skin, but still leaves me feeling refreshed. My favorite clay mask is by far the L'Oreal clay mask. I finish off my skincare routine every morning and night with my ride or die moisturizer – Neutrogena Hydro Boost Water Gel
– Extras: Last, but not least, a few other of my favorites that I can't live without. Aquaphor is my saving grace. I have some on my desk, in my purse and in my car. It's my go-to for my lips when I'm not wearing lipstick! My top drugstore self tanner is the Ulta Beauty Express by far. I love that it isn't streaky, smells amazing and is an overall gorgeous natural tan. And my final product is one of my more recent discoveries, but now I can't live without it. I'm literally always running late wherever I go, and I'll be the first to admit that more often than not I will walk out and forget to put on deodorant. Now, I don't have to worry because I always have this deodorant in my purse for emergencies and a quick refresh wherever I go!