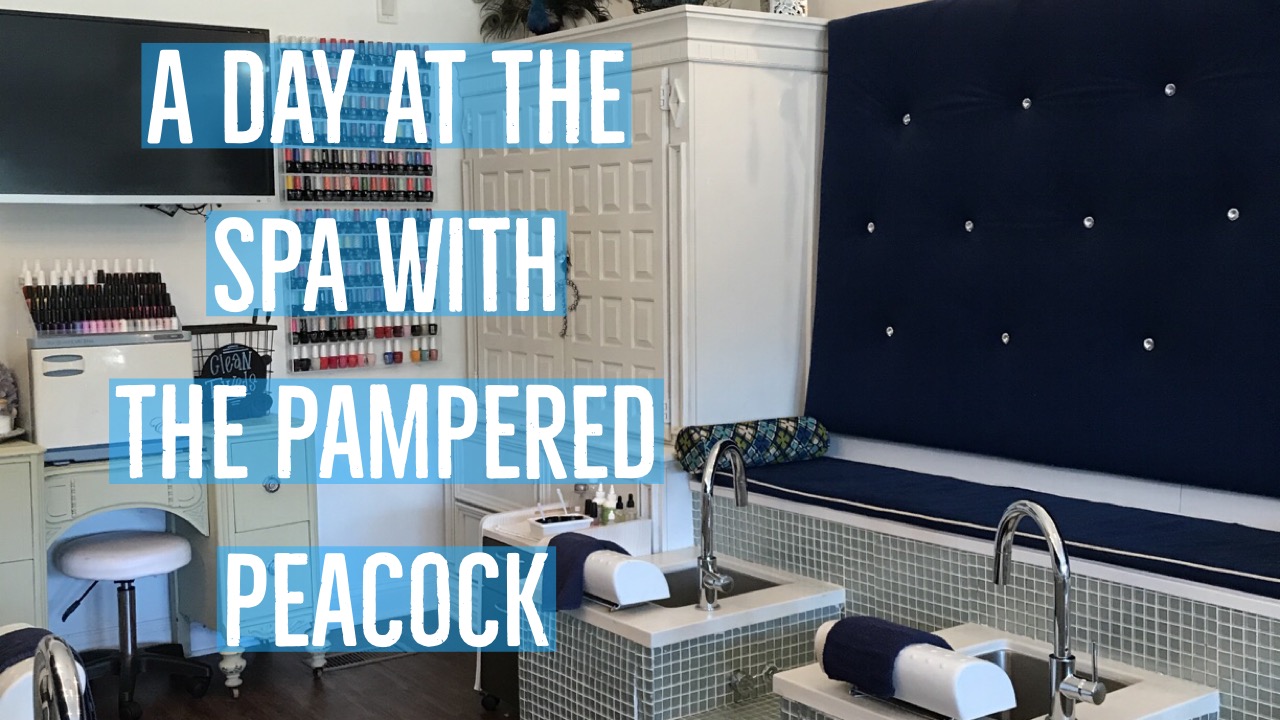 I've got something pretty exciting to share with you all today! Last week I had my very first collaboration with a salon-spa and it was amazing! I teamed up with The Pampered Peacock in Woodstock for a spa day including a manicure with an SNS set, a pedicure, a fresh set of lash extensions and a spray tan. Fran and her team so kindly invited me out to their salon to enjoy these services, and I have to say that I am so happy and impressed. You all know that I give my true and honest opinion about everything, or I just don't say anything at all, but that is not the case here! I seriously can not say enough good things about The Pampered Peacock, their salon, the ladies that work there and the level of excellence and professionalism that came with my services. If you live in or around Atlanta and you're looking for a new nail place, look no further because I've found it. If you live in or near Woodstock, you have no excuse not to be coming here! While they do offer walk-in appointments for nail services, I do recommend calling ahead for an appointment since they are a smaller, private salon (plus they're so busy because they're so good!). There is nothing worse than driving all the way to the salon and blocking out some time for your nails only to be turned away! If you're interested in trying them out, make an appointment and use code 'CARLYB' for 10% off your first time visit!
My first impression walking into the salon was honestly breathtaking! This place is absolutely adorable. I'm so over the traditional chain nail salons. I loved the setup of The Pampered Peacock, their decor and how personal your experience is. It's very different from your usual neighborhood salon and I love that!
My spa day started with a pedicure from V! They have a wonderful polish selection, but as soon as I saw the new OPI Grease collection, I didn't need to look any further. I've been playing it safe with my nail colors lately, but now that it's officially summer (well at least feels like it) I decided to have some fun! I went with a classic hot pink shade, 'You're The Shade That I Want' for my toes. I don't get pedicures as often as I do my nails, but I know a good one when I have one! V was amazing and I'll be requesting her each time that I'm back! I seriously can not say enough good things about her. She was so sweet, so personable and did an incredible job. I was so relaxed and very pleased with the outcome! Needless to say, she's now my go-to pedi girl!
Next up – my manicure. The true test if I'm going to like a nail salon. I often go in with a photo for inspiration showing my desired shape, color, length, etc., but more often than not, I always leave with something not right. No one has ever been able to achieve the exact set that I want. I try explaining, showing photos, directing, but it just never works – until now. Elizabeth worked on my manicure for like two hours – no joke. I know that's a lot of time, but for someone like me who is so particular about my nails and take great pride in them, I loved this. She took her time to actually remove my previous set the right way to prevent damaging my real nail. I asked her a ton of questions in which she had the answers I had always been looking for. She explained each step and why she was doing what she was doing. This made me even more confident in the manicure that I was getting and I already knew that I was coming back here. For my color of choice, I went with a fun watermelon pink. Unfortunately, I don't have the name or number, but you can't get the feel for it in the photos above! They don't have the most abundant selection of dip powders, but the range that they do have is great! For me, I usually stick to my basics, so it's not an issue but I wanted to branch out that day and I was still able to find the perfect shade! Plus, when I have too many choices I get overwhelmed and I can't choose the right one, so this just makes my life easier. When I say that Elizabeth got my perfect shape and everything, I mean it. When going for a more natural nail, I strive for my edges to be straight; nails to be naturally thin, but not too thin that they will break; and a realistic shape that doesn't make me look like I have fake nails – Elizabeth did that! I'm still in awe over my nails and it's been a week lol! She paid such close attention to detail on each individual nail and did exactly what I told her I wanted. I think it's safe to say that I'm officially in a committed relationship with my new nail girl and I won't be branching out for a set anymore!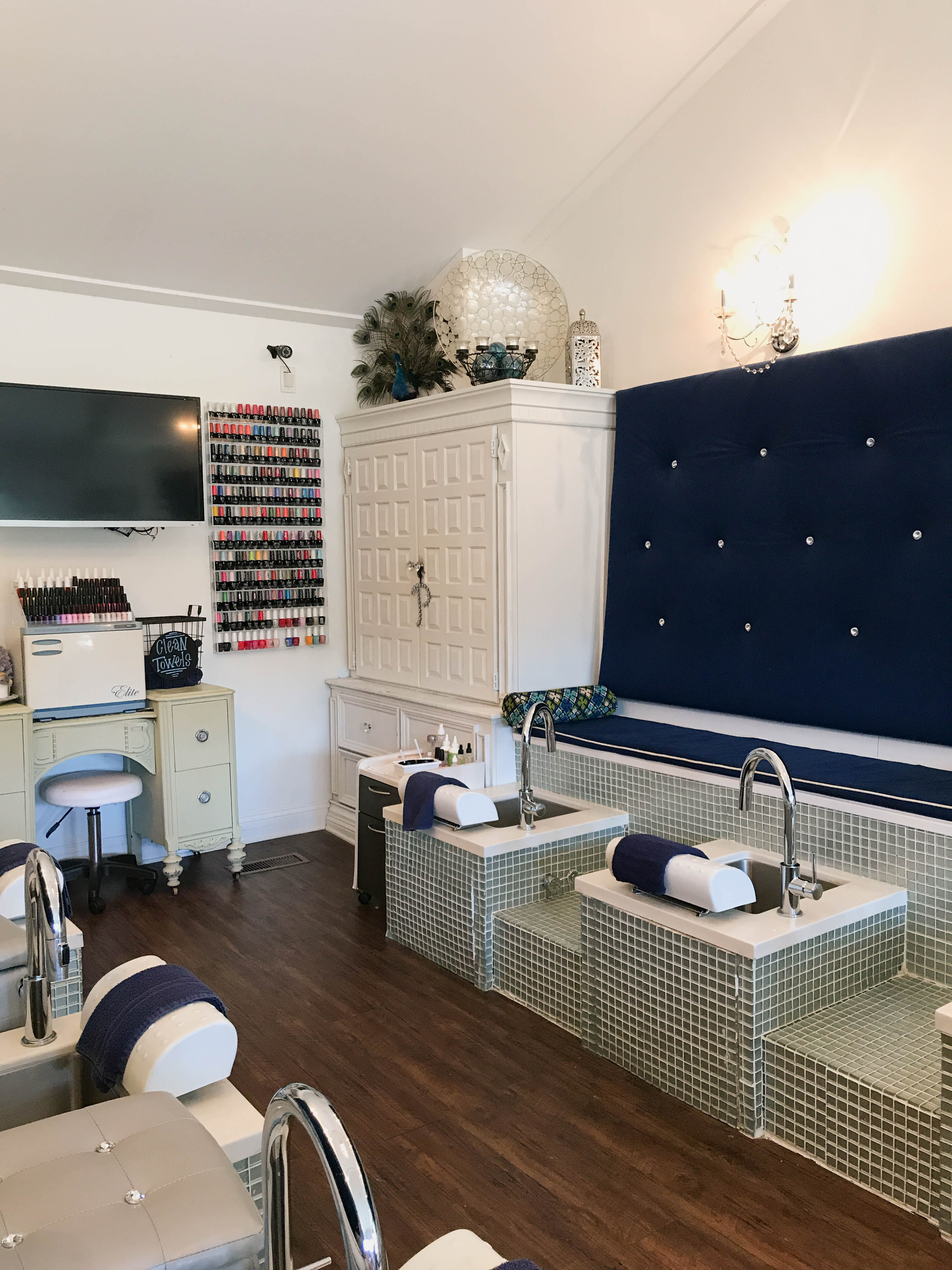 Did I mention how cute their setup is?! I mean how adorable is this! I love how different it is from everywhere else I've been. I love the boutique nail salon trend going on and I hope it sticks around, because I don't think I can go back. Another great thing about The Pampered Peacock is their prices. You were probably thinking that because they are a private salon, that they charge more, but you're wrong! Everything is so reasonable and affordable. They offer an array of services from mani & pedi combos, to paraffin dips to waxing, spray tans and more. For a list of services, prices and an opportunity to book, you can check out their website here! Don't forget to use code 'CARLYB' when you're there for your first service to receive 10% off!
Another plus of the salon – they use products sourced from local businesses! I absolutely love when people support their local small businesses, let alone when it's one supporting another. Not only do they use these products during their services, but they sell some in the salon as well. So if you end up getting as hooked as I did, you can purchase some to take home for yourself!
Now let's talk lash extensions!!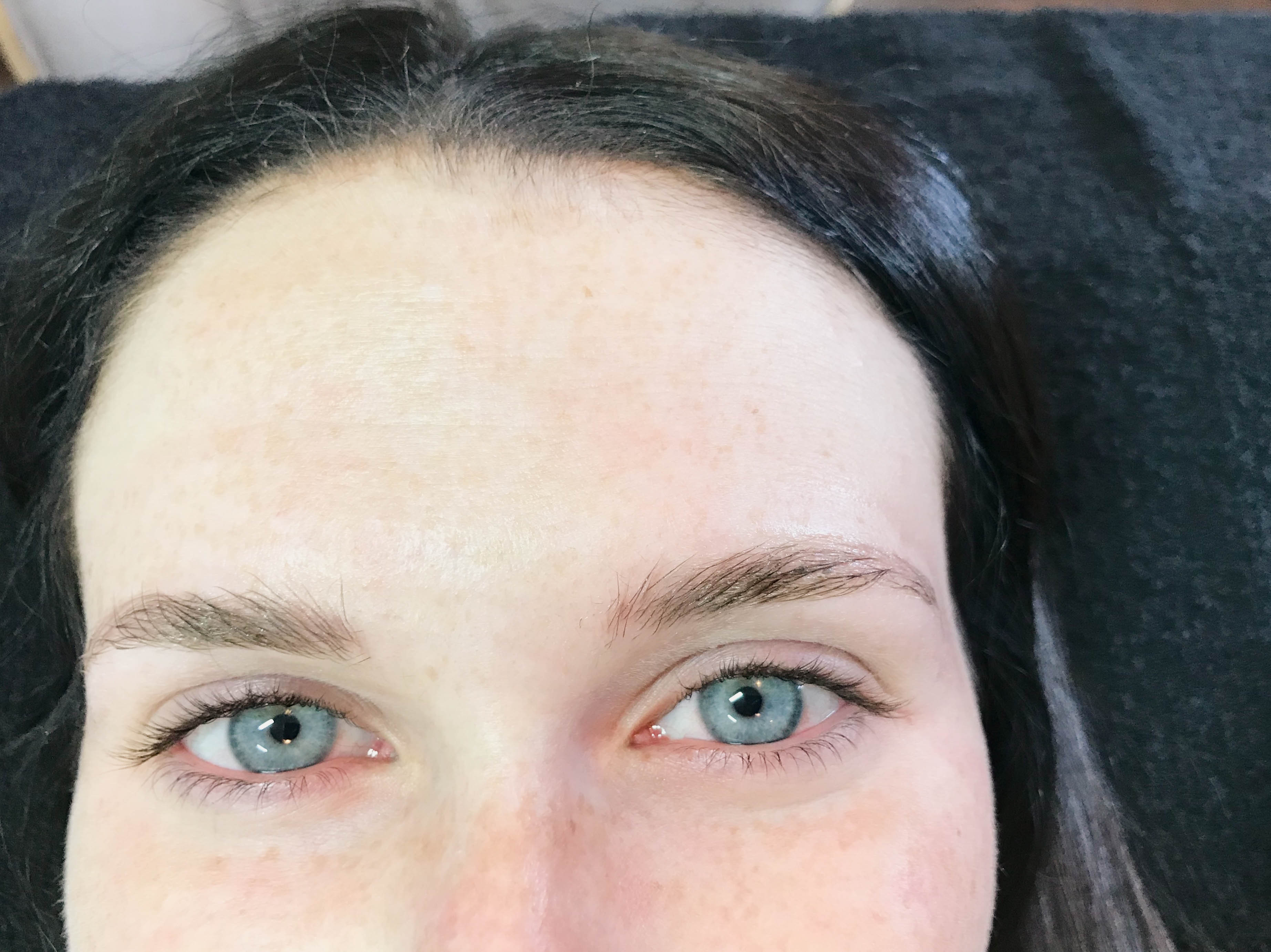 BEFORE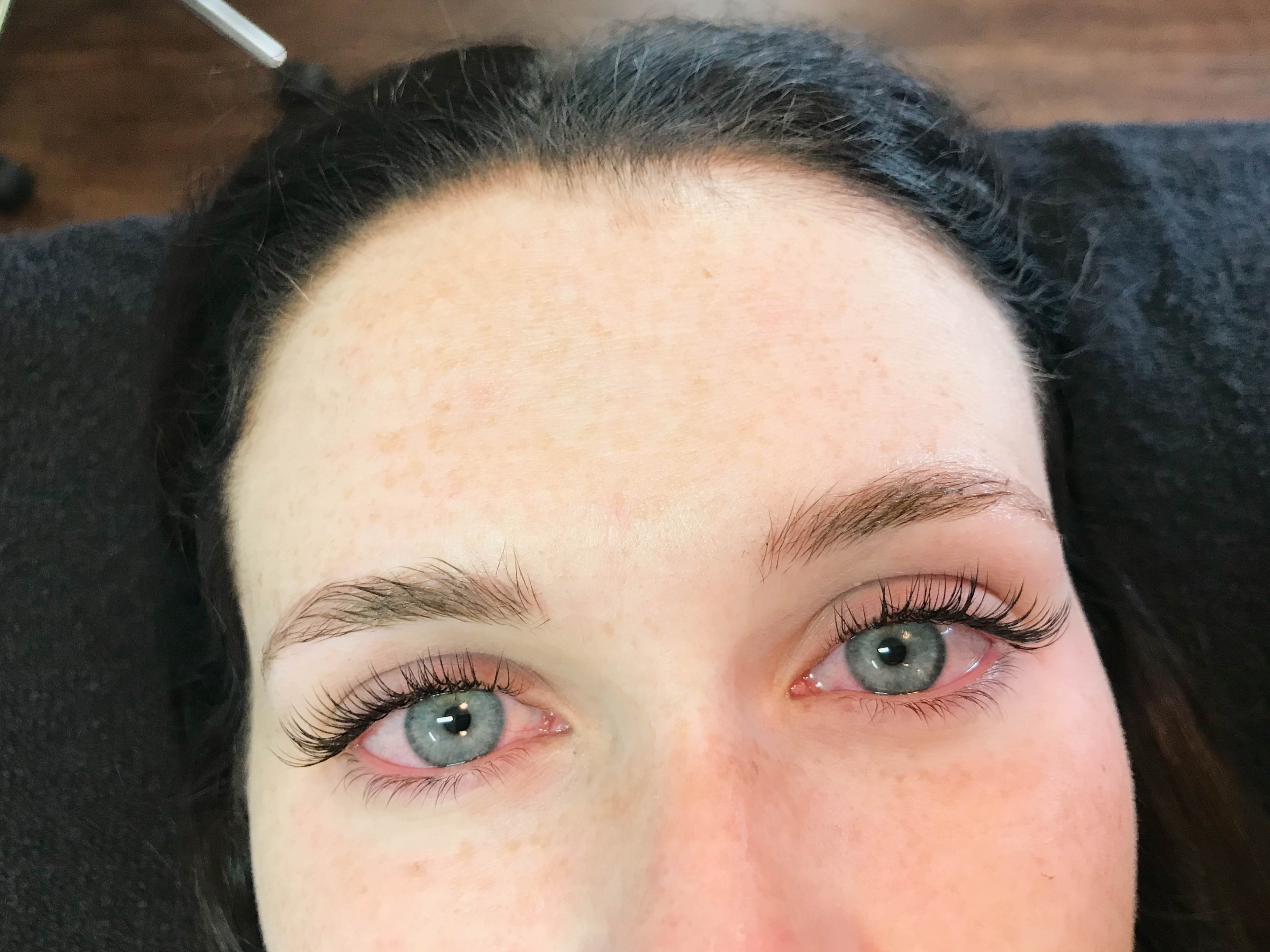 AFTER
I'm going to be honest – I was very hesitant to get lash extensions for a while. I'd seen horror stories, heard rumors and seen bad reactions, so I was like 'nope, not doing it!' But the more I talked to my bestie about it, she had nothing but good things to say. She had never had any issues and raved about them so much, so I took the plunge. Right now, I'm investing in a few things to make my daily routine quicker. I really want to be able to wake up and go on days when I just don't feel like putting makeup on, when I don't have time or when I'm at the pool or beach and it's just not necessary. For me, I've always been self conscious when it comes to leaving the house without makeup, let alone some eyebrow products and mascara. Not anymore! I did Rodan + Fields Lash Boost a while back and had amazing results. I saw my lashes get longer and fuller, but still I wasn't comfortable going out without mascara. It made my lashes look bomb with mascara though, but something was still missing. Little did I know that lash extensions were the answer I had been looking for all along. Ashley did my set of lashes and she was absolutely amazing! She answered all of my many questions, put up with my nervousness and even let me take a break when I needed to open my eyes. I'm not going to lie, this is not the most comfortable process for someone doing it for the first time. I have sensitive eyes, so please excuse the redness! Basically how it works is they tape down your bottom lashes to prevent getting glue on them or gluing your eye shut lol, and that is what is uncomfortable. I really didn't know what to expect when I was getting them done, but after a while I got used to it and now I know what to expect for the fill in! It doesn't hurt or sting or anything, it just sort of feels like when you leave your eyes open for too long and they start to get dry, that's it. It's definitely not anything that I wouldn't do again though! Now that I'm used to it, have seen the amazing results and I'm going out without makeup, I'm hooked! I don't say any of the above to be negative or scare you and turn you away, I'm just simply sharing my experience for those who haven't done this before but are considering. The redness went away quickly and I haven't had any issues whatsoever. I chose to go the more natural route because I didn't want to look like I had strip lashes on when I wasn't wearing any makeup, but there is still the perfect amount of fullness, volume and curl to not need mascara! A few things to note and remember if you're considering getting a set yourself: it's hight maintenance so you need to be prepared to take good care of them and make regular appointments for fills; you have to keep them clean, but they require specific care and products; no mascara! I was nervous about all of this at first but it's really not as hard as it sounds! Plus, your technician will go over everything with you. Ashley did a fantastic job and I already can't wait to go back and see her because I'm obsessed!
Lastly, I got a spray tan by Beth! I don't know about you, but being naked in front of anyone really just makes me awkward and uncomfortable, but I'm not trying to have tan lines lol! Beth made it so easy and I didn't feel awkward at all! I love the natural glow that I had after my tan. It's truly beautiful! This was my first spray tan in a long time but it turned out great! I made sure to shower, shave, exfoliate and moisturize that morning so my skin was perfectly prepped for the tan! It's been a week and I still have a subtle glow to me and I'm loving it!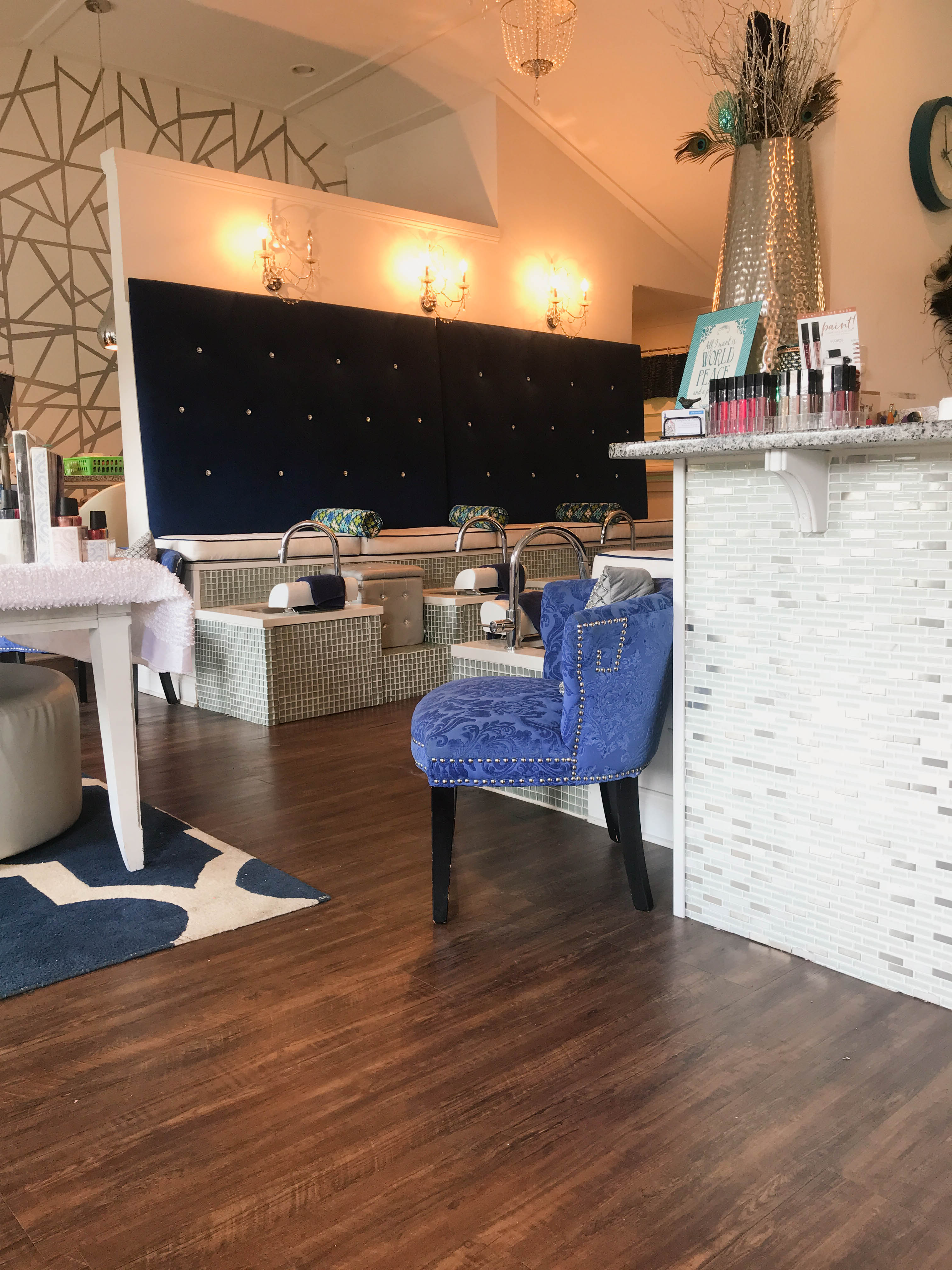 The Pampered Peacock – 10/10 recommend! I mean, seriously, the best nail salon that I've ever been to, and I'm not just saying that because they were so nice to invite me in for these services. Everyone was so kind, so professional and did an incredible job. I seriously can not say enough good things about this place and the wonderful women that work there. If you're in the area or want to make the trip, call the up for an appointment and use code 'CARLYB' for 10% off your first visit! If you're like me, I know you'll love this place just as much as I do. I mean, I've already set future appointments and I plan on brining my mom in with me! Maybe I'll see you there!
Head over to my YouTube channel for my vlog featuring The Pampered Peacock and talking more about my experience!