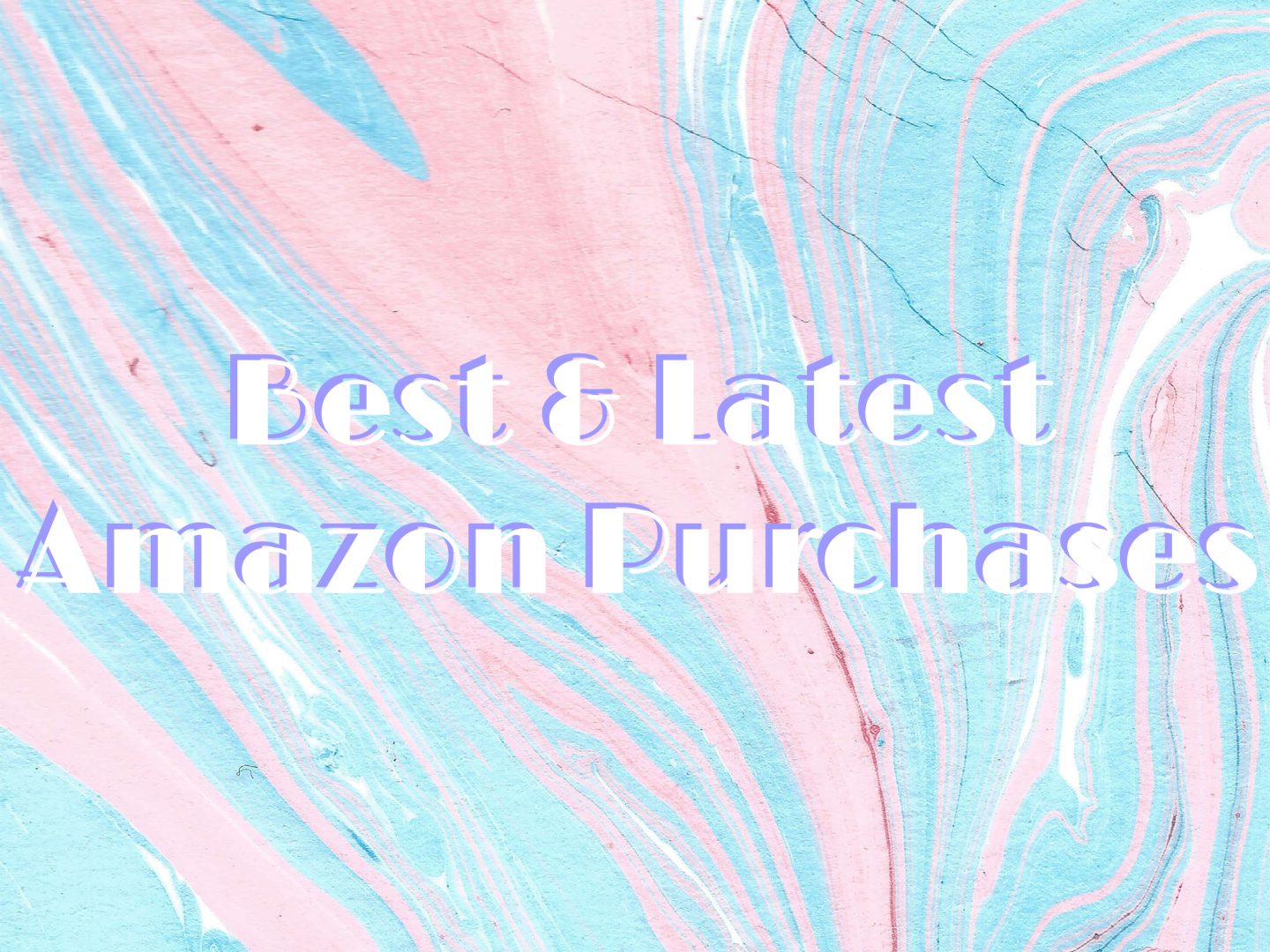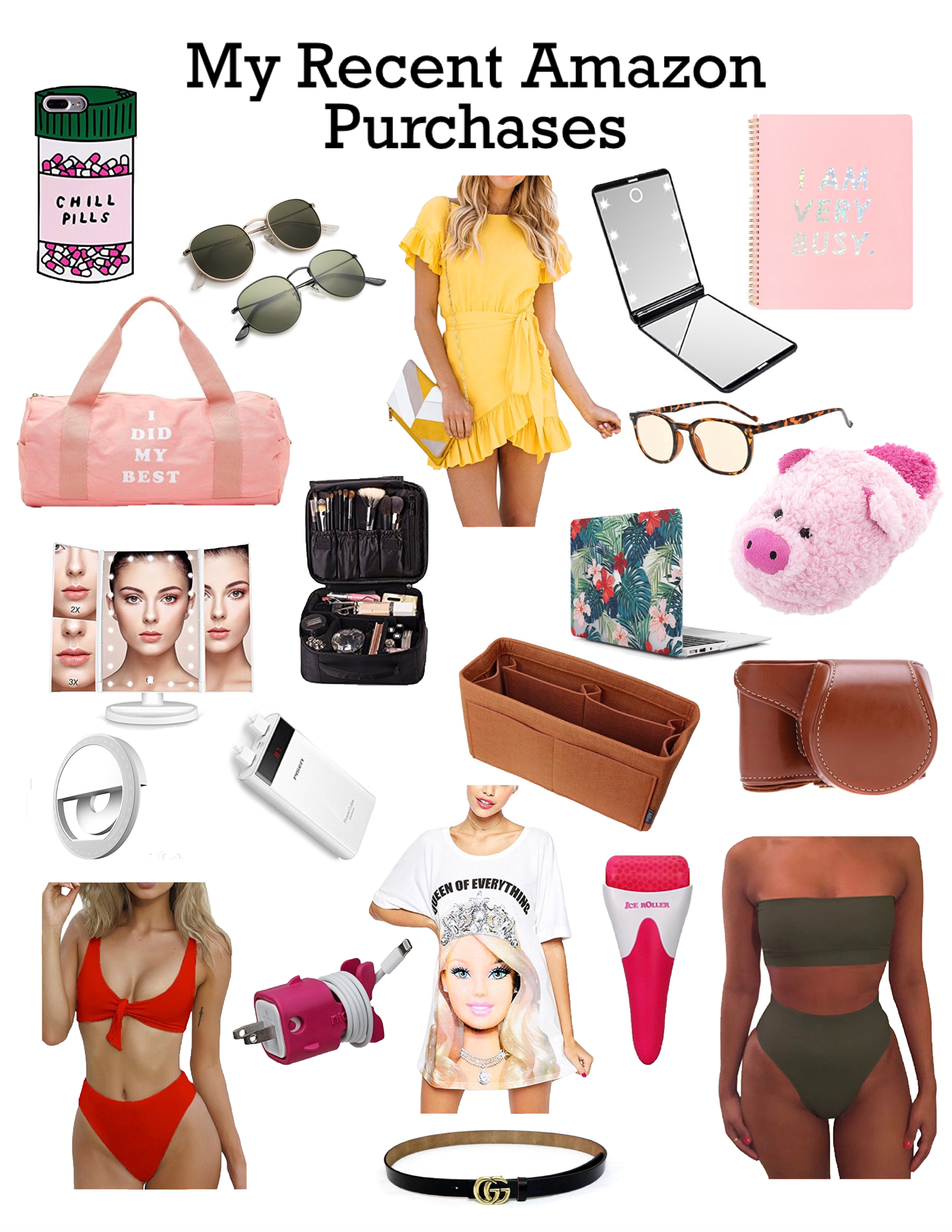 SHOP THE POST
If you know me, then you know I'm an Amazon-aholic (sorry, mom)! I feel like my followers are split into two different categories: use Amazon religiously like myself, and rarely use it at all. Well, I'm here to tell you that you need to jump on this Amazon train because you can get literally anything and everything on Amazon, so why wouldn't you? I've been an Amazon Prime member since my freshman year of college and I'm never returning to life without it. From restocking on my favorite drugstore beauty products to finding cute affordable clothes to designer dupes and electronics, I use Amazon for everything. Seriously though, ask my mom… Since I am constantly buying so many different things on Amazon, I figured that I would do a roundup featuring some of the best things that I've purchased Amazon! Some are as of late, and others I've had for months, but they deserve to be shared You can find all of the products links attached to the photos in the carousel above, but I'm going to explain them all down below!
FASHION
I've found so many cute clothes through Amazon! Surprisingly, you can find a lot of affordable alternatives to boutique items and brands like Free People, you just have to do a little digging! My fav right now is the yellow dress. I saw the exact same one in several different colors from several different boutiques, but I was not about to pay $60+ for it, so I waited and came across this one on Amazon in 4 different colors! For the bathing suits, I did some digging around and found a ton of really cutes ones. Some are Prime and others aren't, so just be aware when ordering if you need it for something soon. Also, don't forget to read the reviews and look at the customer photos, but that goes for any online purchase! Another thing that I love to look for/purchase from Amazon is designer dupes/knock-offs. While some people feel very strongly against purchasing items like this, I don't really see a problem with it… I mean, yes, it's a rip off of someone's hard work and design, but everyone's creation comes from inspiration, and while some are more deliberate than others, it's a form of flattery! To me, a lot of these expensive AF designer items that bloggers are posting about are trends that one day won't be a thing, so why spend hundreds or even thousands of dollars on an item that's not a staple for it to go out of style one day? Not me! I just continue to buy my designer dupes from Amazon! One of the best finds that I've had is the belt featured above. It's such great quality and looks so real! I also absolutely love purchasing sunglasses and jewelry from Amazon because half of the time they get ruined, break or lost and I'm not trying to lose a lot of money. Aside from stylish fashion items, I love finding fun stuff on Amazon! For instance, my new slippers and sleep shirt. I've also found a ton of cute pajama sets!
BEAUTY
In addition to replenishing my go-to drugstore products, I love ordering new, unique products and accessories. I've been introduced to many different beauty products just from scrolling around Amazon! You know the Amazon vanity mirrors that everyone has, but they cost a fortune? Yeah, well, I found an equally as great one for a fraction of the cost! I also recently discovered the best travel bag for makeup and beauty products. It's structured, comes with a handle, has places for your brushes and keeps everything organized while you travel. Another find that I love is the compact light up mirror. This is great for travel or just keeping in your purse! It was a life saver on my recent travels when I needed and unclose, lit mirror for my brows! And if you follow me on Instagram, then you know how much I love my ice roller. It's absolutely amazing, affordable and works wonders on my skin in the morning to reduce redness and swelling! And last, but not least, the most extra item ever that I am not ashamed to carry in my purse, my selfie ring light! Yup, you read that right. This thing has come in handy so many times for so many reasons – from work to a night out with my girls.
OTHER
Here come some of my favorite purchases! I absolutely love phone cases, and I don't know where this obsession came from lol, but I'm not about to pay the prices at phone stores or in the mall, so I order them for super cheap on Amazon! My recent fav is my 'chill pills' case, because let's be honest, we could all use one every now and then. This case is from ban.do, one of my favorite brands ever! They have the cutest stuff that is totally my style. The gym bag and notebook are also from ban.do on Amazon and they're almost too cute to use. In addition to my obsession with phone cases, I love laptop cases, but don't order them as often. My most recent purchase though is beautiful and perfect for the seasons. Again, I'm not paying the steep prices at places like Best Buy. Since I spend so much time on my computer and phone, my eyes were starting to bother my and get fuzzy, so I found out about 'computer glasses' and ordered myself a pair, and man do they make a difference! Another solid find on amazon that plays into my overuse of my electronics was this external battery pack. You can seriously charge your phone solely using this device, multiple times, full charges, for several days. My mom and I both have one and I'm convinced that she doesn't ever use an actual charger anymore! I always carry a charger and cord with me everywhere I go, so I order a cord keeper to keep my purse a little bit neater. These last two items have been absolute life savers for me! When I got my Louis Vuitton Neverfull GM for graduation, I carried it everywhere, everyday for over a year straight. But, my one complaint is that there are no pockets, organization or much structure if you have a laptop in it. So I discovered custom felt organizers and my life was changed! There are many different colors, style and sizes, so make sure to read the description to get the measurements and see which one is the best fit for your bag! I recently got another camera to bring with me everywhere so I don't have to lug my giant DSLR everywhere, plus I wanted to do more video, but it doesn't have a lens cap that fits without a certain attachment and the screen is on the outside. I knew I was going to carry it everywhere but I didn't want to ruin it, so I found this awesome slim faux leather case on Amazon and it's perfect for throwing in my bag!
What are your favorite Amazon purchases? Drop a comment below so I can do some more shopping!