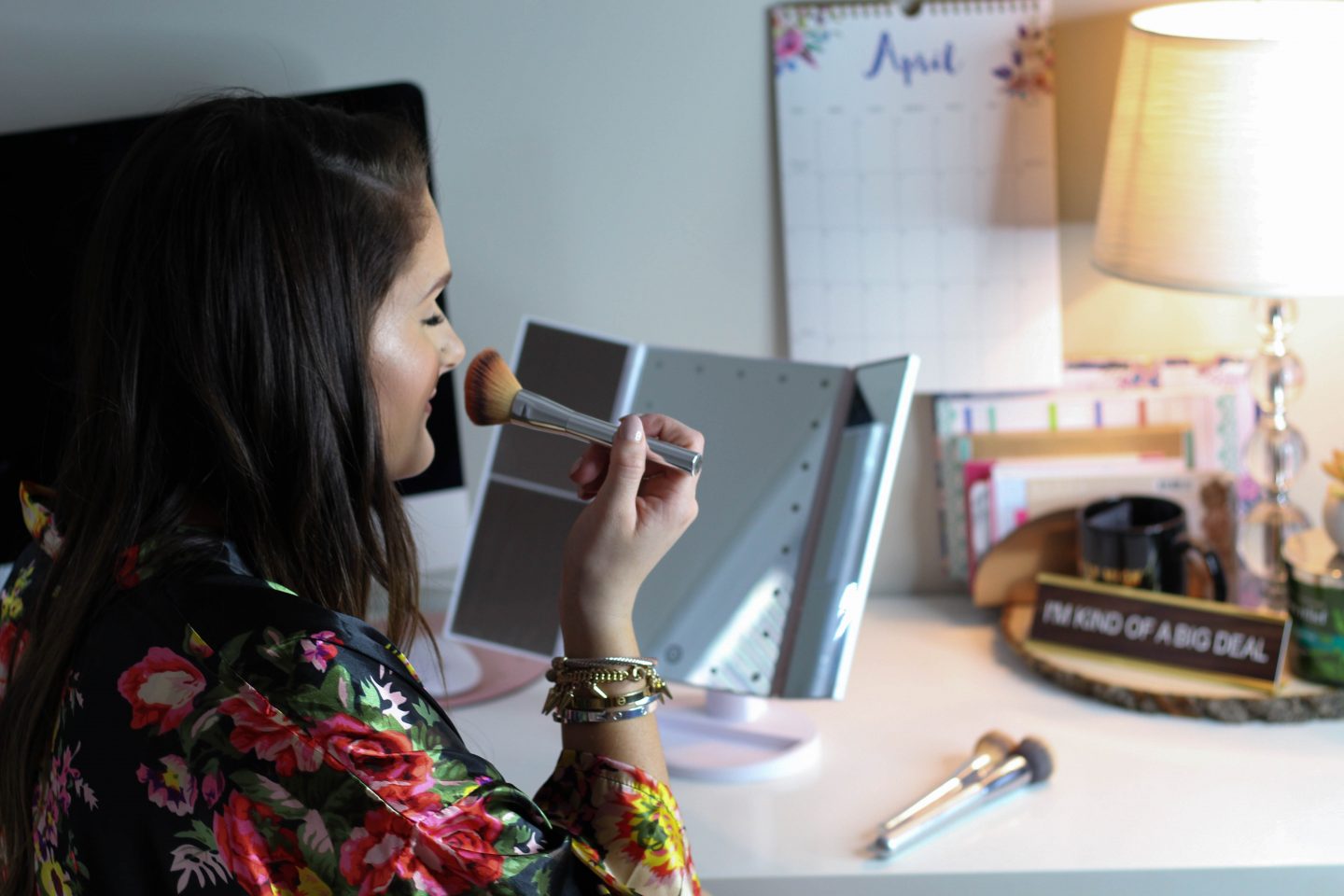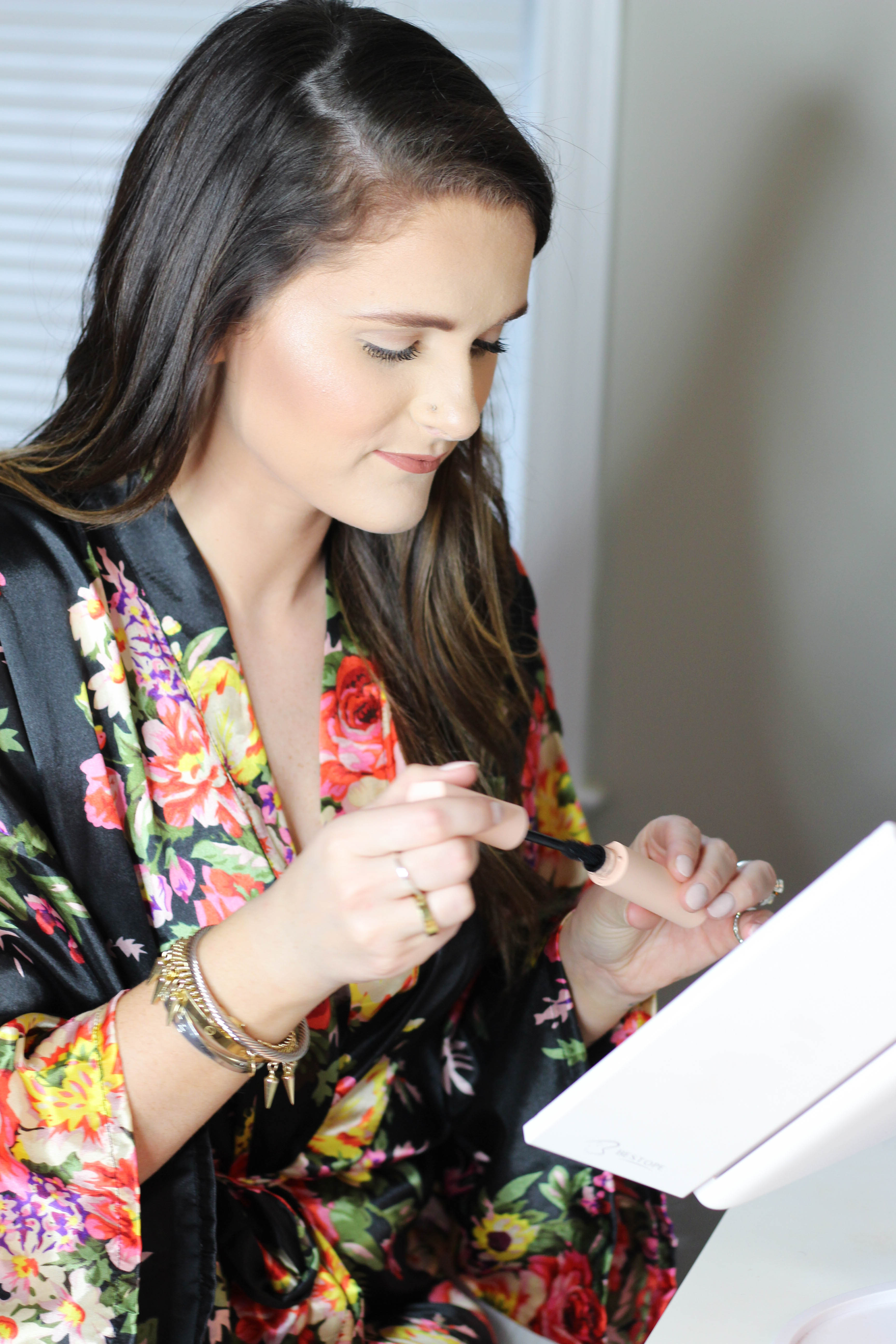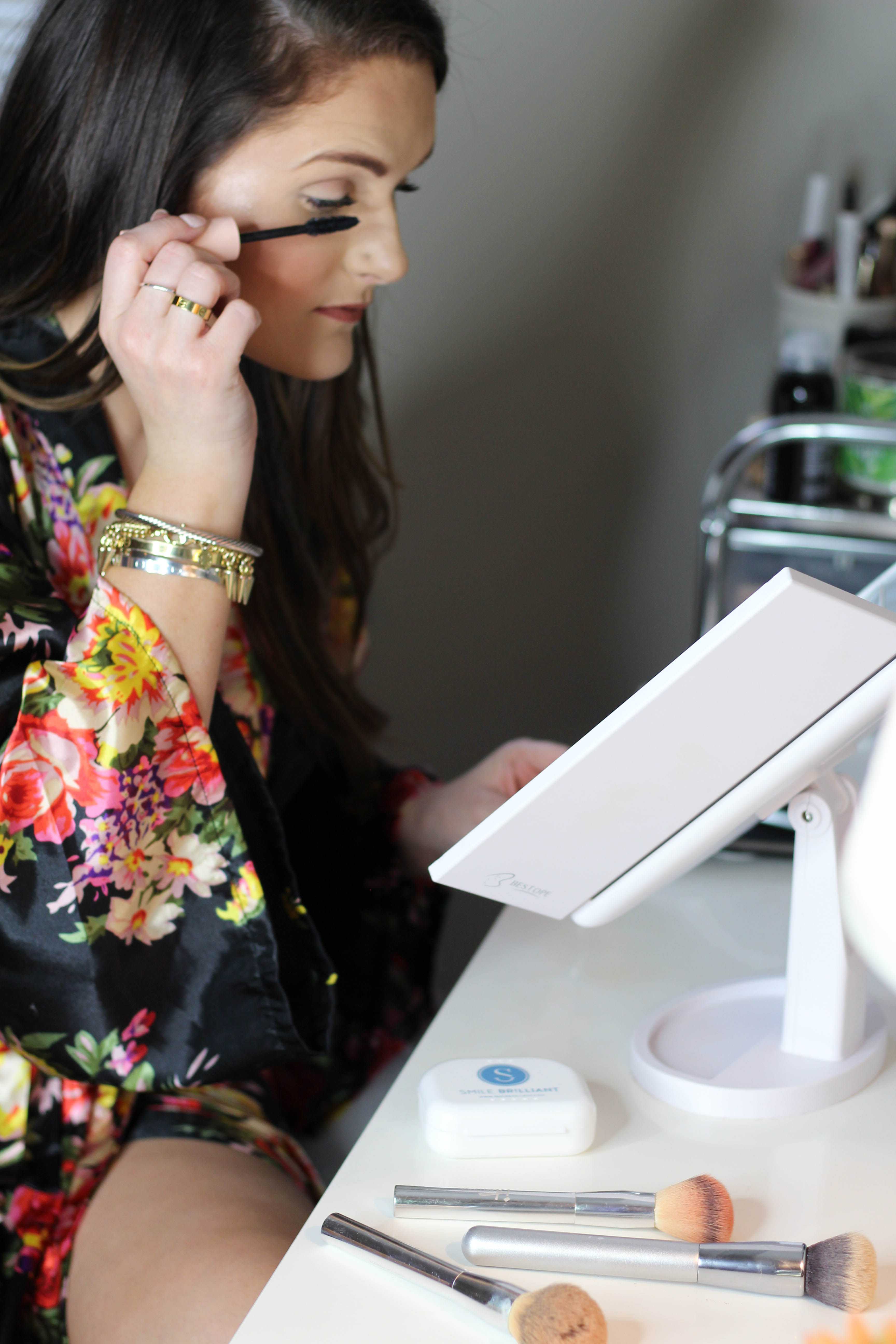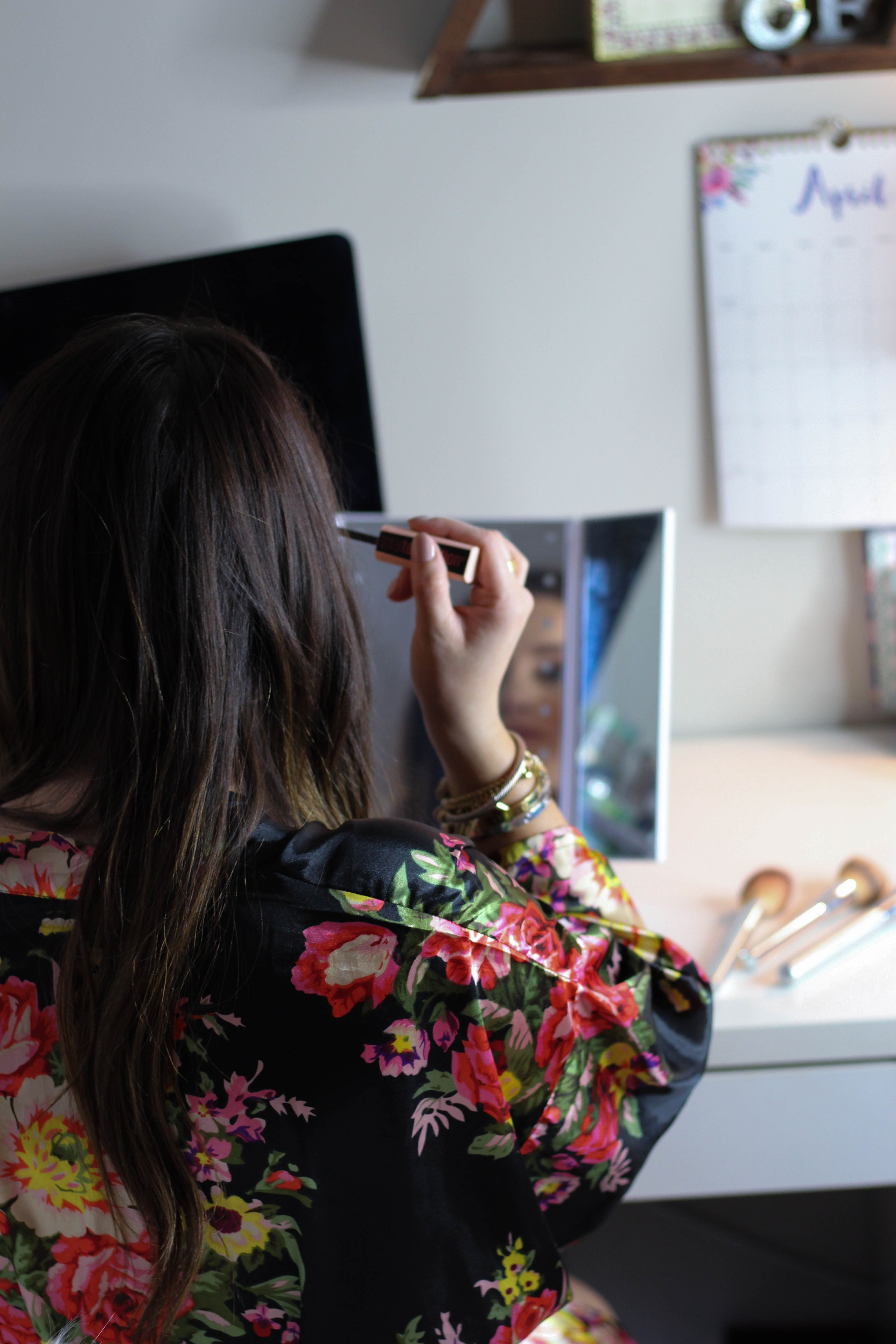 It's taken me a while to perfect my flawless, full-coverage foundation look, so now it's time to share! If you don't like to wear a lot of makeup, then these tips aren't for you. If you're willing to try wearing more makeup, or you like a full-coverage look for special events, then keep on reading! For me, I love this full-coverage, yet 'natural' look. I like the look of having my skin looking even and airbrushed. Don't get me wrong, this takes time and practice to get it right, but now that I've got it down, I can crank it out pretty quickly in the mornings before work, if I want to (lol). Of I want to go for a look with a more dewy, truly natural finish, then I use a different set of products. If you want to see my tutorial for that look, leave a comment below! So, now that I've gone on my rant, let's jump right into my tips and tricks for a flawless, full-coverage finish!
STEP 1: SKINCARE
The key to pulling off a flawless finish is a perfect, personalized skincare routine in the morning. It's taken me a while to find out what works for me and also plays well with the makeup I'm wearing. I'm going to be writing an updated post soon talking all about my morning skincare routine and the products that I use, but for now, you can find them below! If you wake up with puffiness or redness, try using an ice roller before washing your face when you wake up. I like to start by washing my face with a gentle cleanser in the morning so I don't irritate my skin. I follow that by spritzing a toner all over and then using a small amount of facial oil all over. This was a huge game changer for me, which I will talk more about in my skincare post. But if you have oil skin, don't be afraid to use a facial oil. It's what completely transformed my skin and I no long have oil skin throughout the day! The last two steps of my skincare routine are to apply a lightweight, oil free moisturizer and then finish it off with some calming facial spray.
THE PRODUCTS

STEP 2: PRIMING THE SKIN
Some people will say that your skincare products work fine as a primer, but I think differently. If you're going for a more natural, less-makeup looks, it might do the trick, but not for this look. After I've applied my skincare, I wait a few minutes for it to really sink into my skin. Once I feel as though my skincare has absorbed, it's time to prime. I start by spritzing my face with a priming spray. I often go between Smashbox Primer Water, NYX First Base and MAC Prep + Prime. Once I spray my face, I wait a few seconds and then go in with my primer. Make sure your hands are clean! For me, I love a good pore-minimizing primer, but I don't want one that is too drying, so I like to make sure that mine have some hydration to them. These are key because they even out texture, which is the perfect base for a flawless finish. After applying my primer all over (don't forget to go down your neck!), I spritz a few more sprays of the priming spray. Let it all soak in before moving on!
THE PRODUCTS

STEP 3: FOUNDATION & CONCEALER
I've gone through a ton of foundations to find the perfect fit for me. There are definitely some that I love more than others, but I've truly only had a bad experience with a few. This step is crucial, so it's v important to make sure that you're thorough, quick and pay close attention to your foundation application! I typically apply my foundation with a beauty blender of some sort (Original Beauty Blender, Morphe, Real Techniques, etc.), but a flawless foundation brush works well too (IT Cosmetics, Morphe Y6). I used to start my applying a few drops of foundation on the back of my hand, but I ended up using way too much and found that I was wasting product. The foundation that I am currently dying over and using every single day is the NARS Natural Radiant Longwear Foundation. This foundation is a little more expensive that some drugstore options, but it 100% worth it. I had this foundation tested on me by a NARS specialist. I was pleasantly surprised. One thing that I love about this foundation is that it can be medium- or full-coverage. If you apply it sheer enough, then your freckles will even peep through a little! But for the sake of this post, we're going all the way! I start by taking a damp beauty blender with four drops of foundation. I apply the drops directly to the sponge on the large rounded end. I then light dab the product into sections on my face – one dab on each cheek (do this first so that you get the most product on your cheeks), twice on my forehead and once on my chin. This is how I evenly disperse my foundation! Then I take that same rounded end of the sponge and start to blend in the foundation in each area, starting with the cheeks first and going in that same order. I make sure to get my eyelids, temples and down my jawline. After all of that foundation has been blended in, I use two more drops of foundation on the beauty blender to make sure that my jawline and neck has been fully blended, as well as going into the spots on my face that may need some more coverage. I then go in with Tarte Shape Tape. I use a very small amount and make tiny v shapes in the inner corners of my eyes (this stuff goes a long way); I used to complete the full triangle under my eyes with this, but a little bit goes far and this stuff is thick! Also, using a little makes the tube last even longer! I then go in with a more lightweight concealer like Maybelline Age Rewind, Makeup Revolution or NARS. I place this concealer on the chin, bridge of my nose, Cupid's bow, forehead and finish out the triangle under my eyes. Once all of my concealer is on my face and I'm looking like I'm about to enter a tribal ceremony, I go in with the pointed end of my damp beauty sponge and blend to the gods!
THE PRODUCTS

STEP 4: SETTING THE FACE
This is the make-it-or-break-it step in the process. I've gone through so many different products and tried so many different techniques to get this right. I call it 'double baking.' After you've put on all of your wet products (creams and liquids), you're going to want to set the face! Very important tip to remember: do not go back onto your face with wet products after you've set your whole face with powder (except for setting sprays, of course). Unless you've found a way to do this without having your perfectly placed product being picked up, then I wouldn't recommend it at all! So now is the time to throw on some cream blush and liquid highlight if you're into that kind of thing. Start by taking the same damp beauty blender that you've been using and dipping into your favorite setting powder with the pointed end. For my first powder, I use the Maybelline Fit Me Loose Powder (I found that this is a great dupe for Laura Mercier). I press my beauty blender into the powder so I get a good amount of product on the sponge (make sure the product is going long ways down the sponge, not just like on the point). I then take that sponge with the powder and press it right under my eyes where I applied my concealer. Make sure you press the powder in from the inner corner, all the way out! This is a lighter, more neutral powder, so you won't see much of it when you're baking. I let that sit for a few seconds and then I go in with some of the Makeup Revolution Luxury Baking Powder. I pour some out into the cap of the other powder and apply it heavily, the same way and directly over the other powder. I know what you're thinking, 'this is so extra; I'm going to be so cakey!' I promise that you won't! This is when you want to have a lot of powder right under your eyes, like so much that there is excess coming off. While you wait for this to 'bake,' you're going to dip into the powder with a fluffy powder brush and just light apply the powder all over your face to set the rest of the foundation; don't forget your neck! Once you've powdered your whole face, take that same brush and lightly dust away the excess powder under your eyes and disperse it onto your face. The key here is to not leaving the powder baking for too long. That's how you get cakey! If that thick amount of powder gets too settled, it'll be hard to brush away and the banana powder will leave some color behind. I then take that same face brush and swirl it around into a pressed powder and then press that powder all over my face but not too much under the eyes. This makes the whole face one color, but still leave the area under the eyes bright. Then the last step is to spray your entire face with a setting spray. If you're at this step and you look at your face and you're like, 'this looks cakey; there are places where it's too powdery' and what not, then I promise you this next step will be a game changer. The other day I was doing my makeup and thought the same thing, but then I took the NYX Matte Finishing Spray and doused my face in it! But the trick here is to then take that beauty sponge and press the setting spray into the makeup. This blends it all together, taking away the powdery look and melting all of the different products into a flawless look! Another favorite setting spray of mine is the Morphe one because it's a continuous mist! Before spraying any spray directly on your face, spray it away from you to make sure the pump is properly working and doesn't just blow up in your face! Once you've finished setting your face, continue applying your other powders (contour, bronzer, blush, highlight, etc.) and after each step in your routine, apply a thing layer of setting spray and dab it in to make everything melt together and look more natural!

THE PRODUCTS

I know that was a pretty lengthly post… but I promise that this is all very useful, valuable information if you're looking to rock a full-coverage look without creasing that is seamlessly blended together! Keep an eye out for the YouTube video coming to my channel soon where I will be showing you all how I do my makeup everyday while including the techniques mentioned above!! If you have any tips, tricks or favorite products that you use for your own flawless full-coverage look, leave them in a comment below; I would love to check them out!