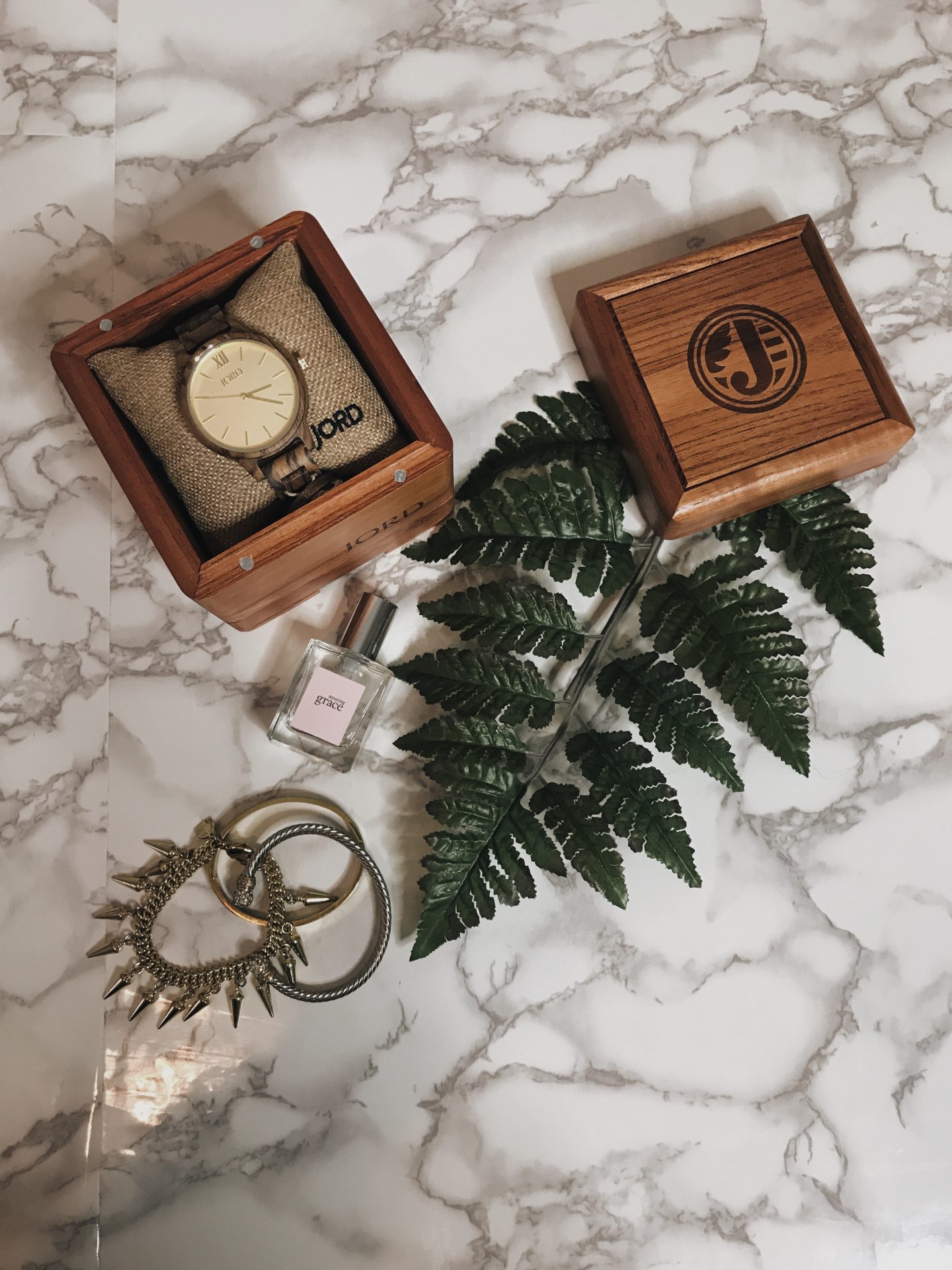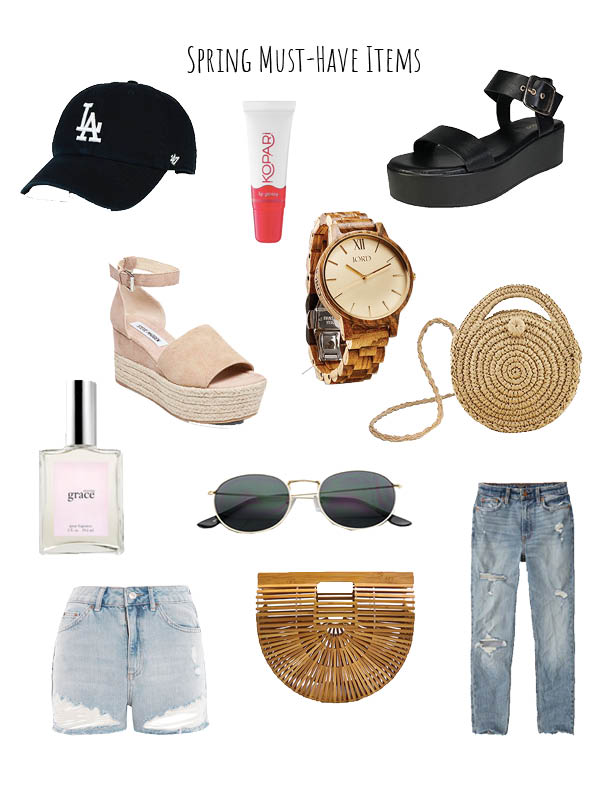 SHOP THE POST
It's officially the first day of spring!!! Although it surely doesn't feel like it here in Atlanta (gloomy weather, storms and cold weather coming back tomorrow – ugh), but the sun seems to shine through every once in a while so I'm gaining hope! In honor of the seasons changing, I've rounded up a few of my favorite spring must-haves to get your wardrobe ready. As temperatures warm up, I like to keep it as simple as possible. There are few worse feelings than being hot, sweaty and weighed down with accessories and clothing. Of course, there are definitely occasions where more is always called for, but when it comes to an easy, everyday look, I'm most likely rocking some of the items above.
There are a few trends this spring that you're going to see everywhere, such as the espadrille shoe and straw bag trend. This is huge right now and perfect for spring and summer! I love that both of these items are fit for these two seasons, and can even take you into fall, if done right. The most popular pair of espadrille wedges are the Marc Fisher ones from Nordstrom. I don't know about y'all, but I'm living on a budget and I am not about to pay $150+ for one pair of shoes. If you're looking to grab a dupe for these then look no further. We can always count on Steve Madden to provide us with the perfect pair of dupes to any hot designer trend. In addition to the several pairs from Steve Madden, Target also has us covered this season. Whether it's in a wedge form, platform or wrap sandal, espadrilles are all the rage. Another shoe trend for the season is platform! Platforms are coming back and I love it. The black pair shown above are one of my newest pairs that I was literally looking for forever. I recently purchased them from a boutique but you can also buy them from Amazon! They're so comfortable, easy to style and go with literally anything. Plus, they come in a few different colors. I promise that once you start wearing platforms, you'll fall in love. I have platform sneakers, sandals, oxfords and more – they're addicting and so stylish!
One accessory that I can't live without is a watch. No matter what I'm doing or where I'm going, I'm always wearing a watch. Although I'm often wearing a sport watch that syncs with my phone, I figured it was time to start wearing one that I could easily dress up or dress down. I've recently incorporated a wooden watch from Jord Watches into my wardrobe and I'm obsessed! I love that it pairs well with my casual, weekend looks, but it also stands out when I need to dress it up for work. I've owned several watches, but this is my first wooden watch and I absolutely love it! When you're styling an outfit, you want to make sure that you're incorporating accessories that match your style, amp up the outfit and grab people's attention. Another amazing attribute about this watch is that it's so unique. You don't see many people sporting wooden watches, so when someone sees you wearing it, it's almost guaranteed to catch their eye. For my watch, I chose the Zebrawood & Champagne Frankie series ($189). I love the oversized face (I have small wrists lol) and the smaller band! I chose to go with a neutral face so that it would go well with any outfit that I put together! Another trend that is so hot right now is the look of wearing an oversized watch, it goes hand in hand with the 'boyfriend' trend you're seeing across the board. Plus, if you've got a boyfriend, fiancé or husband, they could probably sport it too! But let's be honest… they just need to get their own! And last but not least, you can customize these watches with a personalized engraving, making it the perfect gift for a special someone in your life! *Stay tuned for a giveaway at the end of this post!*
Another trend I'm loving for the season is the ball cap. For me, it's the perfect way to make any outfit a little more casual. Plus, baseball season is just around the corner, so it's time to get creative with your game day outfits. Throw on a t-shirt dress and a ball cap with some sandals or sneakers and you've instantly got a super cute, but casual look for the game! To keep in line with the accessories, probably the best of them all – sunnies. I am a sunglasses hoarder. It's so bad. I have a display in my room and then so many more stuffed in random places…oops! The trends for sunglasses this season are a little more edgy. Of course, your usual round frames are in, but people are loving the irregular shapes and small frames that incorporate fun colors! I myself have purchased a pair of cat eye sunnies and they are so fun! Sunglasses can really put a spin on any look. For the last accessory trend of the season, we're talking bags. One major trend that is taking over the 'gram is straw/wooden/wicker bags. Most boutiques are really upping the prices on these bags, but it's completely unnecessary because you can get them for such a great price off of Amazon (duh!). My favorite of the above has to be the adorable little cross body with the closure! Circle bags are also in and I think I may just need this one too…
When it comes to an easy spring look, denim is going to be your best friend. It's an easy way to dress down a more casual top/pair of shoes without being too overdressed, but you can also dress denim up and that is why I loveee it! For me, I have a go-to pair of distressed denim shorts from TopShop that fit me perfectly. I don't like shorts too tight or too short, and these are the ultimate pair and worth every penny. When it comes to jeans, I like to stay on the affordable side, but never settle for a cheaply made pair that will just fall apart. That's why I almost always go to Abercrombie. I linked a pair above that are perfect for the season – light wash, raw hem, distressed and high rise – what more could you ask for! After you've finished putting together your look, moisturize your lips with my favorite lip oil from Kopari, spritz on a fresh scent and add some dainty jewelry for a simple look.
I don't know if y'all can tell, but I am SO excited for the warmer weather to be here to stay. Don't get me wrong, I hate being sweaty and gross, but I also hate freezing, but I'm ready for brunches outside, sitting by the pool and not having to wear a winter coat at all times. I can't wait to start styling my new spring wardrobe pieces! Comment down below and let me know some of your spring must-haves!
GIVEAWAY
Click this link to enter the giveaway! One lucky winner will win a $100 voucher towards a watch of their choice. The giveaway ends on April 22nd, 2018 at 11:59pm. Once the giveaway ends, everyone who entered will be provided with a 10% off code for a future purchase! The wine of the giveaway has until May 6th, 2018 to use their voucher.