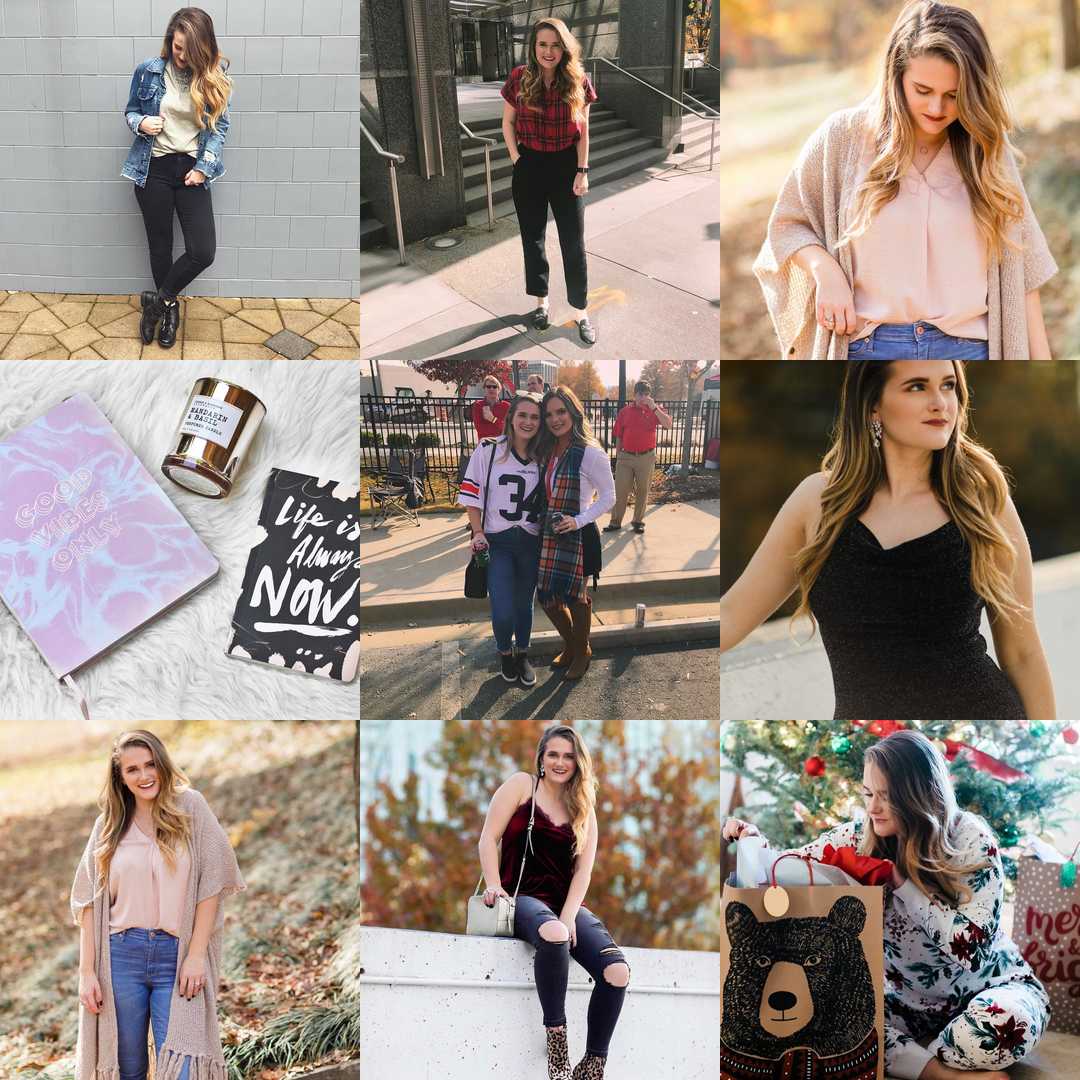 Wow…What a year! 2017 was definitely one for the books. It was a year of ups, downs, firsts and lasts, but I wouldn't have it any other way. I started 2017 as a recent college graduate with no job in sight. I spent the first few days at the Passion Conference and then I jetted off to the West Coast for a two-week road trip with my best friend. I like to think that this trip made such an impact on me and set the sights pretty high for the rest of the year. We went through a lot on that trip, good and bad, but it was some of my best memories that I will never forget. Once I returned home I felt lost. I was starting my online graduate certification program but I didn't have a job. I had applied to so many places, all over the country, but I couldn't secure anything. Fast forward a few months, I finally got a job working in PR. I had been in a restaurant for a while to make ends meet, but it wasn't what I wanted to do and it started to take a toll on me. After starting my job in PR, I quickly realized that while the money and flexibility were amazing, I wasn't pursuing my dreams. That's when I decided to relaunch my blog.
We shortened the name, the website got a makeover and I began researching and taking courses to figure out how to really do this. I was excited and nervous all at the same time. Once I started getting the hang of things, I realized that I needed to change careers because I didn't want to be somewhere that I wasn't happy. After talking to my parents and my boyfriend, they all encouraged me to go look for another job, but I quickly shut it down because I didn't want to have to go through the process again because of the toll it had previously taken on me. Just when I thought I was going to be stuck and unhappy, God showed up in one of the biggest ways for me. The magazine that I had previously interned with reached out to me saying they had an open position for me in the Atlanta office. This was huge. It was the job I had applied to first and the one that I wanted the most, but they just didn't have anything for me. I went through the interview process and a week or so later, I was hired!
After taking the pay cut and switching industries, I got busy and consumed with my job (which is not anything to complain about, btw) and the blog took the back seat. My graduate classes were taking up a lot of time, I was working long hours and even having to bring my work home with me, I wasn't taking enough time for myself, the blog or the people around me. In the fall, I sat down with myself and came up with a plan. I knew what I wanted and I thought about the steps I had to take to get there. Now, here we are. The end of an amazing year that tested me to my limits, but it only means that there is a great year ahead of me. But what's next? Before I go into 2018, I have to thank those who have made all of this possible. First, my parents and family. My family has been so incredibly supportive of every decision that I have made this year. From helping me out when I couldn't find a job to supporting my decision to change careers to putting in the hours, time and money into my passion (this blog), to everything in between. I couldn't have done any of this without them! Next, my friends. They're the people who have supported me from day one; they're the ones who take my OOTDs every time we go anywhere; they're the ones who shamelessly promote me to their friends and cheer me on consistently. To all my girls (and guys) out there who've supported me this year, thank you! Next, my photographer. Minela, I literally couldn't do what I do without you! Your work is incredible and you somehow manage to make me look pretty decent in just about everything we shoot. I can't thank you enough for helping me take Beautiful On A Budget to the next level, and for being a great friend. Last, but certainly not least, my boyfriend. Perry, thank you for putting up with all the talk about clothes that you could care less about, letting me walk into every store I see, taking a million and one photos, and not getting too annoyed with the amount of time that I spend on my phone. You're the MVP. And, of course, all of you guys! I can't thank you all enough for the love and support that you have continuously shown me. You're the reason I am able to do what I do. I can't wait to see this platform and all the wonderful people who follow it grow in 2018. Now, onto what's to come!
2018 is going to be my year. I said that about 2017, and probably about the years before that, but it is and I'm excited about it. Every year continues to outshine the last, and that makes me so happy. There are some amazing things in store for this year, and I don't even have everything planned yet! This year we're finally getting that .com domain! You may not have even noticed, but right now we're a .co domain, but this is an exciting step! I'm also completely rebranding: my logo, my signature, my email, my website banner and my business cards. All thanks to my high school bestie who has been such a HUGE supporter of mine and this blog from the start. I'm also going to be consistent on my YouTube channel. I love makeup, skincare and haircare products, but I stopped sharing them as much on the blog because I just didn't have time to do it in a way that was best for you all to follow along. I'm going to start off with one video a month, but if I'm able to do more, I'm going to upload as many as I can! I'm also going to be working with my amazing photographer to shoot more lookbooks and curated content surrounding major holidays, events and seasons. I'll also be traveling more this year, and I can't wait to get creative and share it with you all. Lastly, Instagram. I'm going to post more to my stories of things in my daily life, polls, sale alerts and anything else that you want, as well as more giveaways! Speaking of giveaways…I've got some pretty amazing giveaways already planned with some awesome people. I've also started a 'giveaway basket' that is quickly filling up with amazing items to give away to you guys! On top of what is to come this year, I'm going to continue with three blog posts a week and consistency on my Instagram in hopes of giving you all the content you want and connecting with as many of you as I can!
2018 is here and I'm ready to take it by storm!
Comment down below what you want to see from me in 2018 for a chance to win a Starbucks gift card! At then end of this week, I will reach out to one random follower who has commented below.
With love and hopes of inspiration,
Carly