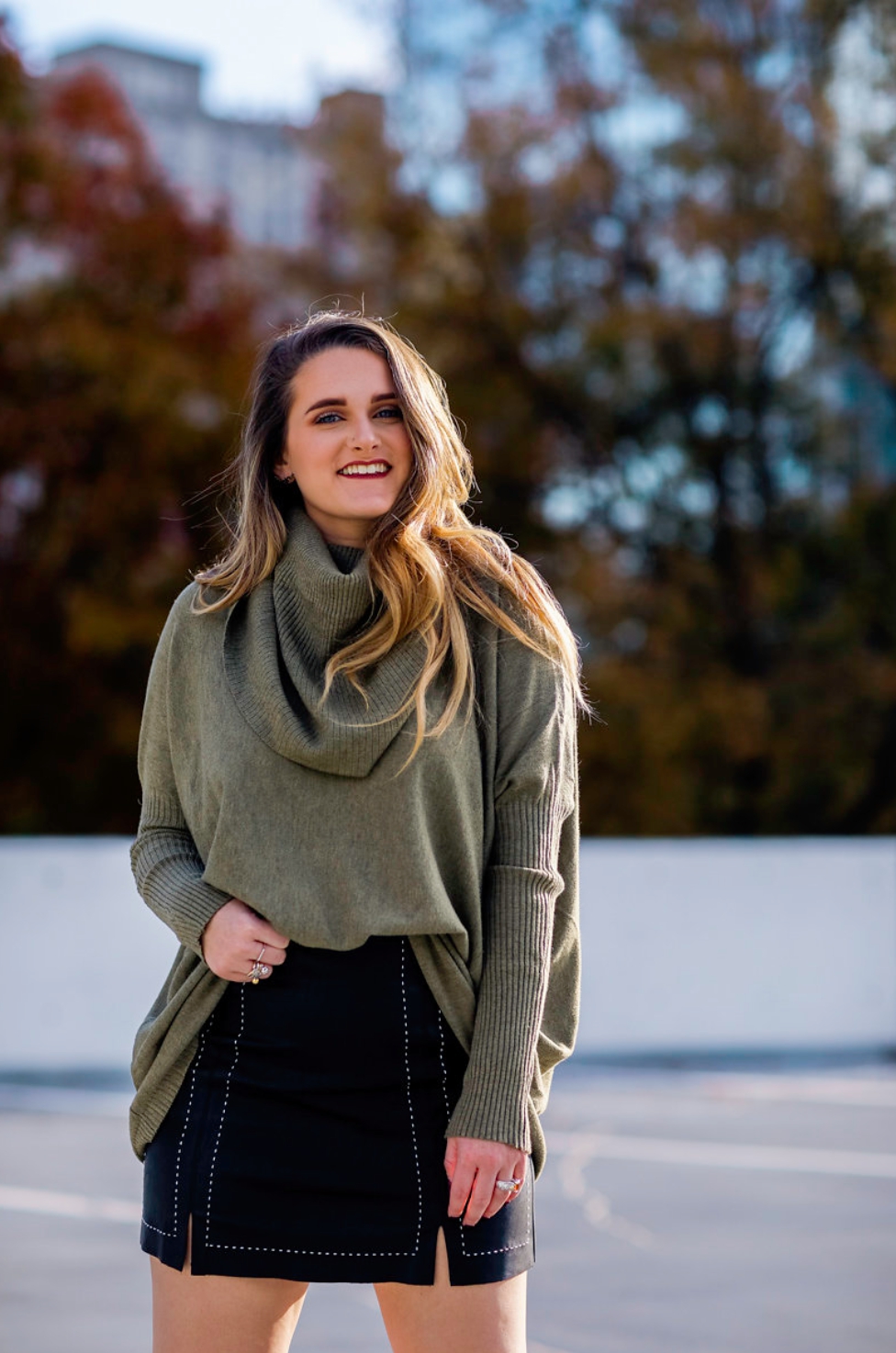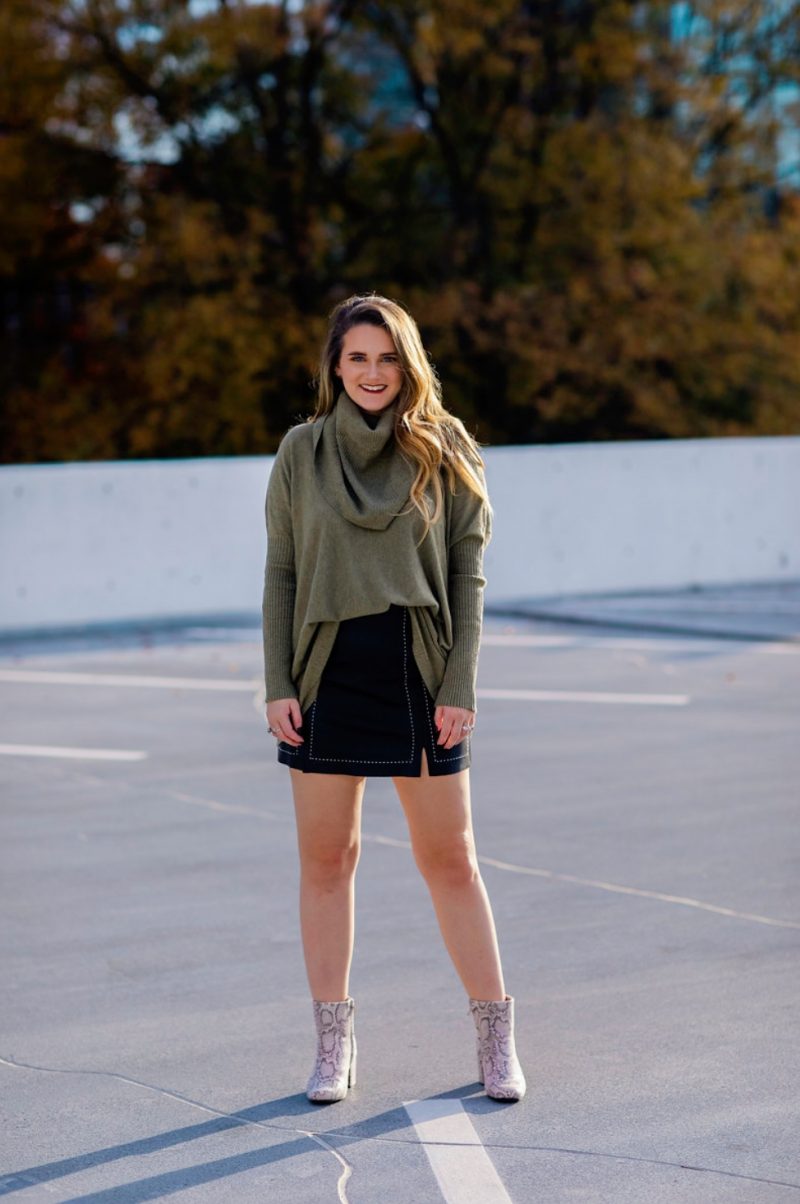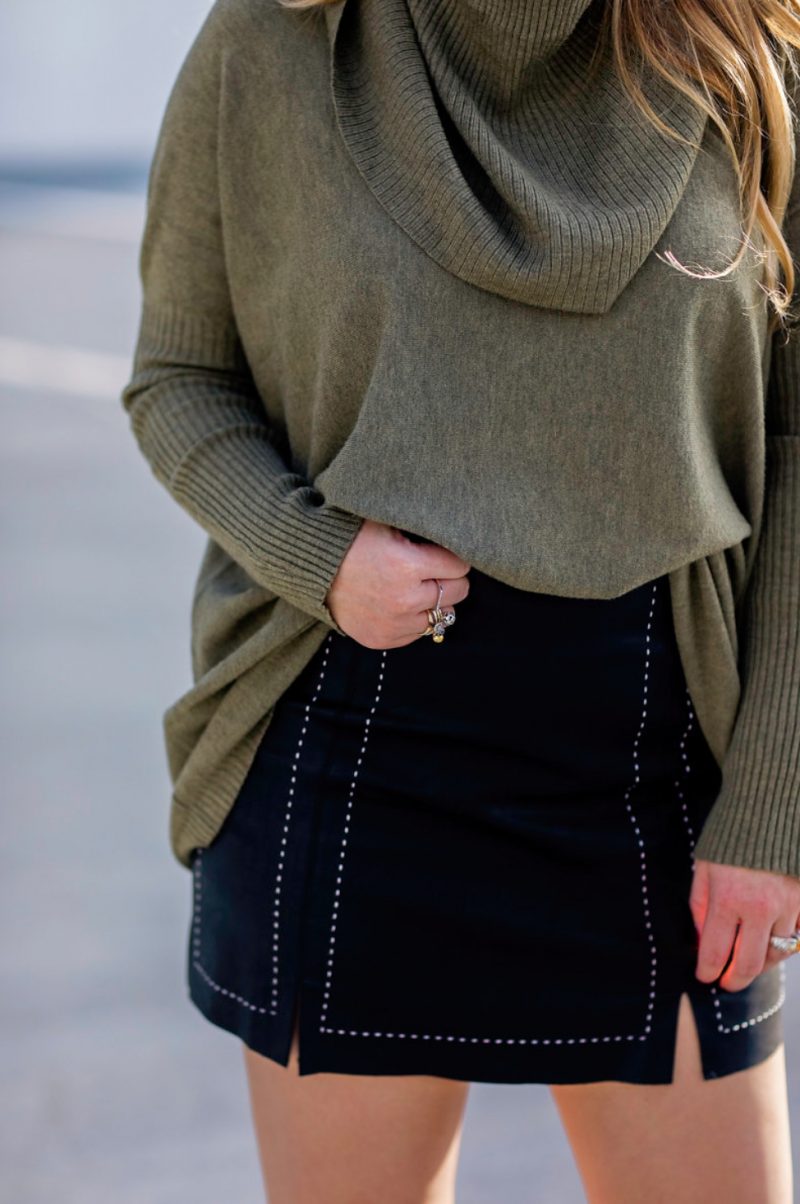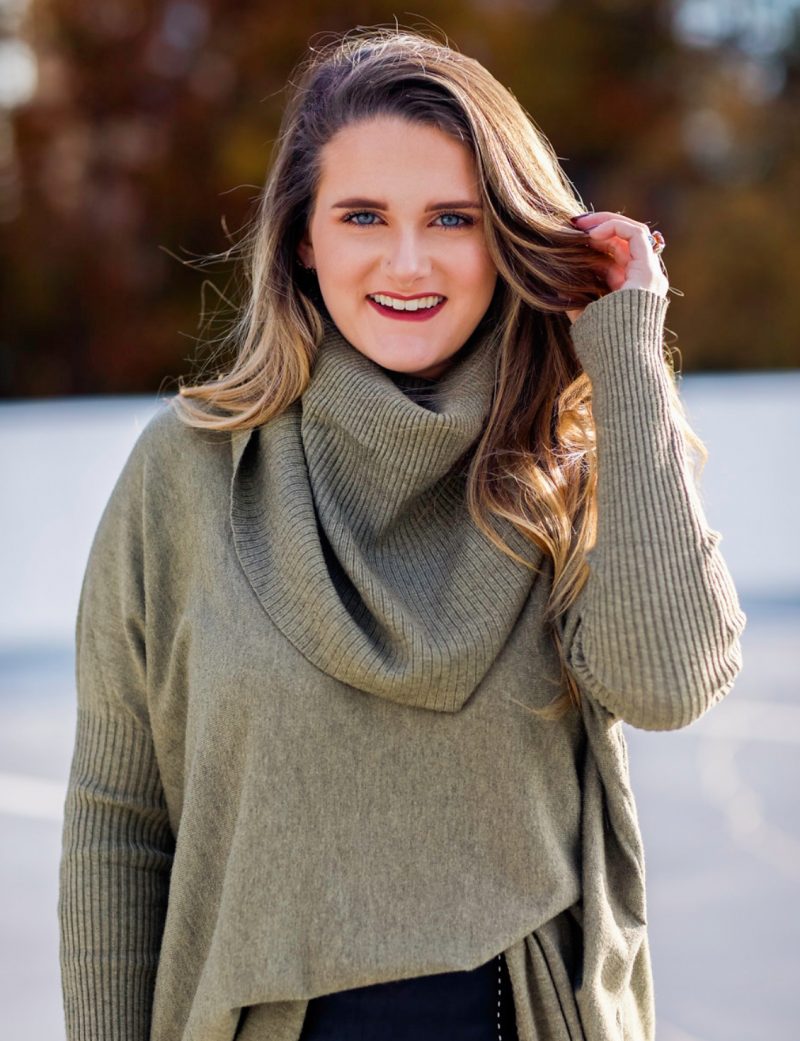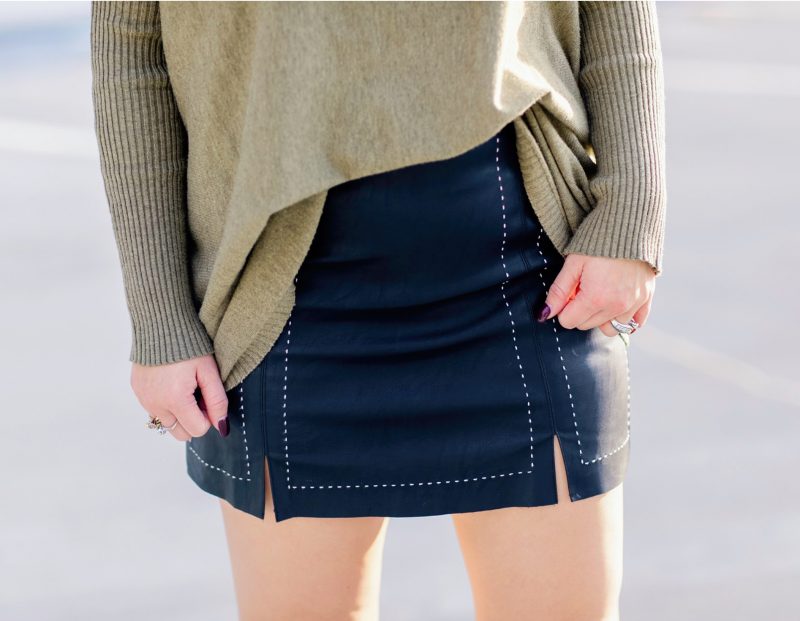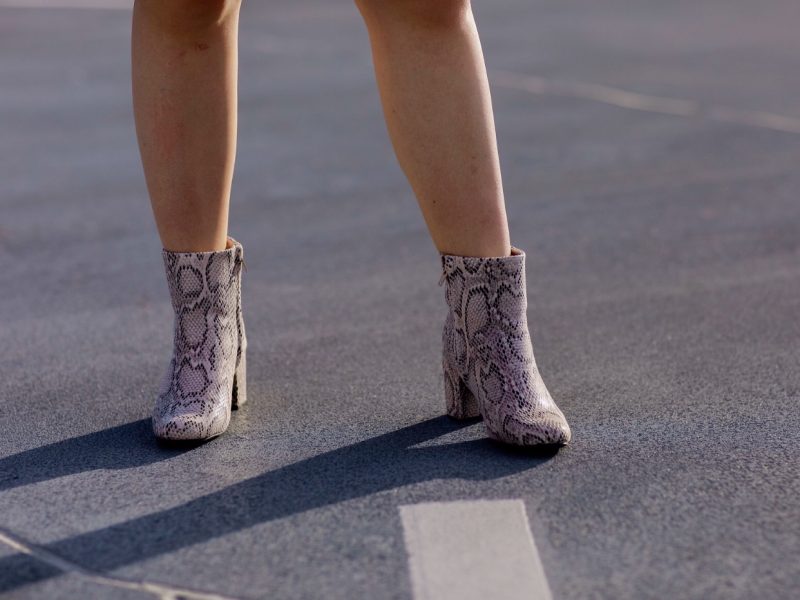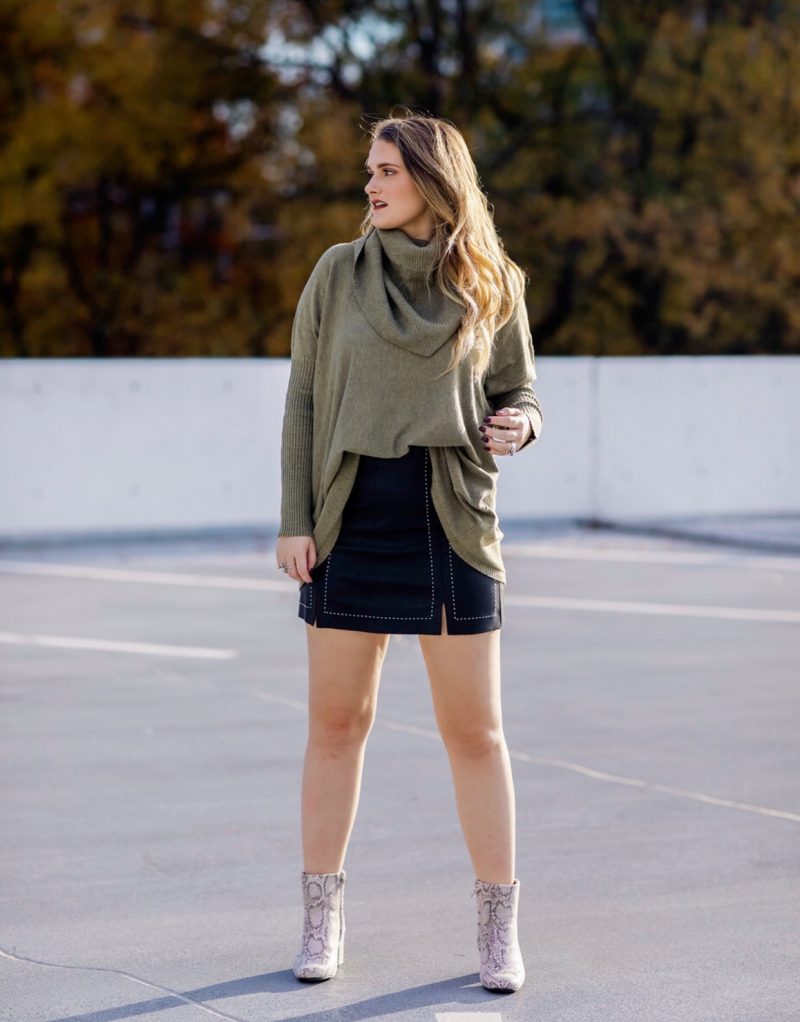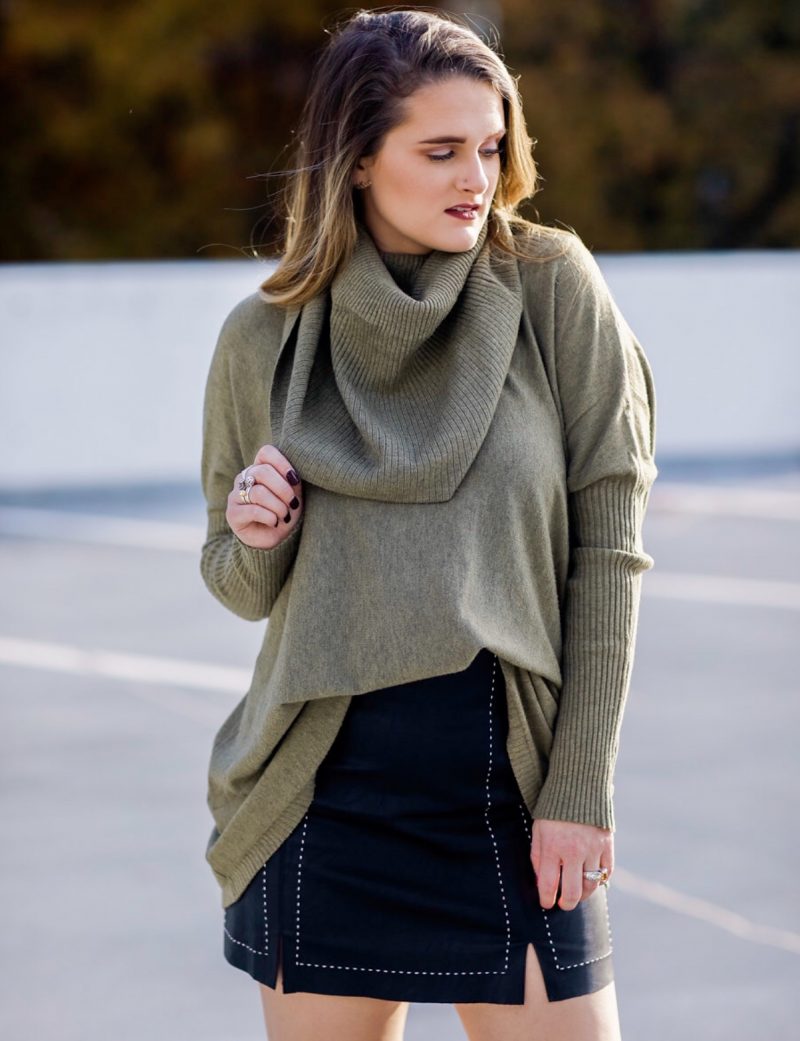 Cowl Neck Sweater // Leather Mini Skirt // Snakeskin Boots
[shopr_shopthepost collection="green-sweater-leather-mini-skirt-look"]
For a girl who is CONSTANTLY complaining that she is freezing, the cold sure doesn't stop me from rocking a skirt or dress when I make a new purchase. Call me crazy, and you may be right, but I can't help but show off the new wears as soon as I get them! I went a *little* overboard with clothes shopping on Black Friday, but hey, y'all have got some amazing content coming your way! The sweater I am featuring here has got to be one of the softest, most comfortable things that I have ever put on my body. This is the 'Winter Wishes' sweater from Dress Up, and unfortunately, it's no longer available online (from what I could find), but there might be hope in stores! For today only (Dec. 11), Dress Up is having a 15% off Flash Sale (use code FLASH15 online), so head on over to their site and finish up the Christmas shopping, or stop in a store near you! One amazing thing about Dress Up (out of the million) is their customer service. If you would like to order this sweater, call your local store and see if they have it, or if they can locate it for you to place a phone order! The one I have linked is a great alternative if you are unable to get your hands on this one.
The next star of the show for this post is this amazing faux-leather mini skirt from Fab'rik. My amazing mother (shout out to her for supporting this passion (addiction) of mine!) took me shopping on Black Friday at one of our go-to spots, Fab'rik Atlantic Station and purchased me a few staple pieces. I knew the second that I saw this skirt that I had to add it to my wardrobe! I am a skirt-a-holic. I don't know what it is, but I just love love love skirts! However, you can only buy so many before you're loading up on duplicates. This skirt is so unique and definitely not like anything I have in my closet. The stitching detail and front slits make this skirt super flattering and a great fit for pretty much anyone. I've already styled it several different ways, but this has to be my favorite. Lastly, the boots! Y'all already know; I don't even need to explain myself. Just do yourself a favor and go to Old Navy and get a pair. They are the perfect pair of boots for this season (and years to come, honestly) that won't break your bank. Everyone is sporting snakeskin, but a lot of us can't afford the designer kicks. Not only do they go with pretty much anything, they are also insanely comfortable. What more do you need?
How to style a faux-leather mini skirt this season: pick out your favorite sweater or thermal, find a pair of boots to match the occasions and accessorize! You can also throw on some tights to keep you warm!
With love and hopes of inspiration,
Carly