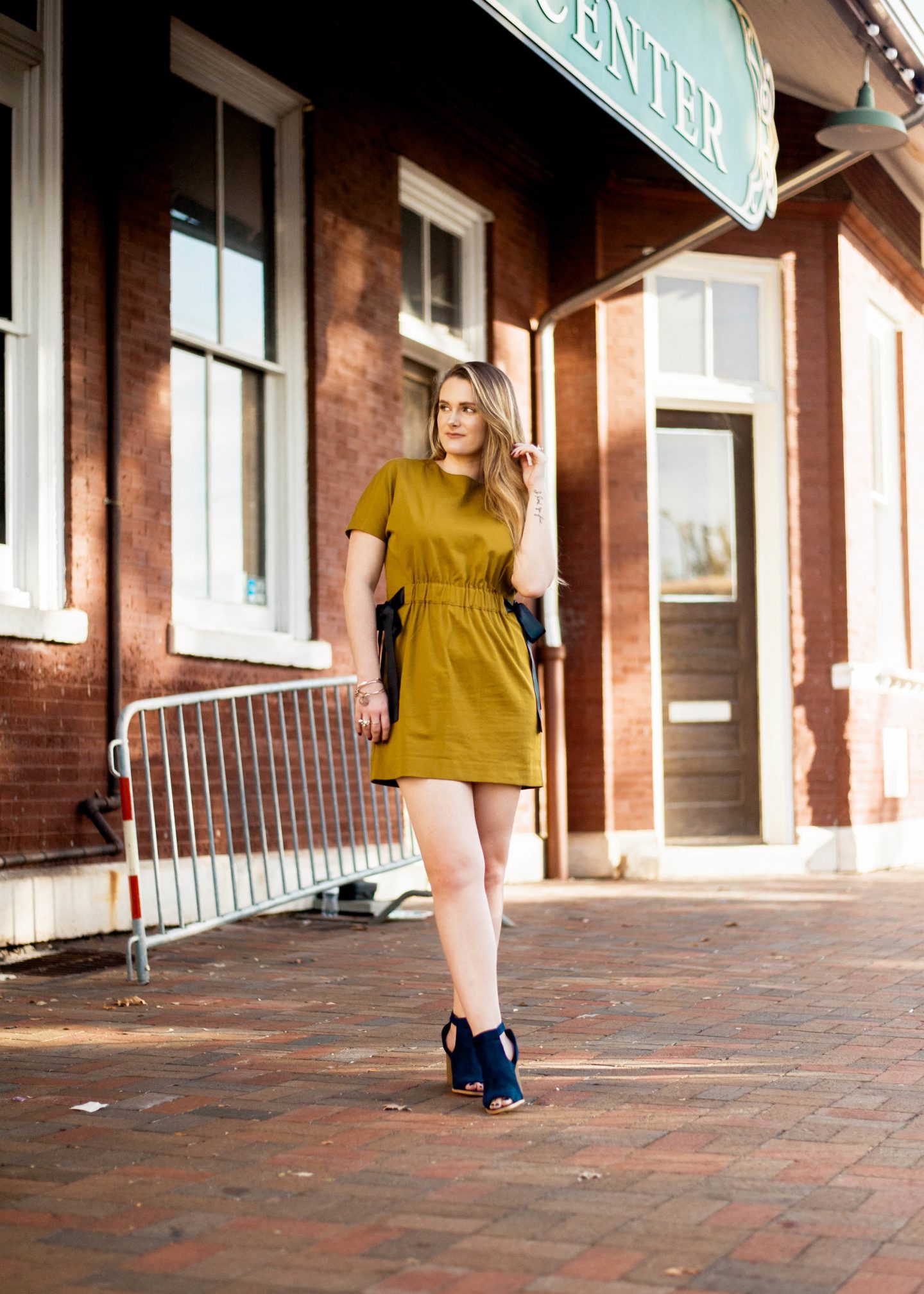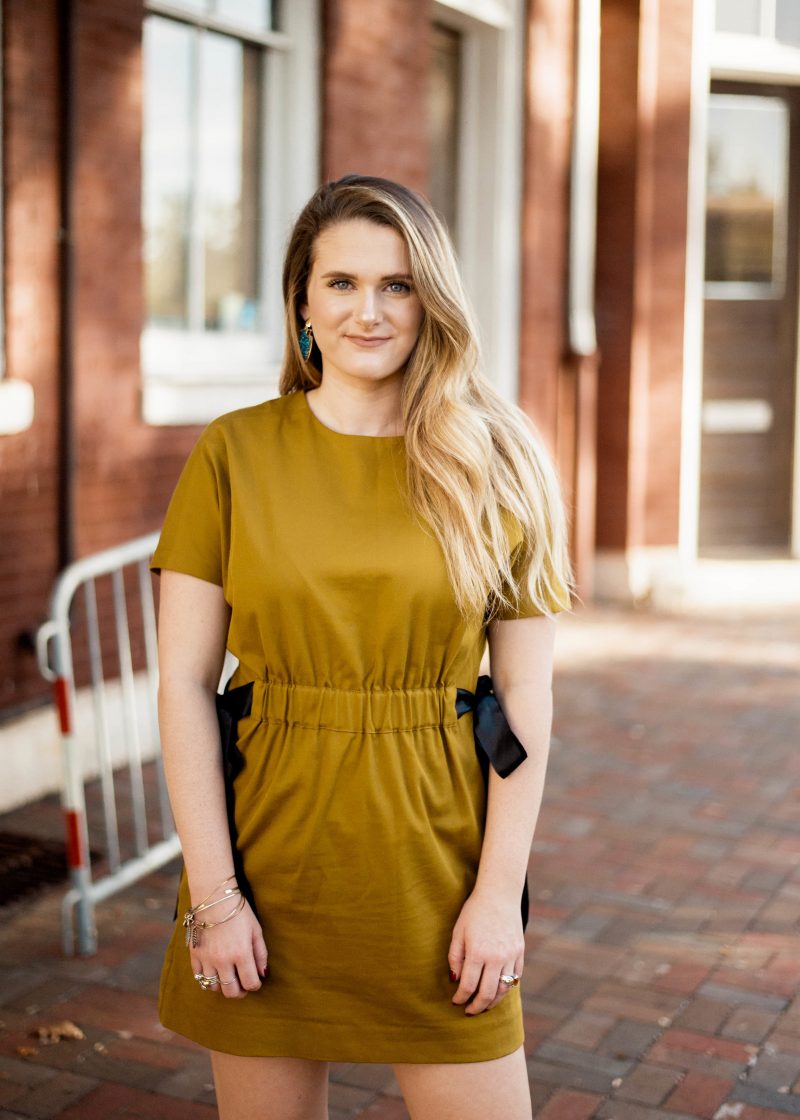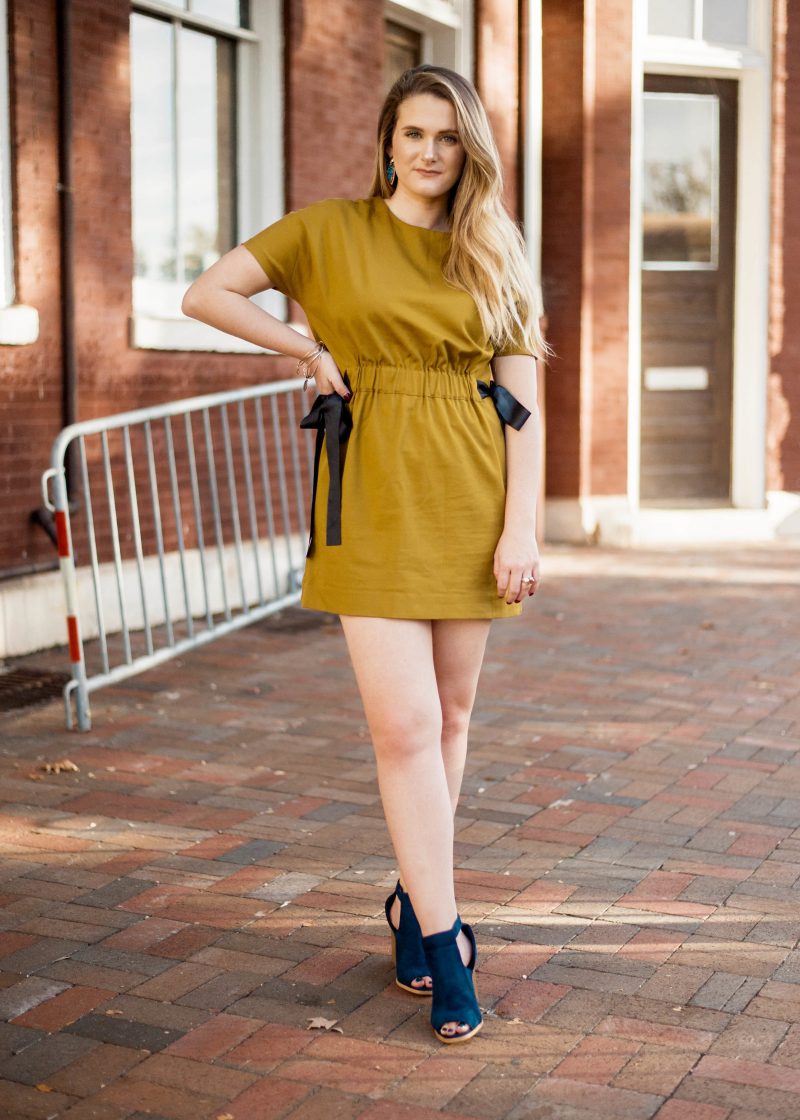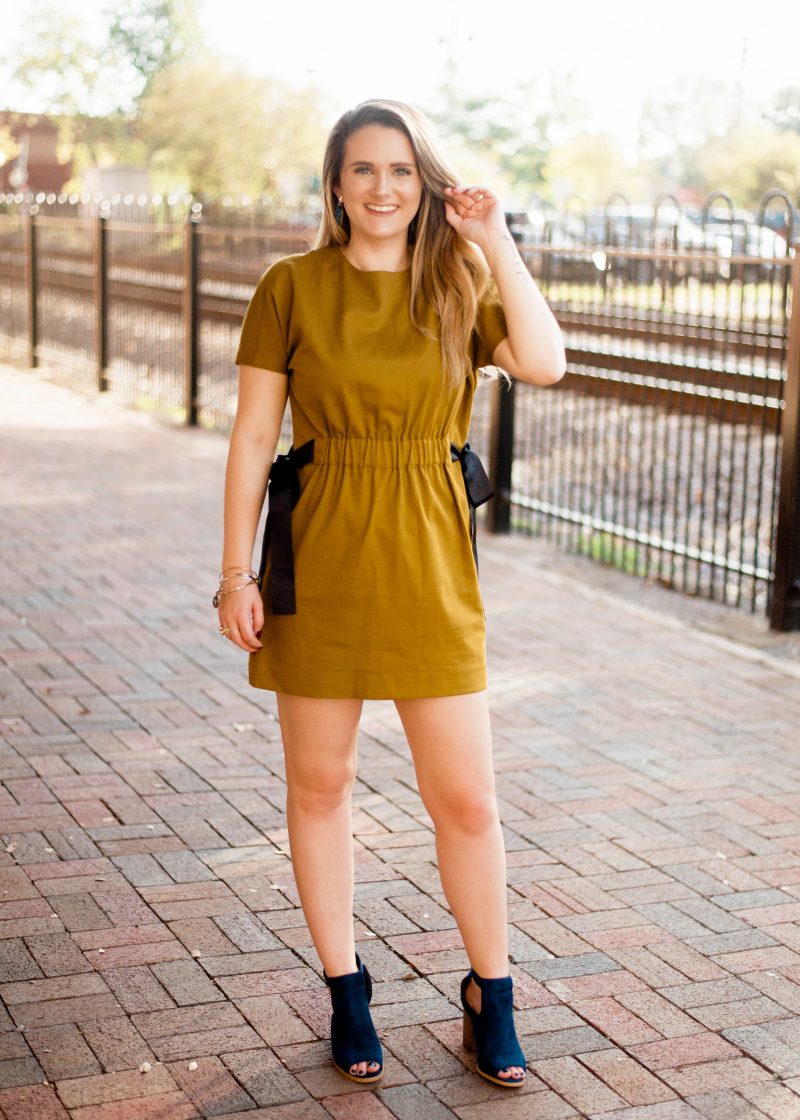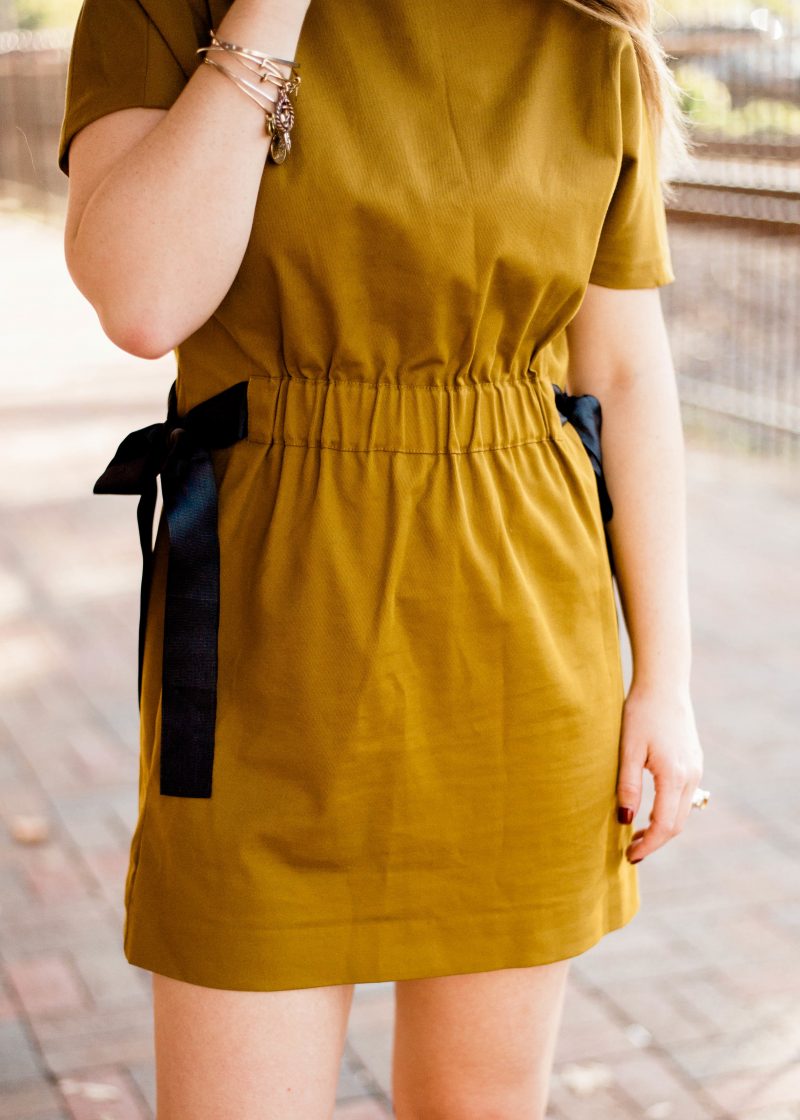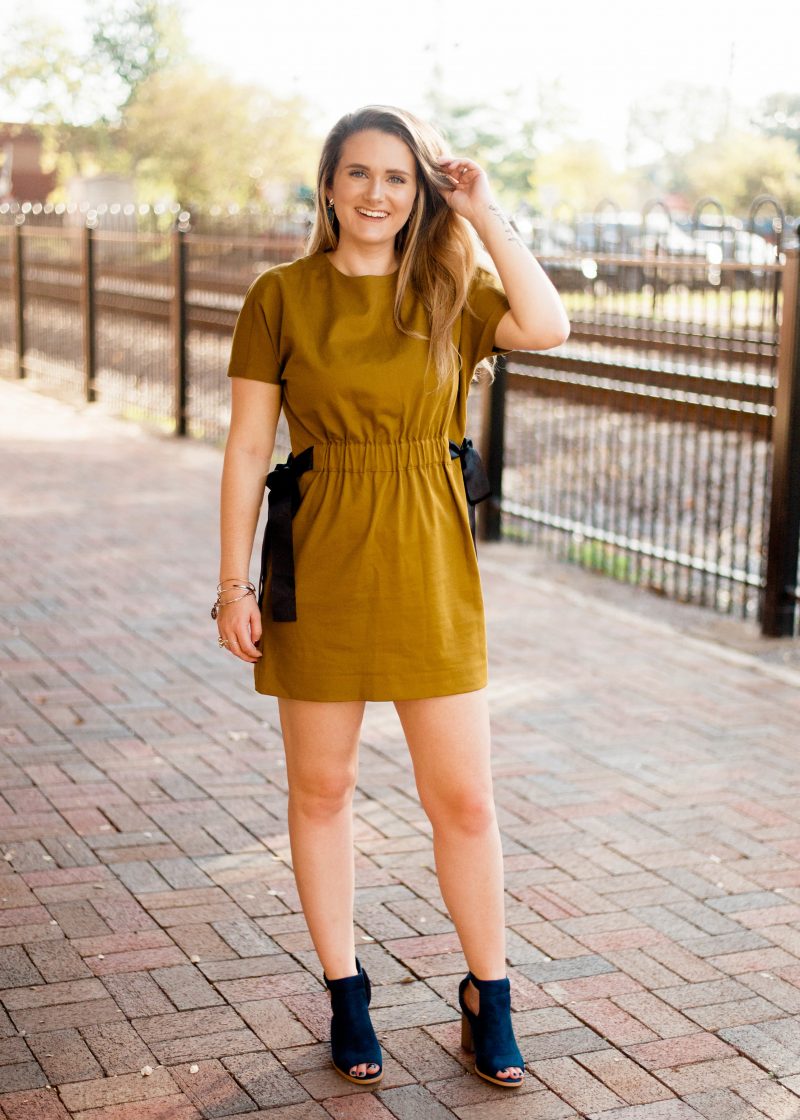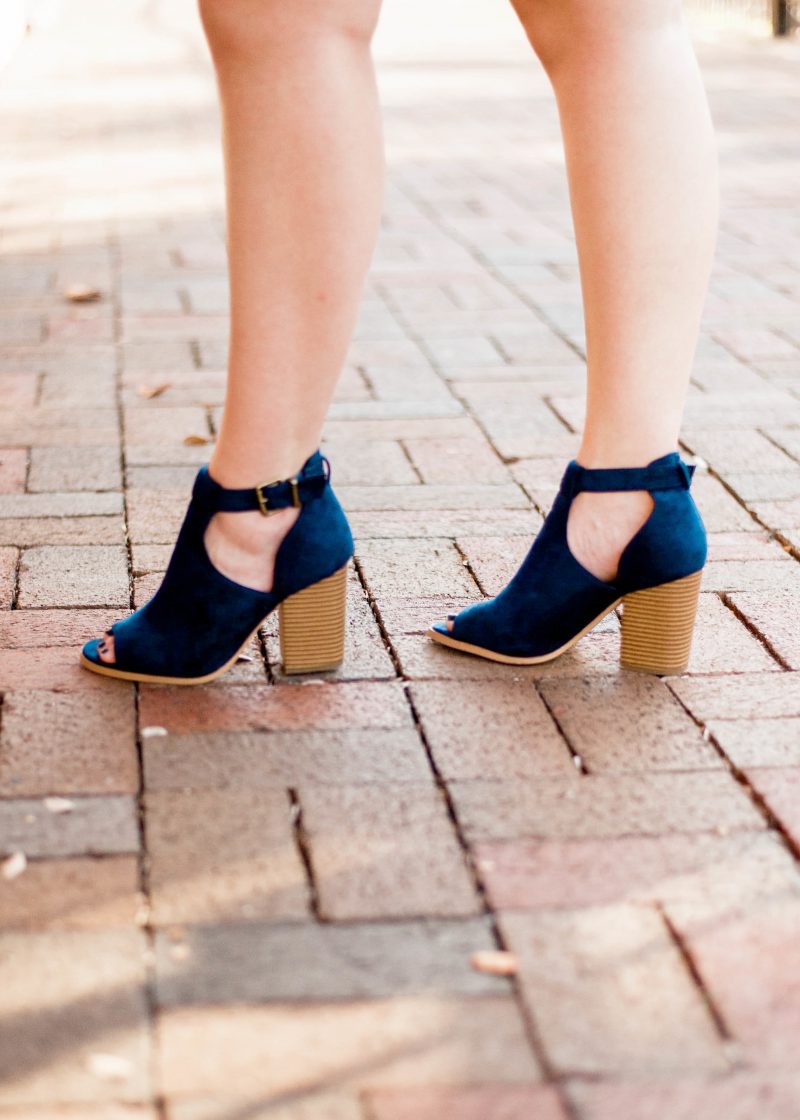 Dress with Side Bows: ZARA, $40 | Earrings: SUGARFIX by BaubleBar at Target, $13 (can't find online) | Open-toe Booties: Amazon, $38 (was $25; other colors are cheaper)
As I'm sitting here writing this, it's already pitch black outside and it's not even 8:00 yet. Honestly, I hate it. I get home from work around 6-6:30 and by then it's already dark. That makes it very hard for me to get anything done when I get home because I feel like it's already time to go to bed! Does anyone have tips to beat this? Because your girl has too much to do and not enough energy once it's dark out!
I'm so excited to share this dress with you guys because it's such a great dress all around!! I found this beauty at ZARA in August and fell in love (I know, I always say that. I have a problem!). I love this dress because it doesn't need much. It's so unique and easy to style. The cinched waist is super flattering and the bows on the side are a nice touch. My favorite part about this whole dress has to be the color combination. It's something that you don't see often but works surprisingly well together. The dress is a mix between a mustard yellow and olive green, but it's such a pretty shade!
It took me a while to find some shoes to wear with it, but these boots are great and they're from Amazon! I purchased mine for $25, but they have recently increased in price. Good news is, there are other colors for a lesser price that would also look great with this dress! I purchased these because I had been looking for a pair of navy booties for a long time but didn't want to spend a crazy amount, then I came across these! They're on trend with the cutouts and open toe front, but a fraction of the price compared to some of the designer pairs. To finish off the look, I added my new pair of geode arrowhead earrings from SUGARFIX by BaubleBar at Target. Unfortunately, I can't find them online, but check your local Target to see if you can snag them!
I've worn this outfit to work but it's also great for Thanksgiving. I know what you're thinking… "Thanksgiving!?! You're going to be freezing!" Well, I live in Georgia and on Christmas for the past two years I've been in a dress with sandals, so anything can happen! This dress is great for Thanksgiving because it's comfortable, easy to style and the perfect fall colors. If you're somewhere where it's going to be cooler for Thanksgiving, a cardigan would look awesome layered over it. You could also throw on some tights or OTK boots to cover up even more.
What do you look for in a Thanksgiving outfit? Stay tuned because I've got more coming to the blog!
With love and hopes of inspiration,
Carly