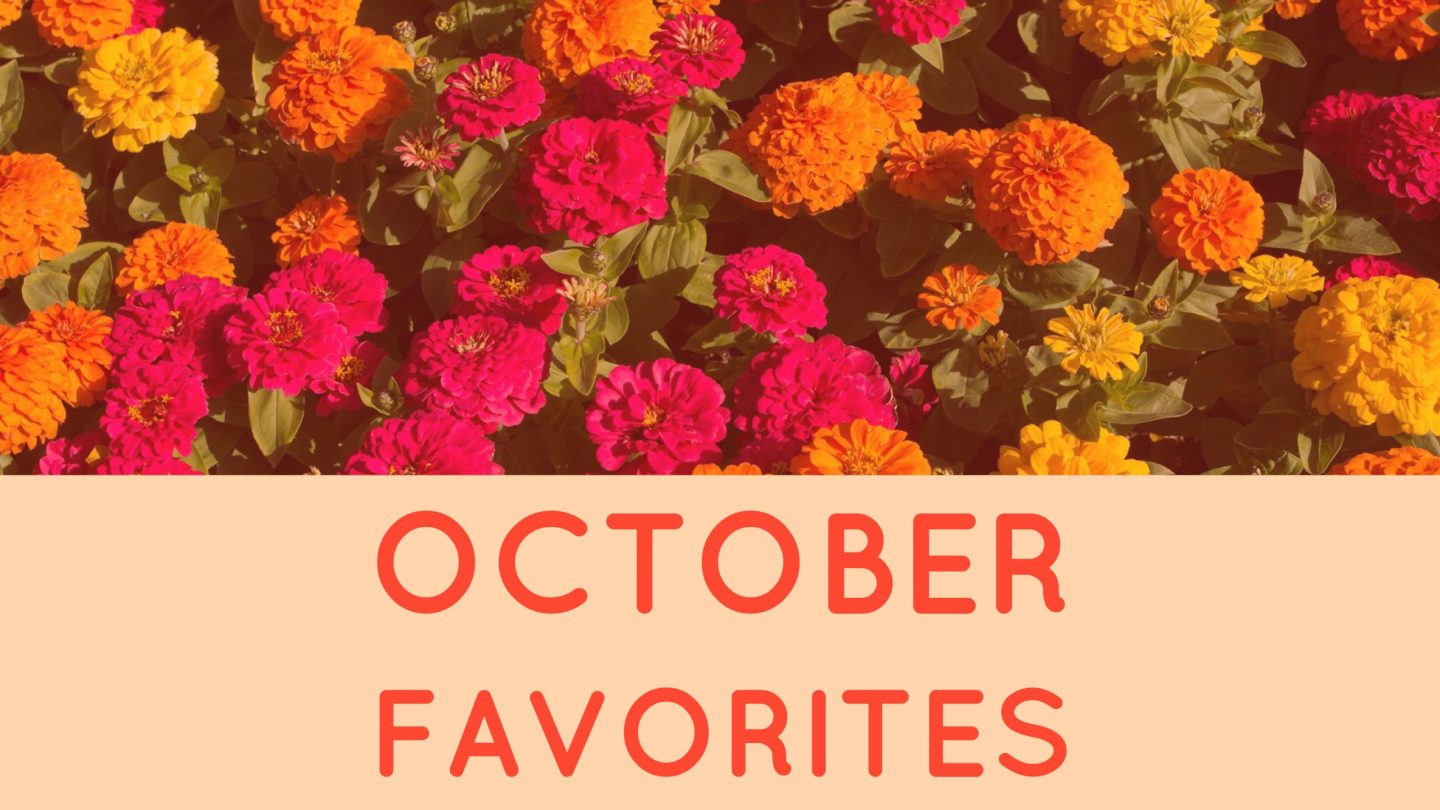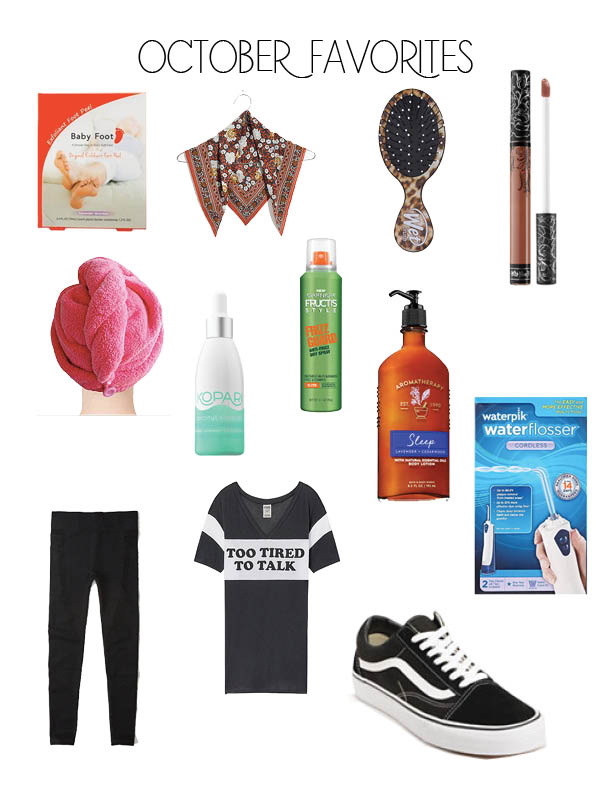 Another month in 2017 has come and gone! I tried to keep a running list throughout this month of what I was loving, but naturally, I forgot about it… Better luck for November! My favorites this month are less than usual, and I'll try to keep this short and sweet. What were your favorites for October? What are some things that you think I should try? I would love to hear from you guys! Also, don't forget to follow me on Instagram @beautifulonabudget_ and subscribe to my blog with the button in the sidebar!
BabyFoot: $25 per treatment, use code 'LADYGANG20' – I received this product with the LadyBox and I was so excited to try it. I had heard Casey Holmes talk about as well as the LadyGang members themselves. They all had great things to say, so I was excited to put it to the test. I'm weird and love to peel things (lol, ew, but whatevs), like when you peel after a bad sunburn, so I knew I'd have some fun with this. I kept the booties on while I watched some Netflix and then washed off my feet like it says. A few days passed and I didn't see much happening, but then I woke up on like the third or fourth day and they had started to peel! My feet were bad… like really bad! I think it's because I don't get pedicures often, but both of my feet peeled completely! I lowkey loved it! I'm already excited to use it again.
Kopari Sheer Oil: $44 for 1.7 fl. oz. – I also received this product in the LadyBox, but it wasn't the first time I had tried it! I love this brand because the majority of their products are multi-use. This particular product can be used on your hair, your face or really anywhere on your body. I always use a hair and a face serum, so this is perfect because it's all combined into one product, which is great for traveling!
Microfiber Hair Towel: $12 for 2 – I had one of these a while back and loved it. After I wash my hair and towel dry for a minute, I brush out my hair, apply all of my products and wrap it up while I do my makeup. I can't necessarily tell if it helps dry my hair more than a normal towel because I have such thick hair, but I like that it's lightweight and doesn't weigh me down so much when trying to move around.
Kat Von D Everlasting Liquid Lipstick: $20, shades 'Ludwig' and 'Bow N Arrow' – I've seen Jaclyn Hill reference this lipstick several times, so I finally caved and bought it. I can honestly say that I've worn one of these two shades almost every day this month. They are so lightweight, and they don't crack and crumble. They're the perfect everyday nude that I now keep in my purse!
Waterpik Water Flosser: $37 – I was fascinated with the waterpik when I was younger because my grandparents had one, but I had honestly forgotten about it until a few weeks ago. I went home to visit my mom and saw that she had bought a cordless one from Target. I tried it and of course loved it, so I immediately ordered myself one on Amazon!! I'm so lazy when it comes to flossing, so this is a good alternative for those times.
Bath & Body Works Sleep Lotion: $14 – I can't stand when my hands are dry, so I always keep lotion with me. This particular one stays next to my bed and comes in handy often. I love the soothing lavender scent, so that's definitely a plus. I keep the 'Stress' version on my desk with a few of the candles placed around my room.
VS Pink Sleep Shirt: $26 – I bought this a few weeks back when I was in the store using up all of my coupons and I seriously wear it all the time. It's the perfect tee to rock with leggings to brunch or while running errands. I often just throw it on to sleep in, and it's super comfy! It's also the perfect length so that you don't have to wear pants when walking around the house (that's a must for me!).
Abercrombie & Fitch Leggings: $48, on sale for $29 – I can't tell you guys enough how much I love these leggings. I honestly don't see myself reaching for another pair anymore. On days when it's really cold outside but I still want to wear a dress or skirt to work, I will throw these on underneath and shamelessly walk to work with them on underneath! They are so comfy, soft and flattering. I bought some other pairs of A&F leggings not too long ago. They are a different fabric, but they're still crazy soft and sculpting.
Old Skool Vans: $60 – Y'all know I love sneakers and these are no different. I love that there are so many different looks that can be done with these shoes. If I'm running out to do something, these are the shoes that I grab, always.
Madewell Bandana: $12.50 – I've had one for a while but I just recently bought a few more. I love that there are so many uses for them! Tie them around your bag or neck, use them in your hair, etc.. The options are endless! For a girl that owns a lot of solid color pieces, these patterned bandanas are the perfect pop to a color-blocked outfit.
Garnier Frizz Gaurd: $3.60 – I started spraying this all over my hair not too long ago and I can honestly say that I think it helps a good bit. I go through about a can a month, but for the price, it's really not bad!
Mini Wet Brush: $6 – Honestly, I bought this because it's cute. I don't brush my hair during the day because I always curl it. But this brush is the perfect size to keep in your purse or to travel with. I use the regular sized Wet Brush every day and swear by it!
Loafer Mules: $23 – I jumped on the loafer train and I'm in love. These loafers are a great dupe for a lot of the high-end pairs by some top name designers. They are comfortable, easy to style and reasonably priced. I think I might even invest in some more of these loafer mules!
With love and hopes of inspiration,
Carly