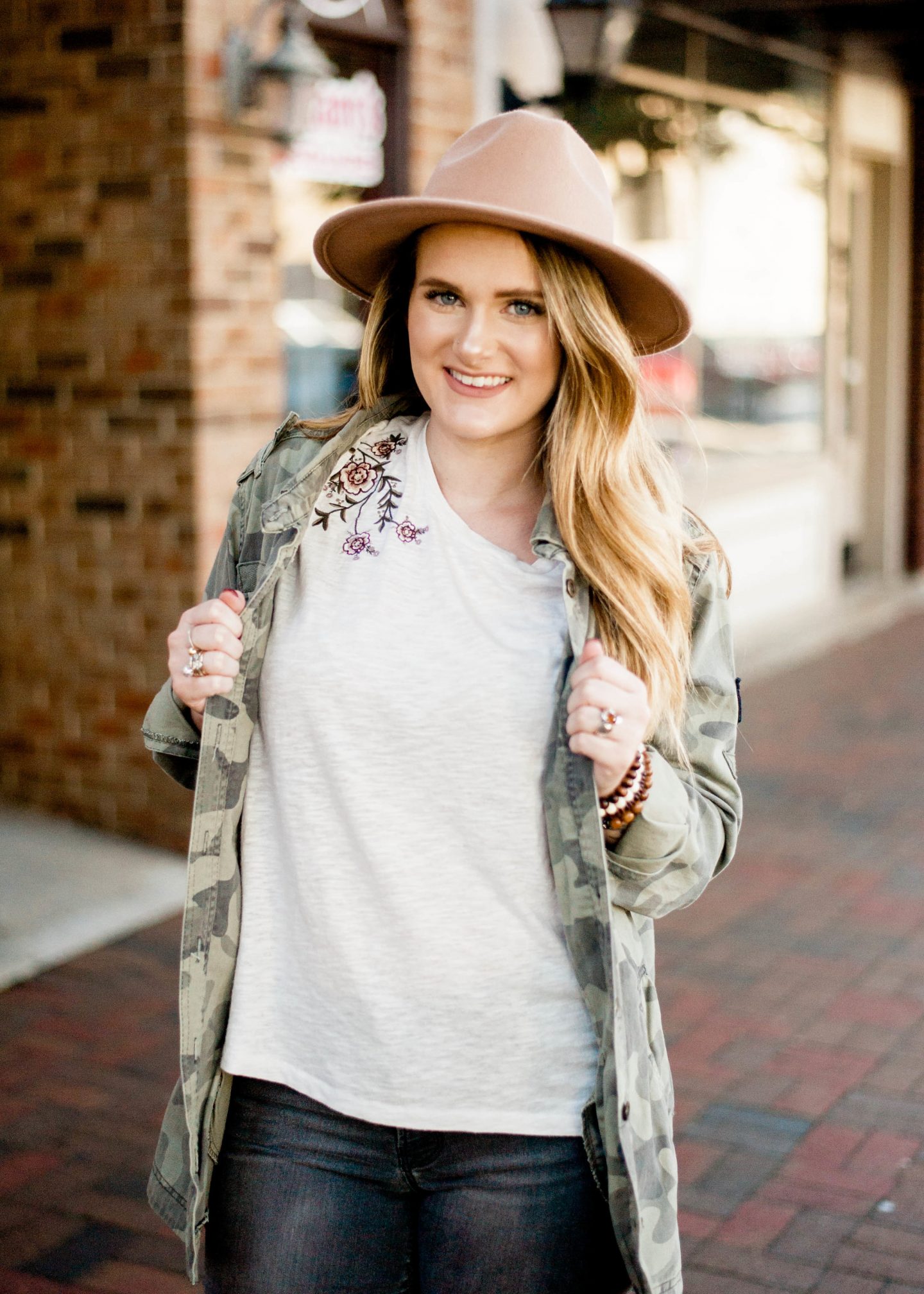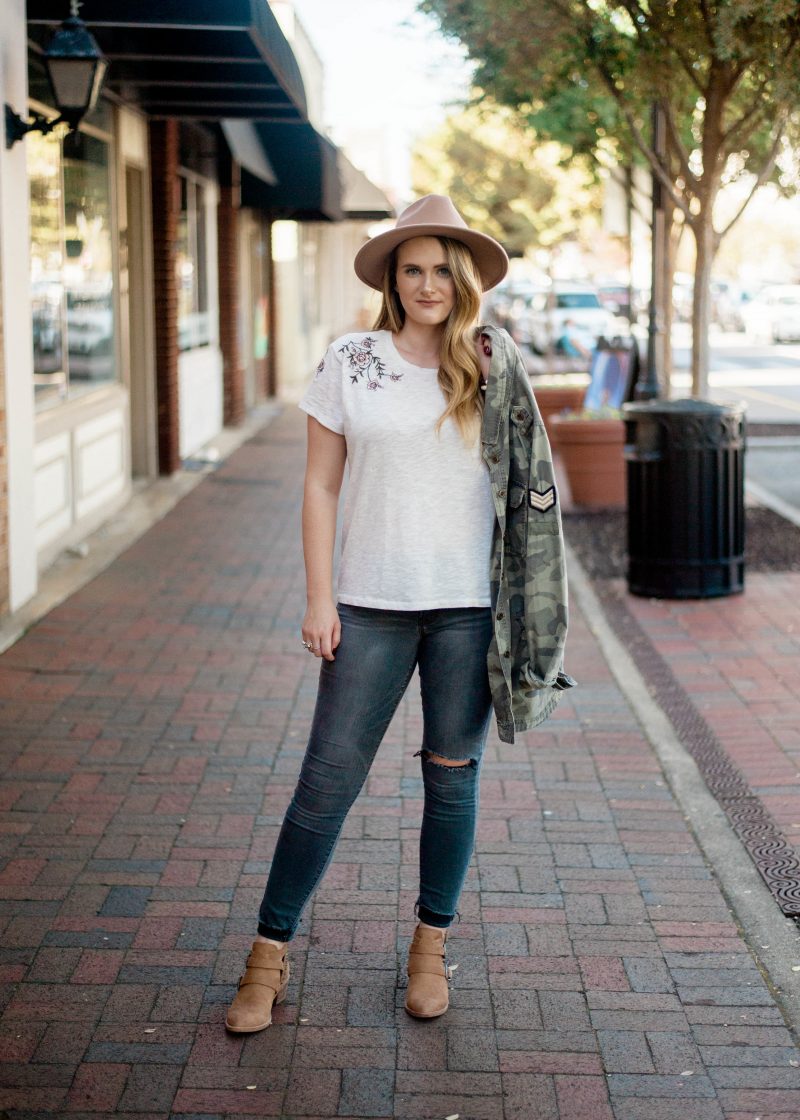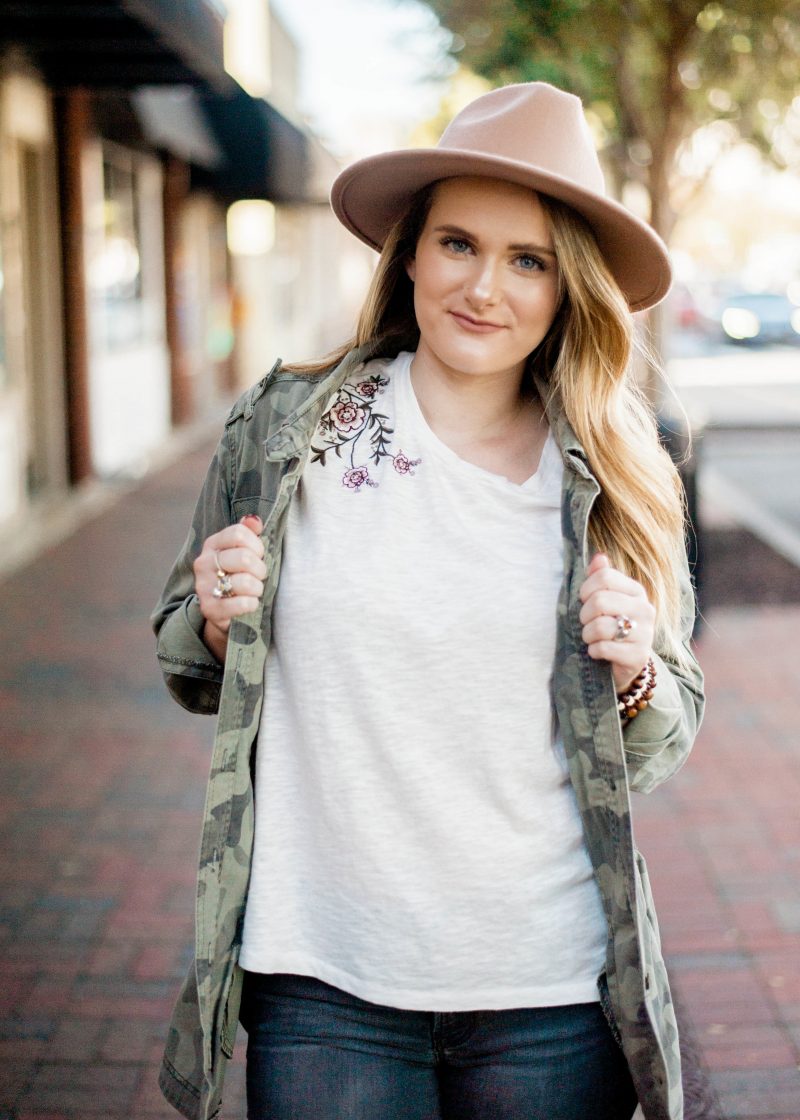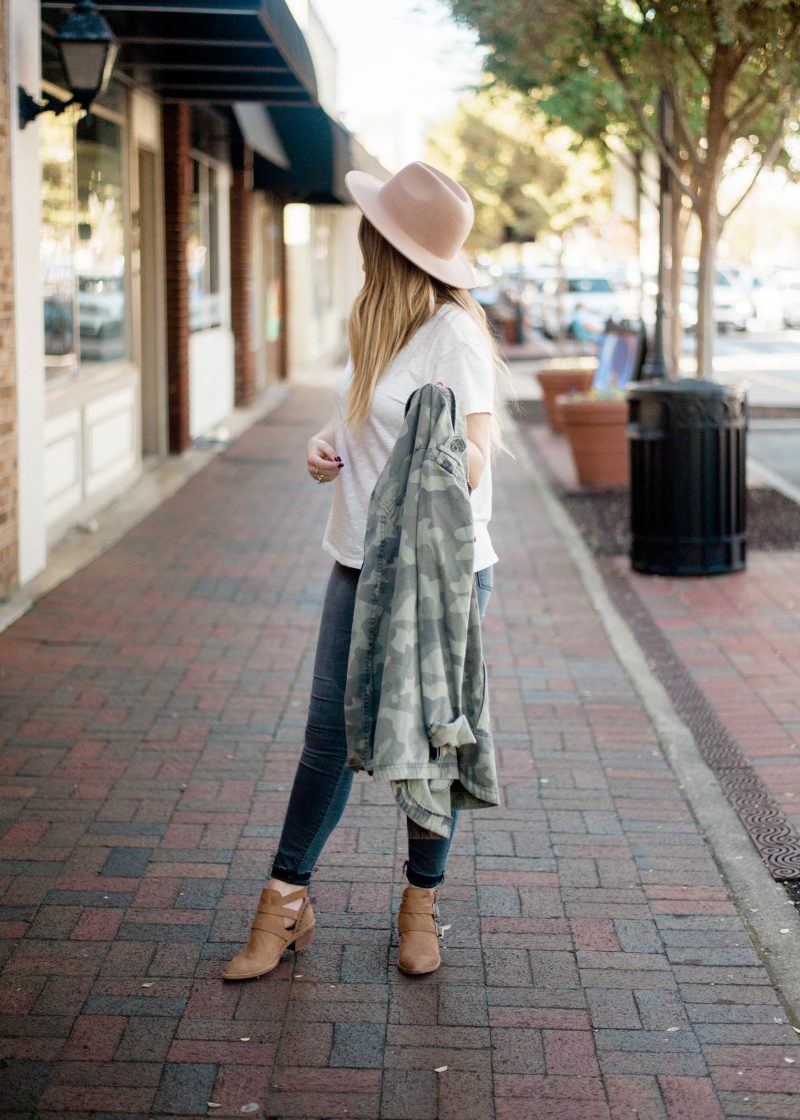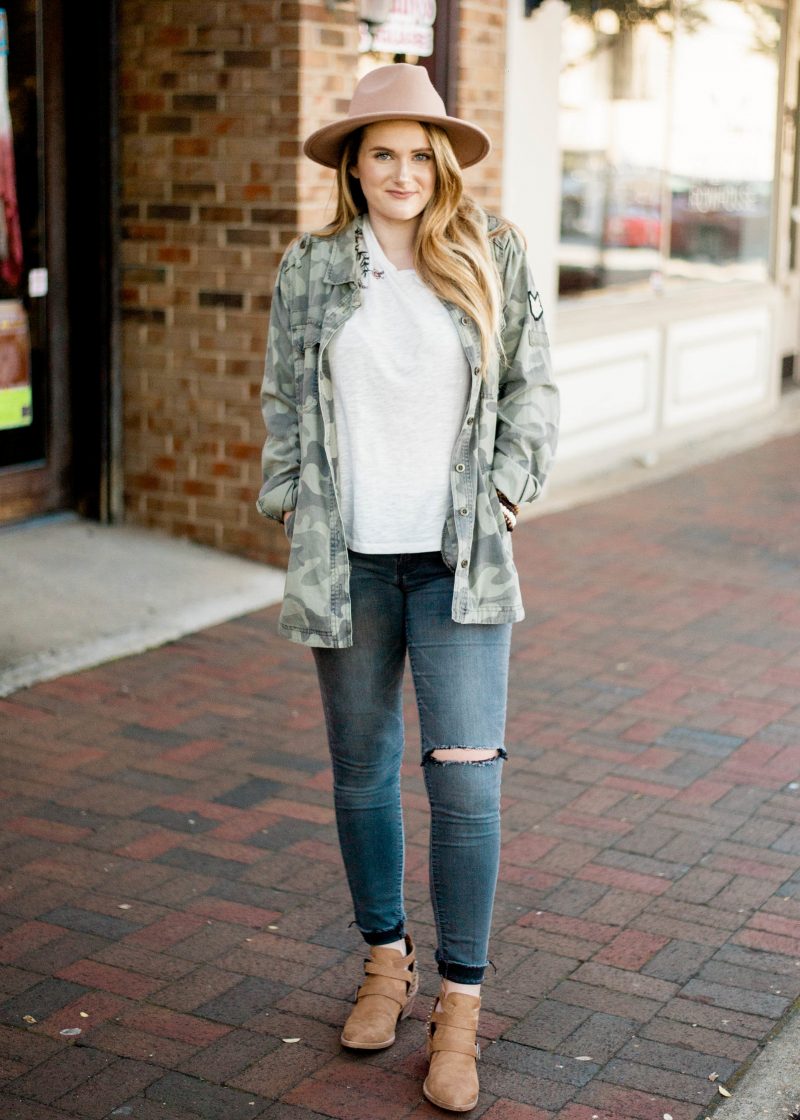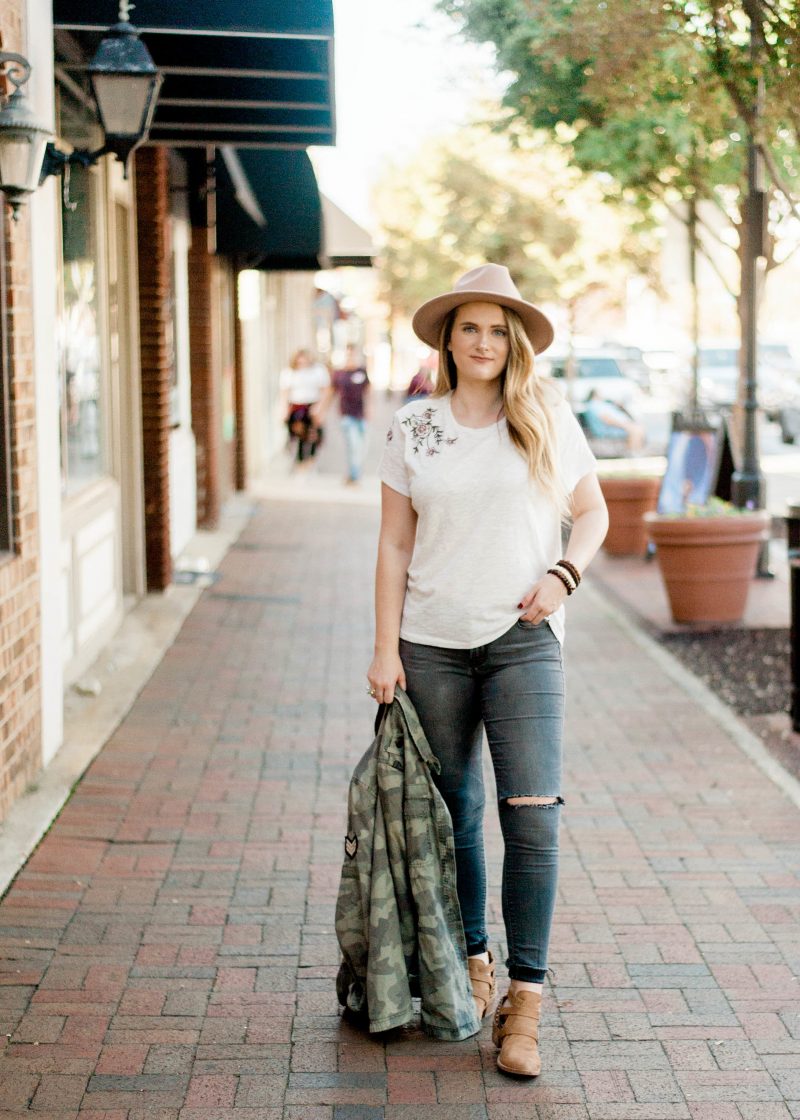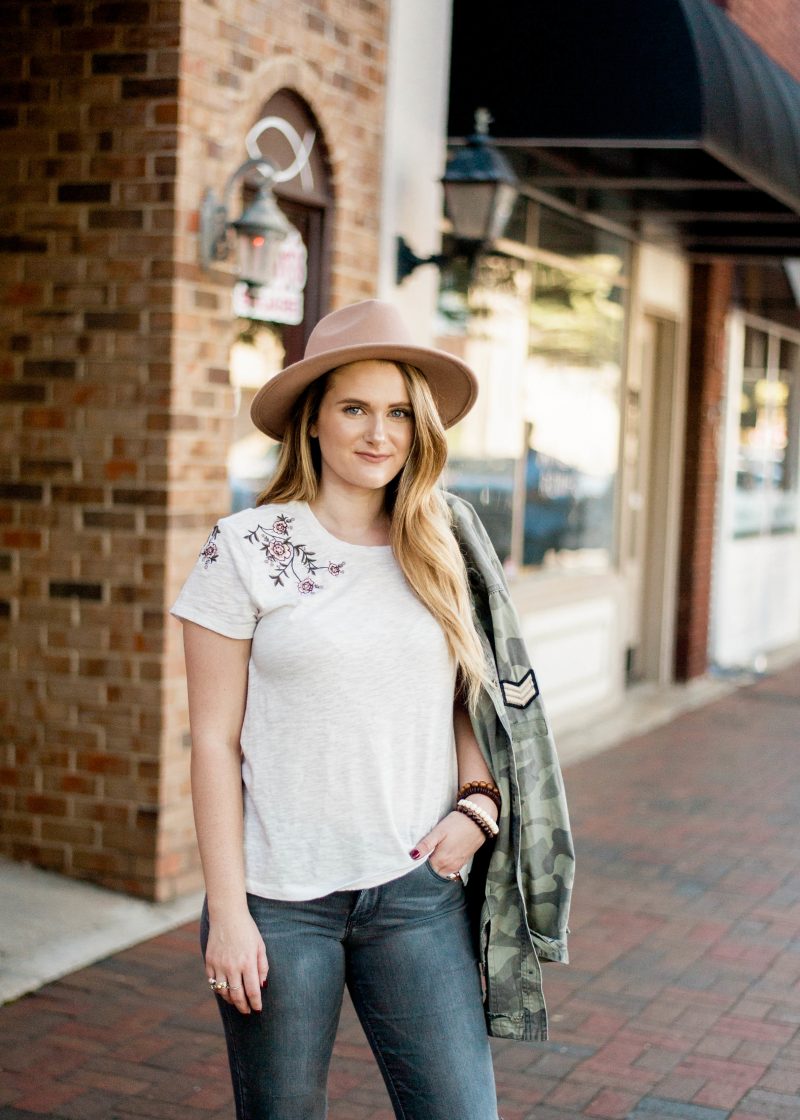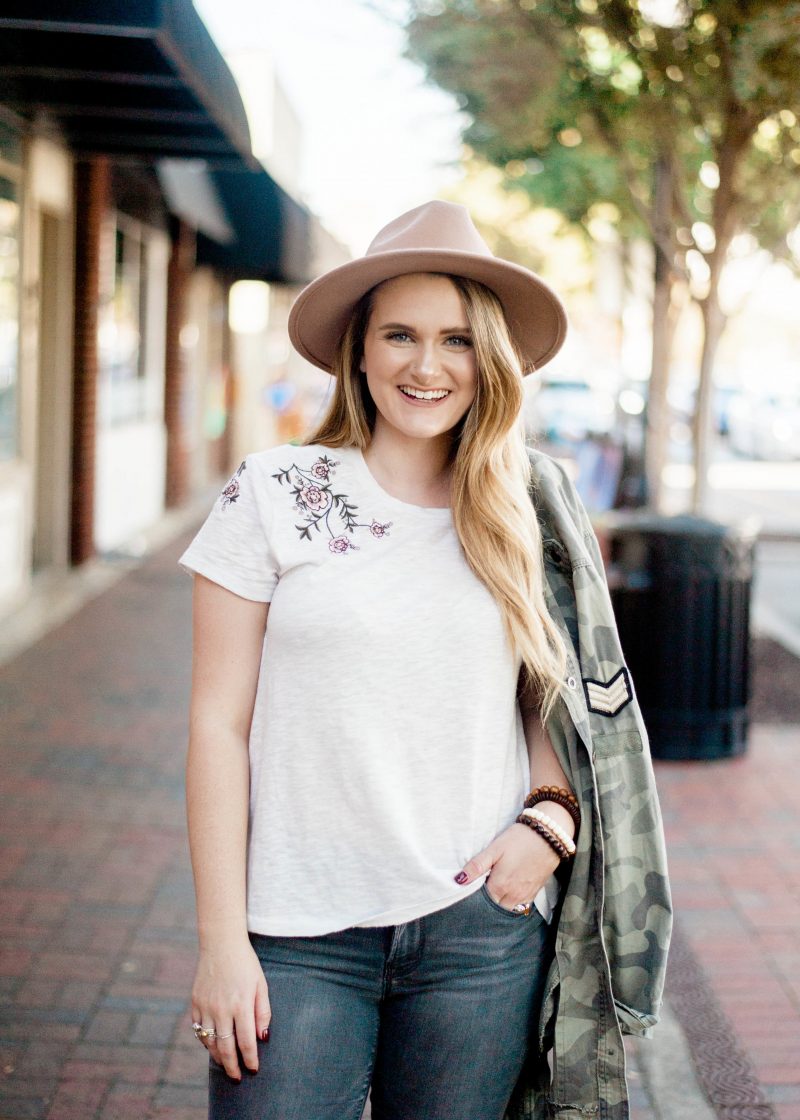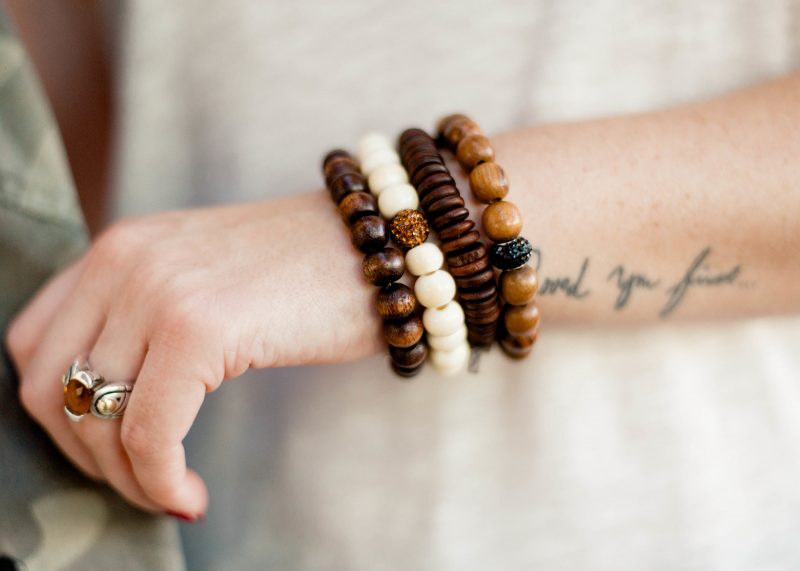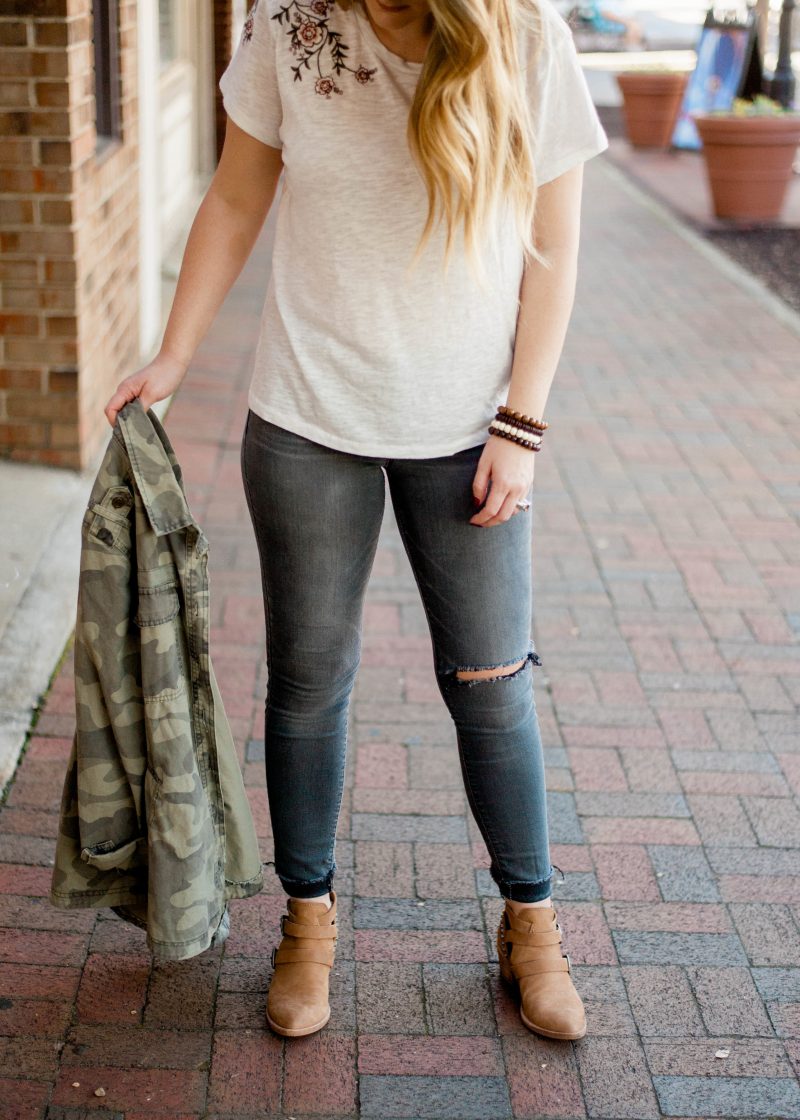 Photography by Minela Sejdin Photography
Camo Jacket: Tilly's, $25 (Forever 21 jacket linked here) | Embroidered Floral Tee: Abercrombie & Fitch, $28, on sale for $17 | Felt Hat: Free People, $58 (other colors still available) | Wooden Stack Bracelets: Uncork'D, prices vary | Jeans: Old Navy, $35 | Buckle Booties: TJ Maxx for $22 (they were mispriced; same boots linked here for $119)
I'm so excited to share this outfit with y'all! Not only because I think it's totally chic for the fall, but I could honestly wear some version of this outfit almost every day. Another great thing about this outfit is that you probably already have some version of it in your closet. That is what I strive for – to feature outfits that can easily be recreated with pieces you might already own.
For this outfit, I paired a jacket with a fun tee, some distressed denim, a standout accessory and some boots. This can easily be recreated with your own items in so many different ways! Instead of a hat, you could throw your hair up, put on a scarf or even add some really eye-catching jewelry. I love hats, so I wear them any chance that I get. As far as the jacket goes, I bought this one in January at Tilly's out in Santa Monica. Camo is very in right now, so finding a similar piece won't be hard. Also, any jacket that makes you feel your best can work! Don't forget the little touches like bracelets, earrings or even a simple necklace. I chose these stack bracelets because they fit well with the overall look. My mom makes jewelry and these are from her collection!
The tee that I chose for this look has floral embroidered detailing on the shoulder. Other options for this look could be a graphic tee, a band tee, a patterned tee or honestly any shirt that is comfortable and will keep you warm this season! Becuase I was pairing the shirt with the camo jacket, I chose something that didn't have too much going on. Pattern play is also huge this season, so take a risk and mix two fun patterns for a standout look!
Lastly, the shoes! I got lucky when I found these babies. I randomly stopped at a TJ Maxx I had never been to before and came out with these. They had a price tag for $22 and I instantly grabbed them. I've worn them constantly ever since! A few weeks later, I went to another TJ Maxx and found the same pair in black, these were actually priced right at $42 – I couldn't resist! As far as shoes go, it's all about wearing what works best for you! Boots, sneakers, mules, literally anything!
What are some pieces that you have in your closet that you love to rework for the fall?
With love and hopes of inspiration,
Carly