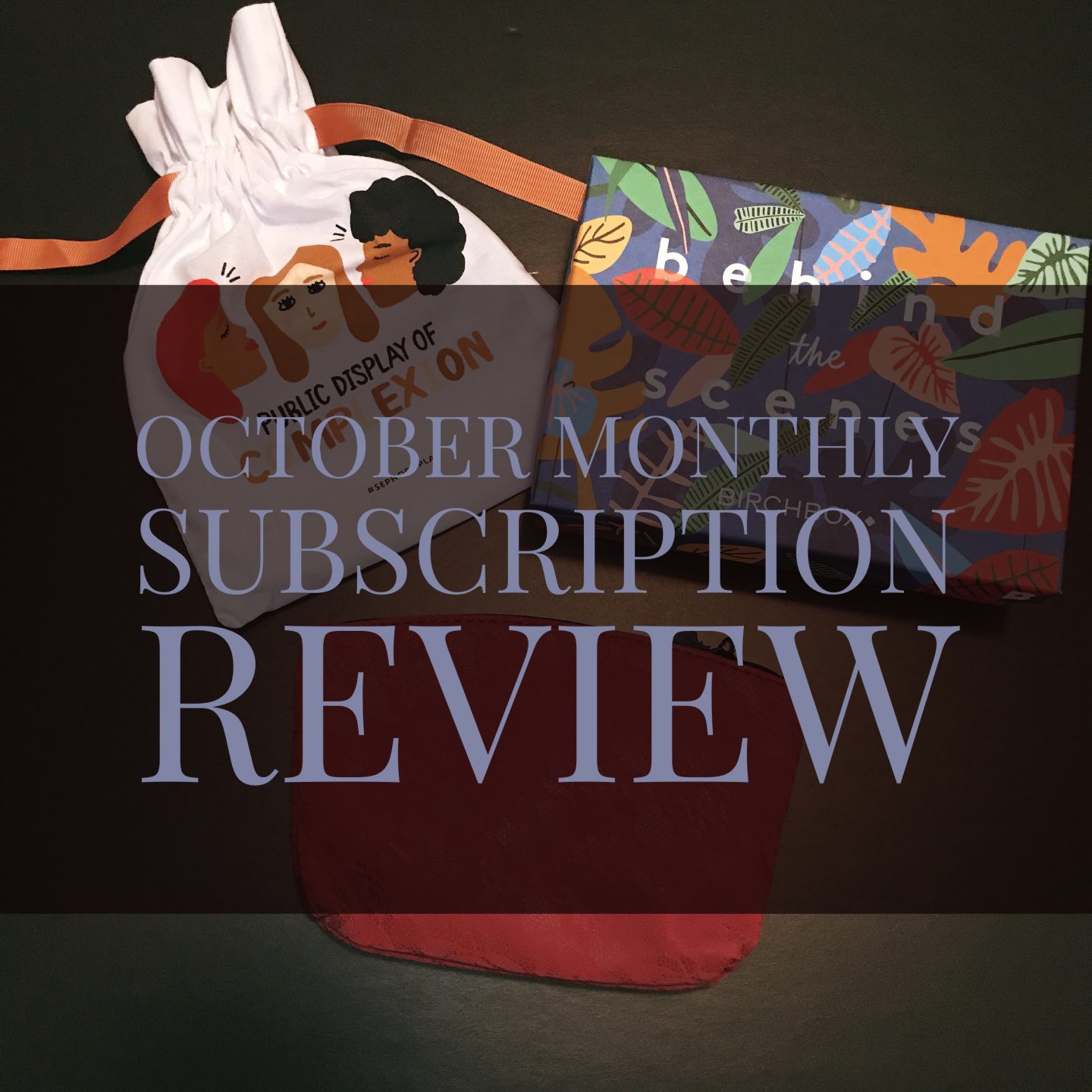 Can you believe that October is almost over?! This year is flying by, but I think I'm OK with it… This month I added a new addition to my monthly subscriptions, the Sephora Play Bag! Overall, all three of my subscriptions this month were awesome and I received some really great products. But this Sephora Play bag, it might just steal the show… Keep reading to find out why!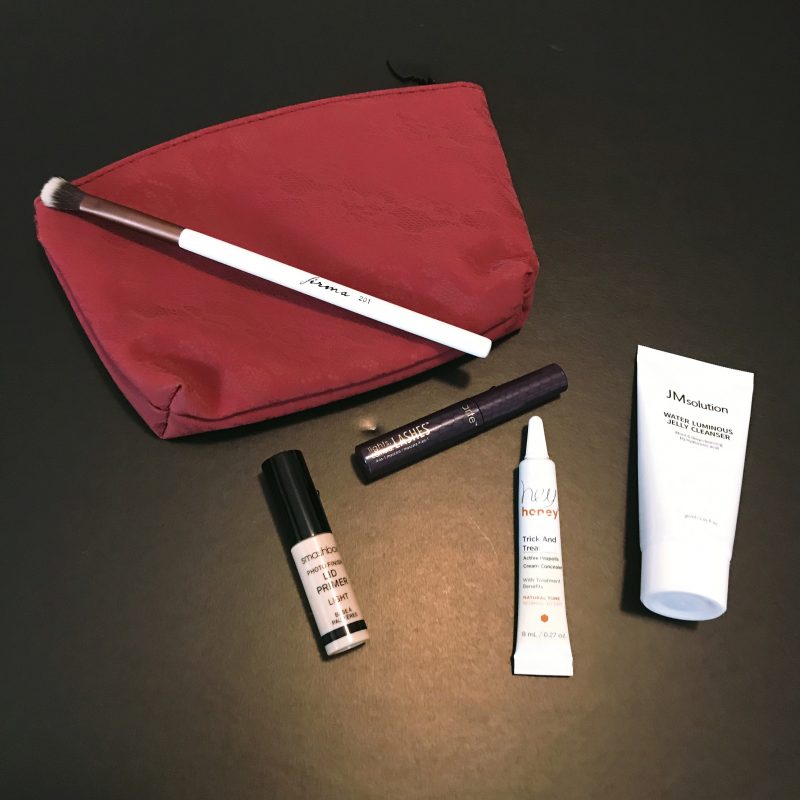 Ipsy bag
I love Ipsy because they are always sending products from smaller or indie brands that I haven't heard of yet. I find it fun trying out new brands and learning more about their products. Ipsy helps me do just that!
Tarte Lights, Camera, Lashes Mascara: $23 – I've used this mascara before and I love it! It's perfect for elongating your lashes, without clumping them together or making them too thick!
Hey Honey Trick And Treat Cream Concealer: $36 – This concealer has a thick and creamy texture to it, which doesn't work that well for me for the purposes that I mainly use my concealer. It wouldn't work under my eyes because there was too much creasing throughout the day. I tried to use it to cover up some spots, but it didn't conceal too much. Personally, I wouldn't purchase it, especially for the price.
JM Solution Water Luminous Jelly Cleanser: 25 for 5 oz – I think I may have found my new favorite face cleanser! I love the consistency and how it foams when it's activated. It's not too harsh on my skin and once I rinse it off, I feel refreshed! I know the price point is up there, but I'm starting to invest a little bit more in my skin care.
Smashbox Photo Finish Lid Primer: $21 – I was so excited when I saw that this came because Casey Holmes talks about how much she loves it all the time, and surprisingly, I have never tried it! I tried it out with my new Cat's Pajamas palette from Laura Lee and it held up pretty well. It's not as thick as my MAC paint pot, but it's still a great primer.
Firma Beauty Tall Blending Brush: $12 – I love that Ipsy sends makeup brushes, especially from Indie brands that I've never heard of. I absolutely love this brush! It's perfect for my crease, blends the product out so well and has such soft bristles! It's reasonably priced and I definitely want to try more from this brand!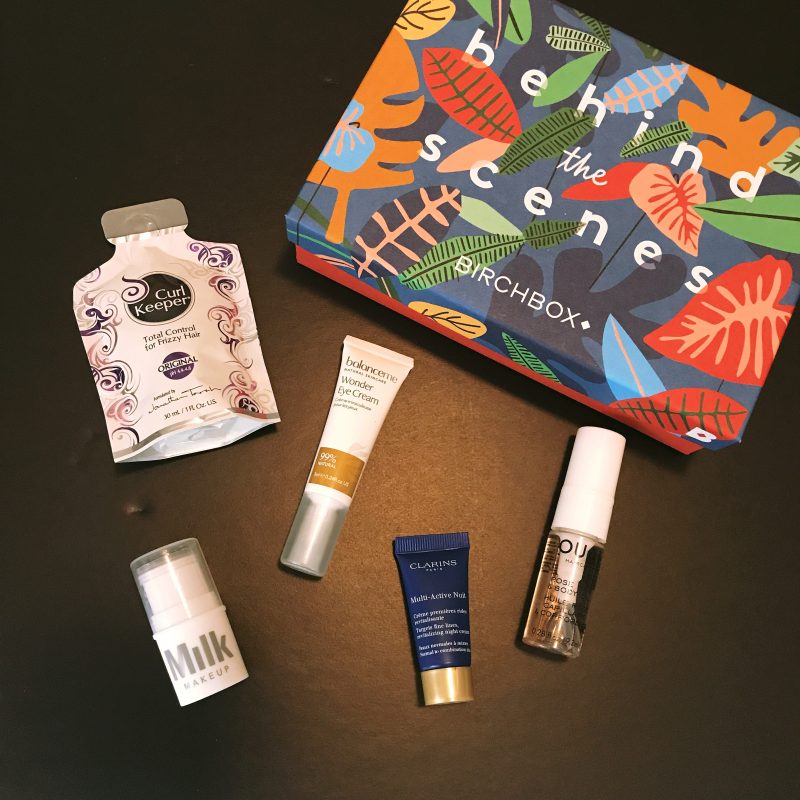 Birchbox
Birchbox was the first monthly beauty subscription that I signed up for. I've been subscribed for years now and I have too many beauty samples to count! I love it though because it sends me samples of high-end makeup and well-known brands. Sometimes, they even throw in more than five products; you can't beat that!
Curl Keeper: $17.50 – I've used products from this brand before and I've never been disappointed. This was the first serum I've used from them and it's amazing! I love this brand because I have very curly, frizzy hair and I feel like their products help so much with the maintenance of my hair!
Balance Me Wonder Eye Cream: $29 – I really like this product because it's cooling under my eyes and I get hints of lavender in the cream. Personally, I don't use eye creams much because I don't see much of a need or a difference that it makes, but I did like how it felt!
Milk Makeup Highlighter: $24 – I've tried a few products from this brand but not much. I love how they strive for the minimalistic look with their products. For this particular product, I found that it performed best when I applied it to the back of my hand to warm it up, and then I took my ring finger and lightly dabbed it over my face in the places I would normally apply powder highlight. It's very subtle, so it would be perfect for when you don't want to wear much makeup, but still have some glow!
Clarins Multi-active Night Cream: $57 for 1.6 oz – I liked this product, but then I saw the price… I prefer a water-based gel because I have such oily skin, but I'm not opposed to using a cream at night to get extra hydration! It felt great on my skin, not too oily and not too thick, but I wouldn't purchase it for the price. I think there are cheaper options out there!
OUAI Rose Hair & Body Oil: $32 for 3 oz – I was so excited to get this product because I am so curious about this brand and want to try everything! I always use an oil or serum in my hair, and this one worked great. I also love that it has multiple uses, like the Kopari oil; this makes it even better to travel with!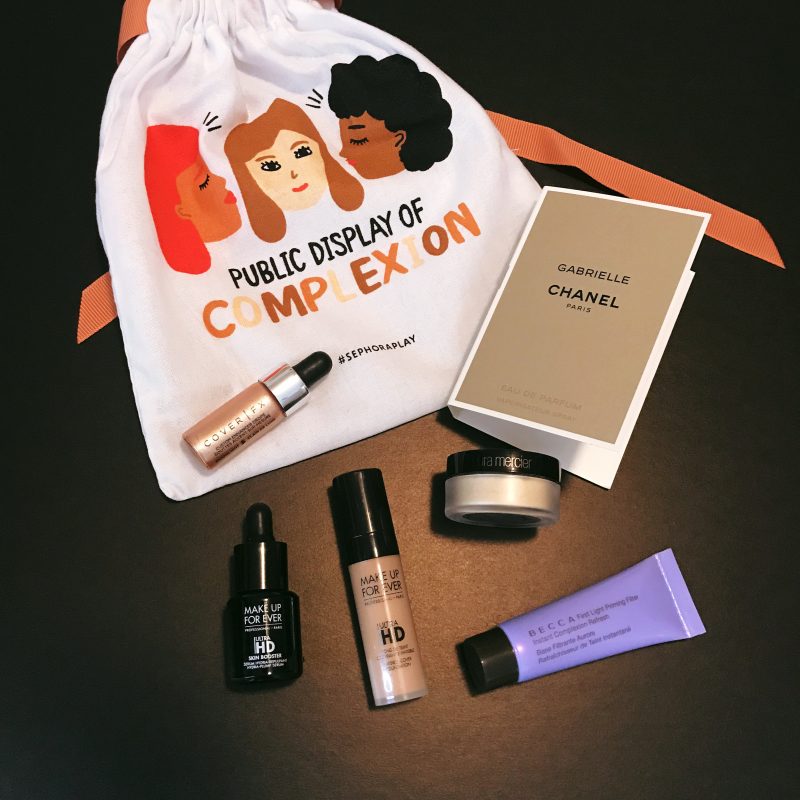 Sephora Play
Last, but certainly not least, my newest addition to my monthly subscriptions! When I heard about this deal I knew I had to sign up. You pay $10 for five deluxe samples from Sephora, PLUS a bonus which is often a fragrance sample. I love this because every item that you receive can be found at Sephora. I also love that they don't take up one of my five samples with a perfume because I'd rather have the other products! But, the best part about Sephora Play is that with every box, they send you a bonus VIB point card. All you have to do is make a purchase within the month with the card that they send you, and there you have it, extra points! Also, if they ever send you a foundation sample, you can take the card in with the sample and they will switch it for the correct shade. But if you have been shade matched in the store, they take your Color IQ profile to make sure you get sent the right shade. How awesome is that!?
Cover FX Custom Enhancer Drops: $42 for .5 oz, shade 'Moonlight' – Yet another product that I've always wanted to try! I wouldn't mix the drops in with my foundation to use all over my face, but I did apply it to the high points of my face with my finger just for some extra glow. It's a great product, but I wouldn't purchase it for the price!
BECCA Filter Face Primer: $38 for 1 oz – I'm indifferent about this primer. It wasn't anything special to me and because I wear full coverage foundation, it wasn't that luminizing. Plus, for the price and the amount that you get, I would rather purchase something else that works better for me!
Make Up For Ever Ultra HD Skin Boost: $41 for .4 oz – Y'all know I love skin serums, but this one is way too expensive to not even get a full ounce. I liked it, but I like my other serums better that leave me feeling hydrated and plump!
Make Up For Ever Ultra HD Invisible Cover Foundation: $43 for 1 oz – This foundation is great for those who like something lighter and not as full coverage. It wore well on my skin throughout the day, but I don't like that it's not full coverage like my other foundations. Plus, it is a little bit more expensive than others. If I'm going to wear something that is light coverage, I lean towards my Maybelline BB Cream.
Laura Mercier Translucent Powder: $38 for 1 oz – I use this stuff every single day! It is seriously amazing. I was so excited to see this in my box because now I have the perfect little travel size powder. It's even small enough to fit in my purse for a mid-day touch up if needed!
GABRIELLE Chanel, Chanel Perfume: $105 for 1.7 oz – I don't normally use the fragrance samples that I get in these subscriptions because I'm not going to pay money for a full-size. This one though, it is amazing! I love the way that it smells and how well it holds. Let's just say that this sample is now being kept in my purse!