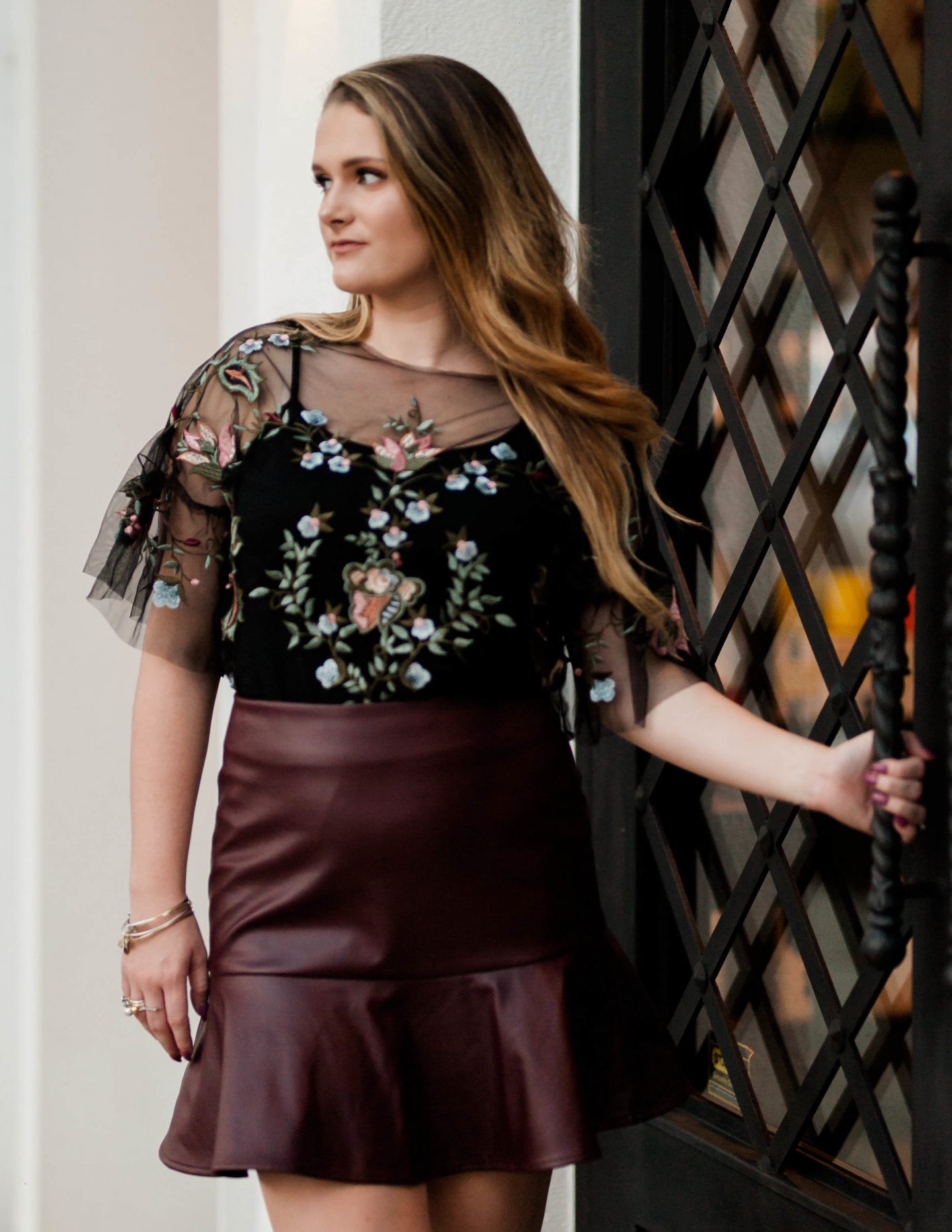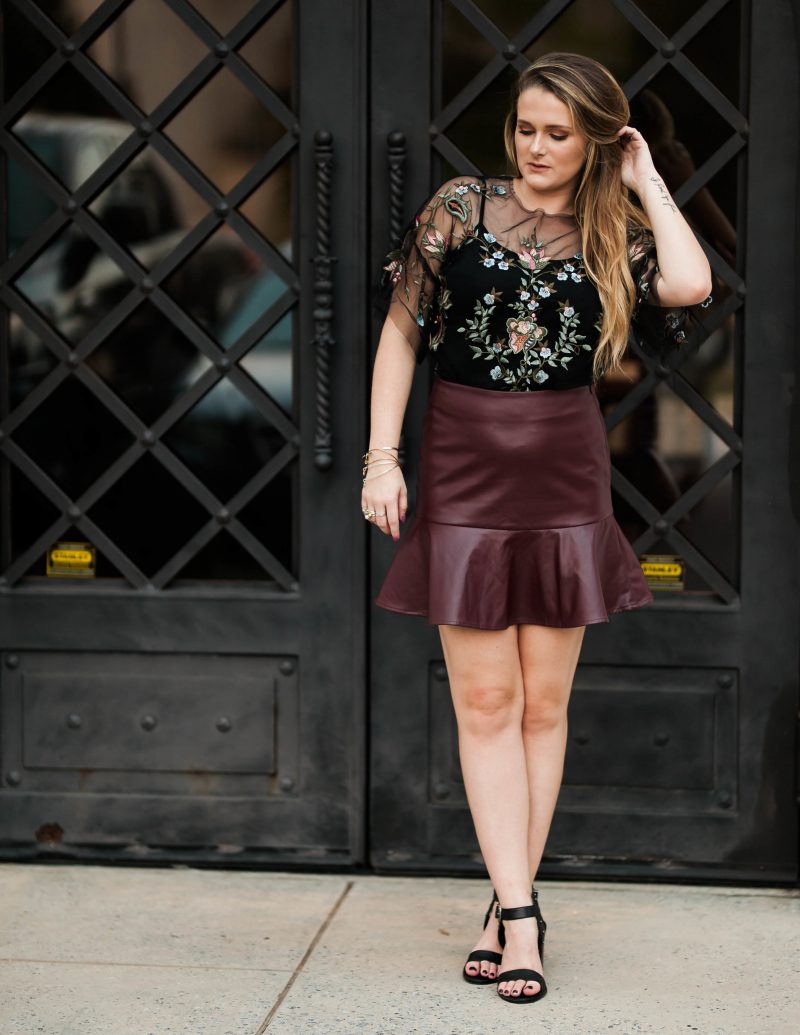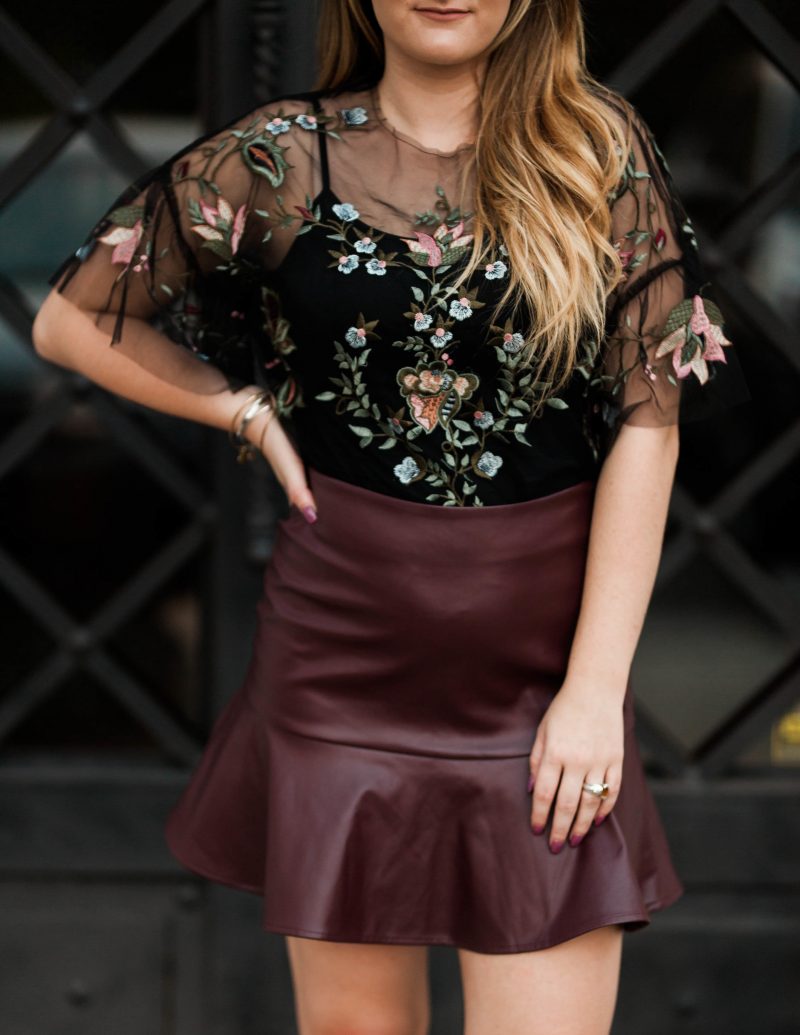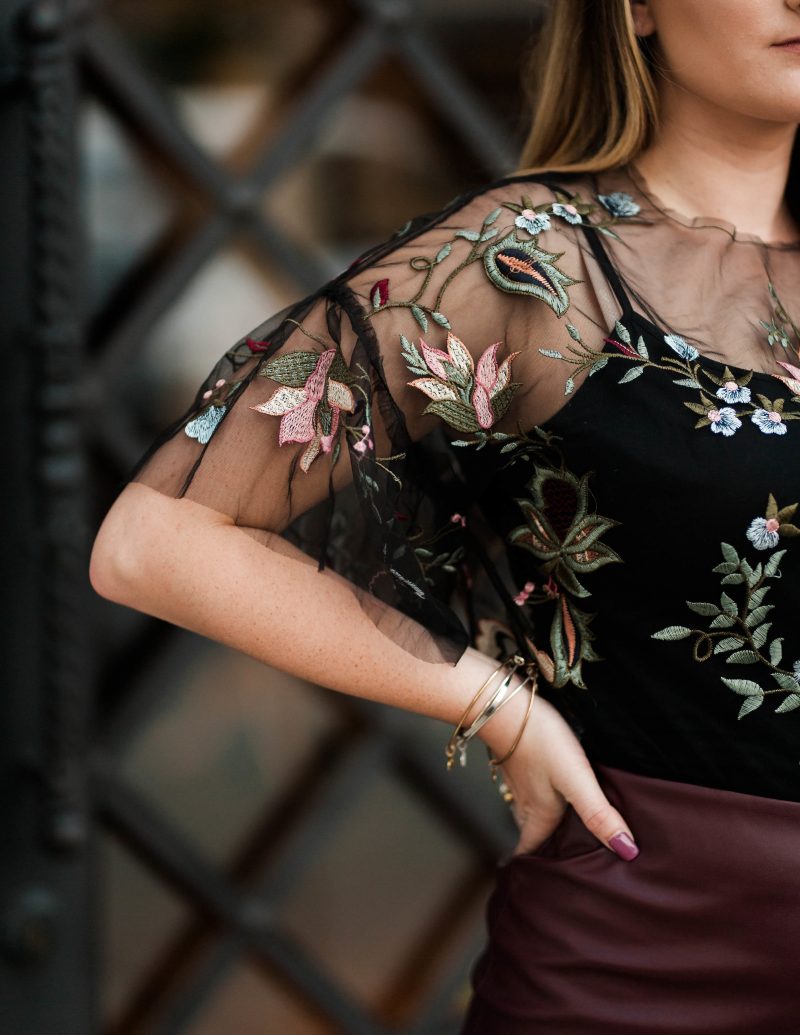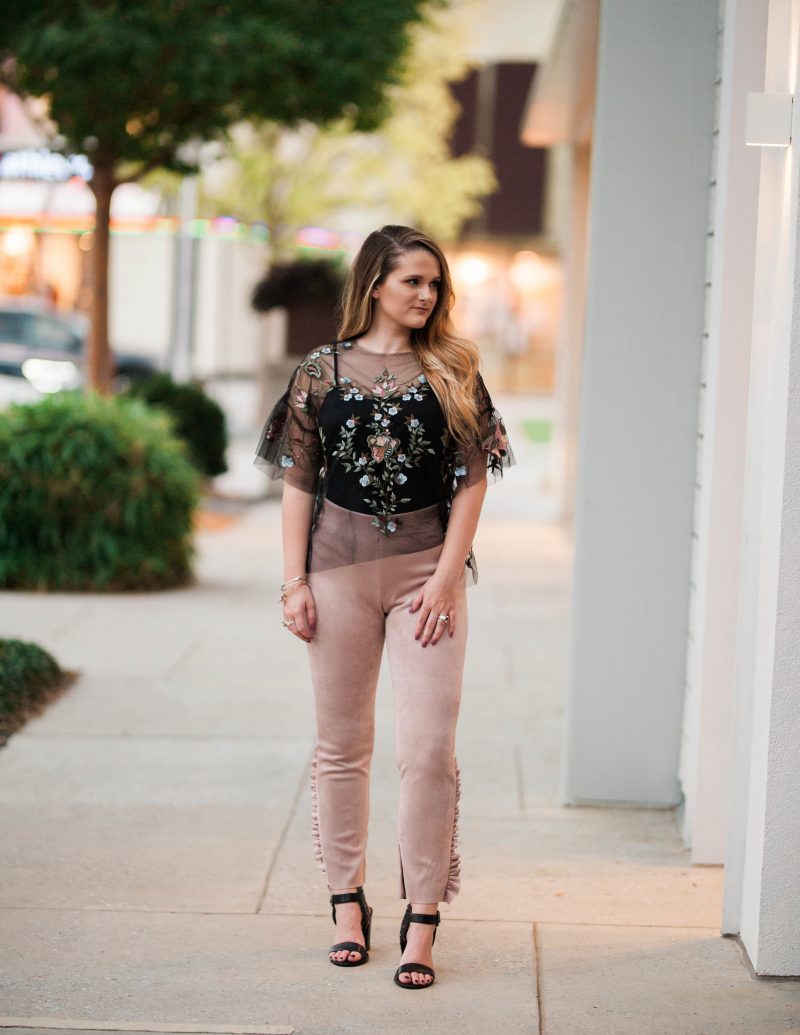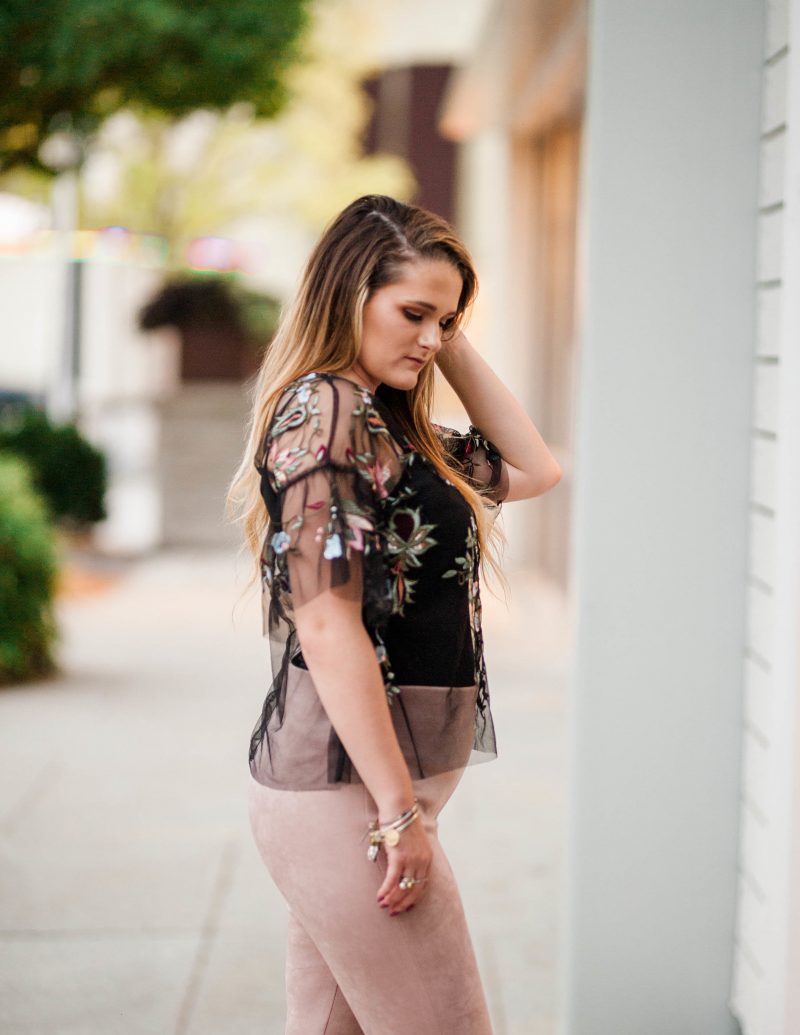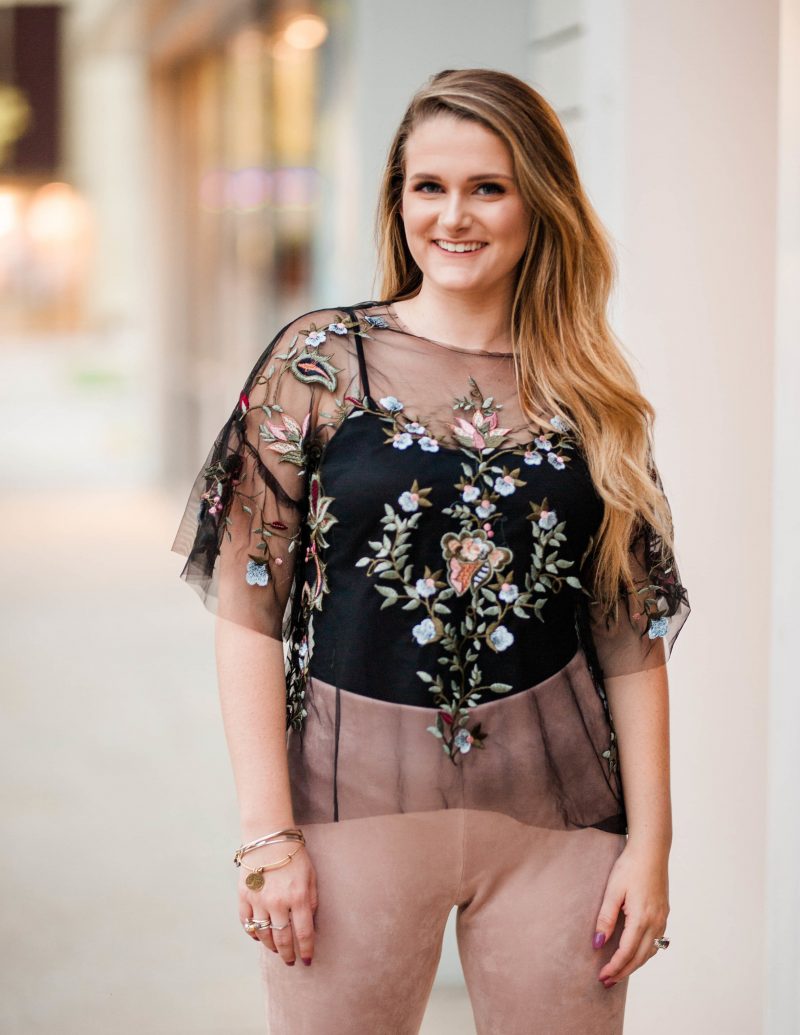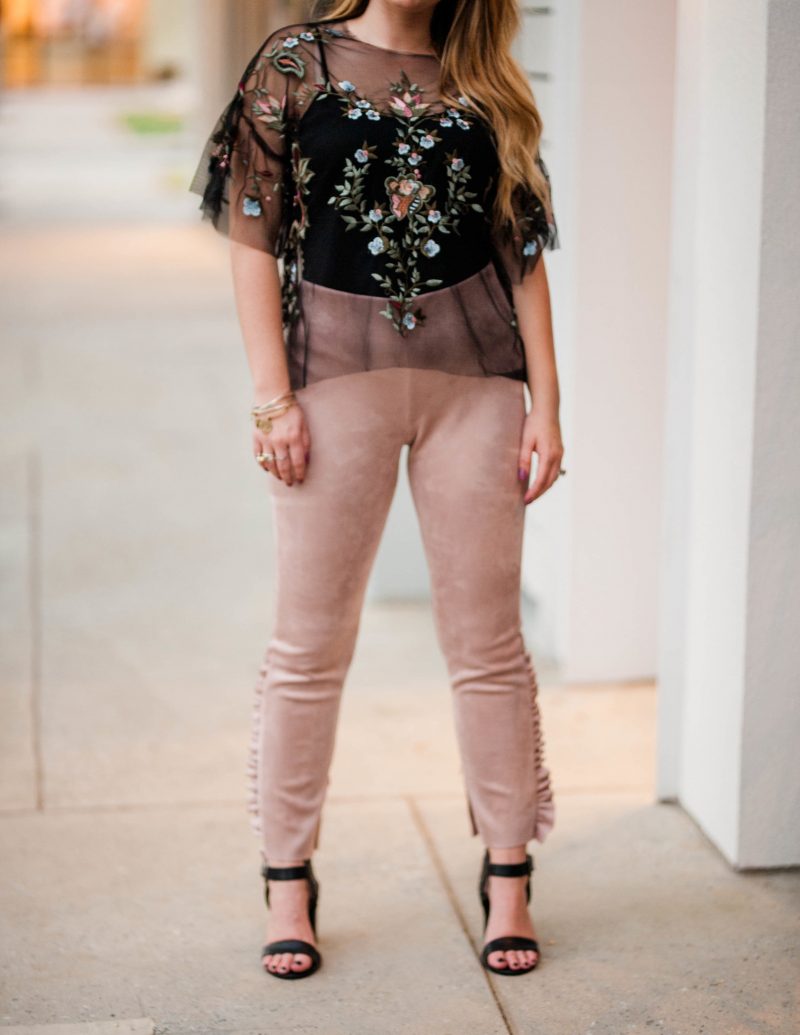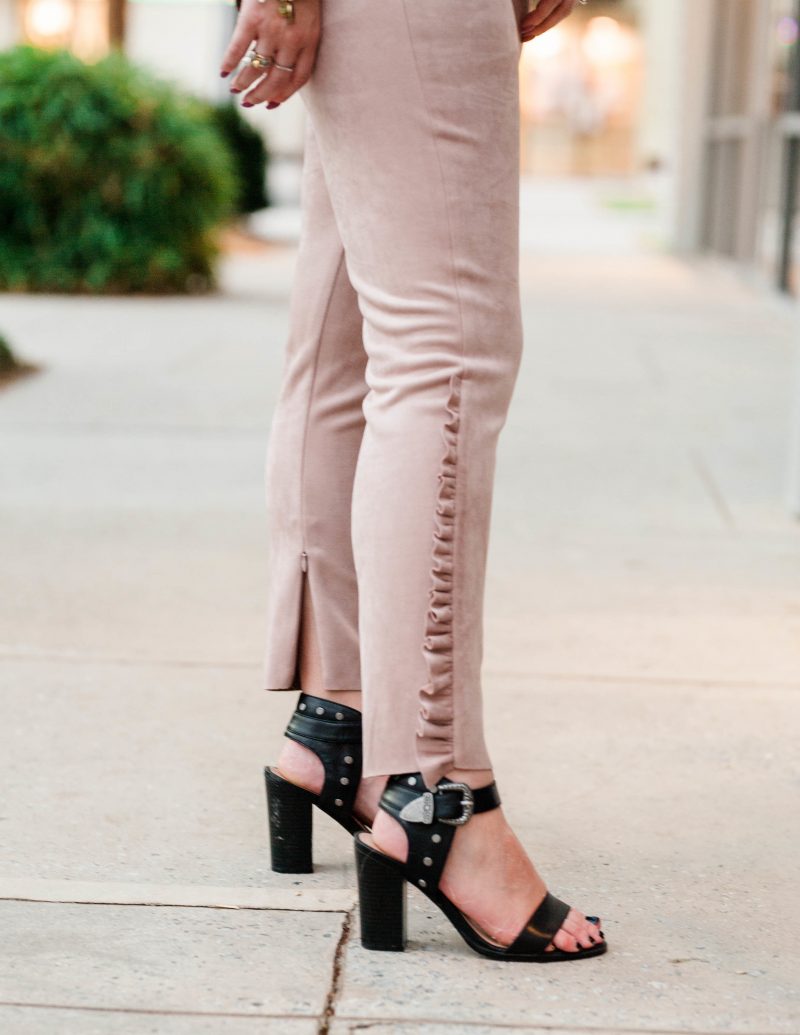 Tulle Embroidered Top: ZARA, $40 | Peplum Skirt: Asher by Fabrik, $30 on sale (similar option here)| Suede Leggings: ZARA, $40 | Buckle Sandals: DSW, $45 on sale for $30
Well, look who got around to getting two posts done in a timely manner this week (freaking finally, Carly)! For this post, I'm sharing one of my favorite tops from ZARA that can be worn so many different ways. In August my mom and I went to ZARA at Lenox and we invested in some great pieces for the fall/winter that will be great for the office, but also perfect for any occasion this season. Aside from my winter coat (that you've seen on Insta & coming to the blog soon), this top might be my favorite piece from that haul! I love the detailing, the material and how many different ways that it can be worn.
This top can be worn in the office, out to dinner or even for a night out on the town! One of the hottest trends right now is to wear bralettes underneath shirts like this. For a night out, this top would be a show-stopper paired with an accent bralette. Add a skirt, like the one seen above, or some pants, and you've got a hot outfit for a night of fun with your girls! If you're going the more conservative route for the office, throw on a cami underneath and you're good to go. I chose black so that the detailing on the shirt would pop and standout, but choosing a color from the detail is also a great choice!
When I paired it with the skirt, it cinched in the waist, but still showed the detail. I love love love skirts for the office! I don't know what it is, but these past few months, I've just been reaching for them. The one that I have featured here I actually stumbled upon on the sale rack at Fabrik in Atlantic Station. There were having a BOGO free on their sale, so I grabbed this adorable skirt and a pair of nice jean shorts for $30! I love this skirt because it's the perfect fall/winter piece. It can be dressed down with a graphic tee and flats or sneakers, or it can be dressed up with heels or boots. It's leather, it's comfortable and it's flattering!
Y'all know I'm all about comfort, so when I found these leggings at ZARA I had to have them. They are beyond comfortable and soft. I love the simple ruffle detail down the side, and they can unzip around the ankle which is nice if you want to fit a boot under. They're high waisted, which is great (in my opinion) for tucking in tops and sucking things in on those days you're just not feeling it!
Last are the shoes! I'm literally obsessed with them. I love them so much that I have actively had to force myself not to wear them every day. I bought them on sale at DSW and I just can't get enough. As you can see, they are perfect for the office because they add personality to an outfit, but they are also great to rock with a plain pair of jeans and any top for a casual night out. If you want these shoes, I'd order them online while you can because they won't be around for much longer! If you can't tell, I'm obsessed with the boho chic look and the buckle detailing, which is just one of the reasons I am in LOVE with these shoes.
What are some different ways that you would style these pieces?
With love and hopes of inspiration,
Carly