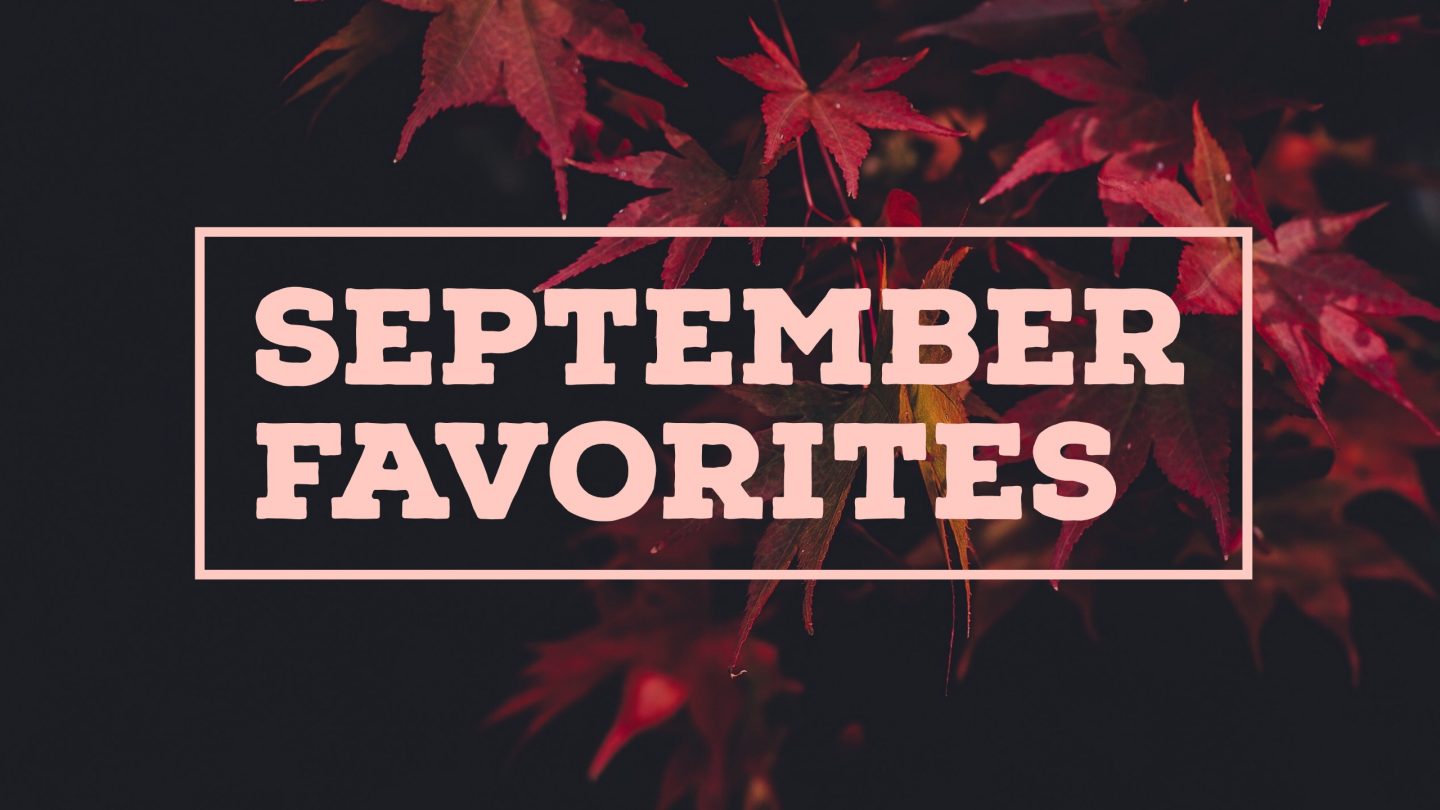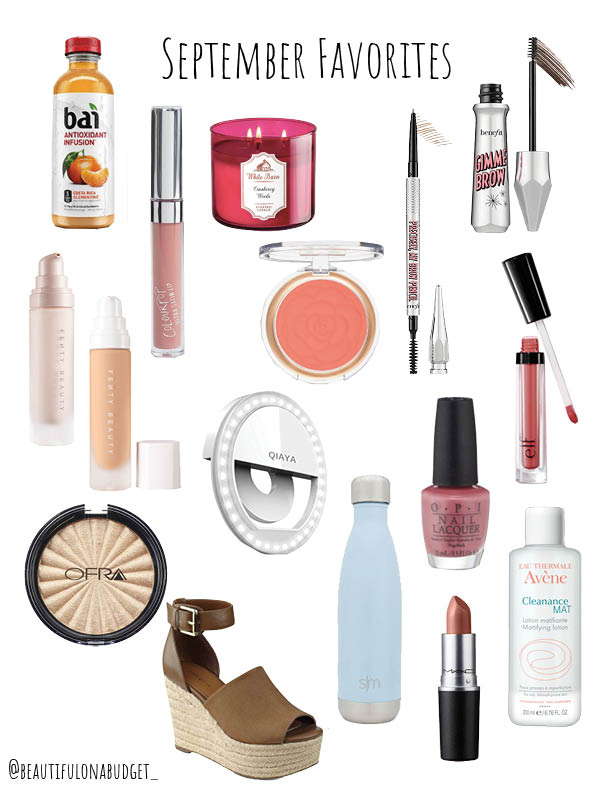 I can not believe that it's already October! I feel like I say it every month, but time is seriously flying by. Just like the recent months, I feel like I blinked and the month was over. This month I didn't try too many new things but there were some things that I've used every single day that have become holy grail products. From lifestyle items to makeup and beauty products to fashion, this month held a lot of favorites for me. October is an extremely busy month for me, so fingers crossed that I can stay on top of trying new things and posting on time!
Bai Antioxidant Drinks: $2.50 at Kroger – I started drinking these drinks after visiting my mom and taking one home with me. While I've definitely found some that I'm not too fond of, I've found a bunch that I absolutely love! I have trouble drinking water most of the time so I feel like if I'm going to drink something, it might as well be decent. I love the way that they taste and the fact that they aren't filled with sugars! There are also several different types of the drinks, which are also great. Lately, I've been taking one to work with me every day.
Benefit Gimme Brow Gel: $24, shade '3' – I received a sample of this a long time ago and I loved it. It wasn't until recently when I was in Sephora using a gift card that I bought a travel pack of Benefit products promoted by YouTubers that I started using this product again. I love the color that it adds to my brows after I fill them in with the pencil listed below. It's also great for the days that I don't feel like doing much, so I just throw on some of this and it makes all of the difference!
Benefit Precisely, My Brow Pencil: $24, shade '3' – I just tried this product for the first time when I bought the travel pack mentioned above. I absolutely love it! It's so easy to use, the perfect size for filling in my brows and does such a great job staying all day. The shade '3' is the perfect match for my brows, which has been hard for me to find in the past. I've used this every day for last month and I'm almost done with my travel size. Needless to say, I'll be purchasing this again very soon!
Colour Pop Ultra Satin Liquid Lipstick: $6, shade 'Magic Wand' – I've had this product for over a year and it's a go-to of mine. It's the perfect shade! While it doesn't stay all day long and last through eating and drinking, it looks so good when you wear it, doesn't get too dry and crumble off like others do. I don't know why I haven't purchased more of these in different shades (probably because it's online only (for now) and I'm impatient), but I will be soon because I constantly find myself reaching towards this one.
e.l.f. Nourishing Tinted Lip Oil: $6, shade 'Nude Kiss' – I received this in the Lady Box from the Lady Gang and I've been loving it. It's the perfect lip product for those 'no makeup' days and even goes well over other lipsticks to give them some shine. It's not too pigmented, sticky or long-lasting, but it's great! Plus, you can't beat the price.
Bath & Body Works 3-Wick Candles: $23-$25 – There isn't really a need to explain here… I have these candles in my house at all times! I love their scents and they have rebranded their packaging, which makes them great accent pieces in your home. I don't buy these at full price. I wait until there are coupons or sales and I stock up!
Fenty Instant Retouch Primer: $32 – I was skeptical at first to purchase these products, but after hearing the beauty gurus go crazy, I figured it was worth a shot. Well, they were right. Ever since I purchased it, I've used this primer with the foundation every day. I haven't tried the primer with any other foundation yet because I'm too obsessed with this combo, so stay tuned. It's a perfect consistency: not too tacky or too oily, and my makeup even looks flawless the morning after (oops… don't fall asleep with your makeup on!).
Fenty Soft Matte Longwear Foundation: $34, shade '150' – This foundation is everything. I seriously can not say enough good things about this product. First of all, the number of shades offered is just amazing! The formula works great on my skin, which is a combination of dry and oily with some light texture. It doesn't enhance my texture too much and leaves a great finish. It dries pretty quickly as you apply, so keep that in mind before you pump out too much! Also, you don't really need to set it because of the way that it dries, but I do anyway to ensure max longevity! It's not too heavy on the skin either, which is a huge plus. The amount that you get with this foundation and the primer is more than the average bottle. This product is worth the money! The coverage is great and buildable. Also, a little goes a long way, which is always a win. I use a Real Techniques sponge to apply it!
Flower Beauty Blush: $9, shade 'Peach Primerose' – I have tried products from this brand before, but it was prior to me getting really into makeup and the quality of products. I love this blush! After seeing Casey Holmes try it, I made sure to grab it the next time I was at Walmart. Unfortunately, it's getting harder to find, but it's available online! There are several different shades and it's pretty reasonably priced. This beauty line is underrated, for sure!
MAC Lipstick: $18, shade 'Velvet Teddy' – MAC lipsticks are amazing! The shade that I've been in love with is a limited edition one created by Laura Lee, but Velvet Teddy is very similar and a definite staple. The Kardashians are famous for wearing it, so a lot of people have purchased it from that reference alone. It's a lipstick, so it doesn't stay all day but it's a great formula that is perfect for everyday wear.
OFRA Cosmetics Highlighter: $29, shade 'Blissful' – Normally, I wouldn't purchase a highlighter for this price, but it was on sale for $14 during Ulta's 21 Days of Beauty and I knew I needed to try it! I had always wanted to try this product but never wanted to spend the money. Is it great? Yes, I've been using it almost every day since. Would I purchase it again over a cheaper highlighter? Maybe not because I have other options that are more reasonably priced that are equally as great! But, if you're looking for a great highlighter and don't mind spending a little bit more, this is a great option.
OPI Nail Polish: $11, shade 'Just Lanai-ing Around' – I get my nails done every two to three weeks because I can't paint them to save my life, and I also can not stand when my nails look bad. I am a firm believer that when your nails look good, you feel good! I also have a bad habit of biting my nails off, so if I don't have them done, they look awful. It was not long ago that I went out on a limb and tried this new color. I love it! It's the perfect transition color for fall! I got the gel version and it stayed well and looked great.
Selfie Light: $9 – Say what you want, but I love this thing! I have a ring light in my house to use for when I do my makeup, film videos (yes, I know I need to get back on that), take selfies and other photos for my blog. Well, when I'm not at home and do my makeup, or need better lighting for a photo, this comes in handy! It's not bulky like the Lumee case, which I used to have and loved, but it's a great, cheaper, alternative that you can throw in your purse.
Avène Mat Lotion Toner: $22 – I received this in a subscription this past month and fell in love with it. This brand is for those with hypersensitive skin, which sometimes can be me! I love that it's not too strong that it leaves a burning sensation on my skin, but I could see a difference in my skin within just a few days. Because of the difference that it made on my skin, it made me purchase it immediately. I have a feeling that my skin routine is going to be switching up a bit!
S&M Stainless Steel Water Bottle: $14 in shade 'Robin's Egg Blue' – Just like everyone else, I wanted a Swell bottle because everyone in my office had one. But, I refuse to pay that much for a water bottle. I did what I always do and I took to Amazon to find myself a cheaper alternative, and I did. This bottle is great and does the same exact thing that the Swell bottle does. It holds 25 oz and it's the perfect bottle to transport my drinks because it's not going to leak everywhere. There are a ton of patterns and colors offered for a great price, you can't beat it! Just don't put it in the dishwasher!
Indigo Rd. Airy Platform Wedges: $35 at 50 East Shoes, (listed for sale on different site, limited sizes left) – These are the dupes for the Marc Fisher and Steve Madden ones that everyone is wearing! When I found these at 50 East Shoes at the Outlet Shoppes of Atlanta, I knew I couldn't pass them up. I'd been eyeing them all over Instagram, but I wasn't going to fish out that kind of money for them. Thank goodness I held out because I got a great deal! These are so comfortable, fit great, easy to walk in and go with just about anything. I've worn them with shorts, jeans, skirts and dresses. They are perfect for this seasonal transition and a great closet staple.
What are your favorites from this month?
With love and hopes of inspiration,
Carly