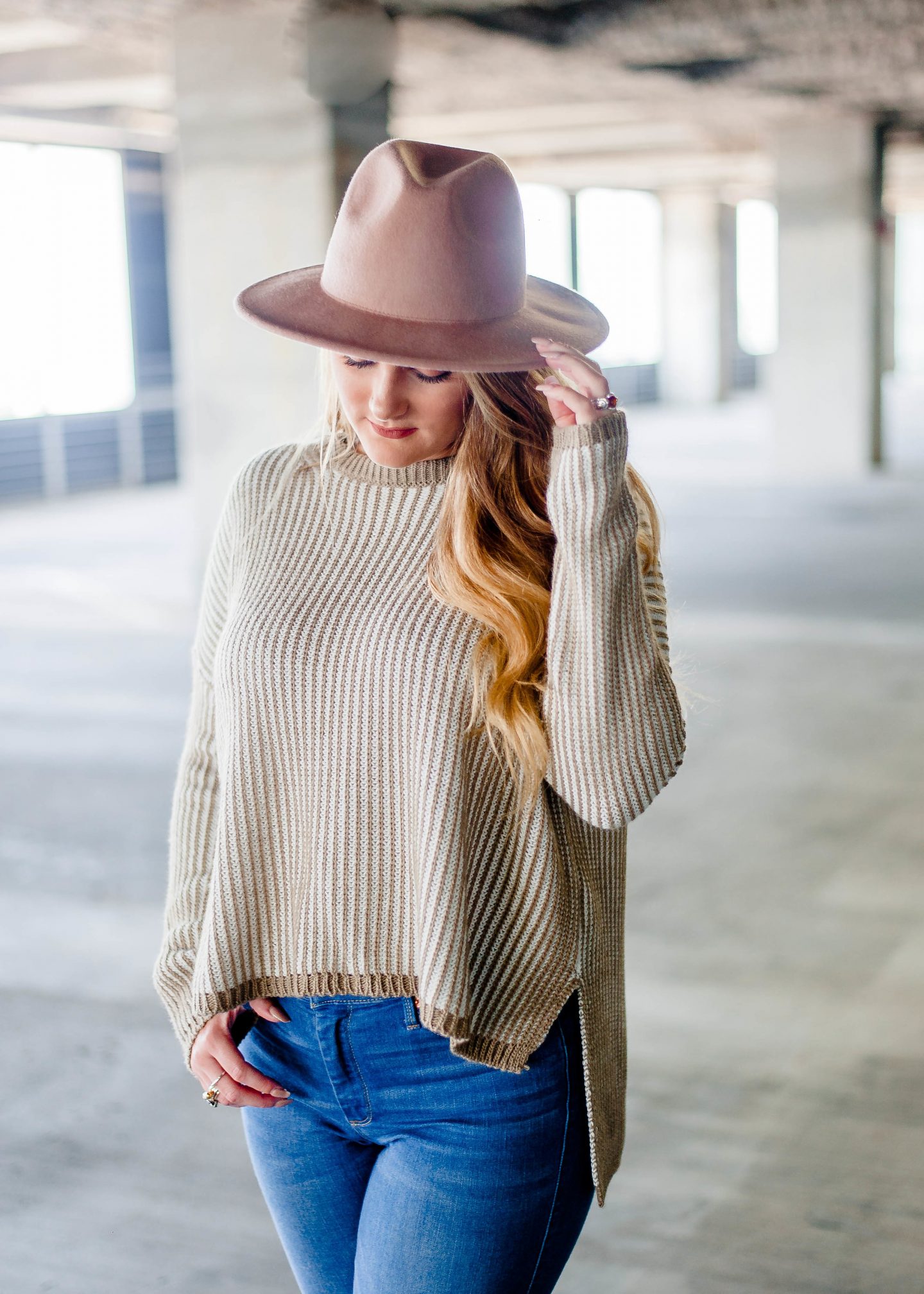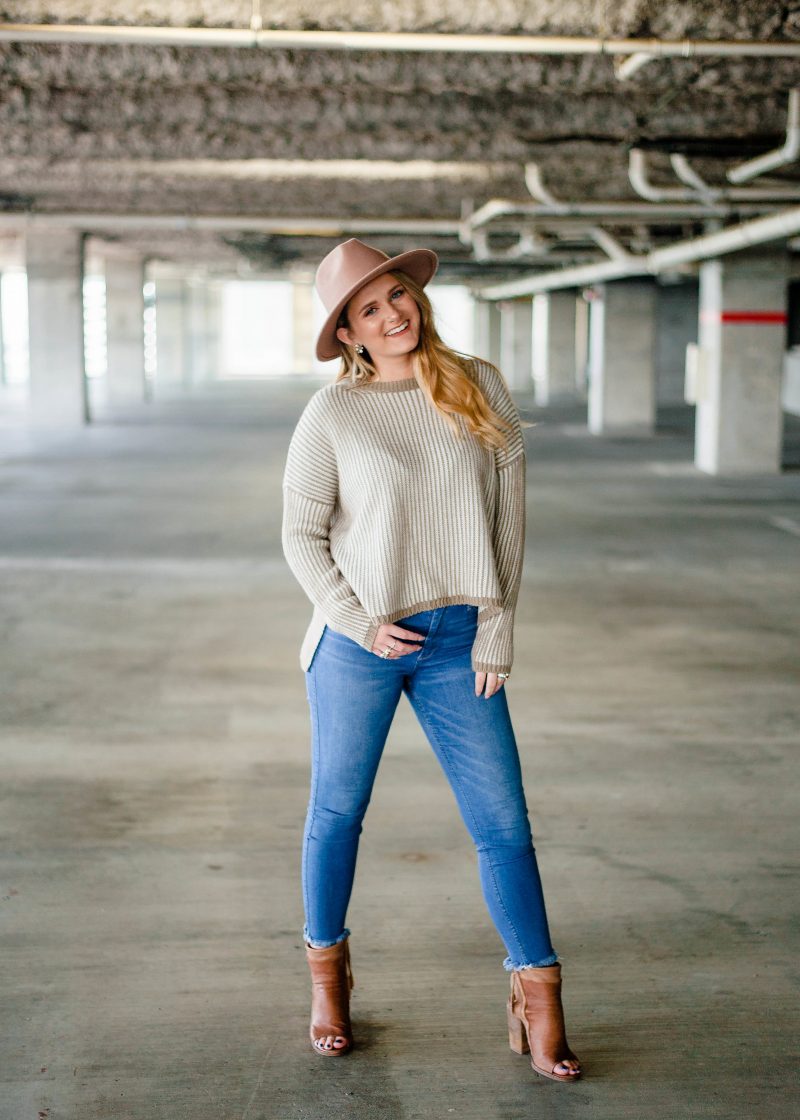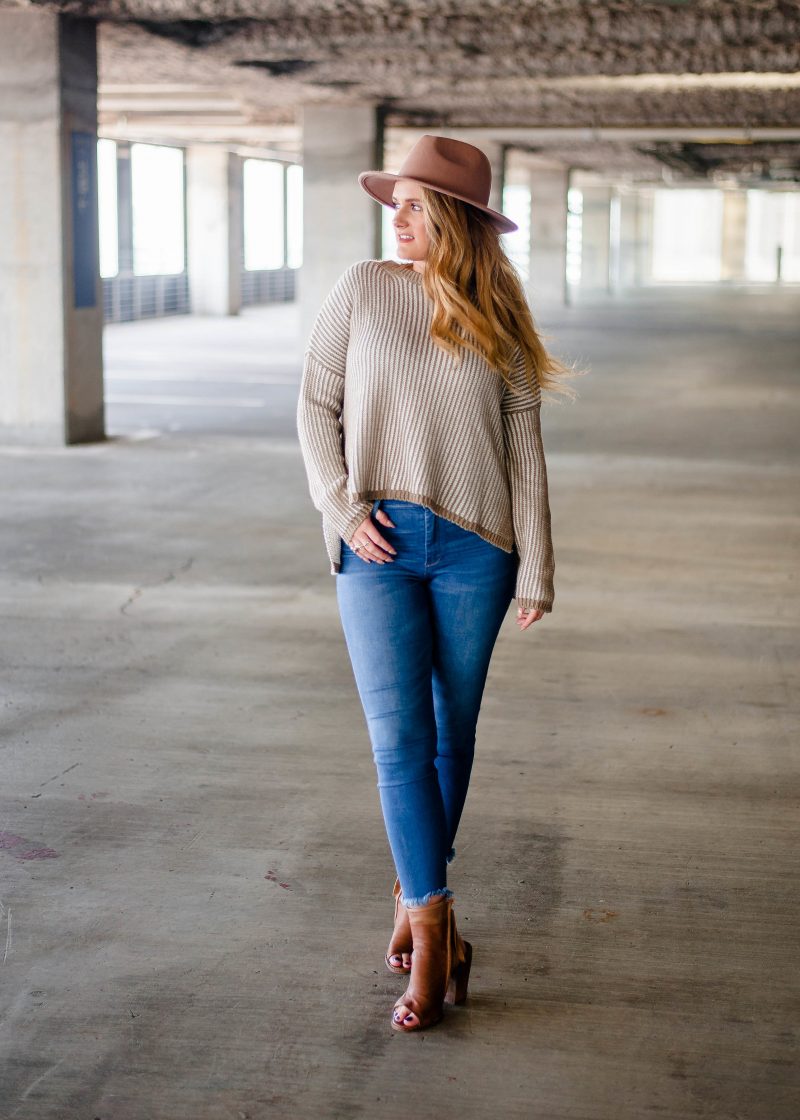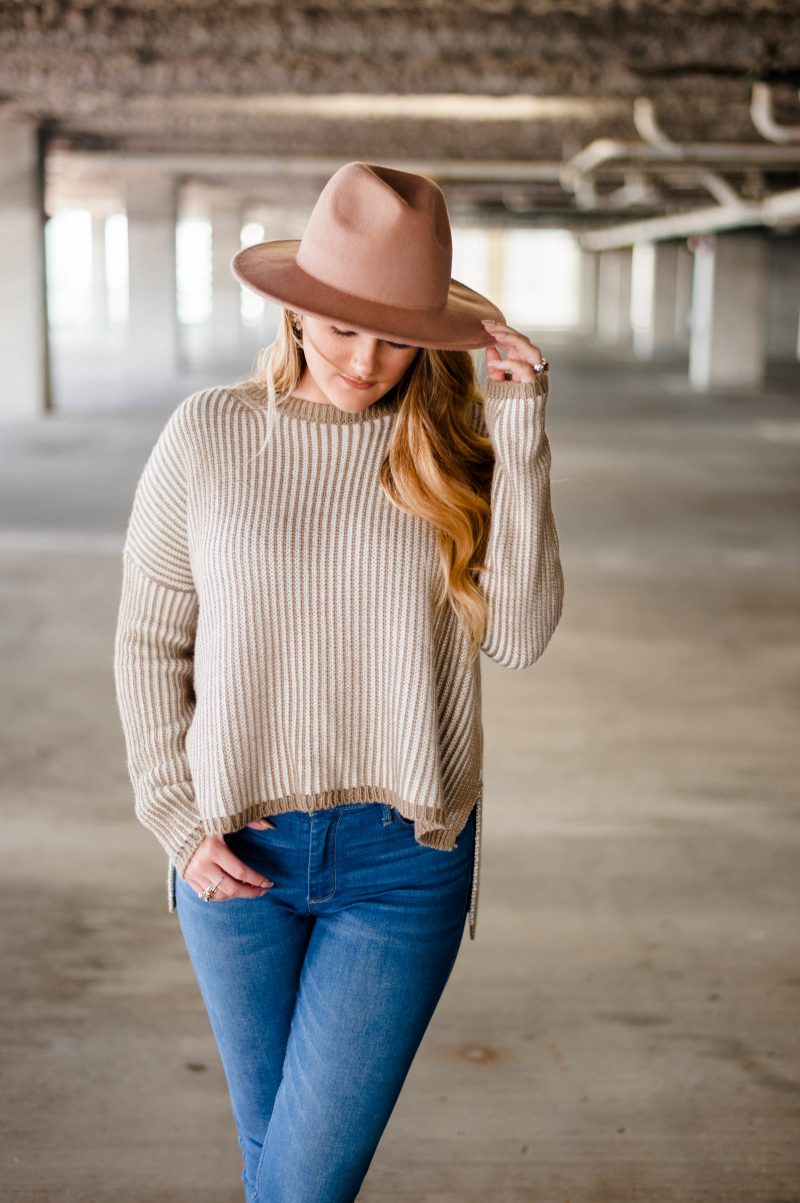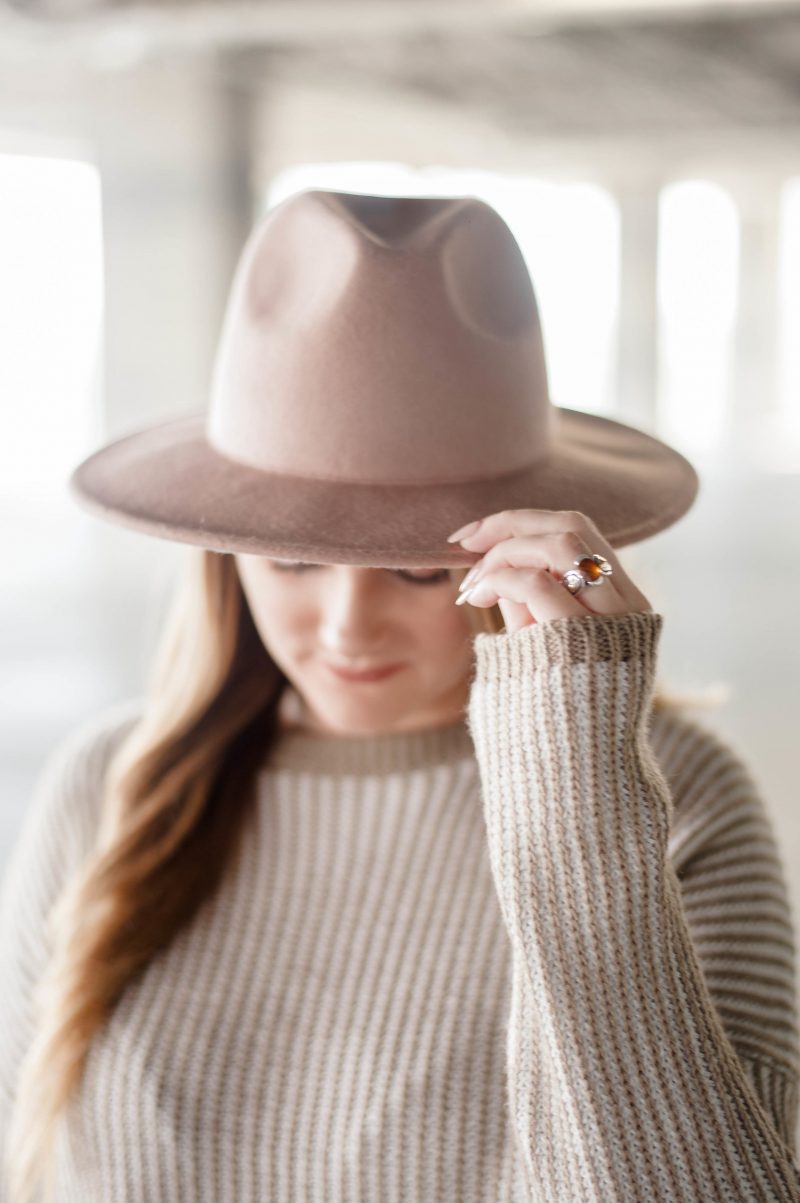 Sweater: by Don't Ask Why at American Eagle, $20 | Jeans: Abercrombie & Fitch, $15 from thrift store | Shoes: Dolce Vita | Earrings: SugarFix by BaubleBar at Target, $12 for two pairs, on sale for $7
I love, love, love fall! Seriously, my favorite time of year ever. From the crispy weather to the activities to the fashion, I literally can not get enough. I also can't get rid of my fall clothing from years past because I have like a personal attachment to them. For example, I have more Free People thermals than one person should have, but there are so many different ways to style them, which is just one reason why I love them so much! This outfit featured here is something that I will probably wear often this season, in many different forms. You can't go wrong with a sweater, your favorite jeans, some booties and a statement accessory, like this hat. I found this sweater online from American Eagle and scored it while they were having a major sale, I went back to look
I found this sweater online from American Eagle and scored it while they were having a major sale, I went back to look at it again and it was gone! I love the cut, the pattern and it can be worn with jeans or a skirt, or even over top of a dress. American Eagle always has great sweaters, cardigans and other accessories. Another insider tip: search their clearance section very thoroughly! Below I've rounded up some fall outfit must-haves for this season. From hats to boots to bandanas and sweaters, these are some affordable options to amp up your fall wardrobe this year! Chunky sweaters are a must. So far this year I've bought about 6 (or more) and I've paired them with skirts, jeans, over dresses and even shorts for those days when the weather still isn't really cool but you want to wear a sweater! I love this oversized, chunky look that you get with the sweater, but even when you pair it with a skirt, it still manages to work for the office (if you can go a little more casual). Not only can they be dressed up, but you can dress them down with a pair of jeans or leggings. It's like you're getting two different outfits out of one item. Win!
Next, cardigans! These are a must. I keep a cardigan from last season at H&M at work and it is a lifesaver. I also have one in my car at all times, because I am freezing everywhere I go. This year one of the hottest trends are the long, duster cardigans that are taking over the stores! But, you can't go wrong with a traditional cardigan or one with a funky cut/fit. A cardigan is one of the easiest ways to accessorize an outfit. Put on your favorite pair of pants, a comfy, basic tee and throw on your cardigan.
Most people think to skip out on the hats because they feel like they can't rock them. Wel, you're wrong! You can totally put on a hat and look amazing. Plus, they're perfect for the days when you don't feel like washing or styling your hair! While Panama hats and fedoras are a staple, there is a new fave in town this season: the cabby hat. These have become more popular and on trend over the past few weeks and I'm so pumped to try them out. Other accessories that you can't go wrong with are bandanas tied around your neck, scarves, jewelry and statement belts. These items are key when trying to dress up a basic tee. Plus, when you're not wearing the bandana around your neck, tie it on your purse for some added fun!
Lastly, the shoes! I have a shoe problem, like a major problem. Every year I can't wait to get some new booties. I live for them! While I still have a few pairs from last season, because they are just so amazing and still in good condition, that doesn't stop me from adding to my collection. This year there are so many bootie trends and I can't get enough of them. One of my personal favorites is just a black, chunky, leather, heeled boot. I have a pair from Urban Outfitters that I got last season and they have been a go-to of mine in all seasons. The pair listed below are almost identical and cheaper! Other trends for booties that I'm loving are the fun, bold colors and fabrics. The silver, acid-wash looking booties are so in! I love that they can be paired with a neutral or monochromatic look and can add that extra something that you're looking for. Another trend is the embroidered detail on shoes. I have some block heels with a bright embroidered heel and I love pairing them with a simple dress. I am definitely looking for a pair of embroidered booties for the hell, so let a girl know where to get a cute, affordable pair! Also, the over-the-knee trend is back and I'm so happy about it. Personally, I have a great pair that I found in a thrift store while in Portland that I will never give up. It's hard to find a pair that is good quality, cute and affordable. The ones I have listed are from American Eagle, and from what I can tell, they are definitely a good deal. Lastly, the perforated bootie. I actually have a pair from high school and I'm glad I kept them because the trend has come back around! They are the perfect bootie for any season, really. Especially the hotter days when you still want the full fall look!
What are your fall must-haves? I need some more fall items in my closet (not really, but I still want them)!
With love and hopes of inspiration,
Carly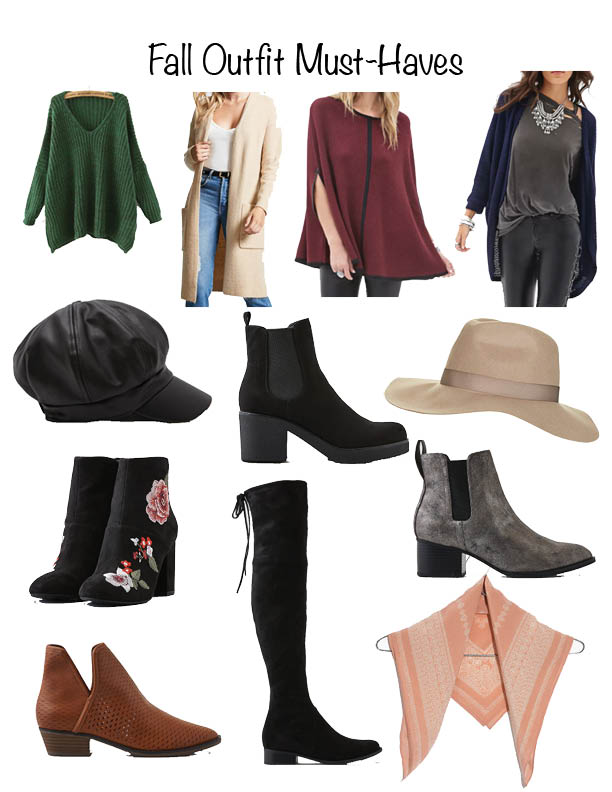 Green Shein Sweater: $20 | Forever 21 Longline Cardigan: $28 | Forever 21 Ribbed Knit Cape: $21 | Forever 21 Dolman Cardigan: $16 | Forever 21 Faux Leather Cabby Hat: $15 | TopShop Camel Tan Fedora: $30 | American Eagle Chunky Heel Bootie: $60 | American Eagle Embroidered Bootie: $60 | American Eagle Silver Bootie: $60 | American Eagle Lace-Up Over-the-knee Boot: $70 | American Eagle Perforated Bootie: $60 | Madewell Silk Bandana: $25