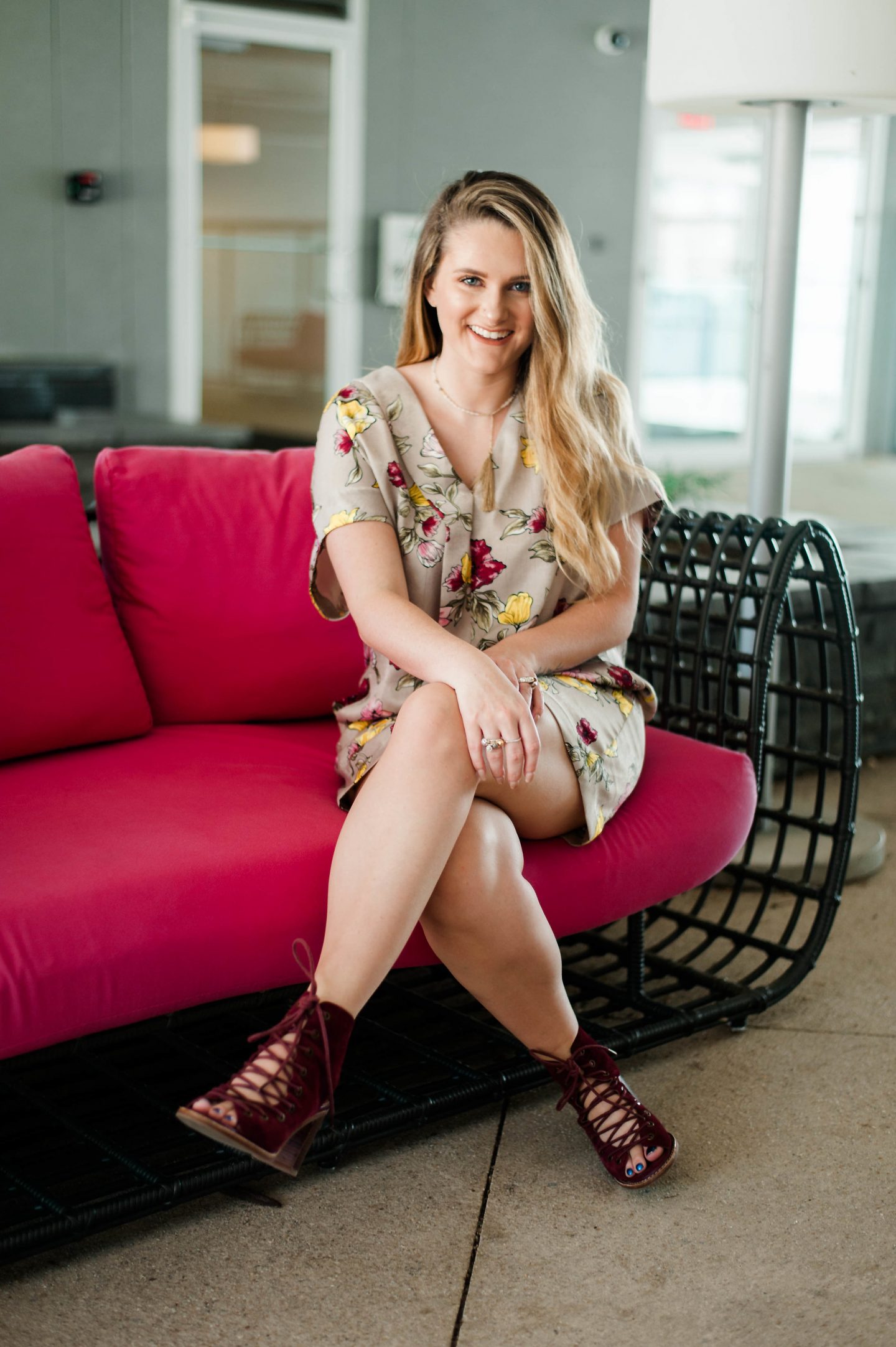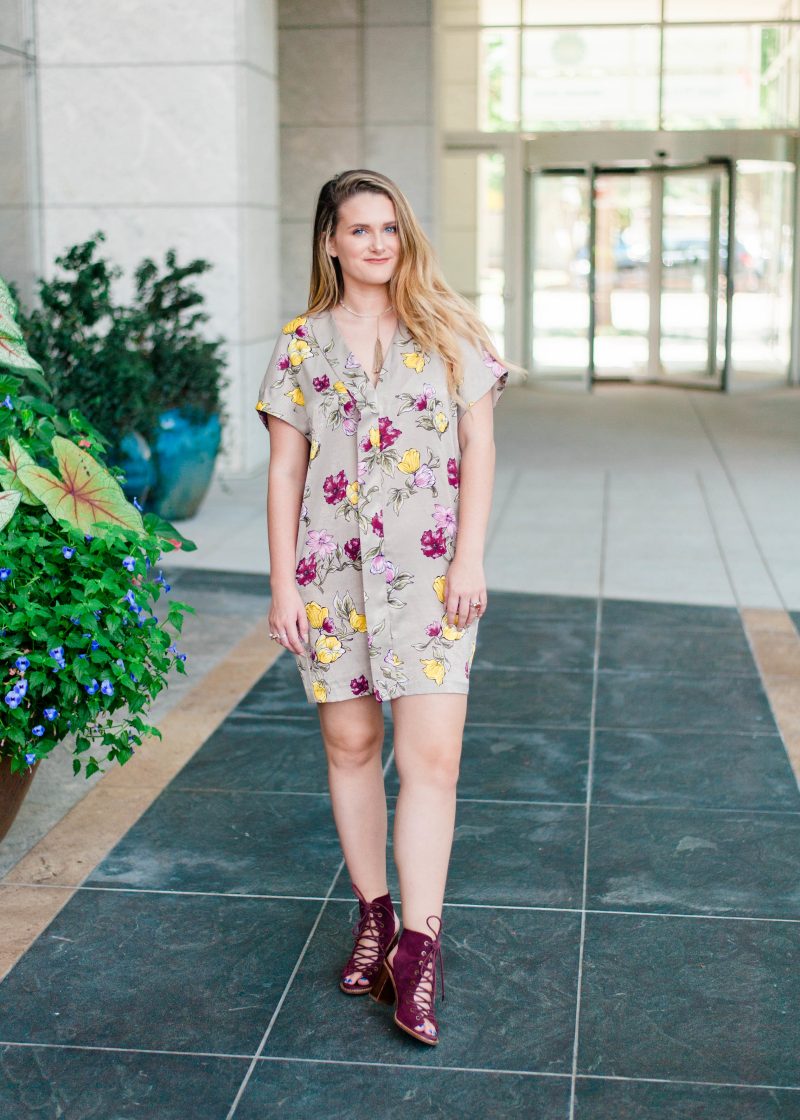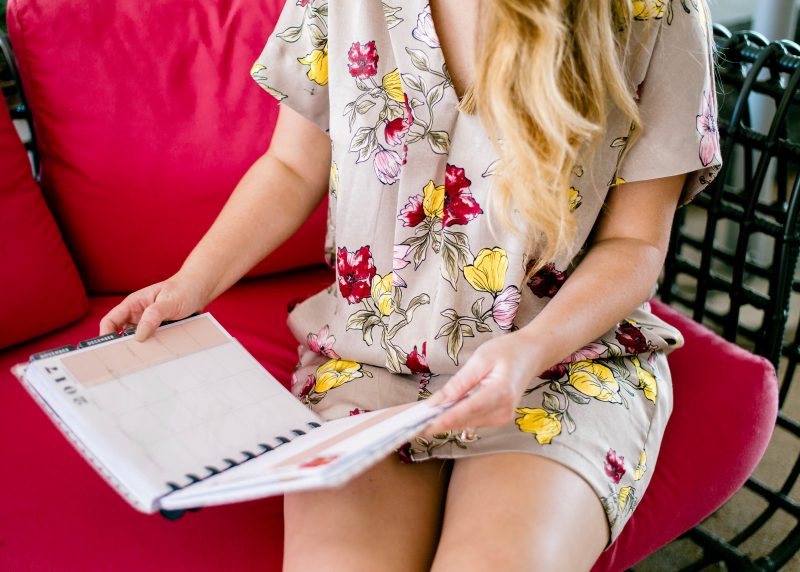 Floral Sateen Dress: ZARA, $50 | Burgundy Lace Up Heels: Jeffery Campbell x Free People, $178, purchased on sale earlier this year for $90 (similar option here for $35) | Necklace: Fabrik in Atlantic Station, $18
Fall is almost officially here and I am overjoyed because it is my absolute favorite season! I love the colors, the weather, the activities and everything else that comes along with it. A few weeks ago I was shopping in ZARA for some work clothes and I came across this dress. Y'all, it is so comfortable!! I literally feel like I'm wearing pajamas all day, which is a win in itself. Since I sit at a desk all day, I have to be comfortable and cozy in order to perform my best. This dress is just that and more! There are several items at ZARA right now that are made of this material and I want them all. Who wouldn't? I love ZARA because they have awesome items that look super luxe (to me), but are also affordable. Every item that I've bought from them has been great quality and can be worn in so many ways!
These shoes, I honestly don't even know how to begin to explain how I love them so much. When I was out in California in January, I went into the Free People in Santa Monica because they were having a crazy sale. I found these shoes and they were the last ones, but a size too big. I wasn't even going to tempt myself by trying them on, but I let the sales associate talk me into it, and what do you know, they're a perfect fit! They were on sale for $90, super comfortable and a shoe that I could keep forever, so I pulled the trigger. I am so glad that I did because I definitely have got great wear out of them. They go with just about anything, from a casual weekend to an office outfit like I featured here. I know that these aren't cheap, and I wouldn't have bought them if they weren't on sale. If you ever find a great pair of designer shoes, on sale, that you can see yourself wearing in many ways, I fully believe in investing in them. But, if you'd rather purchase a cheaper pair, I have linked a pair from Target above that are almost identical, they just aren't suede. You really can't go wrong with a pair of shoes like these!
I've worn this dress a few times and I love it more each time that I do. I've recently been thinking about other ways that you could style this dress to ensure that you get good use out of it. One of the ways that you could style this dress is with a plain skirt and some colorful shoes. For example, I will pair this dress with a black skater skirt and some blush pink loafers. Another option is to pair it with some pants, tuck it in the front and pair it with a pair of booties or heels. Lastly, because of all the colors, there are so many ways to accessorize this dress – add a hat, a cardigan or vest, jewelry or even over-the-knee boots! You know I love versatile pieces, which is exactly why I purchased this dress. What are some of your favorite ways to style a dress?
With love and hopes of inspiration,
Carly