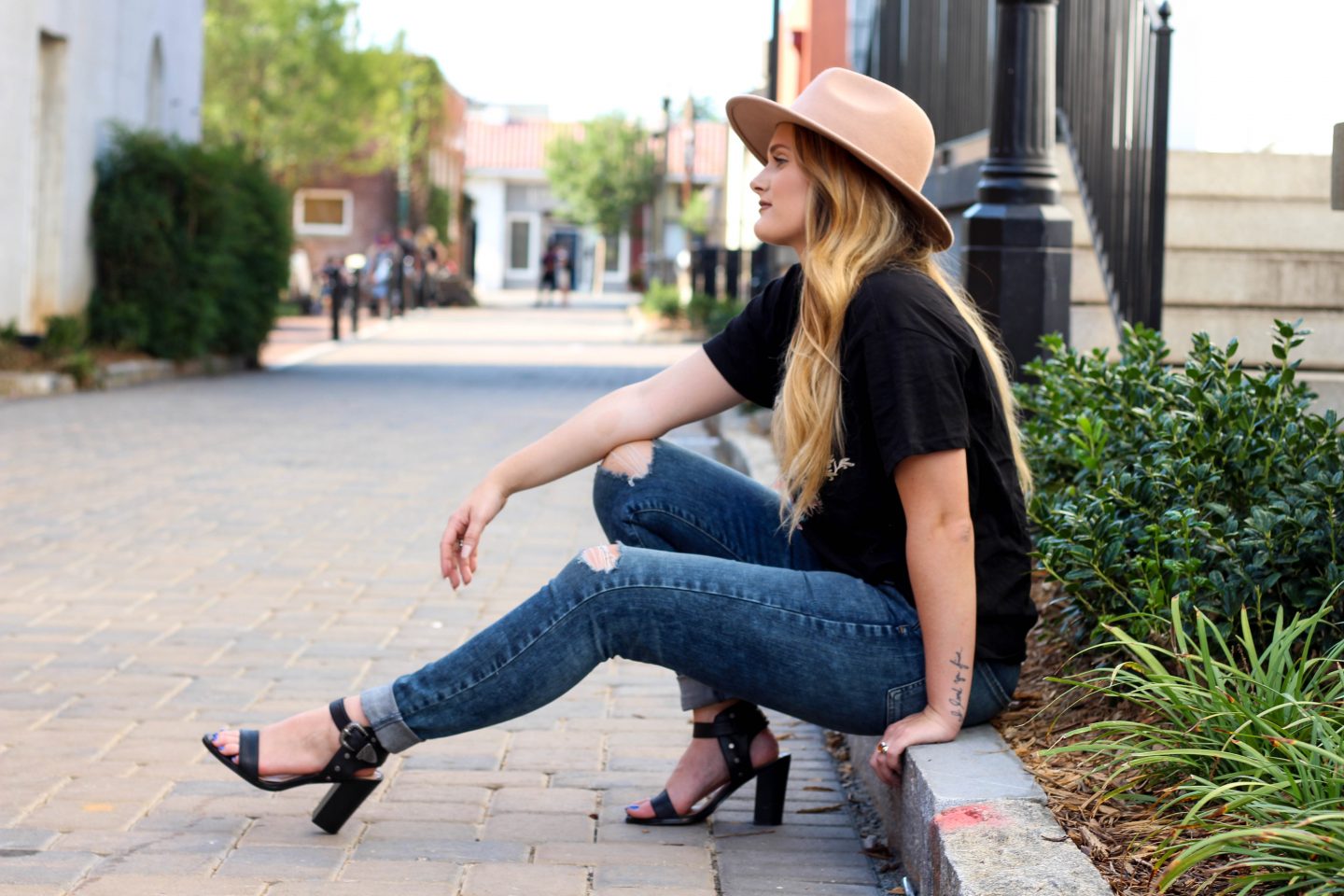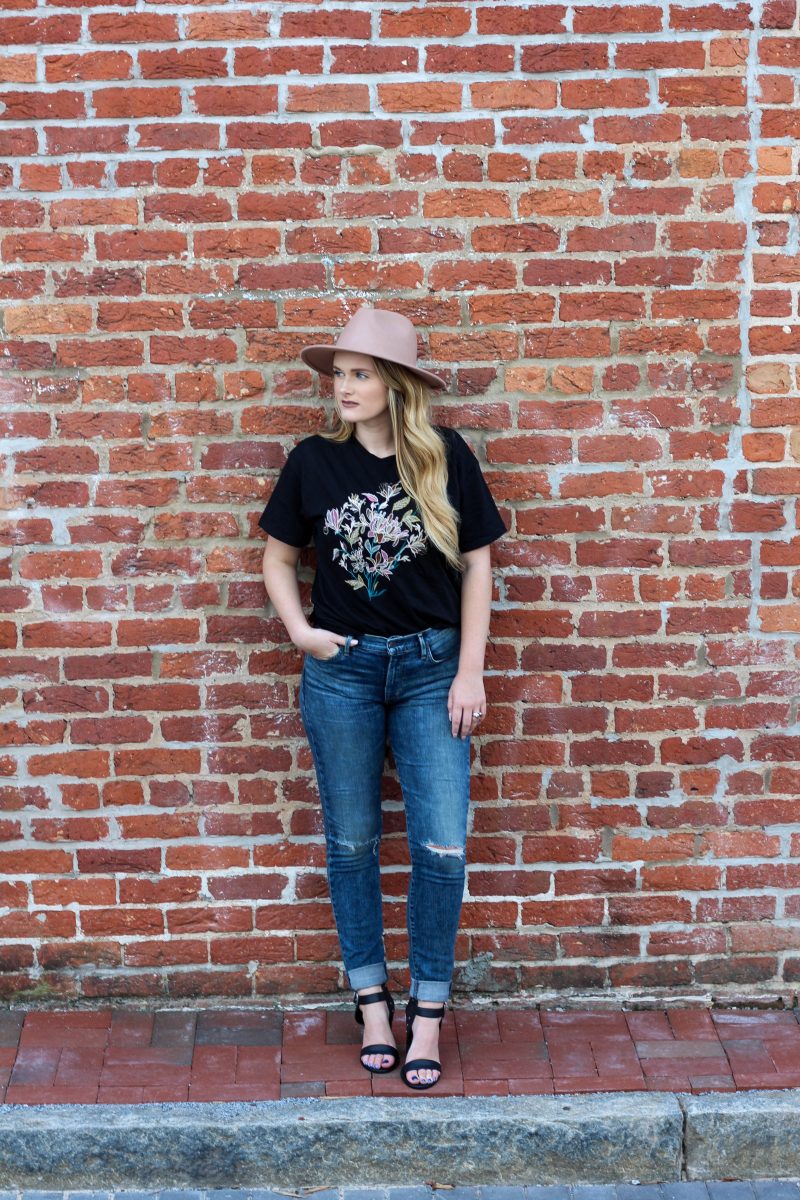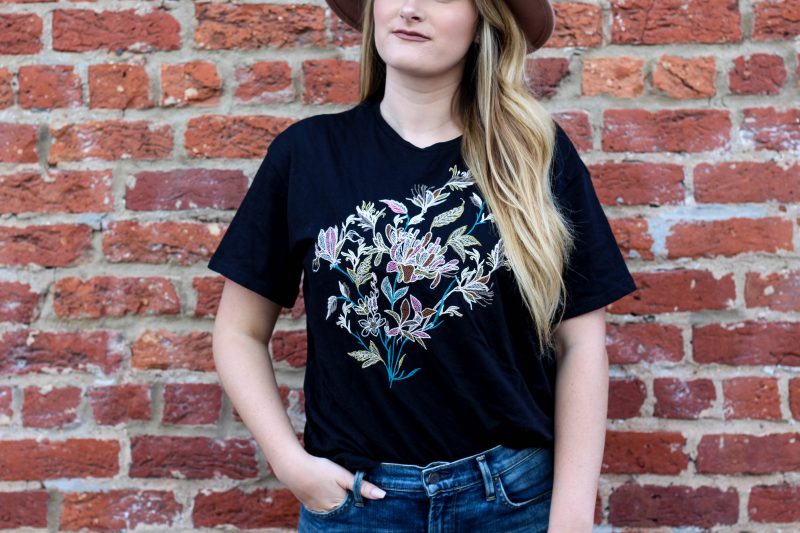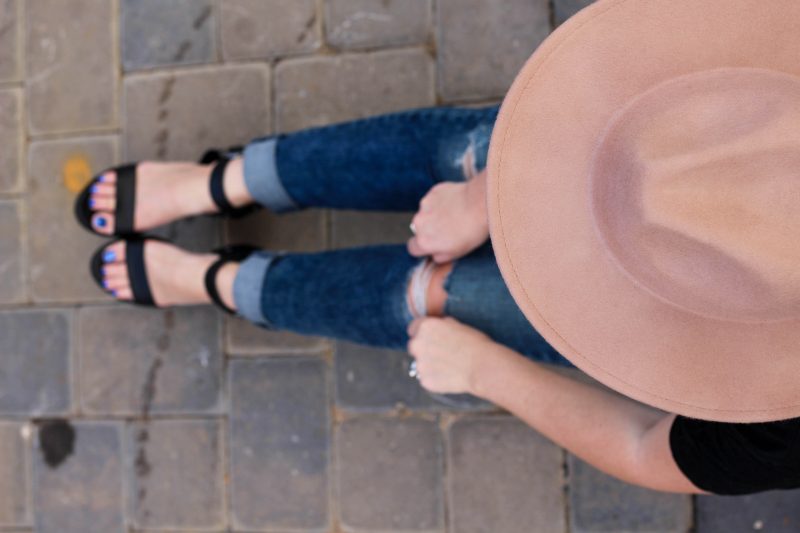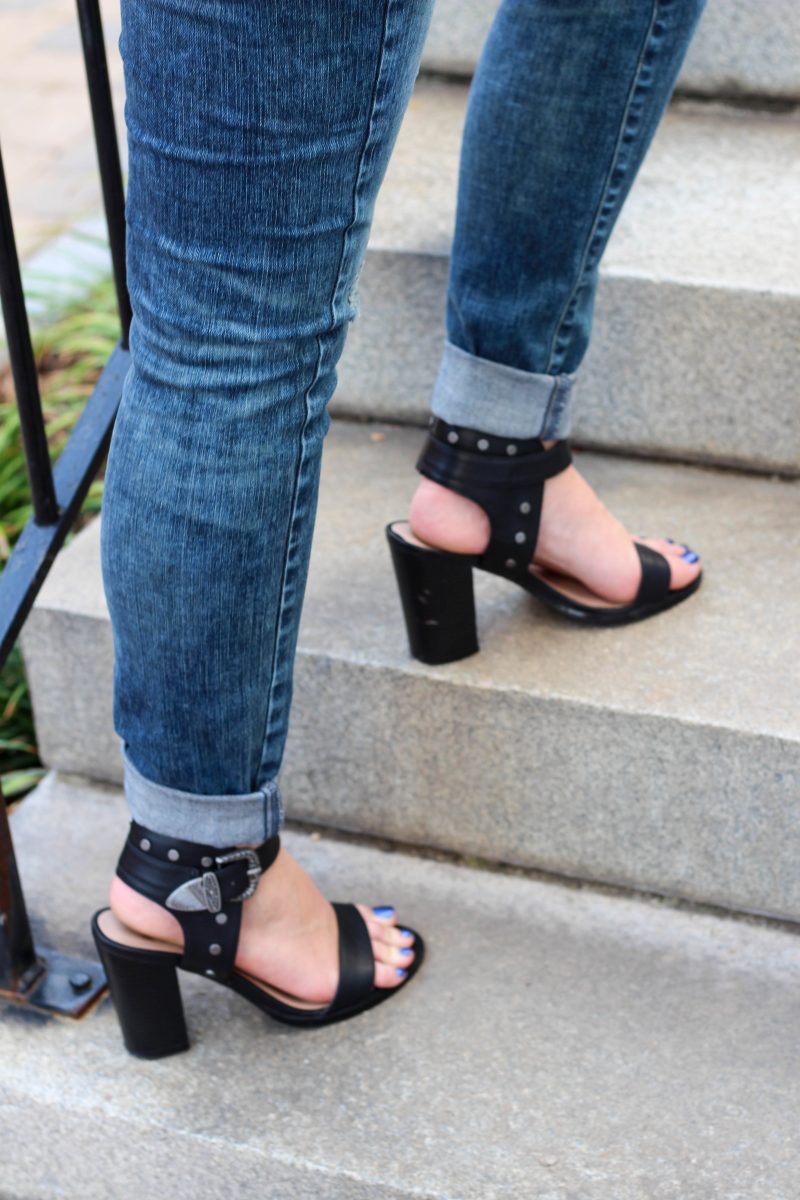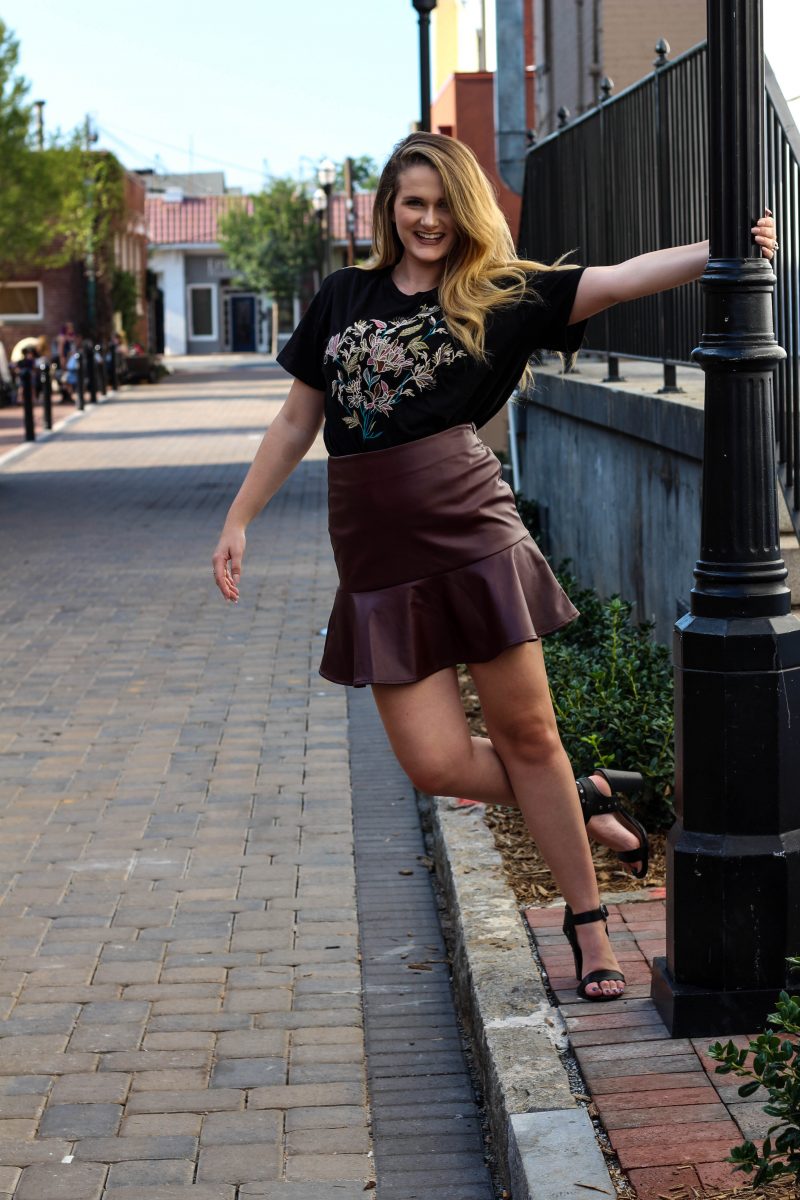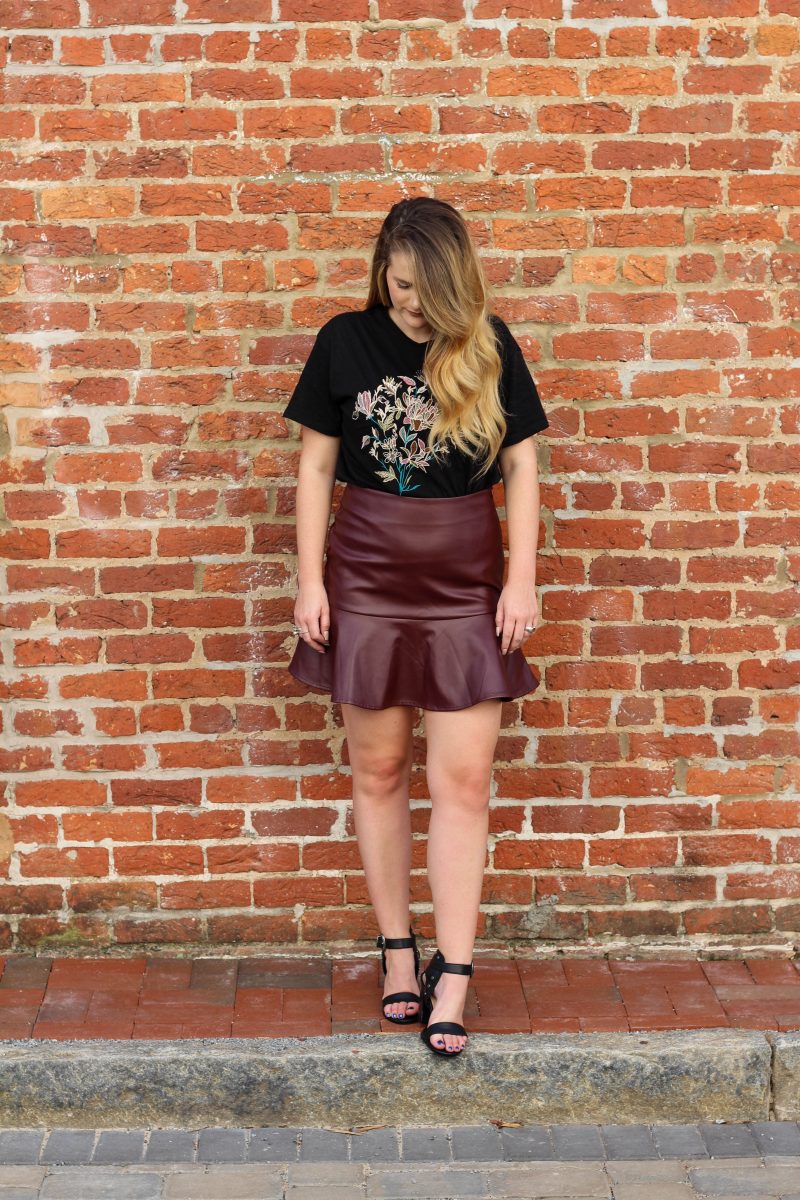 Floral embroidered t-shirt: ZARA, $23 | Distressed jeans: AGOLDE, last season; similar option listed here; $36 | Skirt: Fabrik by Asher, bought on sale; similar option here, $60 | Hat: Free People, $58 | Shoes: Mix No. 6 from DSW, $45
While it doesn't feel like anything close to fall here in Atlanta, the mere fact that it's even close to fall has me counting down the days. It's my favorite season, for more reasons than one; the main one being the fashion. I love dark, deep tones with a mix of neutrals and cool tones too. In the upcoming months this is what you're going to see from me: a lot of hats, distressed denim, leather, black, reds and tans.
One thing that I look for while I'm shopping is the possibilities that piece holds. If you're going to spend your money on something, make sure that it's something that you will get good use out of. Whether it's a basic that you can rework in many different ways or it's a staple that you see yourself wearing for a while – each piece that you buy should inspire you and spark your creativity when it comes to putting together outfits. That's why I love the outfit I'm featuring today.
This outfit is something that I can see myself wearing over and over again. The black tee caught my eye while I was in ZARA and I can't stop thinking about all of the different ways that I'm going to style it. From a pair of jeans to a skirt, the options with this top are endless. You could also go as far as pairing this tee with some sneakers and a simple ball cap. Pieces like this is what will contribute to your perfect closet. So, while you start to shop for this upcoming season, look for pieces that can be paired in a number of ways, layered, dressed up or dressed down! This will be helpful in long run without breaking the bank!
I purchased these jeans at a warehouse sale for Alternative Apparel for $20, these are normally around $138; what a steal! I love distressed denim ( you already know), so when I saw these I knew they were meant for me! They almost have an acid wash look to them and I found that they were a little different than my other jeans. They are stretchy, comfortable and wear so well! Next, I found this skirt at Fabrik not too long along on their sale rack (which was BOGO free) and I was immediately drawn to it. One of my all-time favorite colors is maroon/burgundy, so get ready for a lot of that this fall!
Next, is my hat, and I know what you're thinking – $58?! Well, I have a good reason for this. I LOVE hats. I wear them any chance that I get, and aside from my rings, hats are probably my most cherished accessory. Hats can be paired with just about any casual outfit, and even dressed up if done right. Hats are perfect for those days when you don't feel like washing or styling your hair (my reasoning most of the time), which is why I own so many. I've had my eye on this very hat for a while now, I looked everywhere for a cheaper one that still looked the same, but I literally couldn't find one; so, I treated myself. Normally, I wouldn't spend that much, especially on a hat, but I knew I'd be wearing it every chance that I got. Last, but certainly not least, are these awesome shoes. When I saw them, I fell in love! I love the rustic, boho chic vibes that they bring to any outfit. I also love that I can rock them to the office or on the weekends to my favorite restaurant. I actually got mine on sale at DSW in Atlantic Station. I forgot how great DSW was, and now I think I'm addicted (oops!).
Basically, my point is this – go find a statement piece that you absolutely love, find another piece to dress it up and one to dress it down, then find accessories to go with each outfit. Bam, you're done! So, next time you go shopping, for whatever the occasion may be, look for something that you can rework in a number of ways!
What are some of your favorite most versatile pieces in your closet?
With love and hopes of inspiration,
Carly