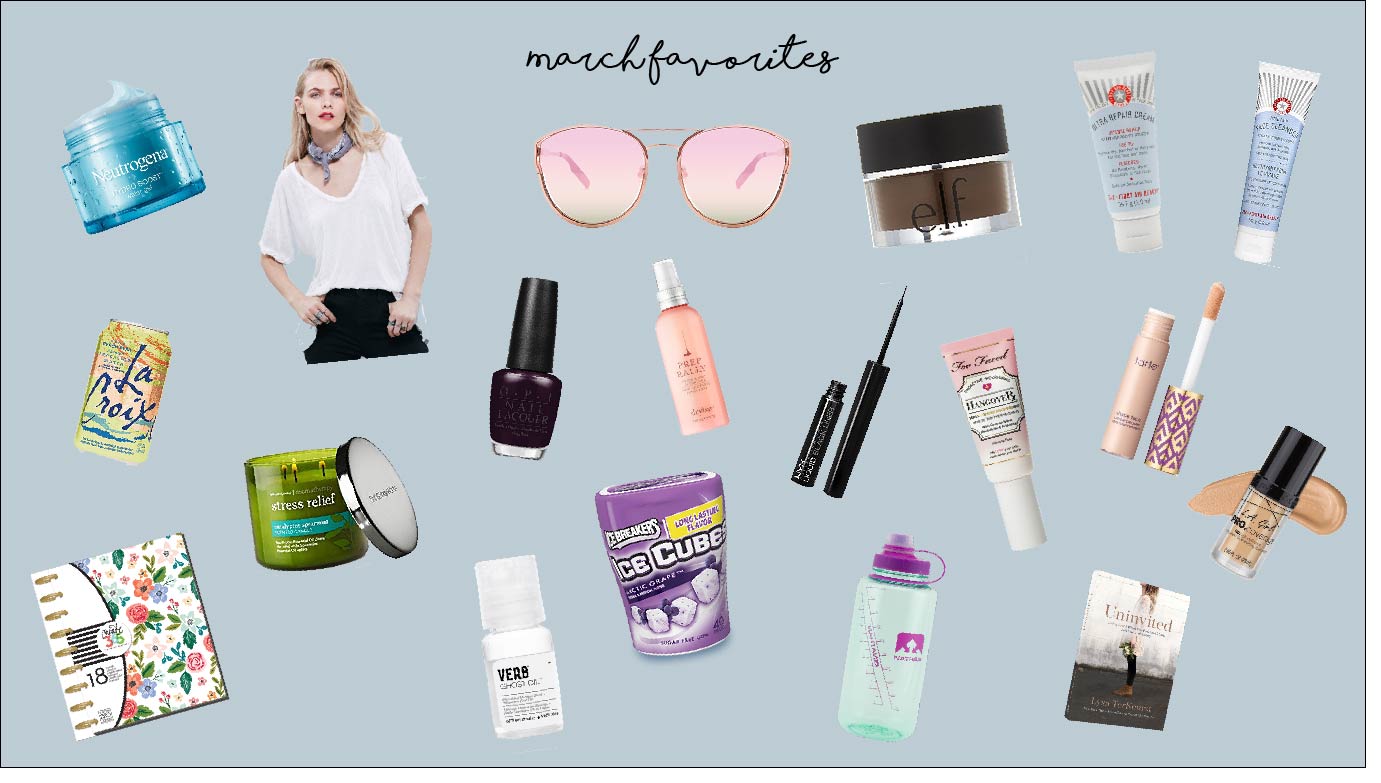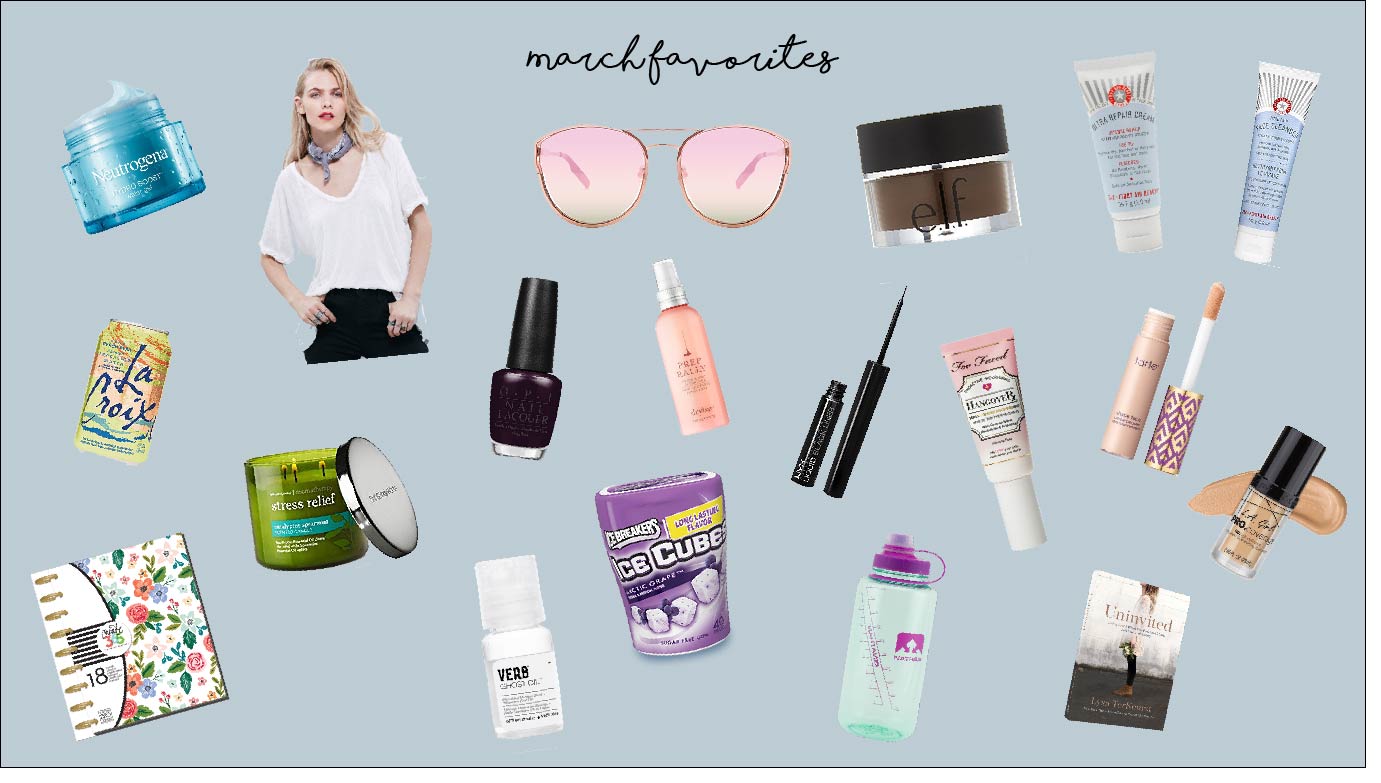 Monthly favorites are back and I figured I would try something different! Instead of taking pictures of everything, I decided to create a graphic, let me know what you think in the comments below! So from now on – I'm going to create a monthly favorites or hits and misses to tell you guys all about the things I am loving/have recently discovered. I also have decided to do more than just makeup and beauty favorites so that I can give you guys more insight into who I am, I hope you all enjoy my March favorites!
Neutrogena Hydro Boost Water Gel: $20 – You guys, I can't rave enough about this product. One of my friends, shout out to Lindsay, told me about this stuff and I haven't turned back since. If I wash my face, or even if I just haven't put makeup on that day, I have to apply this stuff. It's so amazing and leaves your skin feeling so incredibly amazing. I know you can get cheaper facial moisturizers but this is absolutely worth your money. Do yourself a favor and go get this right now!
La Croix Sparkling Water: I'm trying to be healthier these days and stay away from soda, so when I get that itch for some bubbles I reach for one of these! I love them because they aren't bad for you, don't leave you feeling like crap and they taste so good!!!
Happy Planner: Prices vary – Y'all, this is my BABY! If you know me, you know that always have this in my purse. Yes, I know, I'm a nerd, but I feel naked without it. Make fun of me all you want but once you get one of these, you won't turn back! I have two now – the medium size one that I use for personal stuff and I keep it in my purse, then I have the large one that I keep on my desk at the office. In my medium size one, I use stickers from the same company to decorate my weekly spreads and make it all pretty. Pair it with my favorite colored pens, and it has me feeling all inspired and motivated! Don't worry, I have an entire post dedicated to my planner coming soon!
Free People Free Fallin Tee: $58 – Well, this is probably my most worn piece of clothing in my closet. I've actually worn it so much that I had to go buy another one because it had gotten so old and worn down, that's when you know you love something. This tee comes in all kinds of colors and honestly, I want to own one of each. It goes great with jeans and sneakers or with a skirt and booties – you can't go wrong with this shirt.
Bath & Body Works Stress Relief Candle: $22.50 – I have several of these in my room and they truly are so amazing for when you're trying to relax. Whether it's next to my bed, desk or bath tub – this candle works magic.
Quay Cherry Bomb Sunglasses: $55 – Normally I don't pay much for sunglasses at all. They either come from Free People or Forever 21 but I was at the beach and fell in love with these and had to get them. Quay sunglasses are seriously amazing and since I've had these I've gotten rid of most of my cheap ones.
OPI Lincoln Park After Dark: $10 – This is by far my favorite nail polish of all time. I own it because it is my go to, no matter the season, you will probably find this on my nails.
Verb Ghost Oil: $14 – This is the final step in my hair routine before I blow dry my hair and I honestly feel like it does so much for my hair. I have really curly and frizzy natural hair so this hair oil helps to tame that. I have my full hair routine coming soon!
Dry Bar Prep Rally: $23 – While I have never been able to convince myself to purchase expensive hair products, I had to get this one. I tried my roommates once and I am now hooked. This stuff works wonders and it is now a forever component of my hair care routine.
Icebreakers Grape Gum: I have only been able to find this stuff at Target but it is worth the trip to get it. I have never really been one for sweet and fruity gum except for the OG juicy fruit but when Claire had me try this, I got hooked. Next time I'm in Target I'll be buying a few to make sure that I don't run out.
ELF Lock On Liner & Brow Cream: $4 – For four bucks, you can't beat this stuff. I watched Casey Holmes try this and knew I had to get it when she said she liked it. Well, it has not disappointed me whatsoever. Use a small, stiff, liner brush and this makes your brows look so good and natural, just make sure you get the right shade! Available online only at Ulta.
NYX Matte Black Liquid Liner: $6.99 – I always heard Laura Lee talk about her holy grail NYC liner and said this one was similar so I gave it a shot. I am an absolute perfectionist when it comes to a winged liner and I get way too frustrated when it doesn't come out quite right. This liner makes it easier to get the perfect, thin wing, just the way you like it!
Nathan Water Bottle: $11.99 – I recently bought this water bottle at TJ Maxx for $8 and I love it! I am so used to carrying a camelback but when my straw and tip started to get moldy and wouldn't clean in the wash, I knew I had to make a switch to something more sanitary. This is great to take to the gym or bring to work with you each day to make sure you're drinking enough!
Too Faced Hangover Rx Replenishing Face Primer: $15 – I had received two samples of this and then I finally caved and bought it. I purchased the smaller one in the travel section at Sephora and I use it every day now! It's so refreshing and makes your foundation looks so good.
Uninvited: $8.50 – While I haven't finished this book yet, it is so good! Everyone around me that has read it has said that it is life changing. So, if you're like me, and you really just need a pick me up right now because things are a little rough, or you're just in need of a good new book to read – order this on amazon!
First Aid Beauty Faves To Go Kit: $30 – I bought this kit because I had heard great things about their products and I'm definitely not disappointed. It's a gentle cleanser and great moisturizer that I have now incorporated into my beauty routine. If you don't want to commit to the full-size products, get this kit and test them out first!
Tarte Shape Tape Concealer: $25 – I never thought I would see the day I purchased a concealer more than $10 but, I caved and now I'm afraid I will never go back. What all the beauty gurus said, is true. It's seriously so amazing!! I was also expecting the tube to be a lot smaller but when I first saw it I was pleasantly surprised with the amount of product I got!
LA Girl Foundation: $8.99 – Once again, I saw Casey Holmes talking about this product so of course, I bought it. It's actually a great foundation for the price. I have really oily skin so sometimes it breaks up around my chin but that's a personal problem!
I hope you enjoyed my March favorites! Comment below with what you're loving right now and what you'd like to see in the future!