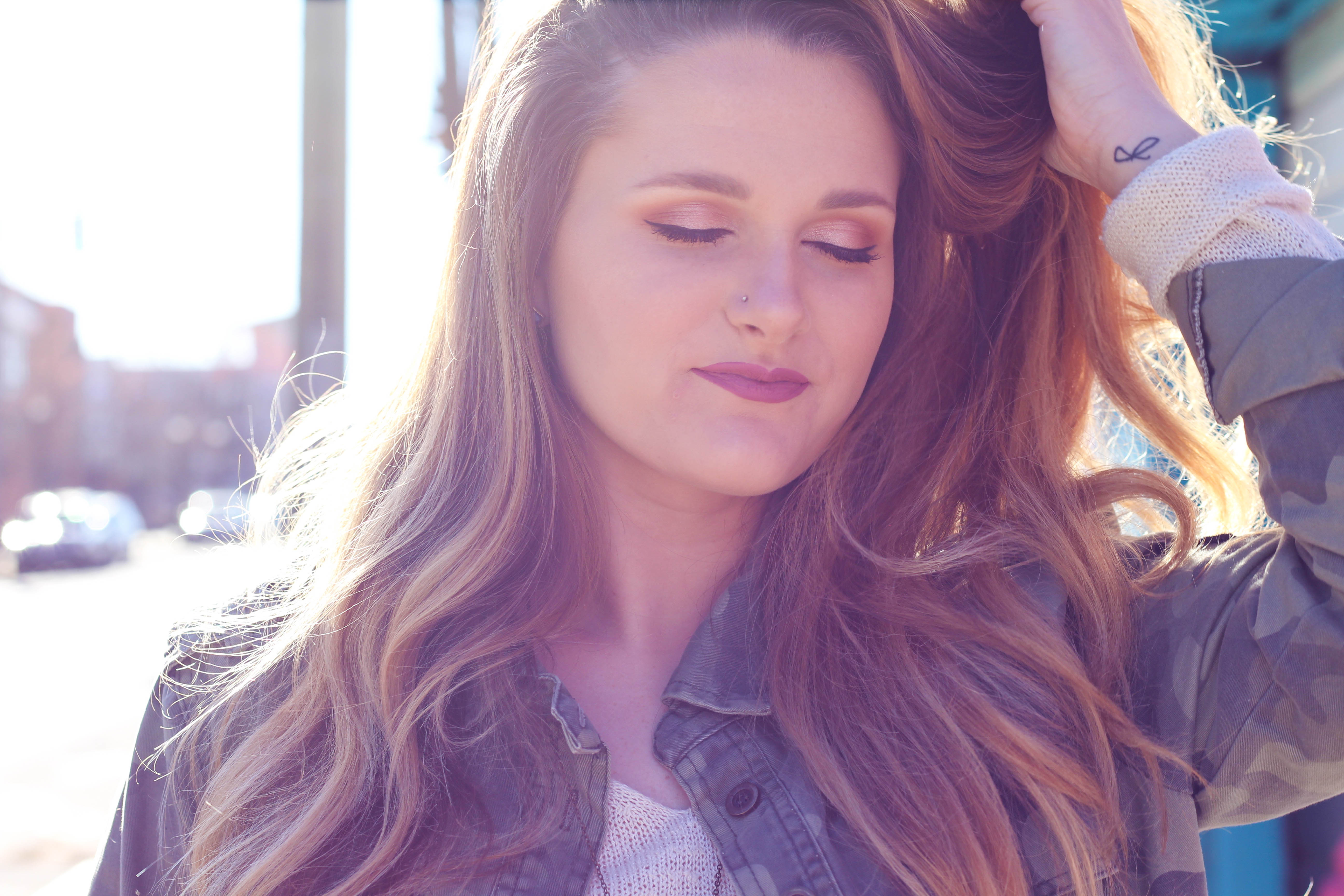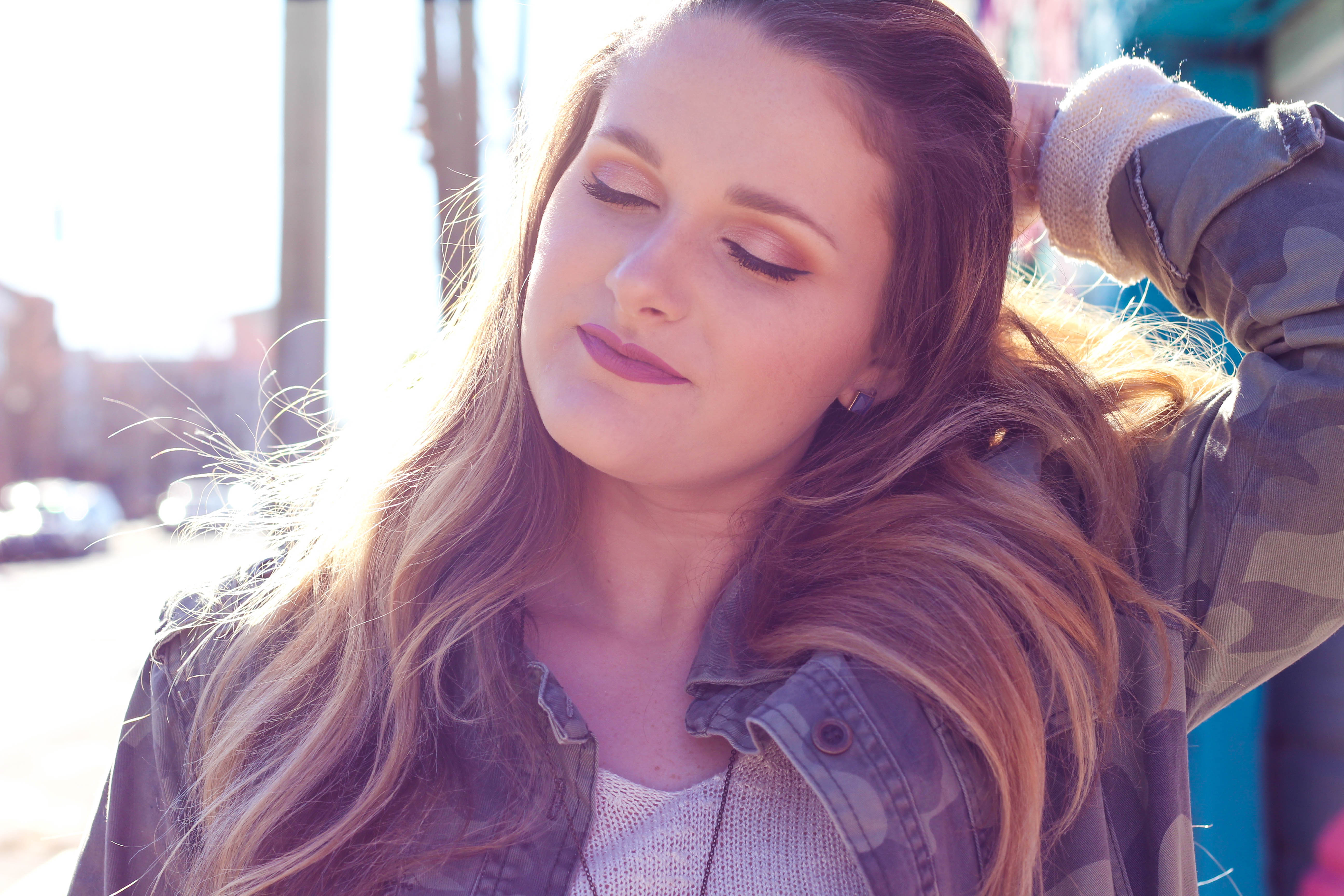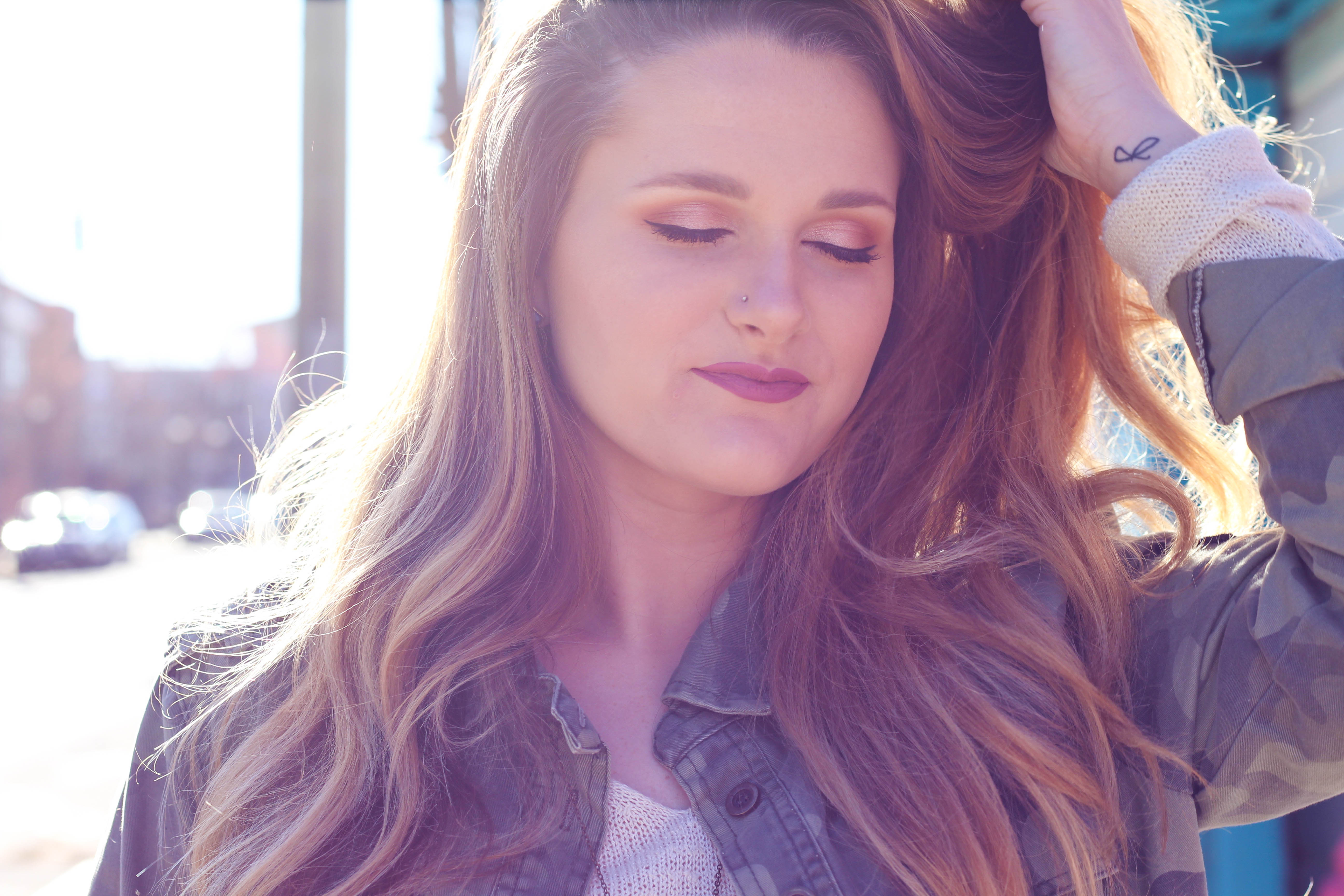 I'm a creature of habit and lately, I have found myself constantly doing the same makeup look. It's easy and I love it, so I just figured that I would create it day in and day out. It's subtle but it still manages to stand out just enough. I got inspiration for this look from Laura Lee. I was watching one of her tutorials one day as I was getting ready and she just so happened to be using all the same products that I could find in my drawer. While I didn't have her collaboration palette with Violet Voss, I have the Morphe 35O which has similar shades, so I made it work! This look can easily be worn as a day look while at work or for a night out, just depends on how glam you make it!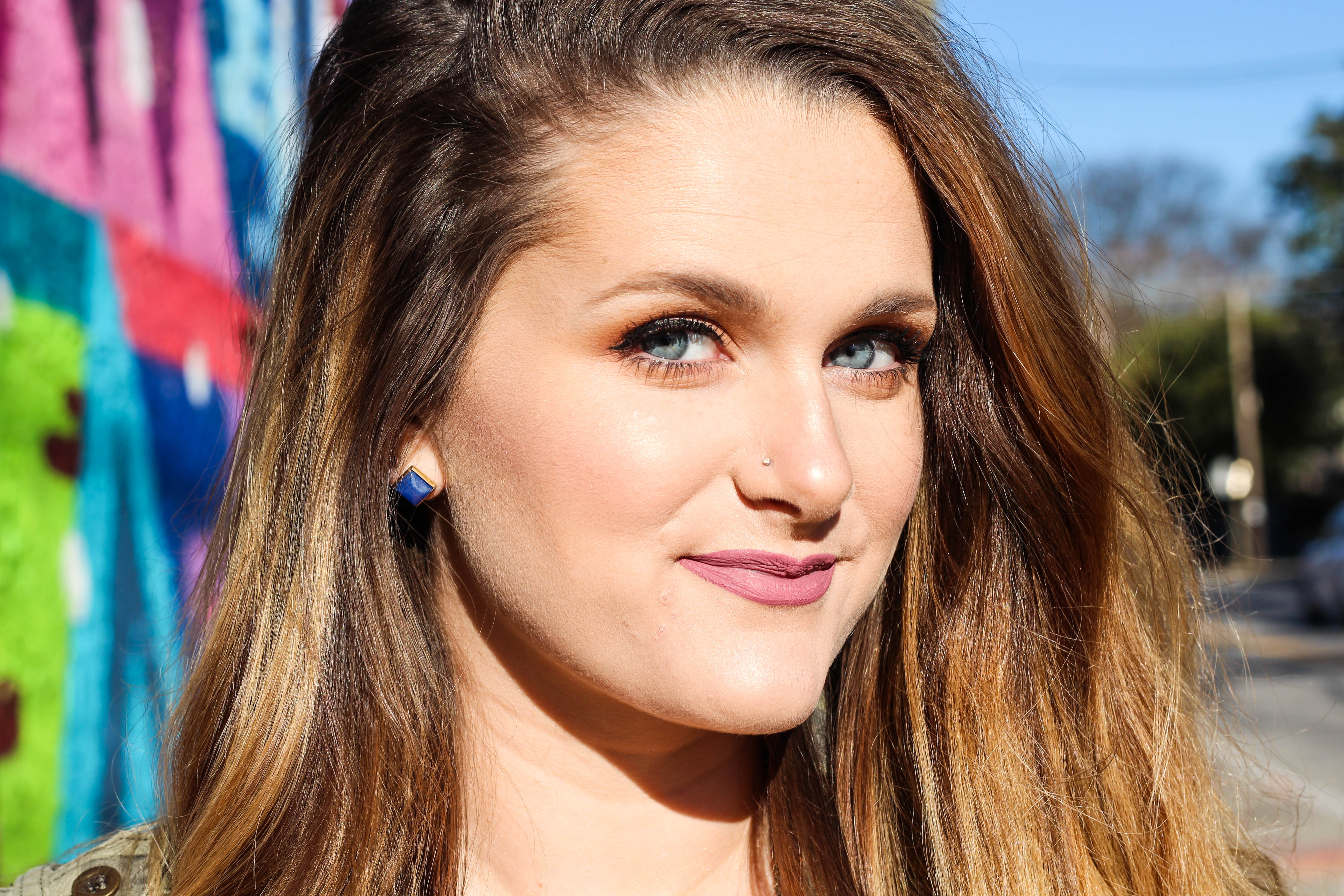 If you chose to wear this as a day look, I suggest pairing it with a lighter lip color. But if you're going for a more glam, night out look, I suggest pairing this look with a bold lip color, a thicker winged eye, and a little bit more blush!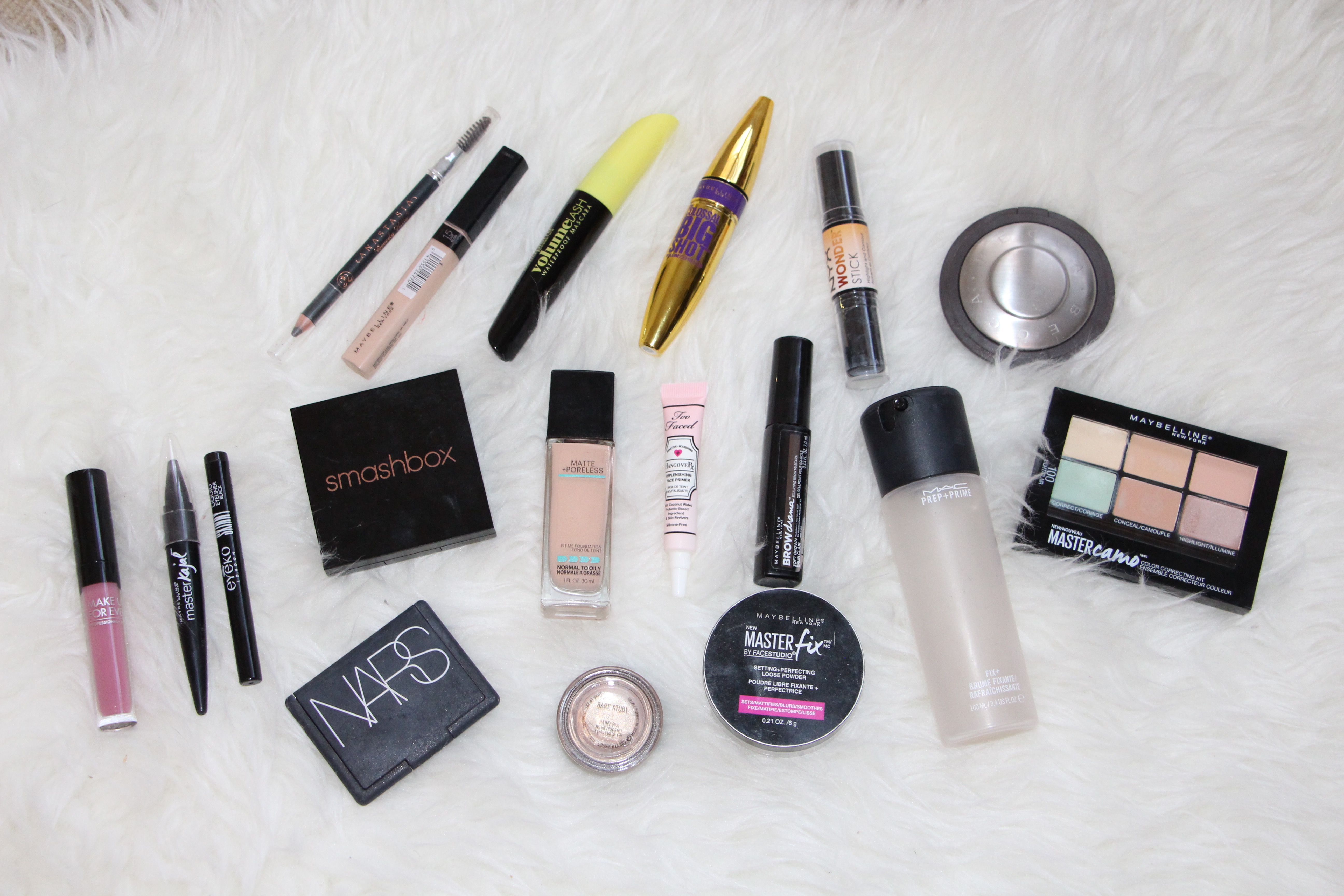 To start off, I primed my face with Too Faced Hangover Replenishing Face Primer. I love this stuff because it leaves my skin feeling moisturized and primed at the same time. Shown above is the travel size that I received in a monthly subscription box but I have recently bought the smaller one that is $15 for .68 fl oz.
My next step was to color correct my face with the Maybelline Master Camo Color Correcting Kit in shade 'Light.' Personally, I only use the first four shades in the palette. The yellow is great to cover your dark circles and the green does a great job concealing the redness on your face. The middle two are good for concealing blemishes around your face. The last two are for highlight, but personally, don't do much for me. This kit is sold for $12.99. It's a good buy but since it is such a basic product, you can find something cheaper that will do the job the same.
After my face was primed and color corrected, I went in with my Maybelline Fit Me Matte + Poreless Foundation in shade 125 'Nude Beige.' I absolutely love this foundation but I had forgotten about it for the longest time until I saw Laura Lee using it and remembered that I had it in my drawer. It has such a lightweight feel, it makes my skin so even and smooth, all while giving me great coverage. I blended it out with my Highlight and Contour Sponge from Morphe that is $6.99. I dampened the beauty sponge before using it and it makes for a flawless finish. You can find this product at drugstores or Ulta for $7.99. This is definitely a product that I recommend!
Once I put on my foundation it was time for concealer and contour! For my concealer, I used Maybelline Fit Me Concealer in shade 'Fair.' I range from color to color with this product just like I do foundation, depending on what time of the year it is and just how pale I am. I love this stuff because it's a dupe for NARS concealer! It is light weight and great for highlighting the under eye area. This product can be found at drugstores and Ulta for $6.99. Next, I used the NYX Wonder Stick in shade 'Light' to contour and highlight my face. I used the contour side under my cheek bones, under my chin, on the edges of my forehead, and on my nose. I took the highlight side and used it directly under my contour on my cheeks, in the middle of my forehead, and down the center of my nose. This product can be found at drugstores, Target, and Ulta for $11.99. I used my beauty sponge from Morphe that I blended my foundation with to also blend out my concealer and contour.
While I was blending out my contour and highlight, I used the Maybelline Master Fix Loose Setting + Perfecting Powder to bake my under eye area. You can find this product at drugstores and Ulta for $8.99. I used the Morphe beauty sponge listed above, still slightly dampened, to dip into the powder and lightly dab onto my face. There will be large amounts of the powder on your face but that is normal! Put the powder under your eyes or anywhere on your face that is prone to oil and movement, then wait about five minutes and brush it off. To dust off the excess powder, I use my e.l.f. Cosmetics Flawless Concealer Brush which can be purchased on Ulta's website for $3. I promise this makes all the difference!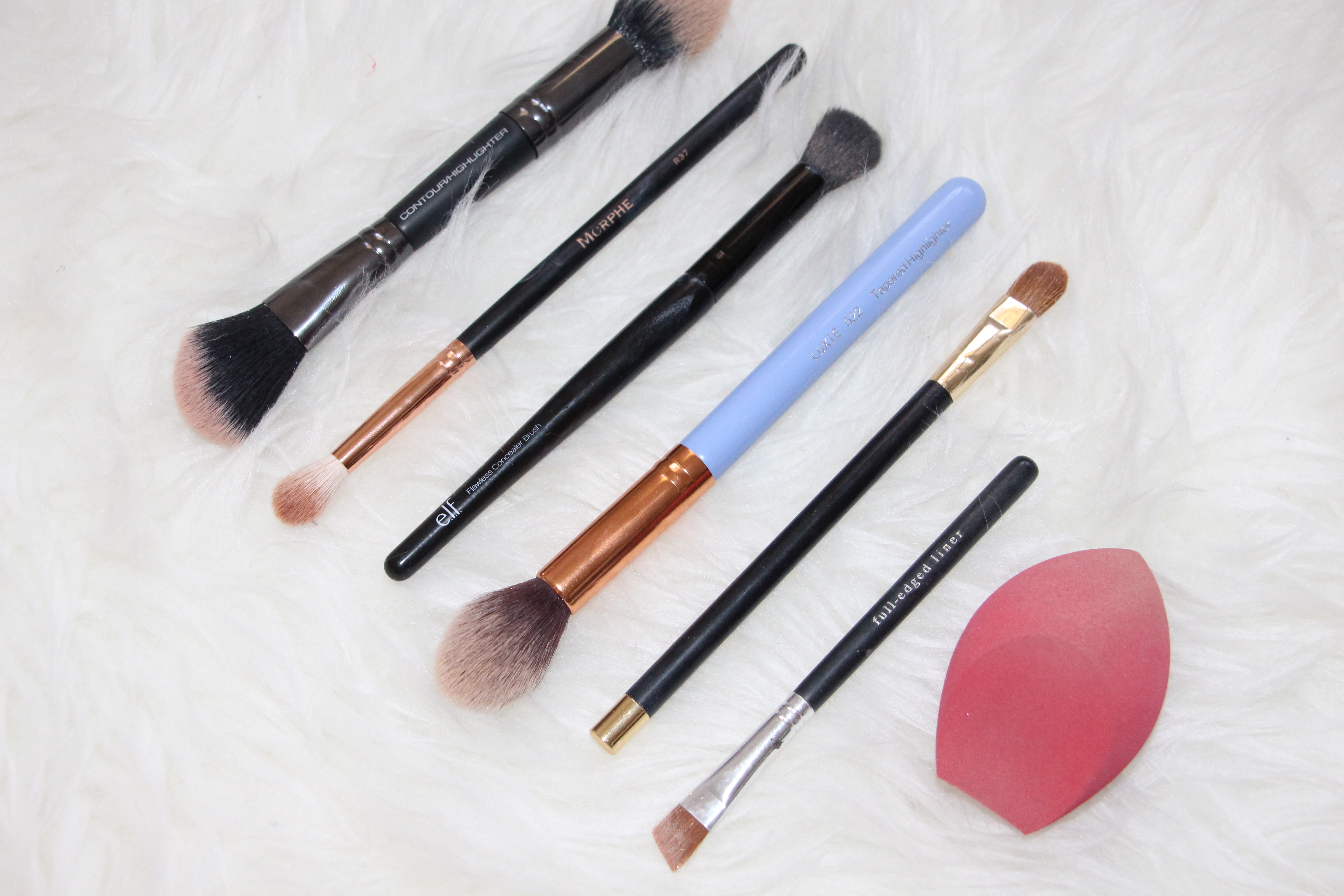 After I brushed away the setting powder, I went in with my Smashbox Bronze Lights Bronzer in shade 'Warm Matte' that can be found at Sephora and Ulta for $34. I took my MUA Double-Ended Contour & Highlighter Brush that I purchased from CVS. It's usually $16.99 but I bought it on sale for $10.99. I used the tapered, pointed, end of the brush and contoured on top of the cream contour from before. Once it was blended out nicely, I went in with the other side of the same brush and used NARS Blush in shade 'Orgasm' that can also be found at Sephora or Ulta for $30. While I haven't found a dupe for this product yet, I use it almost every day and it is absolutely worth the buy. You can often find a smaller one that comes with a bronzer as well in the section near the checkout at Sephora!
Before moving on to the eyes, I finished off my face with Becca Shimmering Skin Perfector Pressed Highlighter in shade 'Champagne Pop.' This is seriously my ride-or-die product. Not a day goes by that I use a different highlighter, and if I do, then I regret it because nothing, so far, has given me the same results as this Jaclyn Hill collab has! It's sold at Sephora for $38 and is definitely worth the money. I applied this product with my Luxie 522 Tapered Highlighter Brush that can be bought from their website for $24. I received mine in a monthly subscription and mine is also from their Dreamcatcher Collection but it is sold separately, just with a different look! It is a great brush for highlight because the amount of product it picks up and the area that is covers.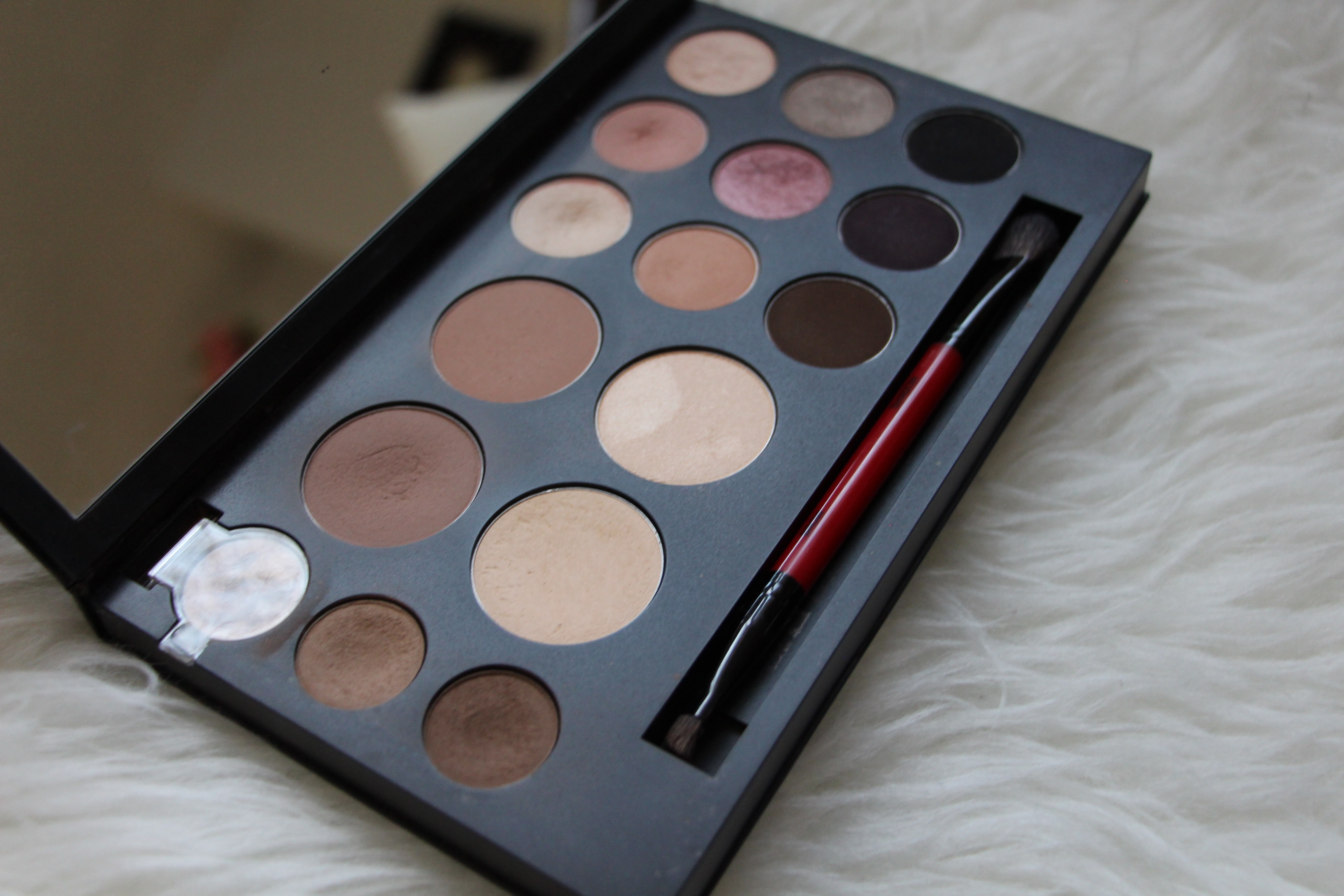 Moving onto the eyes, I start by shaping my eyebrows. I use the spooly that comes with the Anastasia Perfect Brow Pencil in shade 'Soft Brown' that can be found at Sephora and Ulta for $23. Once my eyebrows have been combed, I outline them with the pencil itself and slightly fill them in. After, I take the Smashbox #SHAPEMATTERS Palette (Sephora and Ulta for $55) to fill in my brows. I start by dipping the provided brush into the wax and then into each shade and then I fill in my brows. After, I then comb through them again before setting them with Maybelline Brow Drama Sculpting Brow Mascara (Ulta for $7.99) in shade 'Soft Brown.'
Once my eyebrows have been finished, I set my eyes with the MAC Paint Pot ($22 at MAC) in shade 'Bare Study.' This stuff is amazing! Wear it by itself for a shimmer or a matte finish, depending on the shade, on your eyes, or use it as a base for your eyeshadow and to carve out your brows. I used an older bareMinerals full-edged liner brush to apply the paint pot.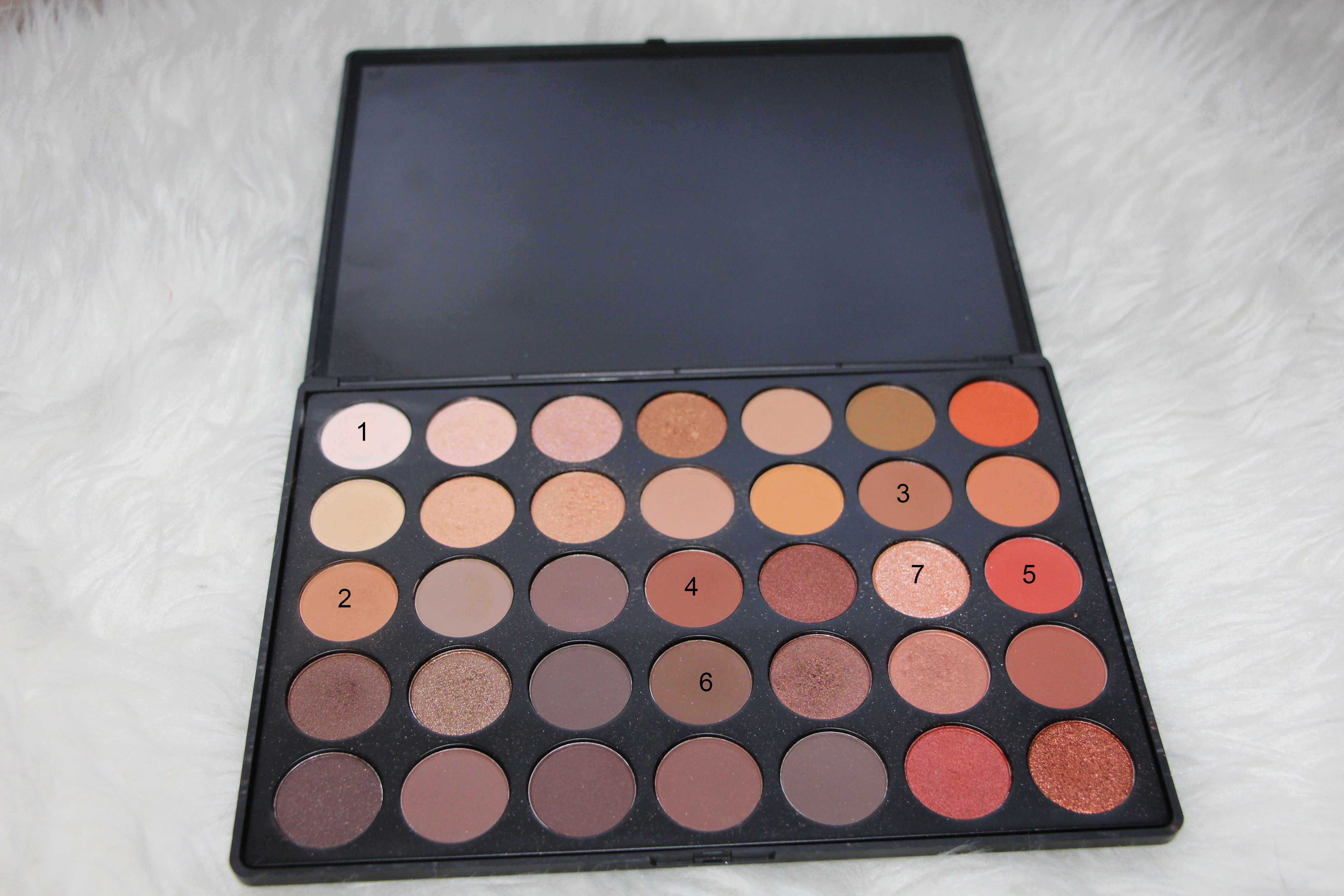 For the eyeshadow look, I used the Morphe 35O palette which is one of the most popular palettes from Morphe that can be found on their website for $22.99! Since their palettes don't have color names I went ahead and numbered the ones that I used.
I started off the look by using the shade 1 all over my eyelids with an old flat brush by Sonia Kashuk. Then I went in with my Morphe R37 Pointed Blender Brush ($5.99 on their website) and applied shade 2 into my crease and blended it out. Next, I went in with the R37 brush and applied shade 3 in my crease and blended it out as well. Lastly, I went in with the R37 brush and applied shades 4, 5, and 6 in the crease. I started with 4, then moved to 6, and then finished with 5 – each building and blending on top of the other. This created the soft ombre look on my lids. Then I took the flat brush and used shade 4 to line my lower lash line and then took my R37 brush and blended shade 2 on top of that to soften the look. Lastly, I took shade 7 on my flat brush and applied it all over my lid.
Once my eyeshadow was complete, I finished off my eyes with some eyeliner and mascara. Every time I put on eyeliner, I start with a pencil to give the liner a base to stick to. It also helps the liner look as black as it can be! I learned this tip from the video that went viral about Adele's eyeliner look. The pencil I used with this look is the Maybelline Master Kajal Eyeliner in shade 'Onyx Rush' which can be found at drugstores and Ulta for $7.99. I went on top of this liner to deepen the look and add my wings with Eyeko Skinny Liquid Eyeliner that is sold online only at Ulta for $22.99.
After I curled my lashes, I used Maybelline The Colossal Big Shot Mascara in shade 'Very Black' which can be found at drugstores and Ulta for $8.49. This is probably my favorite mascara ever. It's affordable and gives such great results, if you haven't tried it, you need to! Lastly. I used bellaPierre Volume Lash Waterproof Mascara on my bottom lashes. This product can be found on their website for $20!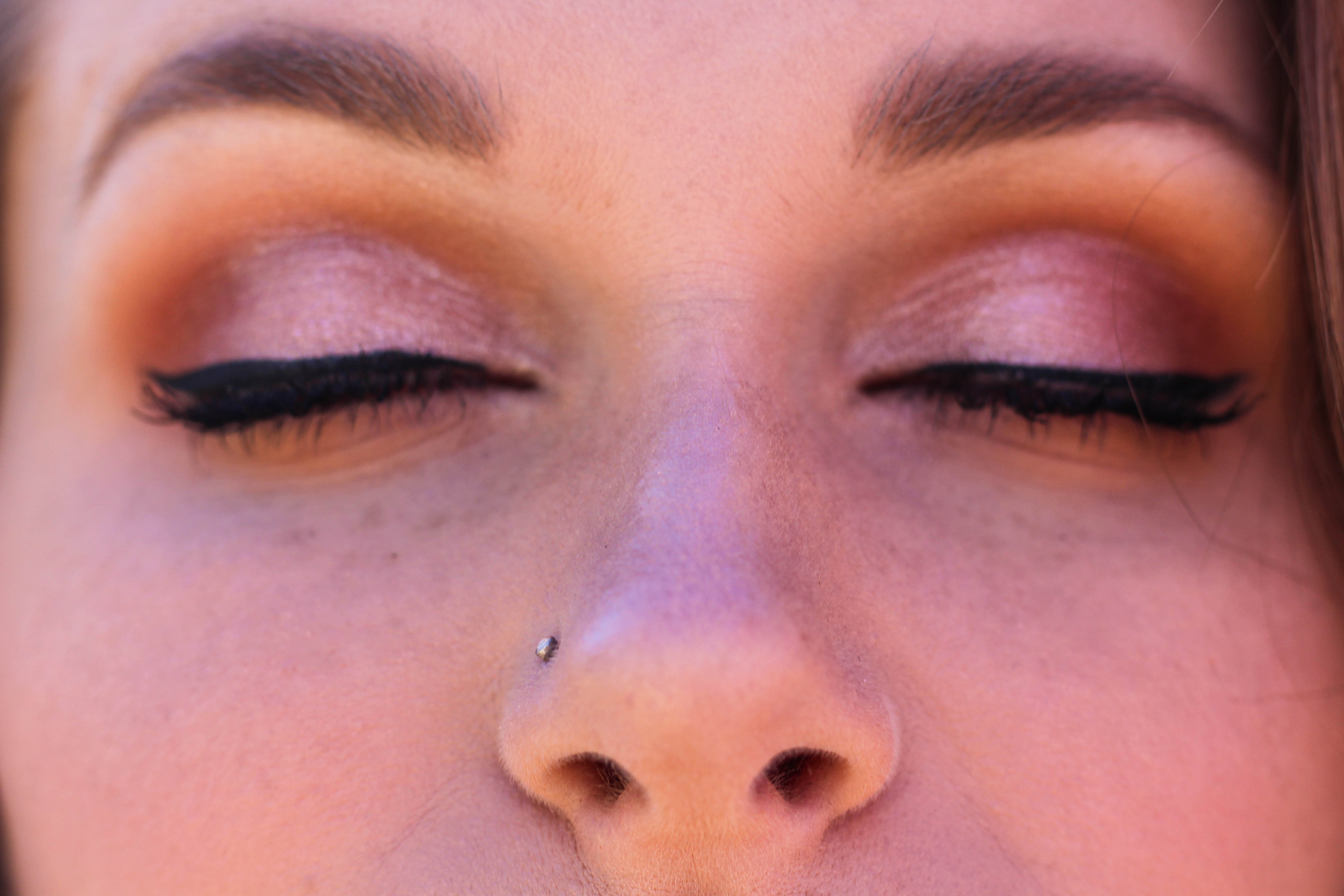 Last but not least, I added some lip color to finish the look and set it all with MAC Prep + Prime Fix +. For my lips, I used Make Up Forever Artist Liquid Matte Lipstick in shade '203 Cold Pink' which is available at Sephora for $2o. I chose this lip color because it was all I had in my purse and I just so happened to leave the house and forgot to do my lips! While I personally would recommend a different color, this lipstick formula is fantastic!
What are your favorite products that I used? Do you have any recommendations on looks to try? Comment below!